Today Melissa shares one of the most quintessential Portuguese recipes -- and lets us in on the secrets behind a homemade caldo verde recipe!
If you want a taste of traditional Portuguese cuisine, this caldo verde recipe is the perfect project. Simple and delicious, it's a crowd-pleasing favorite that makes for an easy lunch, a festive first course, or even a late-night snack (more on that later).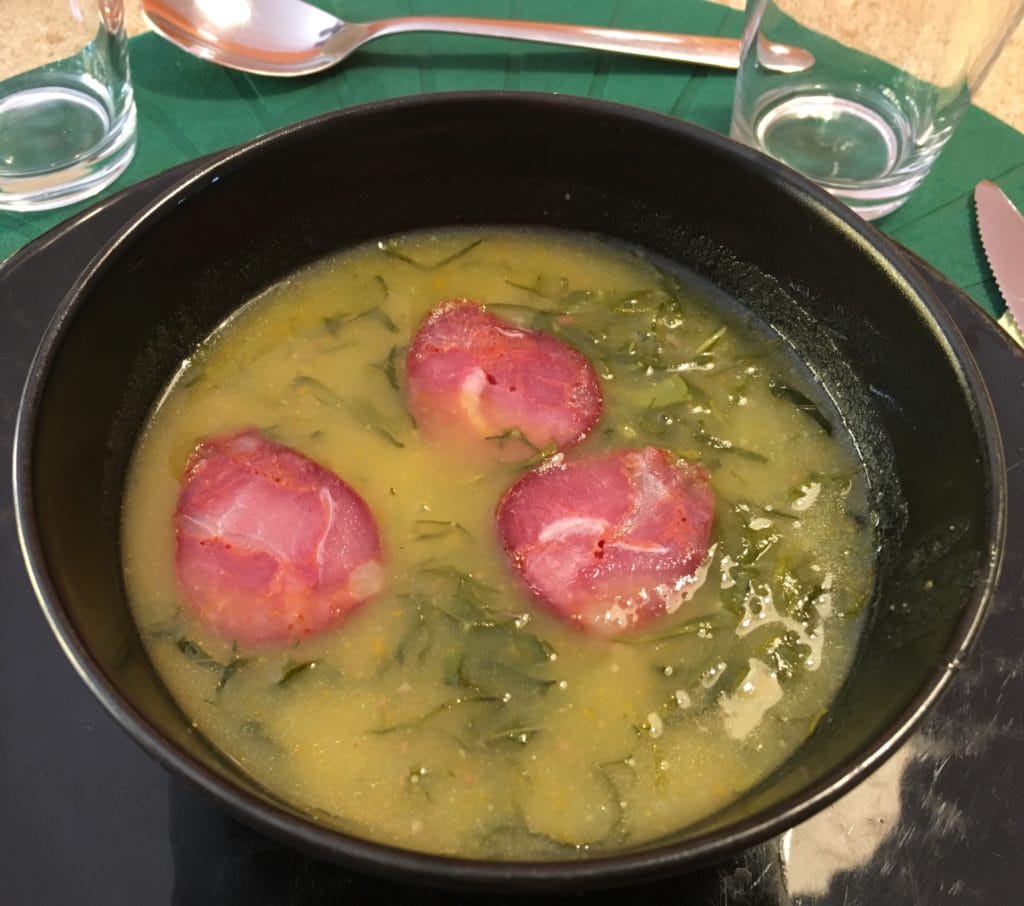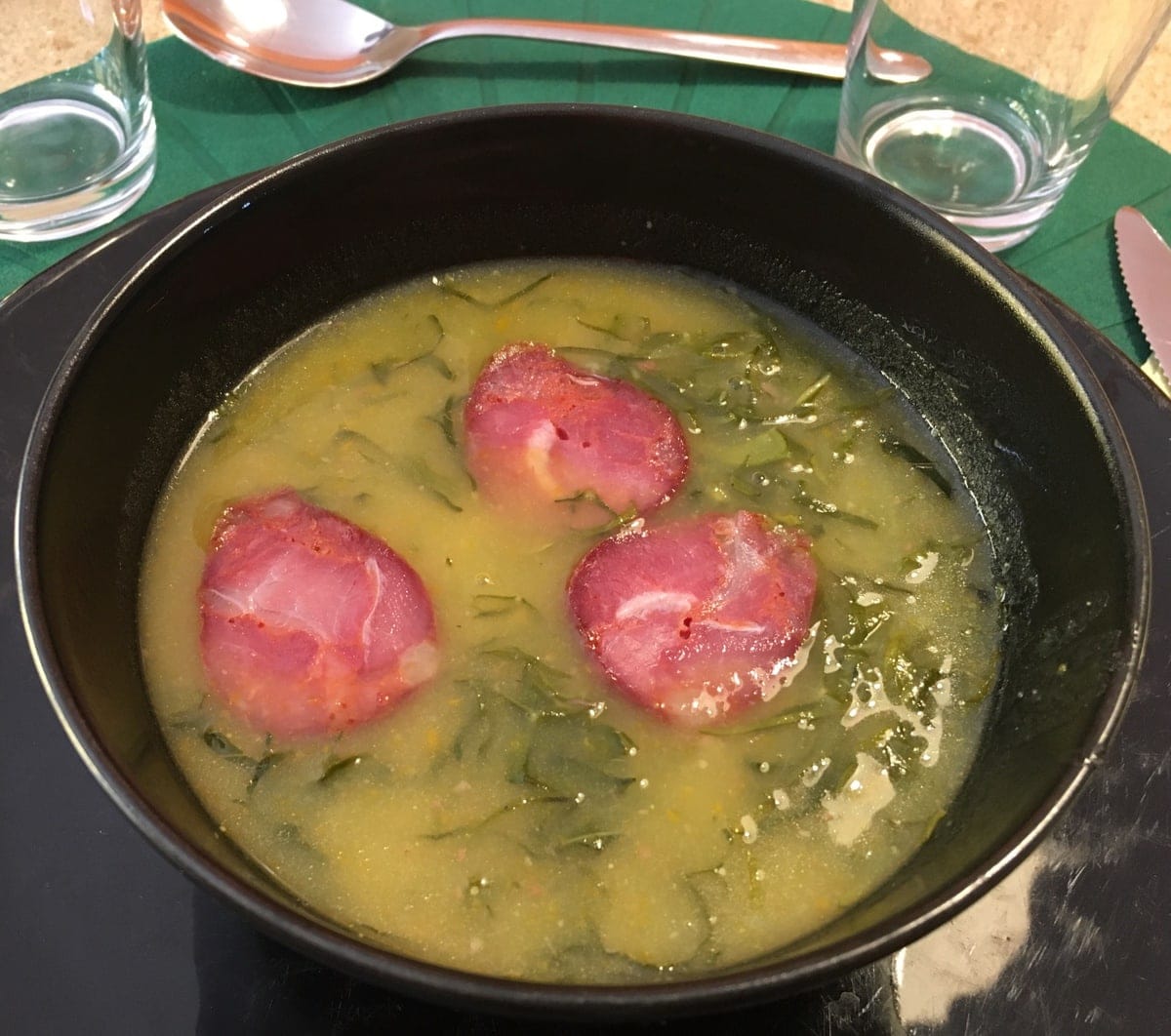 In Portugal, soup reigns supreme. For many Portuguese families, a big, bubbling pot of soup is an everyday staple and an essential element of any meal. This is certainly the case at my current place of residence: 33 Hostel in Ferrel, Portugal.
Almost every morning, "Mama" (the household matriarch) chops various vegetables and sets them to cook on the stove. By lunchtime, we have a flavorful and healthy appetizer that can feed a crowd. So far there have been versions of a sopinha da Mama (Mama's soup) featuring cauliflower, carrots, green beans, and more... but my favorite recipe is the classic caldo verde.
What is caldo verde?
This is probably the most traditional type of Portuguese soup, based on a combination of just a few simple ingredients. Its name, meaning "green broth," refers to the main attraction: couve galega, which is a dark leafy green similar to kale or collard greens. It's chopped up into long, thin strands before cooking, creating a nice texture that allows it to meld with the other elements of the soup rather than overpowering them.
The broth itself consists of onion, garlic, potatoes, and carrots, and gets extra flavor from a chunk of smoky chouriço. A few thin slices of this cured sausage also add a pop of color to the finished product. It's best enjoyed with broa, a dense and delicious Portuguese bread that's made with cornmeal and is perfect for soaking up every last drop.
When should you eat caldo verde?
While it's certainly appropriate for any meal on any day, caldo verde is most commonly enjoyed on special occasions and holidays. It's especially emblematic of Santo António, the annual festival honoring Lisbon's patron saint. Traditionally, it goes with grilled sardines and bread to create a true feast. The Portuguese also eat caldo verde in the wee hours of New Year's Day; the idea is that it warms you up and washes away the excesses of partying all night.
How to make caldo verde at home
This caldo verde recipe comes not from Mama herself, but her daughter Maura, who runs 33 Hostel. We made it for the hostel's anniversary celebration, as no traditional Portuguese party would be complete without it. It's undoubtedly one of those dishes that vary from kitchen to kitchen, and the details depend on the chef's instincts rather than strict measurements.
A simple and authentic recipe for caldo verde
I've done my best to translate Maura's cooking routine into an easy-to-follow recipe that you can recreate at home. Whether you're throwing a party of your own or just want to bring a bit of Portuguese flavor into your life, with caldo verde you can't lose.
Caldo Verde Recipe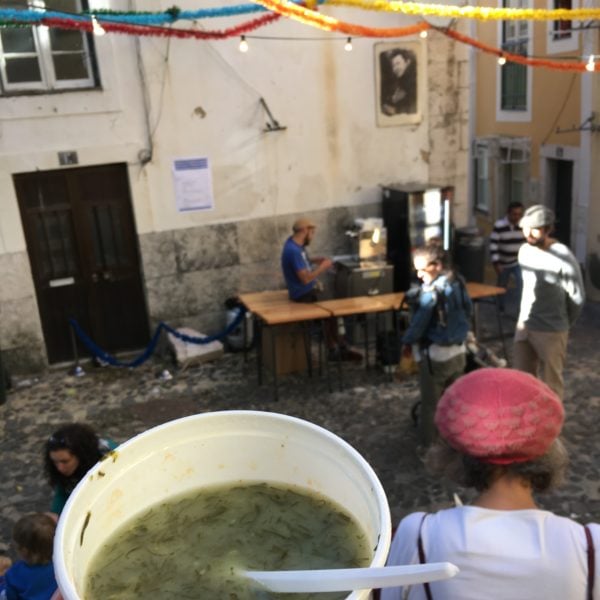 Caldo Verde Recipe
This caldo verde recipe is easy, healthy, and authentic. It comes straight from the kitchen of 33 Hostel in central Portugal. Make it for lunch, dinner, or any special occasion!
Print (images optional)
Pin
Rate
Ingredients
½

kilo of potatoes

about 1 lb

½

kilo of yellow onions

about 1 lb

1

large carrot

A large piece of Portuguese chouriço

about 4 inches long

1

garlic clove

1

kilo of kale or another dark

leafy green (about 2 lbs)

Salt to taste

Olive oil to taste

Red wine vinegar or apple cider vinegar

Broa

Portuguese corn bread or other bread to serve the soup with
Instructions
Fill a large saucepan with water and bring to a boil.

Peel and chop the potatoes, onions, and carrot while the water heats up.

Add the veggies and a pinch of salt to the boiling water and reduce the heat to medium low.

Cut the chouriço in half and add one piece to the pot (reserve the rest).

Boil until the veggies are soft and fully cooked.

In the meantime, wash the kale well and chop it very finely into long, thin strands.

Once the veggies are cooked, blend the pot's contents (including the chouriço) to form a smooth consistency.

Put the blended broth back onto a low flame.

Add salt and olive oil to taste, then add the kale.

Simmer until the kale is cooked through.

Remove from the heat and add a drizzle of olive oil and a splash of vinegar—this helps the kale separate instead of clumping.

Serve the soup in bowls, topped with thin slices of chouriço and accompanied by broa or bread.
Notes
The quantities here are approximate; the most important thing is that you have an equal ratio of potatoes to onion, a slightly thick but still soupy consistency, and enough salt to bring out the flavors. Feel free to adjust the amounts as you cook, and develop your own take on the classic version.
Nutrition
Calories:
215.04
kcal
|
Carbohydrates:
38.09
g
|
Protein:
11.2
g
|
Fat:
4.42
g
|
Saturated Fat:
1.06
g
|
Cholesterol:
5.21
mg
|
Sodium:
227.06
mg
|
Potassium:
1323.37
mg
|
Fiber:
3.54
g
|
Sugar:
4.68
g
|
Vitamin A:
18378.2
IU
|
Vitamin C:
223.34
mg
|
Calcium:
282.52
mg
|
Iron:
3.47
mg
What do you think? Will you try this caldo verde recipe at home? Let me know how it turns out!