Looking for an authentic bacalhau à Brás recipe? This one comes straight from the best Portuguese cook I know. Try it to see why this is the ultimate Portuguese comfort food!
Every culture has its own iconic dishes that crop up on every menu and list of must-try foods. Chances are, at least one of them is hearty, hot, and best served family-style—in other words, comfort food. Portugal is no exception, and bacalhau à Brás is the quintessential example.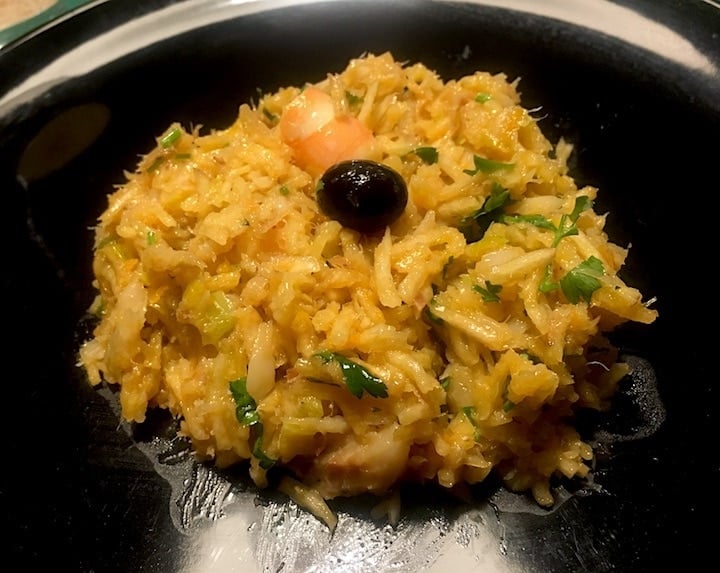 What is bacalhau à Brás?
To answer that question, let's start with bacalhau. This is the Portuguese word for salt cod, which has been a staple of the country's cuisine for decades. Although it's not produced locally, it's one of the most iconic foods throughout Portugal, and features heavily in traditional dishes.
See also: Spanish salt cod croquettes recipe
While there are hundreds of ways to prepare bacalhau, one of the most famous—and among my personal favorites—is bacalhau à Brás. It's a rich, creamy concoction that I think of as the Portuguese version of mac and cheese. This has less to do with its ingredients and more to do with the feeling it inspires; eating it feels like receiving a warm hug. It's the kind of thing I would expect my mom to make for me (if she were Portuguese).
So what's actually in it?
In addition to shredded salt cod (rehydrated, of course), bacalhau à Brás is a simple combination of eggs, olives, onion, garlic, and crispy potato sticks. Sound weird? It isn't. These seemingly random ingredients come together to form a perfectly salty, soft, spoonable mixture that's surprisingly addictive. It's hard to stop once you've started, but be careful—this is no light lunch.
How do you make bacalhau à Brás?
Like all the best comfort foods, bacalhau à Brás is fairly easy to make. Basically, you add all the ingredients to a big pot and stir them together. The trickiest part is making sure that the egg cooks to just the right point: not raw, but not overcooked either. Once it's done, top it with sprigs of fresh parsley and olives to add some color to an otherwise monochromatic meal.
Tip: You can try the bacalhau à Brás pictured above on a food tour in Lisbon!
This particular recipe comes from the kitchen of 33 Hostel in Ferrel, Portugal, where I had the pleasure of working this summer. Maura Rolo is the master chef behind it, and she was nice enough to let me in on the secrets of her tried-and-true bacalhau à Brás recipe. Make it yourself to see what real Portuguese home cooking is meant to taste like!
You might also like: Maura's caldo verde recipe
An authentic and easy bacalhau à Brás recipe
Maura's Best Bacalhau à Brás Recipe
This is a basic recipe for one of Portugal's most famous comfort foods. Feel free to add your own twists once you've mastered it, or keep it classic!
Print (images optional)
Pin
Rate
Ingredients
500

g

18 oz dried salt cod

1

large onion

4

cloves

of garlic

400

g

14 oz crispy potato sticks

8

eggs

200

g

7 oz black olives

Olive oil to taste

Salt and pepper to taste

Parsley to taste
Instructions
Cut the salt cod into large chunks and place in a glass bowl of water, then cover with plastic wrap.

Place the bowl in the fridge and soak the cod for 24-48 hours. The longer it soaks, the less salty it will be.

Once it's done soaking, shred the rehydrated cod into small pieces with your hands.

Bring a pot of water to a boil, add the cod, lower the heat, and simmer until it's cooked through.

Heat olive oil in a large saucepan over medium heat.

Chop the onion and garlic finely and add to the pan.

Once the onion and garlic are fragrant and golden, add the cod and cook until it absorbs the oil.

Turn the heat down to low, add the potato sticks and stir to combine.

In a separate bowl, beat the eggs lightly.

Add the eggs to the pan gradually, stirring as you go.

Continue stirring as the egg cooks, and remove from the heat before it solidifies completely (it should be slightly runny but not totally raw).

Add salt and pepper to taste—remember, the cod and potato sticks already have a lot of salt!

Transfer to a clay or ceramic dish and top with olives and parsley to serve.
Notes
If you can't find potato sticks, you can make your own by chopping potatoes into thin matchsticks and frying them until crispy. You can also add extra ingredients; Maura likes to add shredded carrot and leeks to the onion and garlic mixture, and chopped prawns along with the cod.
Nutrition
Calories:
993.1
kcal
|
Carbohydrates:
44.28
g
|
Protein:
95.53
g
|
Fat:
47.47
g
|
Saturated Fat:
7.52
g
|
Cholesterol:
517.36
mg
|
Sodium:
10121.55
mg
|
Potassium:
3248.62
mg
|
Fiber:
5.48
g
|
Sugar:
2.07
g
|
Vitamin A:
926.73
IU
|
Vitamin C:
22.56
mg
|
Calcium:
305.03
mg
|
Iron:
6.28
mg