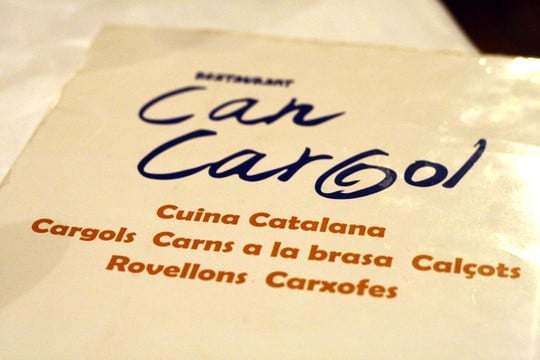 When my friend Mariana told us to trust her when it came to our Barcelona dinner plans, I breathed a sigh of relief. I truly enjoy researching restaurants and (as a bit of a control freak) I like being in charge of where we go, but sometimes it's nice to leave things to someone else! And as a fellow travel blogger from Costa Rica (with Catalan grandparents and Spanish nationality) Mariana was the perfect person to show us around the city. After a lovely tour through the quirky Gràcia neighborhood, Mariana brought us down into her own barrio, Dreta de l'Eixample, where we visited the 24-hour flower market at Mercat Concepció before heading next door for dinner at the cozy Catalan restaurant, Can Cargol.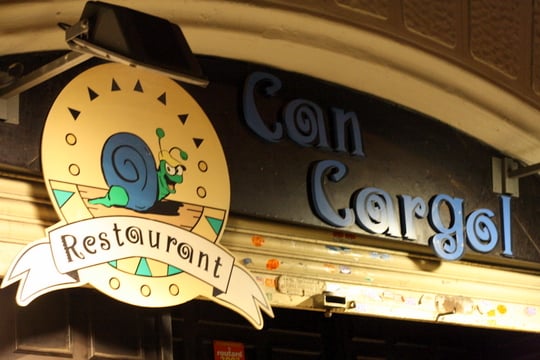 Can Cargol is a rustic restaurant that specializes in traditional Catalan food in Barcelona, which includes grilled meats and vegetables prepared on their indoor barbecue. Cargol means snail, and snails are indeed their house specialty, which is obvious as table after table slurps them from their shell. Unfortunately, none of us are fans of the slimy critters, and I can't speak to their quality. We went to Can Cargol after a day of snacking and were in the mood for lighter dishes. Mariana took charge and ordered us some local Catalan specialties. The portions were generous, especially for their price, and everything was delicious in a rustic kind of way.
Can Cargol isn't fancy, the waiters can be a bit informal and the food is not refined-- but all in all this meal was part of one of my favorite nights in Barcelona (I also had great company!). I'd recommend it for exploring Catalan food at a very affordable price in Barcelona.
What we tried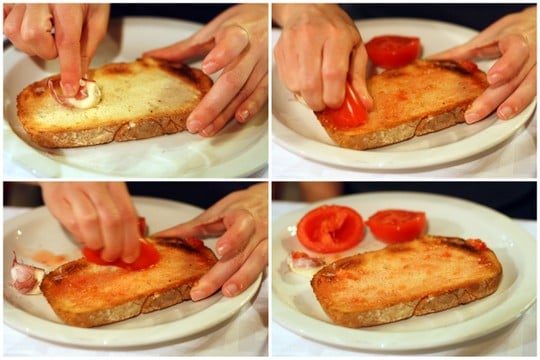 Mariana showed us exactly how she makes the famous pan con tomate, bread with tomato. The bread at Can Cargol was freshly grilled, and she began by rubbing a garlic clove (unpeeled) over the crispy exterior. Then, she cut a small, overripe tomato in half and aggressively rubbed half of it all over the bread. Finally, she topped the bread with extra virgin olive oil and a sprinkle of salt. It was delicious!
Next up was queso a la brasa, a big chunk of grilled cheese with tomatoes and oregano. It was yummy, especially the slightly burnt bits of cheese-- my favorite part.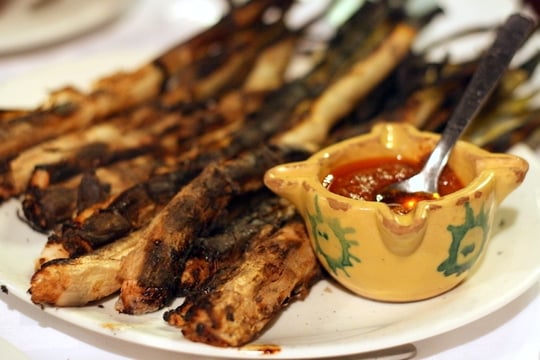 These were my first calçots (a special type of onion harvested in Catalonia), so I don't have much to compare them to. They were fun (though messy) to eat, and the nutty Romesco sauce has long been a favorite. Their version was a bit oily, but it did the job.
The alcachofas a la brasa (grilled artichokes) were probably my favorite dish of the night. I savored every garlicky leaf until I finally got to the tender heart inside. Delicious!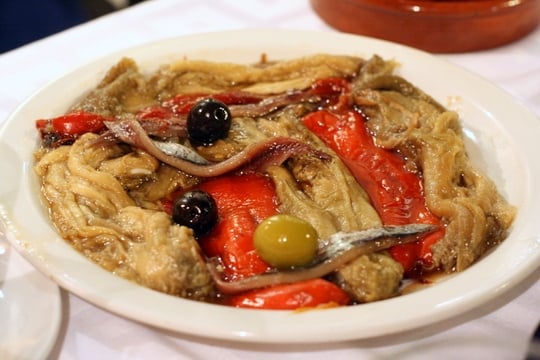 Escalivada is the name of a dish consisting of smoky roasted vegetables, usually eggplant and bell peppers. Topped with anchovies and olives, it was healthy and satisfying.
I'd never heard of esqueixada de bacalao, but I am definitely a fan. Made with shredded salt cod, chopped peppers, tomatoes, and onions, and dressed with vinegar and olive oil, esqueixada was the perfect dish to finish our dinner (before desserts!).
Mató is a fresh Catalan cheese (similar to ricotta) that is generally served with local honey as a dessert. It wouldn't have been my pick, but I tried Ale's and it was quite good.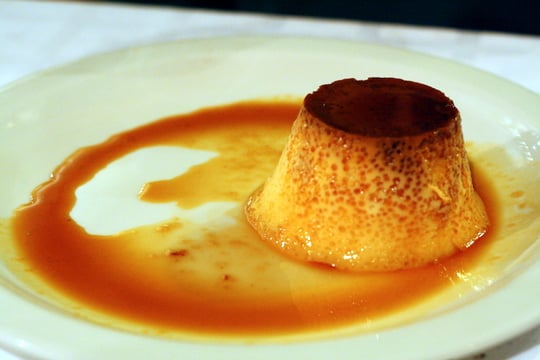 Mariana opted for a homemade flan with orange essence. It was creamy and eggy, just like flan should be.
But the best was (of course) my own dessert, the eggy crema catalana topped with a crunchy layer of caramelized sugar. It was the best crema catalana of my trip!
The Highs: I loved the garlicky artichokes and the delicious crema catalana. And I felt like we were out in the Catalan countryside versus in the middle of a big city!
The Lows: While I enjoyed the informal service, the restaurant does have some bad reviews that describe rude waiters and being rushed out quickly. This was not our personal experience, but don't go expecting five star service.
The Verdict: A great option for trying traditional Catalan food in Barcelona at a very reasonable price. Best for sharing plates with friends or family.