Today Lindsey shares tips for a free self guided tapas tour in Barcelona's buzzing Poble Sec neighborhood. This 5 stop tour is a local experience that every foodie in Barcelona should try!
A tapas crawl in Barcelona is unlike that of nearly any other major city in Spain. Few, if any, other Spanish destinations have managed to combine such a wide range of culinary influences into one fascinating, delicious gastronomic scene.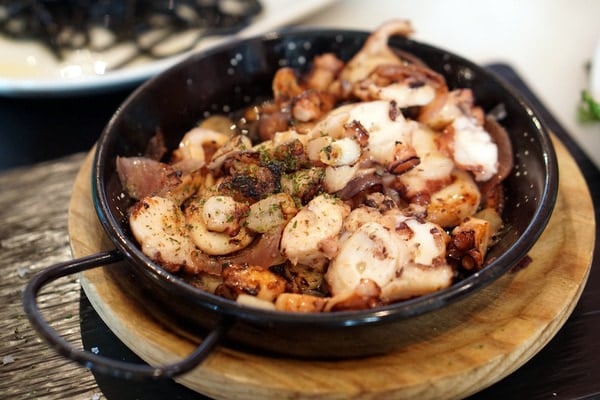 Of course, you've got the traditional Catalan fare that's been enjoyed by Barcelona families for centuries. But the region's location on Spain's northern border means that French influences are also quite common in modern Catalan cuisine. Inter-Spain migration has brought culinary inspiration from as far as Andalusia. And Barcelona's international appeal has resulted in an influx of gastronomic delights from around the world.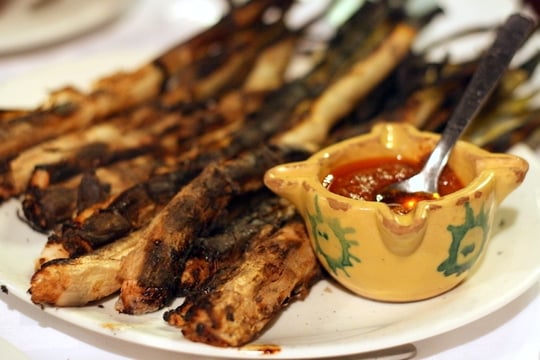 The result: a beautiful, fascinating, diverse dining scene that makes a self guided tapas crawl in Barcelona all but necessary. The Poble Sec neighborhood makes a particularly good setting for doing just that. This historic neighborhood at the foot of Montjuïc Hill has gained notoriety for its fabulous gastro scene. From old-fashioned bars and bodegas to eclectic modern fusion spots, Poble Sec has it all.
Ready to explore? Here are five spots for a free self guided tapas tour in Barcelona to get you started. Note - while the route is free, we estimate you'd spend anywhere from 35€ to 65€ per person, depending on how many people are in your group (the more people, the more sharing!) and how much you like to eat and drink!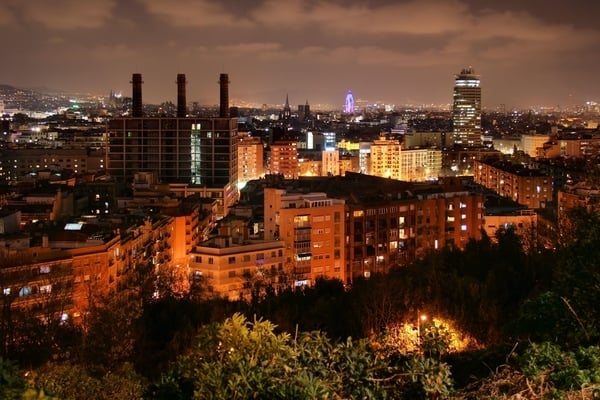 The Best Free Self Guided Tapas Tour in Barcelona
Poble Sec Neighborhood
1. Quimet & Quimet
When it first opened its doors in 1914, Quimet & Quimet (Carrer del Poeta Cabanyes, 25) was little more than a humble wine shop. The original owner, Quim, sold the wine he produced himself in the foothills of the Montserrat range outside Barcelona. With the wine, customers could expect a small tapa, usually in the form of high-quality canned goods.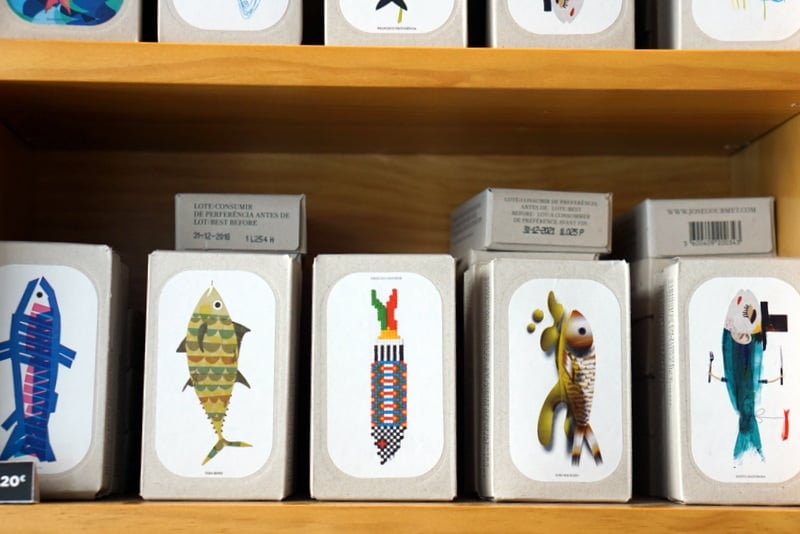 Four generations—each also named Quim—later, little has changed. The place is almost entirely standing-room only, with walls covered in wine bottles and colorful tins of gourmet conservas (gourmet canned goods). What makes this place so great, however, is how they've adapted to Barcelona's changing culinary scene without losing their heart. Today, Quimet & Quimet serves up some of the most innovative tapas this side of Avinguda del Paral-lel with the same Catalan hospitality and commitment to quality that's kept them going strong for more than a century.
What to order: You can't go wrong with the salmon pintxo topped with cream cheese and honey truffle. Wash it down with a glass of vermouth.
Estimated price: €5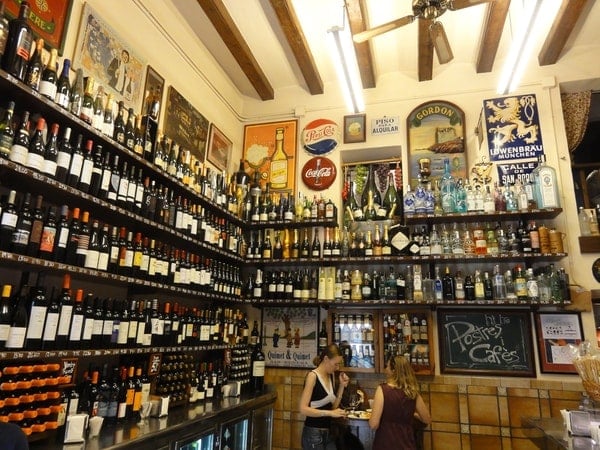 Learn More: Here's why Spain's canned goods are of such excellent quality—you'll never look at a can of tuna or anchovies the same way again!
2. La Chana
What if I told you it was possible to enjoy traditional Andalusian tapas right in the heart of Poble Sec?
Believe it or not, you can. La Chana (Carrer del Poeta Cabanyes, 8), will whisk you away to Cádiz, owner Natalia's hometown. Following in the footsteps of countless other Andalusians who made their way to Barcelona, she opened the bar as a way to share southern Spain's culture and cuisine with residents of her adopted city. Here, you can nibble on traditional Andalusian tapas paired with wines from Córdoba, Cádiz, Almería, and Málaga provinces.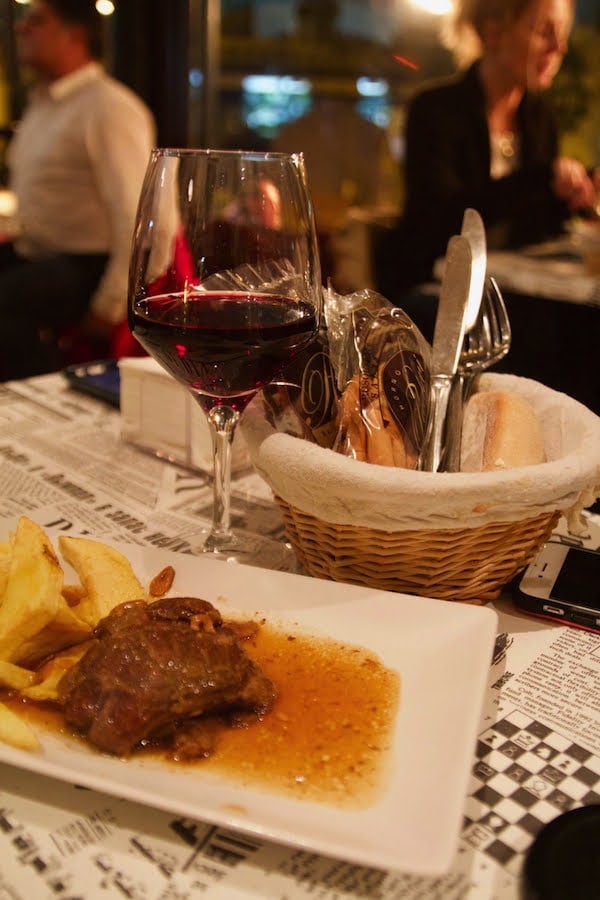 What sets La Chana apart, though, is its refreshing, modern vibe. Rather than the soulful sounds of flamenco music commonly played in Andalusian bars, the soundtrack here is almost entirely rock 'n' roll. The fresh, modern atmosphere combined with the typical Andalusian bites we know and love make this spot a must on any self guided tapas tour in Barcelona.
What to order: You can't get much more andaluz than cazón en adobo—fried dogfish marinated in a tasty spice blend—with a glass of crisp manzanilla sherry.
Estimated price: €5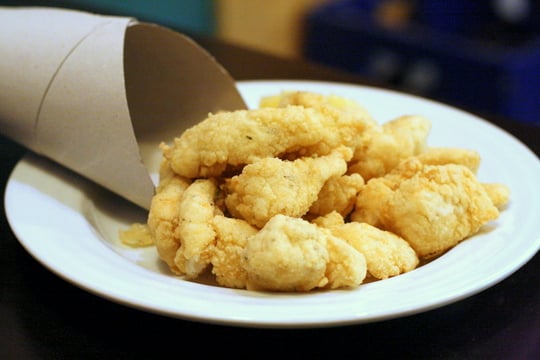 3. Blai 9
Pintxos bars are a dime a dozen in Barcelona. The Basque Country's answer to tapas has gained popularity in the Catalan capital, resulting in a slew of bars serving them popping up all over the city. Unfortunately, most of them lean towards the touristy side, and the quality isn't great.
Blai 9 (Carrer del Blai, 9) is an exception. The colorful, inventive array of pintxos changes every day in an effort to highlight the freshest ingredients available. Additionally, they may look a bit different than the Basque pintxos you may be familiar with. While the customary toothpick is still there to hold everything in place, the typical bread base is often foregone in favor of other ingredients (among them pancakes and nachos) to add variety. Everything comes beautifully presented with exquisite attention to detail.
What to order: You'll never have the same thing twice at Blai 9 thanks to their changing menu, so it's hard to recommend one specific pintxo. However, it's pretty hard to go wrong here—anything you get is sure to be good! To drink, go with a zurito, a small serving of beer that's just enough to accompany a single pintxo.
Estimated price: €3–€5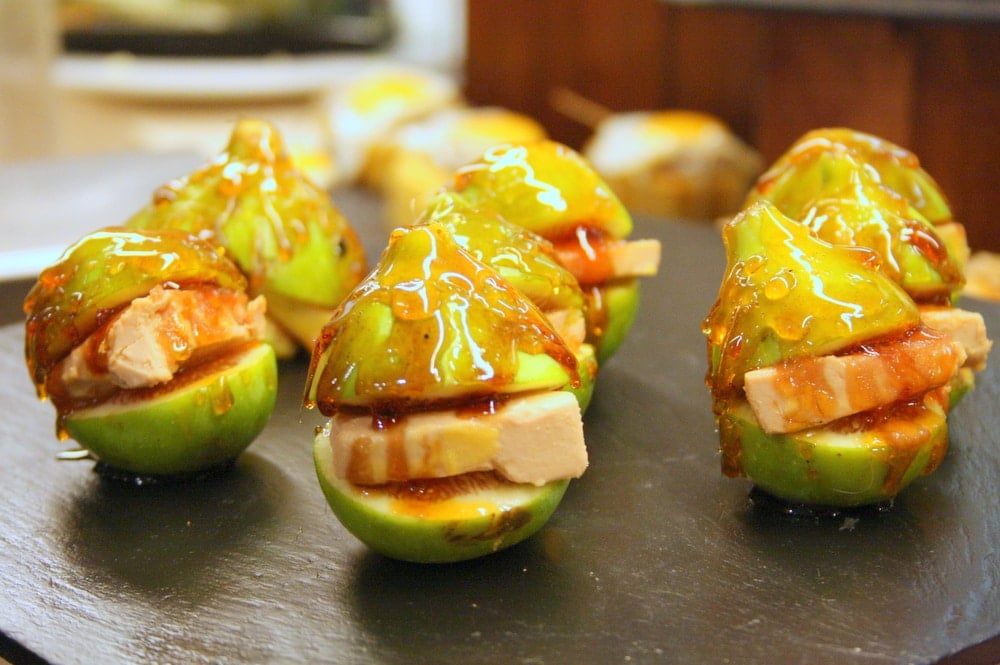 4. Palo Cortao
Another fabulous spot that draws heavily on influences from southern Spain, Palo Cortao (Carrer Nou de la Rambla, 146) beautifully brings together Andalusian and Catalan culture and cuisine. Their dishes are modern while staying true to their roots, and everything is prepared to order from scratch with love.
The name of this place comes from the palo cortado variety of sherry. True to its Andalusian heritage, the name of the restaurant is spelled in the way that it's often pronounced in the southern dialect, eliminating the d. Their wine list is unsurprisingly excellent, featuring a respectable selection of Andalusian and Catalan varieties.
What to order: The rabo de buey estofado (stewed beef tail) is to die for, and pairs beautifully with a robust red wine.
Estimated price: €15
Rich, hearty
rabo de buey
is an Andalusian classic.
See Also: Get the complete guide to eating in Barcelona!
5. Casa Xica
Rounding out your free self guided tapas tour in Barcelona is one of the most exciting Catalan-Asian fusion spots in the city. Run by a Catalan couple who have lived and traveled extensively in Asia, Casa Xica (Carrer de la França Xica, 20) masterfully brings the flavors of the Far East to life with fresh, local ingredients.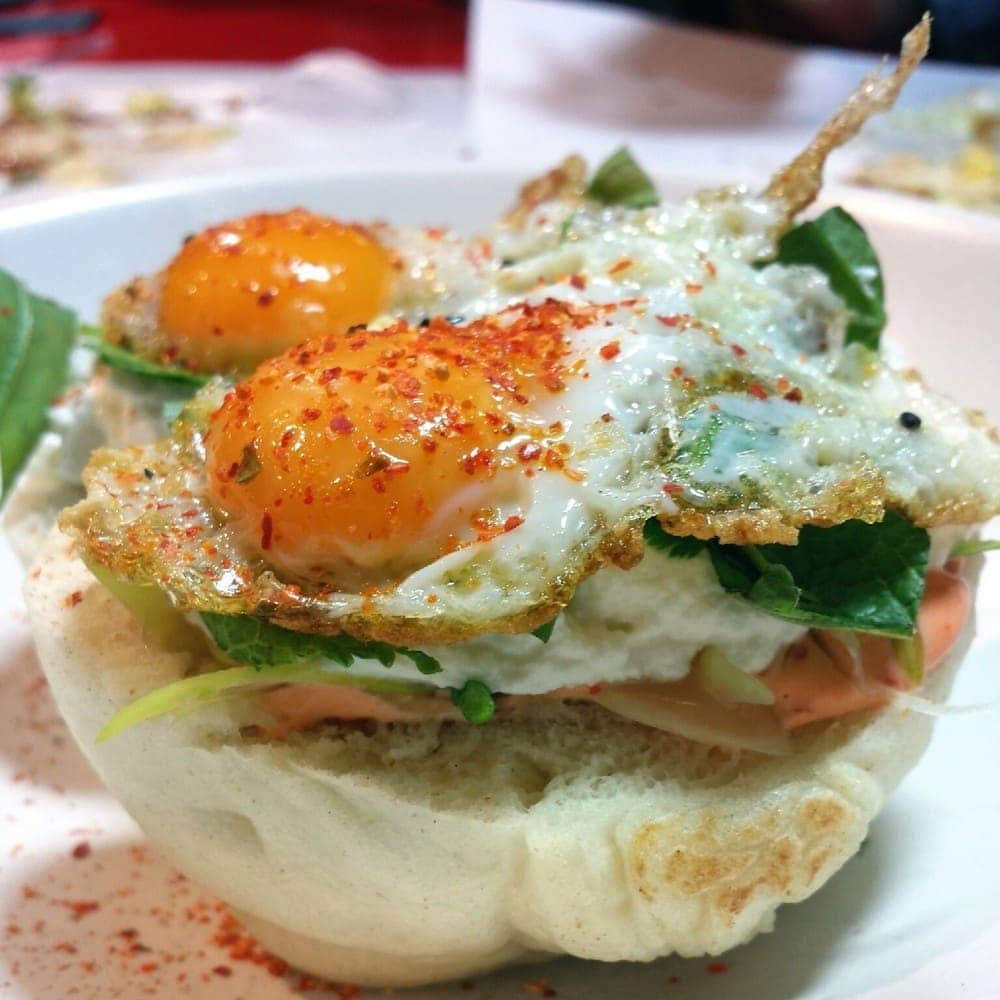 It's no secret that the fusion trend has made waves in Barcelona in recent years. However, few places have managed to pull it off as well as this one. Located in a cozy old house, the restaurant itself feels friendly and inviting, a philosophy that's reflected in every one of their carefully prepared dishes.
What to order: You can't go wrong with the steamed oxtail buns. To drink, go with one of their excellent natural wines.
Estimated price: €15
Craving more tapas?
A self guided tapas tour in Barcelona is a great way to get the lay of the land and start discovering this city's fantastic blend of cuisines. But navigating the food scene here can be tricky for newcomers, especially when there's seemingly a low-quality tourist trap for every authentic gem.
To make sure you visit none of the former and plenty of the latter, Devour Barcelona's Tapas Like a Local Tour is a must. You'll enjoy a tapas crawl through one of Barcelona's most charming, off-the-beaten-path neighborhoods and see what it really means to eat like a local (a term that gets tossed around a lot, but that can be hard to put into practice). Along the way, you'll get plenty of insider foodie info that will make navigating Barcelona's busy bars and restaurants a piece of cake throughout the rest of your trip!
Pin me!