Last October I had the opportunity to visit Jaén with the Diputación de Jaén to learn all about extra virgin olive oil. It was an incredible trip, and the information I learned changed my shopping habits and enhanced my cooking skills. Part of the itinerary included a stop in the small town of Linares to eat at Restaurante Los Sentidos. We had an wonderful olive oil infused meal, and I was surprised that a small (population 62,000) former mining city was home to such innovation.
This past February I attended Madrid Fusión and was surprised to hear the town of Linares mentioned again. But this time it was because of a young chef named Juan Carlos Trujillo whose restaurant Canela en Rama was awarded the prestigious Premio Restaurante Revelación (The Stand-Out Restaurant of the Year Award). I was intrigued, and although I didn't expect to visit Linares again anytime soon, I made sure to make a note of the restaurant for the future.
But when planning our road trip to Malaga this summer, I was thrilled to see that we would pass right through Linares. I immediately made a reservation at Canela en Rama, planning our departure time so that we'd make it for lunch.
We finally arrived (an hour late!), but it wasn't a problem. Canela en Rama is small and cozy, tucked away on a small side street of downtown Linares. It has a small tavern on the bottom floor, serving tapas and wines by the glass. Upstairs is the dining room, a cozy space where it almost felt like we were dining in someone's home. We ordered the tasting menu, which at 35€ per person seemed like a great deal. Given that we still had a way to drive, we decided on sparkling water instead of wine.
Chef Juan Carlos came out to introduce himself and asked if we had any food intolerances. I thought that this was a really nice gesture, as the waiter could have easily asked us himself. We told him we were ready for anything, and the show began!
Jaén Style Olives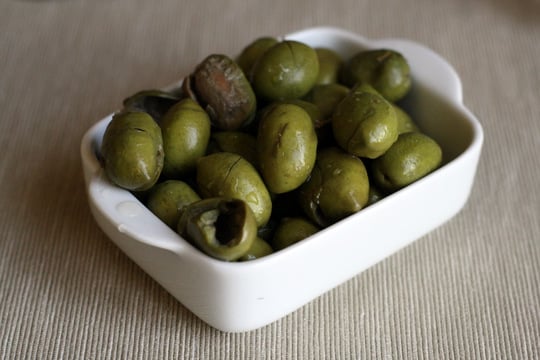 Amuse Bouche: Marinated chicken with Cesar dressing and fried onion
Aperitivo: Pollo en adobo con salsa César y copos de cebolla
We started with a little taste of marinated chicken, the chef's play on a Cesar salad. The chicken was moist and delicious, and the dressing was super creamy.
Cold appetizer: Creamy salmorejo (a cold tomato based soup) with quail, truffle, and caramel coated pine nuts
Entrada fría: Salmorejo cremoso con codorniz, trufa y piñones garrapiñados
This goes down as one of the best salmorejos of my life (and I've tried many!). The quail was delicate and flavorful and the sugared pine nuts added texture and a surprising sweetness that worked perfectly. I never wanted this bowl to end!
Hot appetizer: Fresh blood sausage cannelloni topped with local cheese, béchamel sauce and cinnamon
Entrada caliente: Canelón de morcilla de matanza, quesos de la tierra y bechamel a la canela
This dish was very well executed (though not very pretty to photograph). Creamy and savory, the touch of cinnamon really worked with all of the other flavors. I don't think that blood sausage will ever be one of my favorite things, but it was a really good dish.
Fish: Cod topped with octopus confit and a pumpkin puree
Pescado: Bacalao con pulpo confitado y calabaza aliñada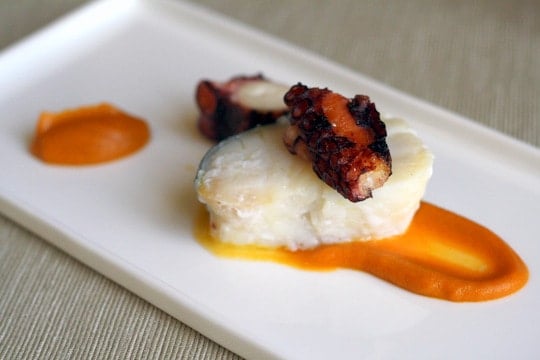 The cod was tender and moist, cooked perfectly. The octopus was also delicious and the creamy pumpkin gave the dish some boldness.
Meat: Crispy Iberian suckling pig with apple compote and a touch of vanilla
Carne: Cochinillo ibérico crujiente con compota de manzana y vainilla
The cochinillo of the chef's star dishes and I can see why! It was incredibly tender and flavorful with an extremely crispy crust. What a way to end the savory plates!
Pre-dessert: Seasonal cherries with coca cola and lime
Pre-postre: Cerezas, Coca Cola y Lima
I feel like Chef Juan Carlos invented this little pre-dessert with me in mind. I am obsessed with fresh cherries and any dessert that includes lime heads straight to the top of my list! Cool and refreshing, this was a welcome surprise.
Dessert: Bread, Extra Virgin Olive Oil and chocolate
Postre: Pan, Aove y Chocolate
A play on the typical childhood snack of toast with olive oil and chocolate, this dessert was a deconstructed version. Rich and smooth, it was just enough to finish the meal.
This was honestly one of the best meals I've had in a very long time. After we finished, chef Juan Carlos came out to chat and his humble attitude was refreshing, especially since he knows he's talented! He says that he isn't obsessed with getting a Michelin star, something many suspect might be in his future. For now he's just thankful for the people who come visit, many of which come from hours away due to the award.
I only wish that Linares was closer to be able to visit Canela en Rama more often!
Canela en Rama
Calle República Argentina, 12
Linares, Jaén
[mappress mapid="24″]