The first time I visited Malaga I spent the day lounging on the beach, trying not to stare at the nearly naked grandmas that were sunning themselves on all sides.
It was October of 2007 and I was studying abroad in nearby Granada when some friends and I decided to make the short trip to Malaga for a night. We came mostly for the beach, and I honestly don't remember seeing or doing much else.
Since then I've been hearing mixed things about sunny Malaga. It seems like people either love it or hate it-- and I knew I needed to go back to find out which side of the fence I was on. So when the opportunity came about to take a week long road trip I made sure Malaga was a stop. We only had one day to take in the sights, so we made the most of each and every minute.
Conclusion? I love Malaga!
1. Calle Larios
We started our visit with a stroll down the lovely Calle Larios, one of Spain's most expensive shopping streets with rents soaring to over 150€ per square meter per month, and where only the big name shops and designers can afford them. But as much as the glitzy brand names were tempting, we preferred to spend our time and money eating our way around the city.
2. Malaga Central Market
Malaga's central market (Mercado Central de Atarazaras) is one of the most impressive and charming markets I've ever visited (and I've visited lots!). It was opened in 1879 after being built in what was once a naval repair yard of the Nasrid Dynasty, and later a Christian hospital. In 2008 it was remodeled, exposing the gorgeous ceilings. What I love about Malaga's market is that it isn't too big, but it is filled with plenty of amazing food, friendly vendors, and also many little snack bars.
Read More: Get the 101 on Malaga's market here.
3. Vinos de Malaga
After spending too much time in the market, it was time for a quick walk through one of the city's coolest wine bars. The Antigua Casa de Guardia was founded in 1840 and is famous for its sweet and dry Malaga wines-- namely Moscatel and Pedro Ximenez.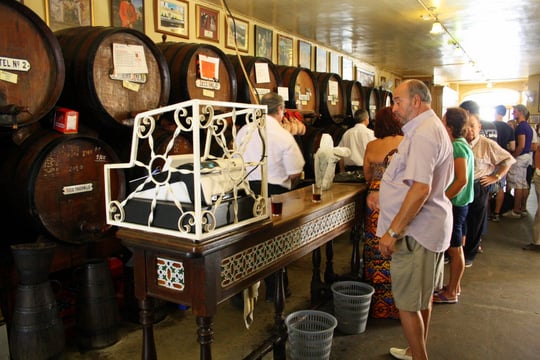 4. Sacred Heart Church
We continued our walk past the gorgeous Sacred Heart Church, where I would have loved to have sat across from on a terrace with a glass of wine and a good book. Next time...
5. Plaza de la Constitución
Malaga's main square is as relaxing and charming as any, with plenty of space for kids to run around and people to stroll through on the weekend. I loved the display of the different newspapers front pages on the day Spain became a democracy.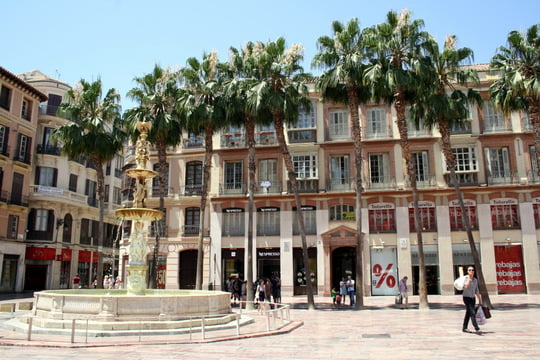 6. Cathedral
We had to make a stop at Malaga's beautiful (and strange) Cathedral, known by locals as "the one armed lady" (La Manquita) because it isn't quite finished and one entire tower is left undone. Some historic accounts say that the money destined for the second tour went to the British colonies fighting for their independence in the American Revolution! Curiously, Malaga had the chance to see it finished but opted to leave it the way it was.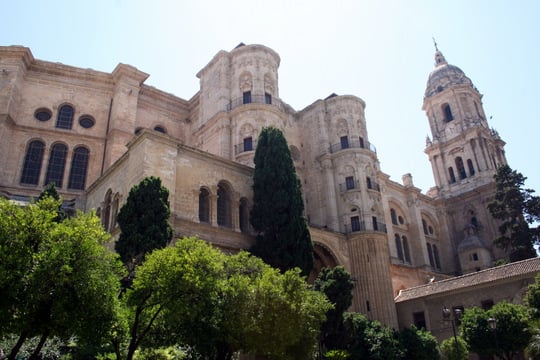 7. View from AC Malaga Palacio Hotel
After plenty of tapas and more than a few drinks, we ended our afternoon on the rooftop of the AC Malaga Palacio Hotel, where the views of the city are simply stunning. From the rooftop restaurant you have an unobstructed view of the port, the Cathedral, the Arab wall, and of plenty of gorgeous homes and villas that scatter the hills.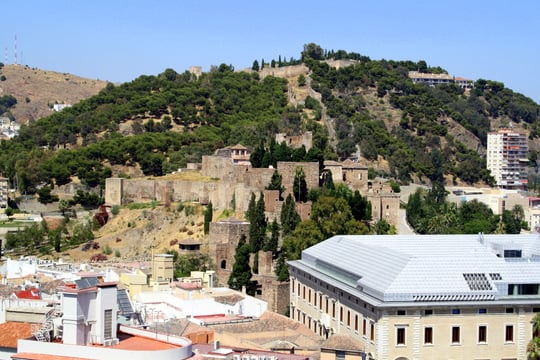 8. The Port
Later that evening we went for a stroll along the port, known now as Muelle Uno. As the oldest continually operated port in Spain, it is still used to welcome ships from all over the world. Recently renovated, the new walkway is modern but lovely, lined with outdoor terraces and benches to take in the view from all angles. It was here where I honestly thought that maybe one day I could live in Malaga...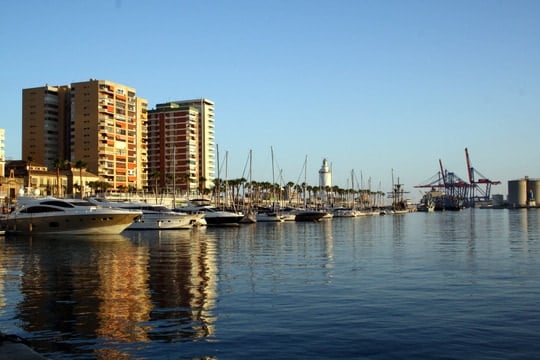 9. Dinner and Drinks
We decided to dine out in style and try the Jose Carlos Garcia Restaurant, Malaga Capital's only Michelin starred restaurant. Unfortunately, apart from one of the plates on the tasting menu we were less than impressed, but at least the ambiance and company were great. After we went for a cocktail at La Moraga, which had a limited cocktail list (we've been spoiled here in Madrid), but the beach view and sound of the sea more than made up for it!
We arrived back to our hotel at 3:00 a.m. and could have definitely have stayed out longer to truly take in the night life! Our time in Malaga passed in a flash, but we are both certain we'll be back. I love that the city combines various things I value in one place: the quaint, windy cobblestone streets of Andalusia, some excellent tapas spots and a historic market, a beach and lovely port, and easy access to other Spanish cities and towns. It also has an international airport! Could it be the perfect Spanish city we've been searching for?
What do you think, does Malaga have it all?