The history of salt cod (bacalao/bacalhau/baccalà) is fascinating. It's one of the most traditional dishes in Spain, Portugal and Italy-- but cod is found nowhere near our coasts! The story of cod is long and complicated, and nowadays eating the fish itself is very controversial because of its quickly declining stocks. Overfishing is definitely a problem, so eat responsibly!
Here in Spain, bacalao is often prepared for holidays and special events. When I found this recipe for cod with cauliflower, I knew I had to make it. Growing up in Massachusetts cod was a Christmas staple, and this Spanish version didn't disappoint!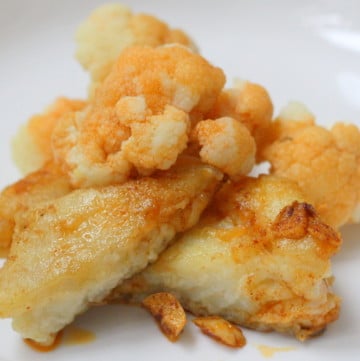 Cod with Cauliflower Recipe (Bacalao con Coliflor)
This delicious cod with cauliflower recipe is a dish from northern Spain that's typical for the holidays. It is super easy and gets rave reviews from friends and family!
Print (images optional)
Pin
Rate
Ingredients
1

medium head of cauliflower

divided into florets

1

pound

of salt cod cut in small filets with or without bones/skin

doesn't matter, soaked 24-36 hours (see note below)*

5

cloves

of garlic

Sweet Spanish paprika

Flour for breading the cod

Extra virgin olive oil

Salt

*To prepare the salt cod you must soak it in cold water for at least a day. Depending on the brand it may require more of less soaking to remove the salt. Cover the cod by at least two inches and keep in the refrigerator

changing the water 3-4 times a day.
Instructions
Steam the cauliflower florets for about 20 minutes until al dente. If you don't own a steamer (I don't) you can put the cauliflower into a colander, place it on top of a partway filled pot of water and bring it to a simmer, covering the cauliflower with the pot's lid (make sure the colander doesn't actually touch the water).

As the cauliflower simmers, dredge the cod in flour and brown each piece in about a ½ inch of olive oil, making sure each side is golden brown but not overcooked.

Allow the cod to drain off the excess oil on paper towels and reserve.

Cool the same oil (and add more if necessary to make sure the pan is filled with about a ½ cup of extra virgin olive oil) and then add the 5 sliced garlic cloves and slowly fry them until just starting to brown.

Remove the garlic oil from the heat and take out the garlic with a slotted spoon.

After the oil has cooled for a couple of minutes add a spoon of sweet Spanish paprika and let it infuse.

After about 10 minutes carefully spoon out the infused olive oil, leaving behind the actual paprika, which would give the dish a sandy texture and brown color.

In an oven safe serving dish layer the cod and cauliflower then top with the flavored oil and sprinkle with the browned garlic.

Eat as is or put in the oven for a few minutes right before serving to make sure everything is piping hot.
Nutrition
Calories:
414.97
kcal
|
Carbohydrates:
11.25
g
|
Protein:
74.62
g
|
Fat:
6.65
g
|
Saturated Fat:
1.11
g
|
Cholesterol:
172.37
mg
|
Sodium:
8012.38
mg
|
Potassium:
2098.19
mg
|
Fiber:
3.06
g
|
Sugar:
2.79
g
|
Vitamin A:
158.76
IU
|
Vitamin C:
74.43
mg
|
Calcium:
219.85
mg
|
Iron:
3.68
mg
Although you can make this cod with cauliflower recipe using boneless/skinless cod, I prefer the bone-in and skin-on filets. The bones give the sauce a thicker texture and I think the pieces are a bit more flavorful. You do have to be very careful when eating it, however, as the bones themselves are thin and translucent.
I'm so happy to have found this delicious recipe, now a holiday staple in our family!
What are your favorite holiday meals?