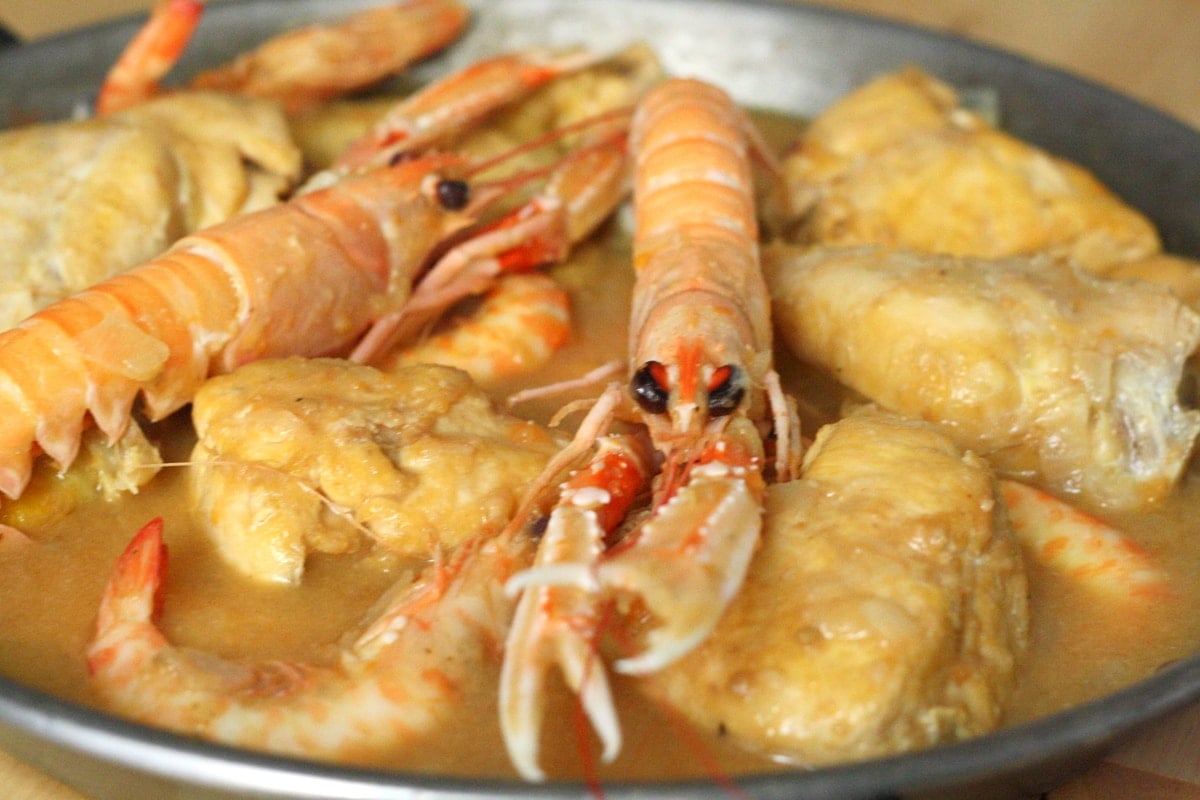 When I saw this traditional Catalan recipe for chicken and shrimp, I knew I just had to make it. Mar i muntanya (surf and turf) is a typical concept in Catalan cuisine and combines the wonders of Catalan geography--amazing seafood and delicious mountain fare.
This mar i muntanya recipe consists of free range chicken, juicy gambas (prawns/shrimp) and (if you have the budget) delicious cigalas (langoustines-- not to be confused with Spanish langostinos, which are (confusingly) jumbo prawns).
The chicken and shrimp are slowly cooked to perfection and covered in a savory sauce enhanced with the traditional Catalan picada-- fried almonds, garlic and bread.
This was one of those dishes that I simply needed in my life, so with no plans to visit Catalonia anytime soon, I made my way over to the neighborhood market!
Mar i muntanya isn't a quick recipe, but it isn't at all complicated. I highly recommend you make extra, and don't forget a side of freshly fried potatoes to mop up the extra sauce!
Mar i Muntanya Recipe (Catalan Chicken and Shrimp)
This Catalan mar i muntanya recipe is a delicious dish of braised chicken and shrimp with an almond sauce.
Print (images optional)
Pin
Rate
Ingredients
A 3 pound free range chicken

skin off (except for the wings)

12

whole shrimp/prawns

uncooked

4

langoustines

optional, uncooked

2

large tomatoes

grated

2

sweet onions

diced

⅓

cup

of brandy

2

slices

of hearty baguette bread

toasted

20

raw almonds

peeled

5

garlic cloves

Salt and pepper

Extra virgin olive oil

About 10 cups chicken stock

see below

Chicken stock (will make about 10 cups)
1

carrot

1

onion

1

leek

2

garlic cloves

1

bay leaf

1

bunch of fresh parsley
Instructions
Cut the chicken into eight serving pieces (or get your butcher to do this)

If you are making the chicken stock from scratch (you should!) use only the carcass and the wings for the broth. Reserve the lean meat for the main dish.

Add the carcass and wings to 3 liters of cold water and add the stock vegetables. Bring to a boil and then lower to a simmer for about an hour and a half.

To start to make the Catalan picada (which you'll add to the sauce at the end of the recipe) heat about 6 tablespoons of extra virgin olive oil and lightly fry the almonds and whole garlic cloves (skin on)

Once the almonds and garlic are golden brown, reserve them in a small bowl along with the toasted slices of bread

Cover the raw chicken in salt and pepper and add to the same oil, browning the chicken on each side (but not cooking through)

Once each part of the chicken has been browned, removed and reserved, add the diced onion to the oil and allow to slowly brown

Grate the tomato (everything except the skin) and reserve the pulp in a bowl

By now the stock should be finished, strain it and adjust it for salt

Once the onions are browned, add the brandy and reduce for about a minute

Add the grated tomato pulp and fry the tomato and onion mixture on low for about 20 minutes until nice and thick (but not dry!)

To finish the picada mix, add the almonds, garlic and pinch of salt to a food processor (you could also use a mortar and pestle but it's a lot of work!)

Pulse a few times until a paste starts to form and then add the toasted bread ¼ piece at a time, reserve this mixture

Deglaze the tomato and onion mixture with some of the chicken stock

Transfer the mixture into a large pan and add back the browned chicken. Cover the chicken with the rest of the stock. If there is still chicken exposed, cover with water or fish bouillon

Simmer the chicken and broth mixture uncovered at a low heat for about an hour

In the last 15 minutes add in the picada mixture (almonds, garlic and bread paste)

Place the pieces of chicken onto a serving plate and if the sauce is too thin, turn up the heat for about 10 minutes so that some evaporates

While cooking down the sauce, add in the shrimp and langoustines for a couple of minutes (until just cooked), take them out and put on the serving dish along with the chicken

Taste the sauce and add salt and pepper as needed

Spoon the sauce over the chicken and shrimp in the serving plate

Serve alongside friend or boiled potatoes
Nutrition
Calories:
651.42
kcal
|
Carbohydrates:
40.44
g
|
Protein:
39.68
g
|
Fat:
31.8
g
|
Saturated Fat:
7.93
g
|
Cholesterol:
169.2
mg
|
Sodium:
2744.23
mg
|
Potassium:
862.61
mg
|
Fiber:
4.65
g
|
Sugar:
18.06
g
|
Vitamin A:
4931.91
IU
|
Vitamin C:
27.29
mg
|
Calcium:
142.98
mg
|
Iron:
3.74
mg
I know it might seem complicated, but I promise it's not hard-- just lots of little steps! This mar i muntanya recipe was adapted from one on the Spanish food blog Mercado Calabajio, which is one of my favorite Spanish recipe blogs!
Who knew that chicken and shrimp would make such a great match?