These delicious salt cod croquettes can be found in tapas bars throughout Spain. They're a staple for my family on Christmas Eve, and this classic salt cod croquettes recipe is one of the easiest you'll find.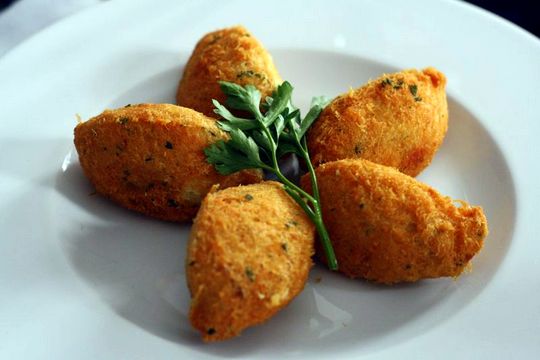 Best Salt Cod Croquettes Recipe
Croquettes are the delicious fried Spanish snacks that I've raved about before, especially when I shared my favorite recipe for ham croquettes. Luckily, as a snack historically made from leftovers, the possibilities for croquettes are countless and I am going to make an effort to share more of my delicious croquette recipes on the Spanish food and recipes section of this blog.
Cod croquettes (croquetas de bacalao) are among my favorite of the croquette family. I absolutely love the salty, fishy flavor of cod, and the creamy béchamel sauce ensures that these bite size morsels will melt in your mouth. The most famous cod croquettes in Madrid are found at Casa Labra one of the oldest taverns in Madrid(!), but after trying them, I still think they come out much better at home!
Try this traditional Spanish salt cod croquettes recipe for a plate full of creamy goodness that won't disappoint!
Spanish Salt Cod Croquettes Recipe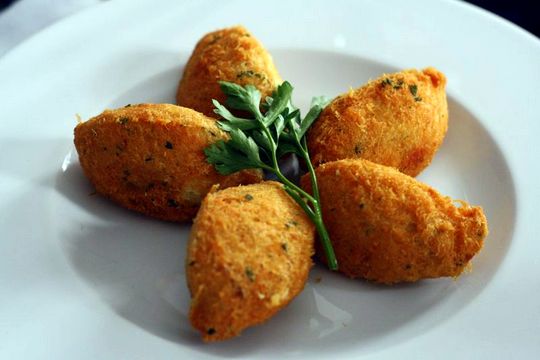 Salt Cod Croquettes Recipe (Croquetas de Bacalao)
A delicious and traditional salt cod croquettes recipe from Spain.
Ingredients
250

grams

of salt cod

1

medium sweet onion

or 3 shallots, diced small

4

tablespoons

of flour

A pinch of nutmeg

About 3 cups of whole milk

at room temperature!

3

T

unsalted butter

Extra Virgin Olive Oil

Salt

Black pepper

2-3

beaten eggs

Bread crumbs
Instructions
When working with salt cod, you will first need to desalt it. This is done by soaking the cod for at least 24 hours in cold water, changing the water at least five or six times.

After soaking, shred the cod into small pieces, try to not allow any bones to sneak through!

Add 2 T of olive oil to your pan and sauté the diced onion for about 10 minutes. When the onion is completely tender and translucent, add the shredded cod and some black pepper.

Sauté for a few minutes and then take off the heat and reserve.

To make the béchamel sauce, first sift the flour to avoid lumps.

Next, in a large, heavy pan over a medium heat, add the butter and allow it to melt.

When it turns light brown and starts to foam, add the sifted flour to make a roux (a flour/fat mixture).

Constantly stirring, cook the roux until it becomes a nice sandy brown color and forms a ball.

Whisk in one cup of milk and while constantly stirring, add the pepper and nutmeg.

When the roux has absorbed the first cup of milk, add the other two and stir for about 5 more minutes until you have a dough with a good consistency.

Finally, add in the cod and onion mixture and mix well.

Let the dough cool to room temperature and then refrigerate overnight.

The next day, make small balls or logs with your hands and pass them through beaten egg and then breadcrumbs.

Deep fry your cod croquettes in hot oil and enjoy these crispy treats!
Nutrition
Calories:
112.73
kcal
Carbohydrates:
5.53
g
Protein:
11.12
g
Fat:
4.91
g
Saturated Fat:
2.32
g
Cholesterol:
48.45
mg
Sodium:
1010.97
mg
Potassium:
287.16
mg
Fiber:
0.26
g
Sugar:
3.08
g
Vitamin A:
170.87
IU
Vitamin C:
1.37
mg
Calcium:
77.35
mg
Iron:
0.63
mg
And there you have it– delicious and creamy homemade salt cod croquettes. I know that having to refrigerate the dough seems annoying, but I guarantee that it is well worth the wait for these delicious Spanish fritters.
Which croquette recipe would you like to see next?
Pin me!