Looking for a simple and super authentic Spanish dish? Try one of these easy chorizo tapas recipes!
Among all the culinary wonders of the Iberian Peninsula, Spanish chorizo is truly a standout. This cured sausage is made from coarsely chopped pork seasoned with salt, garlic, and pimentón (smoked paprika). The bright red spice is what creates its characteristic color—not to mention its incredible flavor. It can be spicy or mild, but either way it's delicious.
If you want to bring an authentic taste of Spain to your kitchen, chorizo is a great choice! It can be added to all kinds of dishes, and is a key ingredient in many iconic specialties. But if you ask me, the best way to fully enjoy it is to give it a starring role. Make one of these super easy chorizo tapas recipes, and you'll see what I mean!
Top 7 Easy Chorizo Tapas Recipes to Make at Home
Chorizo is one of my all-time favorite elements of Spanish cuisine. It instantly elevates any dish, from the simplest snack to the most complex feast. That said, there's nothing I love more than an easy tapas recipe to bring out the best in this iconic ingredient. Here are some of my favorites!
1. Chorizo al vino tinto
As if chorizo were in need of any extra flavor, this recipe adds red wine, garlic, and bay leaves to the mix. I'm not complaining—if it's up to me, the more garlic (and wine), the better. Spanish Sabores contributor David wrote this simple chorizo al vino tinto recipe to recreate a tapa he had in Castilla y León. It couldn't be easier; just fry the sausage, simmer it slowly, and then serve with crusty bread.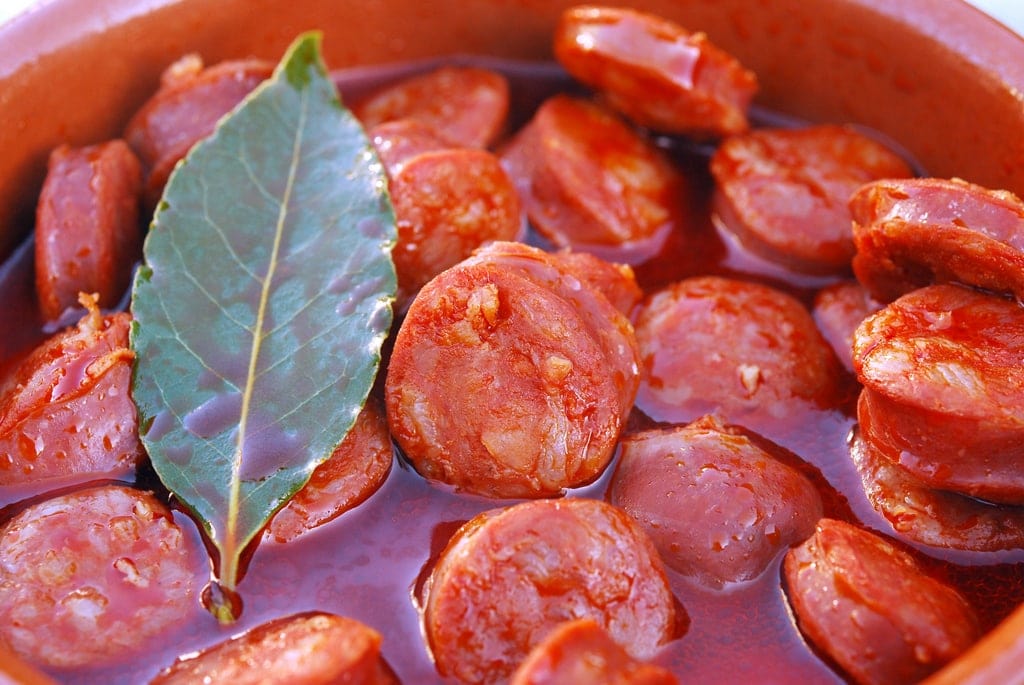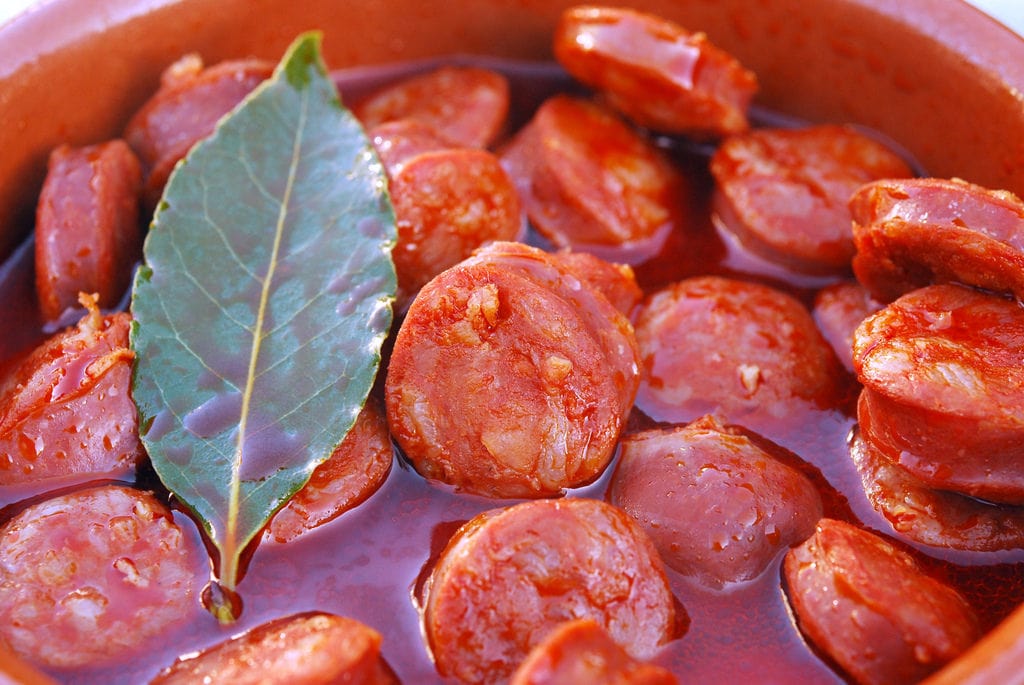 2. Chorizo a la sidra
This is similar to chorizo al vino tinto, but instead of red wine, you'll simmer the sausage in Spanish cider. Either Asturian or Basque cider will do the trick—just make sure your cider isn't too sweet. In Spain, it's much more sour and dry than what you might expect. This easy chorizo a la sidra recipe is also great to pair with bread—you're going to want to soak up all that juicy goodness.
3. Huevos rotos con chorizo
It's hard not to love huevos rotos ("broken eggs"), the ultimate trifecta of eggs, potatoes, and meat. This is a super classic and easy tapas recipe, and the perfect way to combine chorizo with other staples of Spanish cuisine. Think fried potatoes (you can also sauté or roast them) topped with runny eggs and chunks of smoky sausage. If you want you can add ham and peppers, like Lauren does in her huevos rotos recipe. Or just let the chorizo do its thing.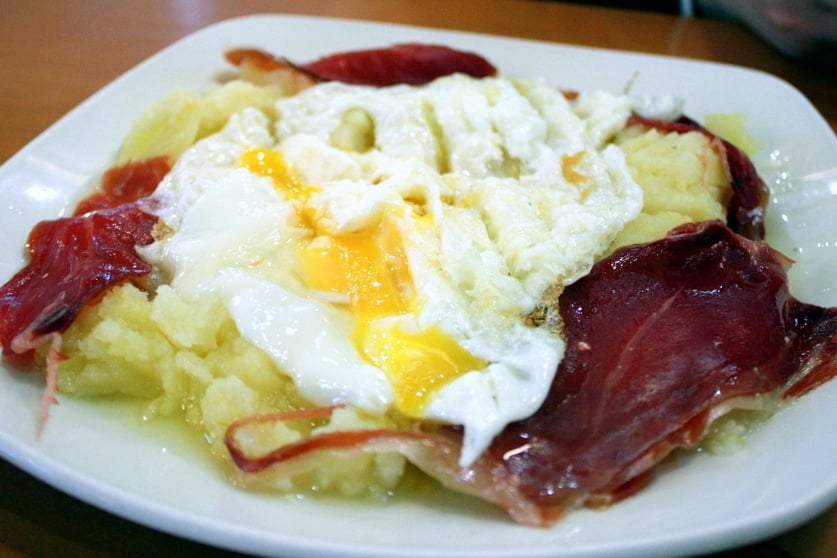 4. Tabla de embutidos
When it comes to tapas, sometimes simplicity reigns supreme. Take, for example, the tabla de embutidos, one of my personal favorite ways to enjoy chorizo. It's a selection of cured meats, ideally paired with Spanish cheese, olives, nuts, and anything else you like. You can add other embutidos like jamón ibérico and salchichón, or just focus on various types of chorizo. Make sure you pair it with a quality Spanish wine or vermouth for the perfect aperitivo.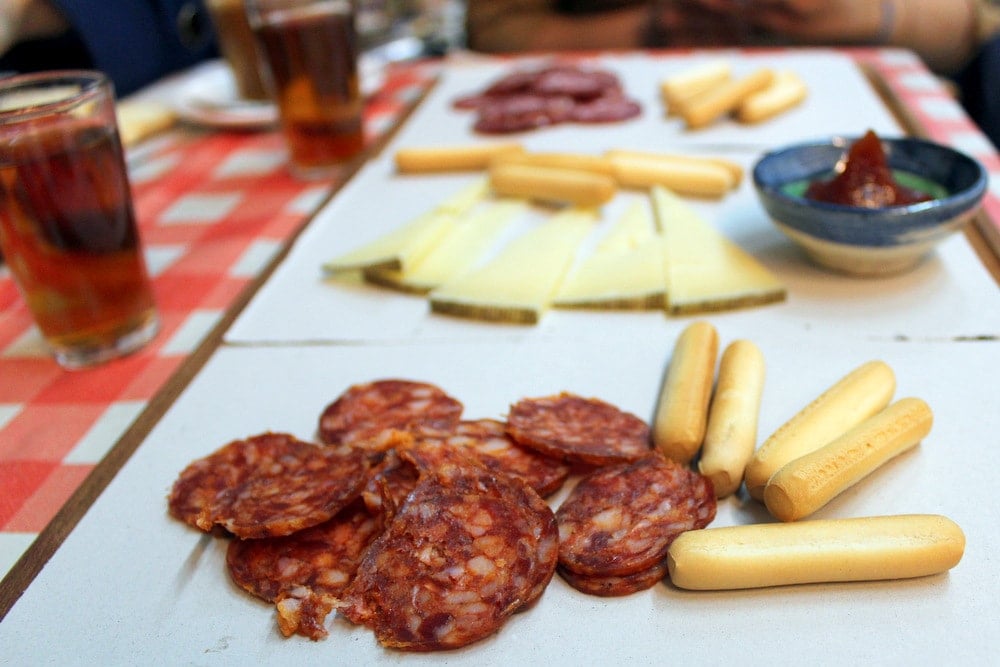 5. Pintxo de chorizo y pimiento
This is another incredibly easy chorizo tapas recipe that requires minimal prep. Pintxos are the Basque version of tapas: small pieces of bread with various toppings, held together by wooden toothpicks. All you have to do is slice some good bread, top it with a piece of chorizo, and add a freshly fried green pepper. Use this simple pimientos de padrón recipe to add a splash of color to your pintxos!
6. Tortilla con chorizo
If there's one Spanish dish that you have to try, it's tortilla española. This potato omelet is traditionally made with nothing but eggs, potatoes, and onions. But I'll tell you a secret: adding chorizo takes it to the next level. Follow the classic Spanish tortilla recipe from the Devour Tours digital cookbook, and add chopped chorizo to the pan as you cook the potatoes. Trust me, it's a game-changer.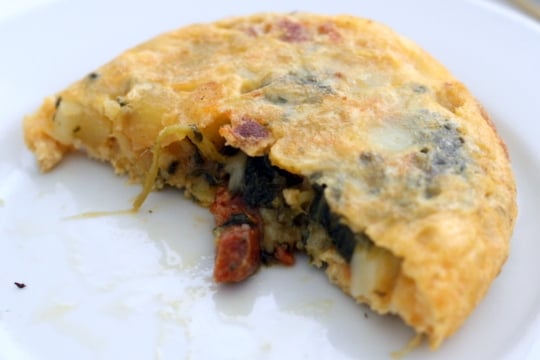 7. Pão com chouriço
You can probably tell from the name that this isn't a Spanish tapa; it's Portuguese for "bread with chorizo." But I couldn't resist including it, as it's one of my all-time favorite Portuguese street foods. It's commonly sold at bakeries and stalls at outdoor festivals, or as a roadside snack from trucks with built-in ovens.
However, my adopted Portuguese family likes to slice it up into bite-sized pieces and serve it as a sharing plate—turning it into a tapa that you can recreate at home with a simple recipe. The trick to the perfect pão com chouriço is thinly slicing the sausage instead of leaving it whole, so you get some in every bite!
For more authentic and easy tapas recipes from all over Spain—and across Europe—check out our digital cookbook, Recipes from the Devour Tours Kitchen!