When you think of vermouth, you probably think of a bottle of bitter fortified wine, lingering for years at the back of your drinks cabinet to be used only occasionally in Martinis or Manhattans. Well, think again. Here in Spain, we drink vermouth neat. If that sounds unpleasant to you, don't worry: Spanish vermouth is a world away from what you're used to. On our Devour food tours, it's not uncommon for guests to start off deeply skeptical about trying vermút but they often end up saying it was their favorite drink of the tour! Here's your guide to Spain's favorite aperitif.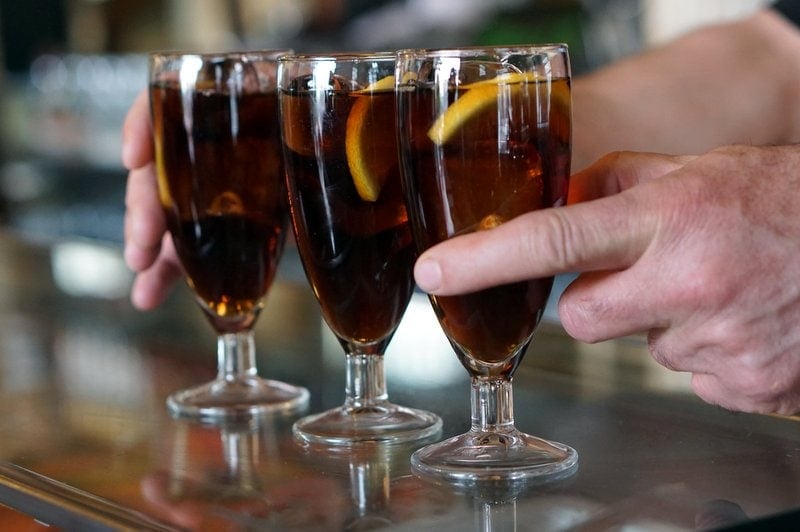 What is vermouth?
Here in Spain we typically drink sweet, red vermouth: vermút rojo. Despite its color, all vermouth starts out as white wine. It gains its darker color through being infused with caramel and a range of spices and botanicals. Each vermút has its own flavor profile of spices used, so look out for cinnamon, cardamom, and cloves in the aroma and taste. It's almost like a cold mulled wine!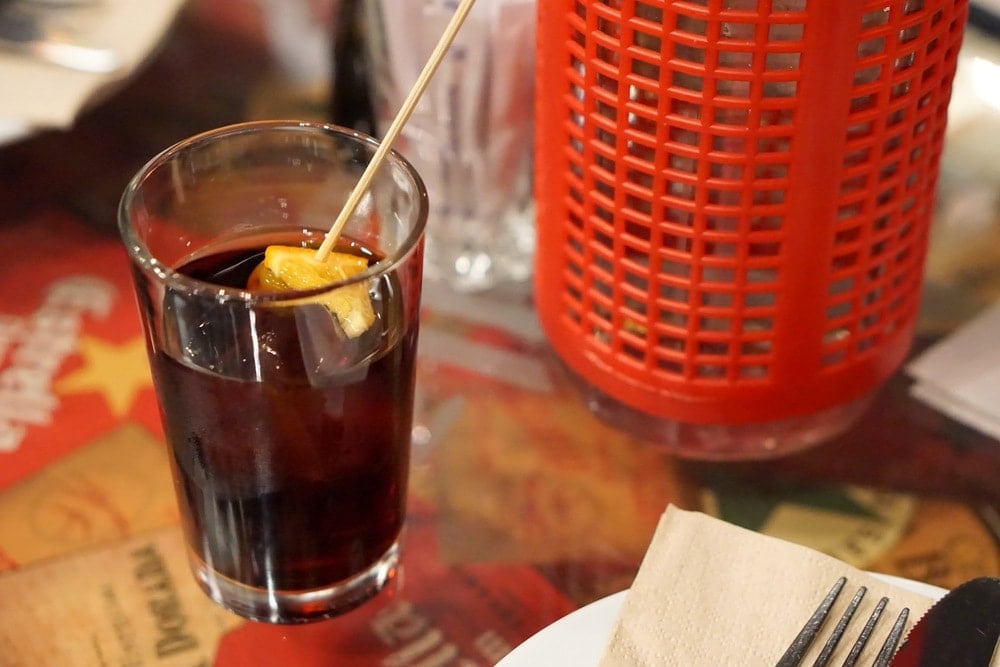 The best vermouths typically come de grifo in Madrid – from the tap – and not from a bottle. In Barcelona, you'll generally find bottled vermouth (people order the whole bottle for their group), and at the most traditional places, you can even fill your own bottle from the bodega's enormous barrels.
You can enjoy vermouth straight or on the rocks (often with a slice of orange or lemon). And try a dash of sifón: Spain's version of club soda, which can help open up the aromatic flavors of the wine.
When do we drink vermouth?
Read more: Brush up on your bar skills with our guide to ordering drinks in Madrid.
It's precisely this mixture of spices that makes Spanish vermút such a great aperitif. Spanish people believe that a glass before a big meal can help prepare your appetite and aid in digestion. Back in the day, vermouth was also the classic drink to have after leaving (or before entering!) Sunday mass. These days, fewer Spaniards regularly attend church, but the tradition of drinking vermouth on a Sunday has continued. Despite being somewhat strong (around 15% alcohol), it's viewed as the most socially acceptable alcoholic drink to have before noon on a Sunday!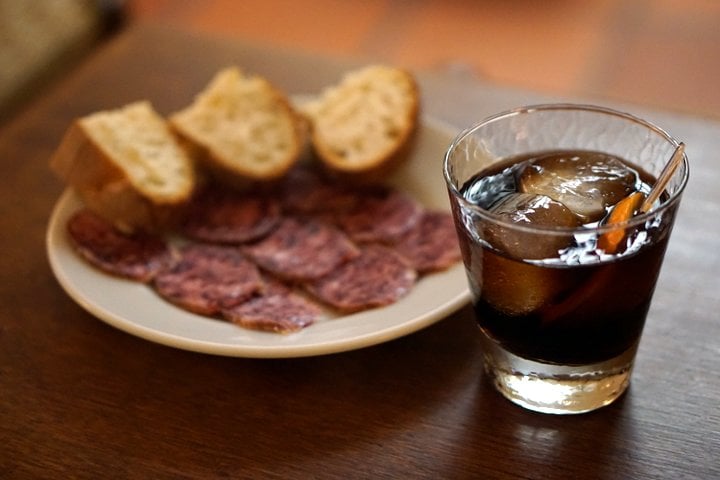 The old guard
Read more: Read about Lauren's visit to a classic Catalan vermouth tavern.
The most famous Spanish vermouth traditionally comes from Reus, a small town in Catalonia. This town of just 100,000 people became one of the major European centers of the liquor industry way back in the 18th century, and many of vermouths you'll encounter in Spain – including Yzaguirre and Miró (which we try on our Tapas, Taverns and History tour in Madrid) – hail from there. The classic vermouths tend to be a little sweeter than some of the new guard, so try pairing them with some tasty, salty, Spanish olives for contrast.
Read more: Spanish olives 101 guide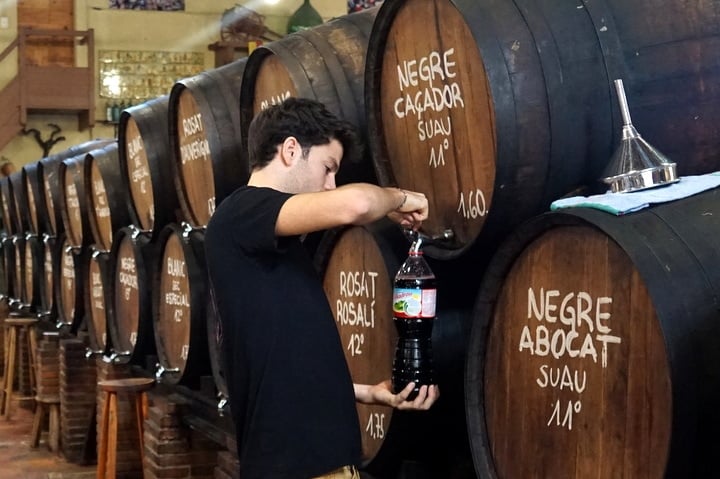 The new school
If we're being honest, vermouth has sometimes had a bit of a reputation as an "old man drink" in Spain. But these days, producers are experimenting with experimental infusions to create a new breed of vermouth that's quickly becoming one of the hottest drink trends in the country. One of our favorites is St. Petroni, a Galician vermouth made with typical plants and herbs of the region: bay leaves, rosemary, and wormwood (long thought to have magical and medicinal properties). For something a little more avant-garde, Casa Mariol's vermút negro (black/red vermouth) is darkened with walnuts to give a dark mahogany color. This makes for a delicious mix of bitter and sweet notes. What's more, it comes in a beautifully designed bottle, making it one of my favorite Spanish gifts for friends and family back home.
Where to drink vermouth
Read More: See our guides to drinking Spanish vermouth in Seville and Barcelona .
Given the historical importance of Catalonia in its production, Barcelona is one of the vermouth capitals of the world. For a traditional option, we love Cal Pep in Gracia, where they make their own vermouth on site. On the more modern side, Morro Fi (who have various outposts around the city) also make their own aperitifs.
In Madrid, Sunday is the best time to see vermouth culture in action. Many madrileños start at the Rastro market before heading to La Latina for tapas, all washed down with vermouth. In La Latina, La Parrala is one of my favorite joints for a vermouth con sifón and generous free tapas. Meanwhile, La Hora del Vermut in the Mercado San Miguel has a great range from regions around Spain.
In Seville, there's nowhere better than the oldest bar in the city, El Rinconcillo, to pair traditional vermouth with delicious cured ham.
Tour with us: If you want to delve deep in vermouth, you can try it with a wine expert on our wine tours in Madrid, Seville and Barcelona.
Have you tried Spanish vermouth? What did you think?
Pin me!