Spanish pimientos de Padrón are one of my all-time favorite tapas. Luckily, they're also one of the easiest to prepare—and this Padron peppers recipe proves it!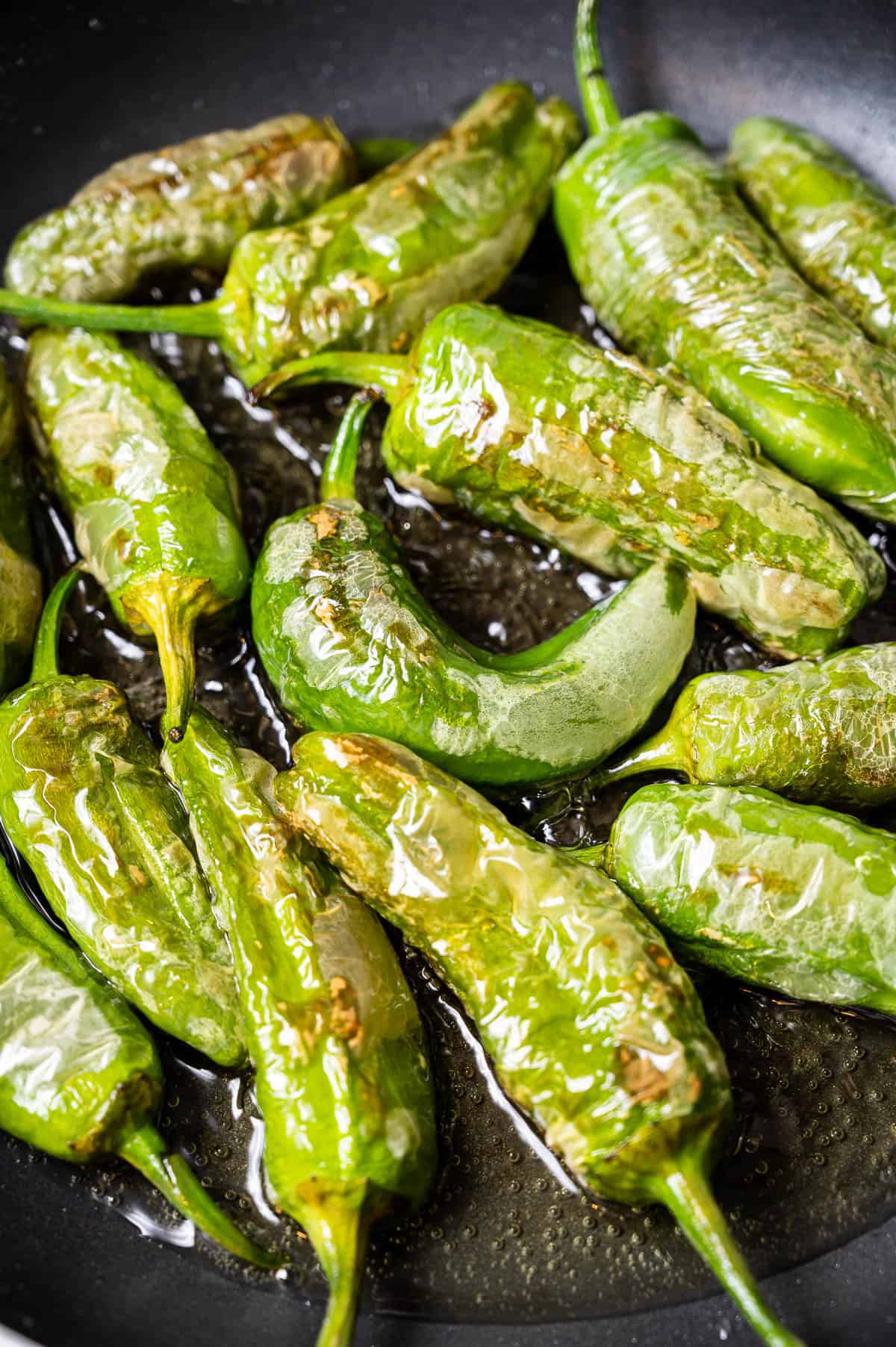 Padron Peppers: The Essential Spanish Veggie
I'm not one to complain about Spanish cuisine. In fact, I've been known to vehemently defend it if anyone dares to do so in my presence. But I do have to admit that there's one thing I often miss on traditional tapas menus: the color green.
It's not that Spain has anything against vegetables; they're central to some of the best Spanish dishes. But at your average tapas bar in Madrid, the menu staples tend to be potatoes, bread, and pork in various forms.
All of these are delicious, but in my opinion, they're even better when complemented by a splash of color in the form of some fresh produce. Enter the Padron pepper.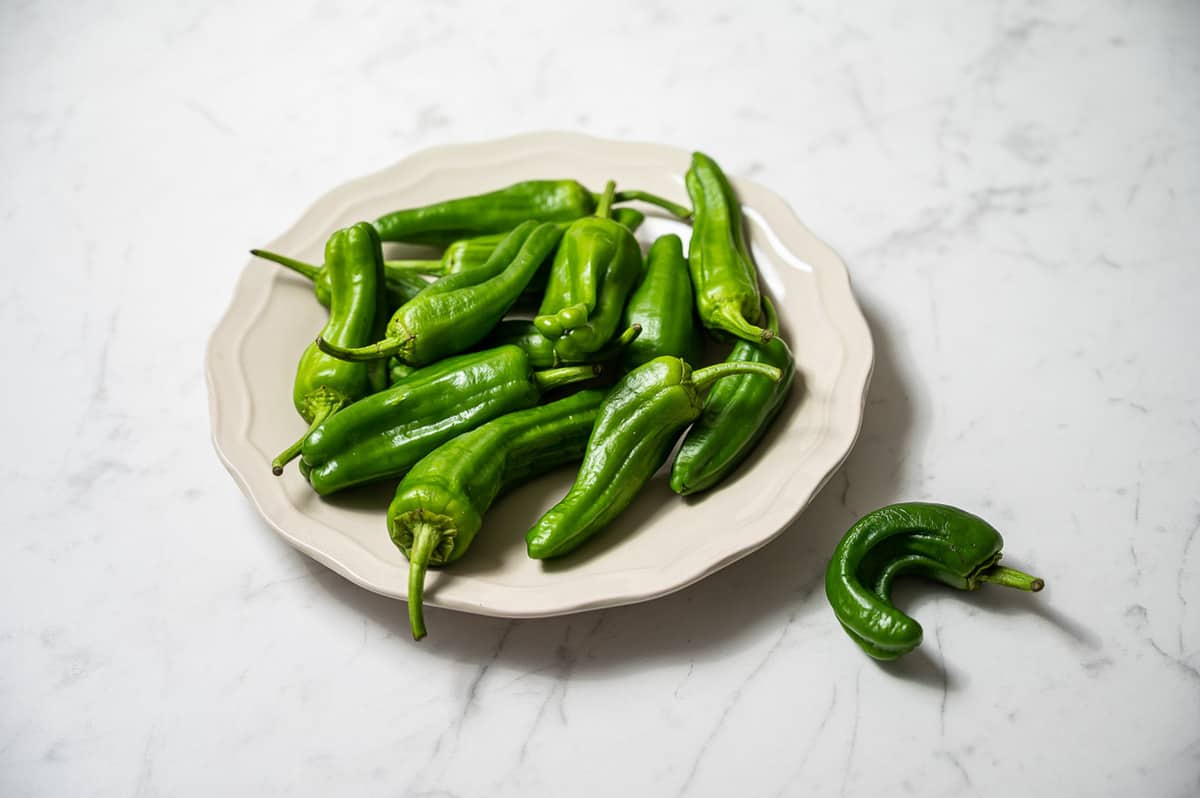 See also: The Most Typical Spanish Tapas in Madrid
What are Padron peppers?
Pimientos de Padrón are small, bright green peppers that come from the municipality of Padrón in Galicia, in the northwest part of Spain.
They're usually mild in flavor, with low levels of capsaicin. Every once in a while, however, you'll bite into one that's surprisingly spicy, making the act of eating them even more exciting.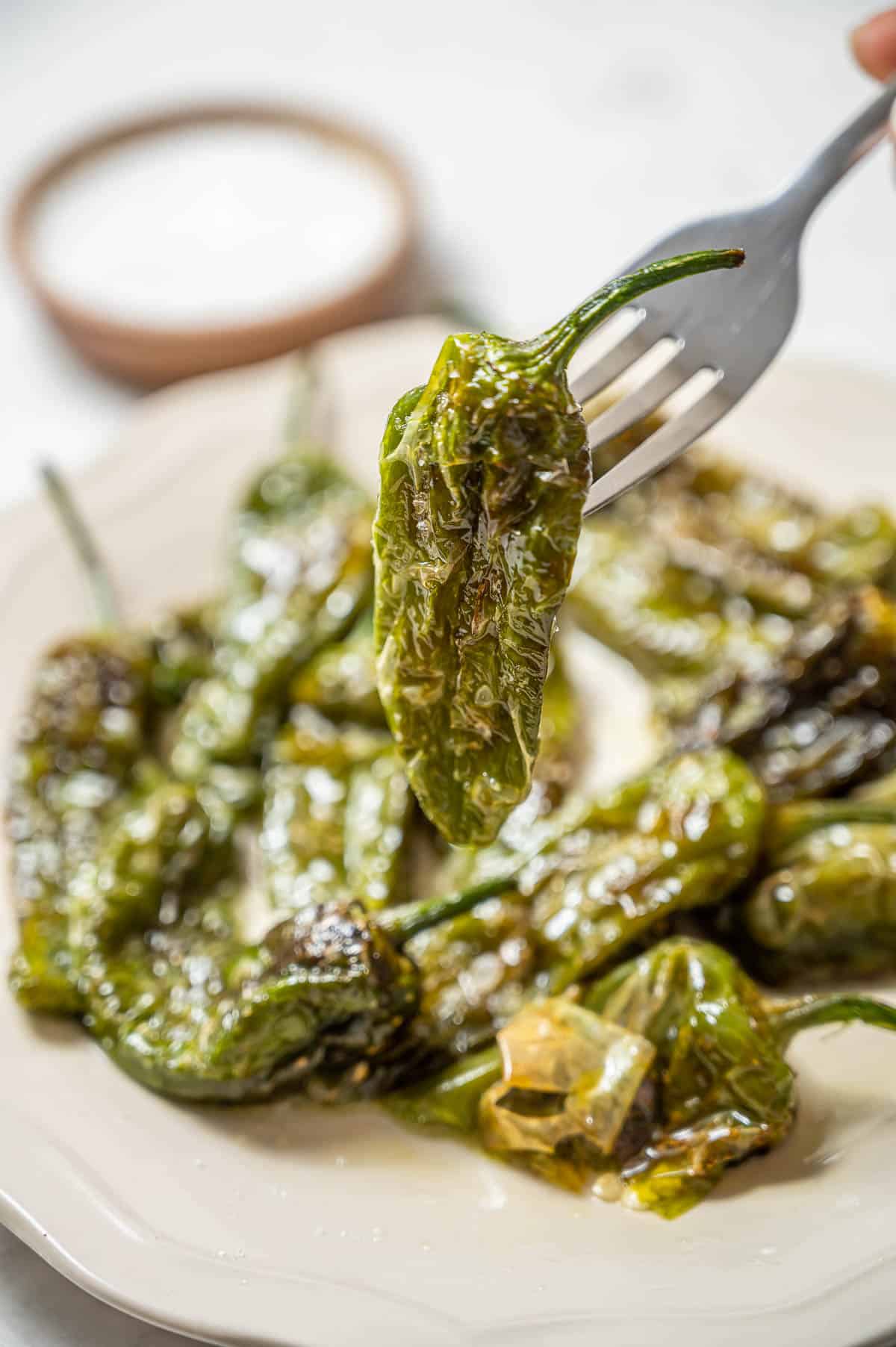 At tapas bars, they're sometimes served with huevos rotos (fried eggs and potatoes) or as an accompaniment to other dishes. But you can also order them all on their own: just a plate piled high with glistening, steaming peppers. I highly recommend this.
Key Ingredients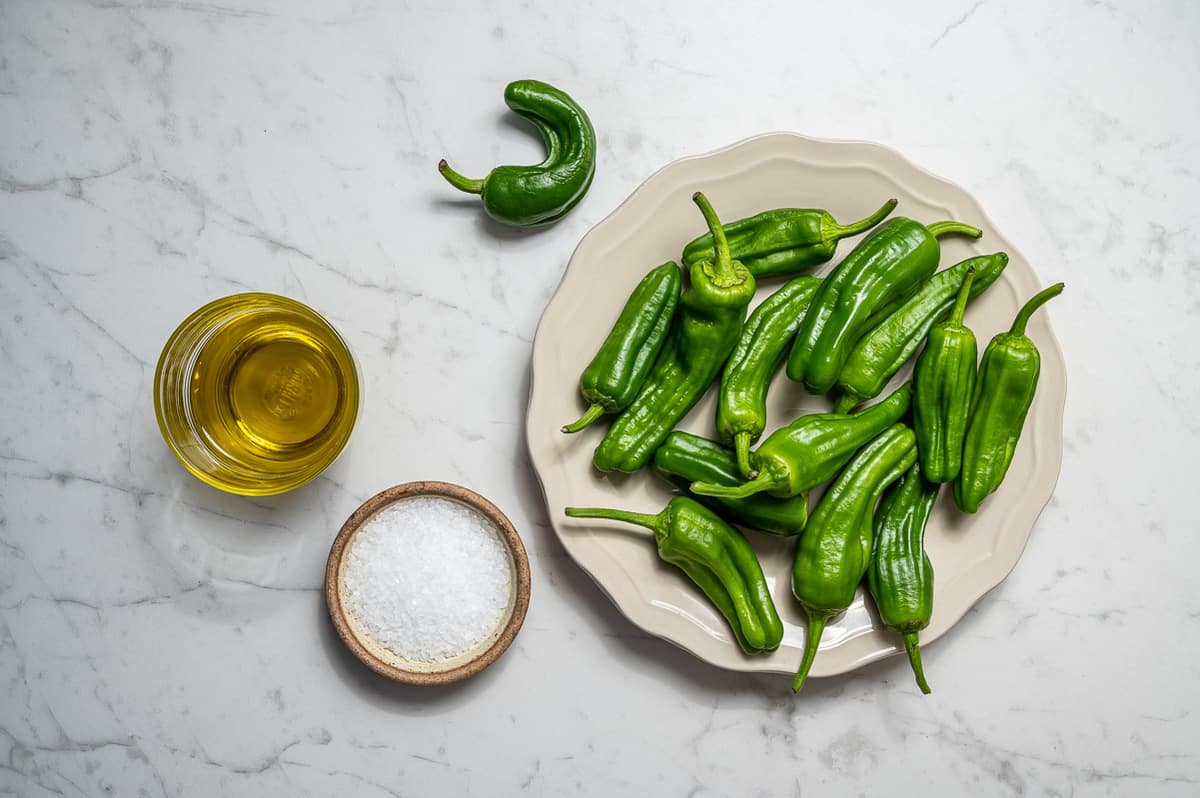 Key Ingredients: Padron peppers, olive oil, and sea salt!
Ingredient Notes & Substitutions
Peppers: If you can't find padron peppers you can use shishito peppers for a similar dish — however they are not quite the same!
Salt: Use sea salt for the best taste. I especially love using sea salt flakes such as Maldon salt.
Oil: Use plenty of it — just like we do in Spain!
How to Prepare Perfect Padron Peppers: Step by Step
I never thought to try making Padrón peppers at home until one of my friends gave me a bag of them (aware of my love for all things related to Spanish food and cooking). I was happy to discover that it's surprisingly simple to recreate the kind of Padrón peppers you get at restaurants right in your own kitchen.
I'll let you in on the secrets of my Padron peppers recipe: olive oil, salt, and plenty of heat. That's it. The magic of these little guys is the complex taste and perfect texture they naturally provide—no need to get fancy.
Tip: Use a very hot skillet (like cast iron) for these.
Steps 1-2: Wash your padron peppers and dry well. The drier they are, the better they'll brown and blister.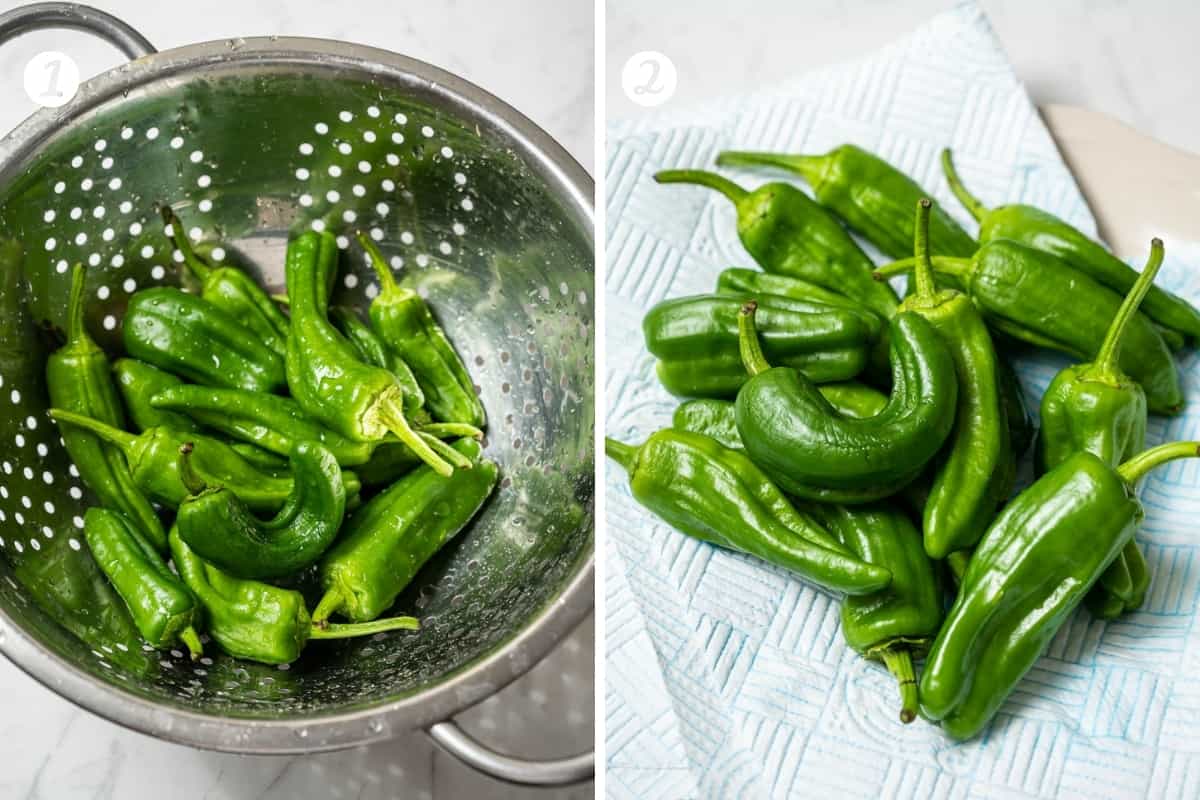 Steps 3-4: Heat the olive oil in a heavy skillet (cast iron works well). Make sure there is a good centimeter or two of oil. We aren't deep frying, but the oil is key to the end result.
When the oil is very hot (but not yet smoking) add the peppers and allow them to blister and brown before turning. Turn a couple of times until they're soft and browned on all sides. Remove them with a slotted spoon and sprinkle your favorite sea salt on top.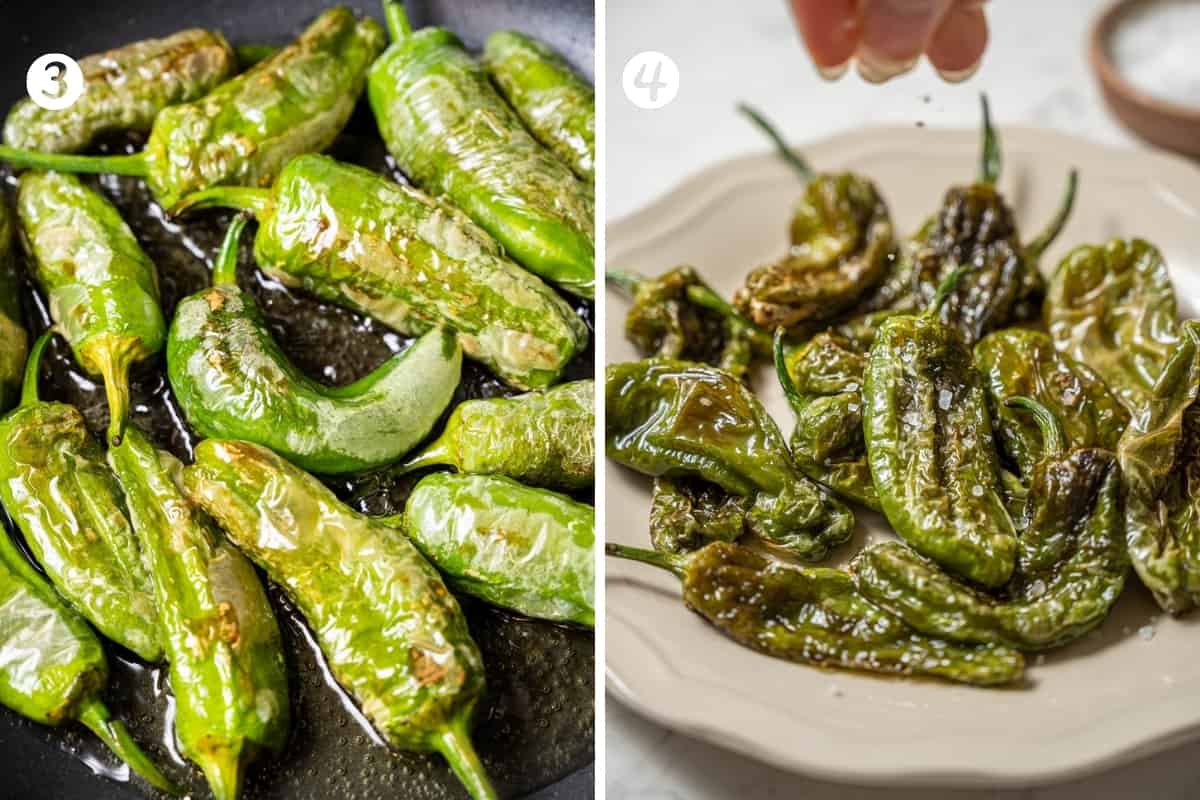 Eat them whole — leaving only the stems behind!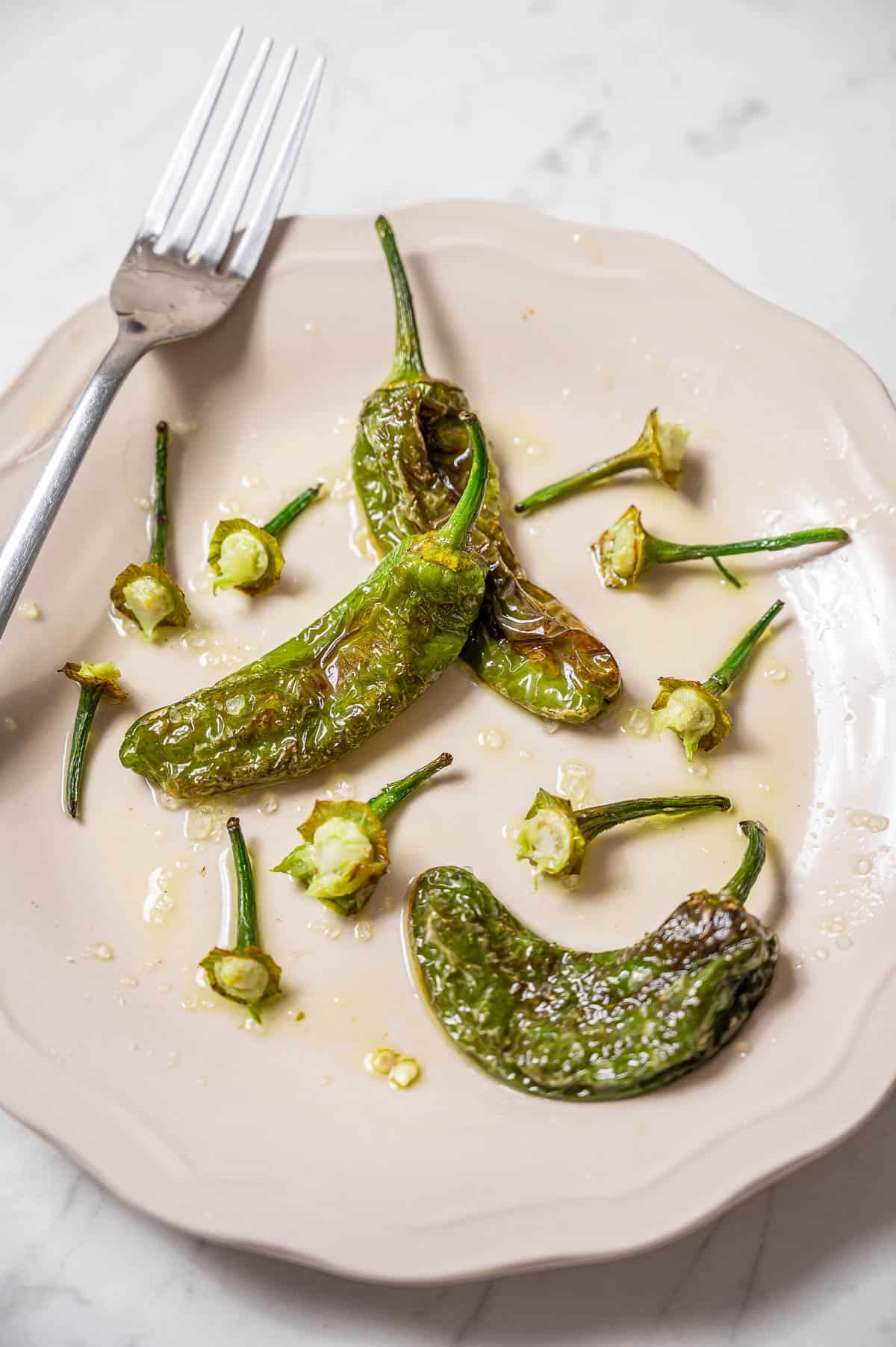 More Easy Tapas Recipes
Pimientos de Padron are among the most popular tapas recipes you'll find in Spain. Here are some great tapas to serve alongside!
See also: Best vegetarian tapas in Spain
Now it's time to try this recipe and see for yourself how easy it is to make delicious pimientos de Padrón! Warning: you may end up eating all four servings before they get to the table.
Hungry for more? Sign up for my free weekly newsletter and receive a new Spanish recipe once a week! Join today and get my FREE Spanish ingredient essentials guide!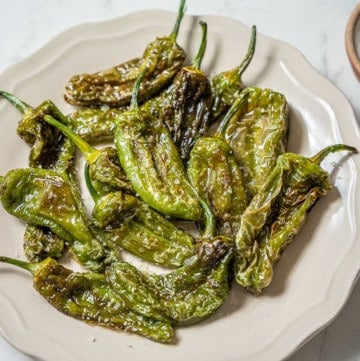 Spanish Padron Peppers Recipe
Padron peppers are one of the simplest and tastiest Spanish tapas. Try making them at home with this easy and authentic recipe!
Print (images optional)
Pin
Rate
Ingredients
300

grams

of Padron peppers

about 2 cups

50

ml

extra virgin olive oil

(1/4 cup)

Flaky sea salt
Instructions
Rinse and dry the peppers.

Heat the olive oil in a pan at high heat until it is very hot (but not yet smoking).

Add the peppers and cook, tossing occasionally, until the skin starts to blister and soften. Don't let them burn, but do leave them enough time to completely soften.

Remove the peppers and place them on a plate.

Sprinkle generously with sea salt and enjoy!
Notes
A good substitute for padron peppers are shishito peppers. 
Use sea salt for the best taste. I especially love using sea salt flakes such as Maldon salt.
Use a good quality olive oil for frying, these peppers are meant to be quite oily, so the better the olive oil the better they'll taste!
Make sure to watch out for flying bits of oil, and let the peppers cool for a few minutes before you eat them!
Nutrition
Calories:
37.1
kcal
|
Carbohydrates:
3.48
g
|
Protein:
0.65
g
|
Fat:
2.63
g
|
Saturated Fat:
0.39
g
|
Sodium:
74.97
mg
|
Potassium:
131.29
mg
|
Fiber:
1.27
g
|
Sugar:
1.8
g
|
Vitamin A:
277.5
IU
|
Vitamin C:
60.3
mg
|
Calcium:
7.57
mg
|
Iron:
0.27
mg
Update Notice: This post was originally published on April 28, 2018 and was republished with new text and photos on March 25, 2021.
Have you tried our Padron peppers recipe? Got any tips and tricks to add? Share them in the comments!
Photography by Giulia Verdinelli