If you've spent any time in Portugal, you've undoubtedly encountered the iconic pastéis de nata. They beckon from every bakery window with their flaky crusts, custardy centers, and carefully caramelized surfaces.
In the capital and throughout the country, they're cheap, they're delicious, and they're absolutely ubiquitous. You might even say pastéis de nata in Lisbon are a dime a dozen—but I beg to differ.
If you want to dive into the story and specifics of this sugary treat, you've come to the right place. Once you know their history and cultural significance, you'll think twice about greedily gobbling them up in two bites. If you ask me, a confection as symbolic and storied as this one deserves to be savored.
What Are Pastéis de Nata?
Pastéis de nata are a traditional Portuguese pastry that can best be described as a kind of egg tart or custard tart. They look a bit like little nests, with a thick outer layer of flaky pastry dough and a filling of rich yellow custard.
The top of the custard is caramelized, with dark brown or black spots and a slightly different texture than the filling beneath it. Without a doubt, this is one of the must-try foods in Lisbon—especially if you love sweets.
The term pastéis de nata is Portuguese for "cream pastries." Pastéis is the plural form of the word for pastry. So if you hear or see pastel de nata instead, it's simply referring to one custard tart instead of several.
What Are Pastéis de Belém?
Pastéis de nata are sometimes also called pastéis de Belém. But what's the difference, and why the two names?
It all comes down to time and place. The most famous place to eat pastéis de nata in Lisbon is the district of Santa Maria de Belém, and specifically the Fábrica de Pastéis de Belém.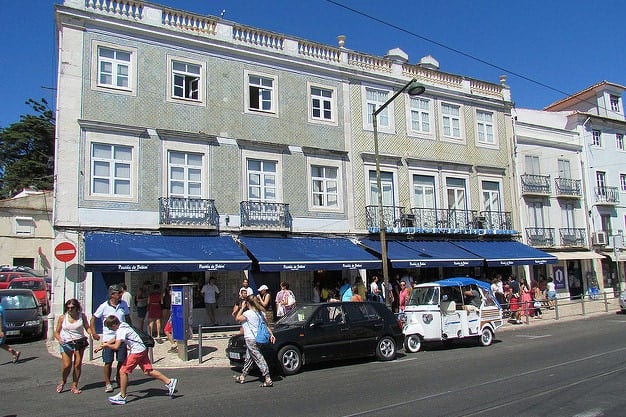 Some might argue that the pastries you get at the Fábrica are in a class of their own, and therefore the two names refer to different things.
But the simplest explanation is that pastéis de nata is the generic term, whereas pastéis de Belém has become popular due to the prestige of this particular pastry shop. Although the latter technically refers to the ones made here, it's often used to talk about Portuguese custard tarts in general.
Where Do Pastéis de Nata Come From?
There's another reason why pastéis de nata are sometimes called pastéis de Belém: they were invented—or at least perfected—in this area of Lisbon.
The monks at the Jerónimos Monastery in Belém were the first to make and distribute the iconic custard tarts. They used egg whites to starch clothing and fabrics, creating an excess of leftover yolks. Instead of wasting them, they often used them to make cakes and pastries.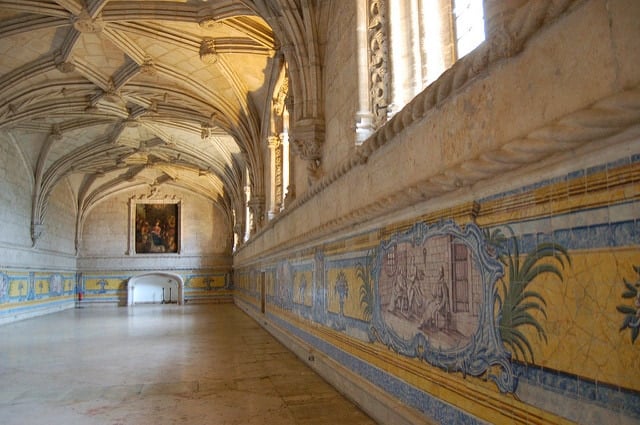 After the Liberal Revolution of 1820, the monks were faced with a problem. Religious institutions throughout Portugal no longer had funding and were shutting down. To bring in some extra cash, they started selling custard tarts to the public.
Eventually, the monastery closed anyway, at which point the monks sold the recipe to the local sugar refinery. Sensing the gold mine they had on their hands, the refinery's owners opened the Fábrica de Pastéis de Belém in 1837… and the rest is history.
How Do You Make Pastéis de Nata?
Pastéis de nata are certainly a simple pleasure: buttery pastry, creamy custard, and not much else. However, it takes much more effort and expertise than one might expect to achieve the ideal Portuguese custard tart.
Crafting the Perfect Crust
First of all, there's the dough that forms the pastry crust. If you've ever tried to make your own pastries, you know how delicate this process can be. After mixing the ingredients, you have to work the dough into the right consistency, adding butter as you go to create the perfect texture.
This takes a while, and there are no shortcuts if you want to end up with the real thing. Amateur chefs (myself included) might be tempted to use store-bought pastry dough, but the result—while still delicious—won't be nearly as impressive or authentic.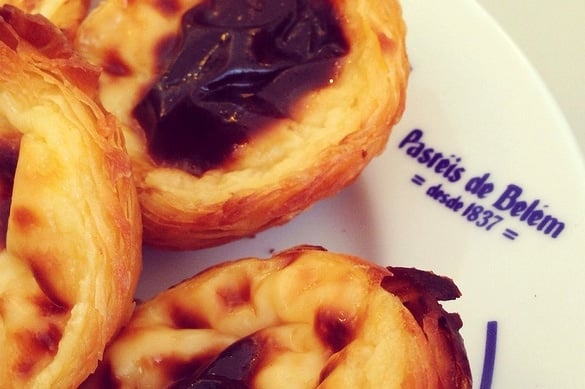 See Also: Check out our collection of easy and authentic Portuguese recipes!
Concocting the Creamiest Custard
After perfecting the dough, it's time to make the filling. This involves mixing together a few essential ingredients: flour, milk, sugar, cinnamon, vanilla, and—of course—egg yolks.
But don't think you can just throw it all in a mixing bowl, whisk it up, and call it a day. Creating custard that's both creamy and light is a delicate process, involving careful heating and timing.
Next you'll need to assemble and bake the tarts. This is where the magic happens: the filling thickens, the crust gets crispy, and those distinctive golden brown spots appear on the top of the custard.
Once they're out of the oven, dust them liberally with cinnamon and/or powdered sugar. And just like that, the star of Lisbon's bakeries is born.
Try it at home: Get David's delicious pastel de nata recipe here!
Where to Eat Pastéis de Nata in Lisbon
Just about every restaurant, café, and bakery in Lisbon—and the rest of Portugal, for that matter—serves this local delicacy. But not all custard tarts are created equal.
All of those complicated steps I just listed make room for plenty of variation. As a result, the question of who has the best pastéis de nata in Lisbon is a complicated one.
There are the obvious frontrunners, including the aforementioned Fábrica de Pastéis de Belém. They have their own secret recipe (passed down from the monks who created it), and hoards of tourists line up every day to try the famous specialty.
I can tell you from personal experience that the custard tarts here definitely have their own unique texture, with a thinner and crispier crust. But they're not necessarily better or worse than the ones I've had elsewhere; it's a matter of personal preference.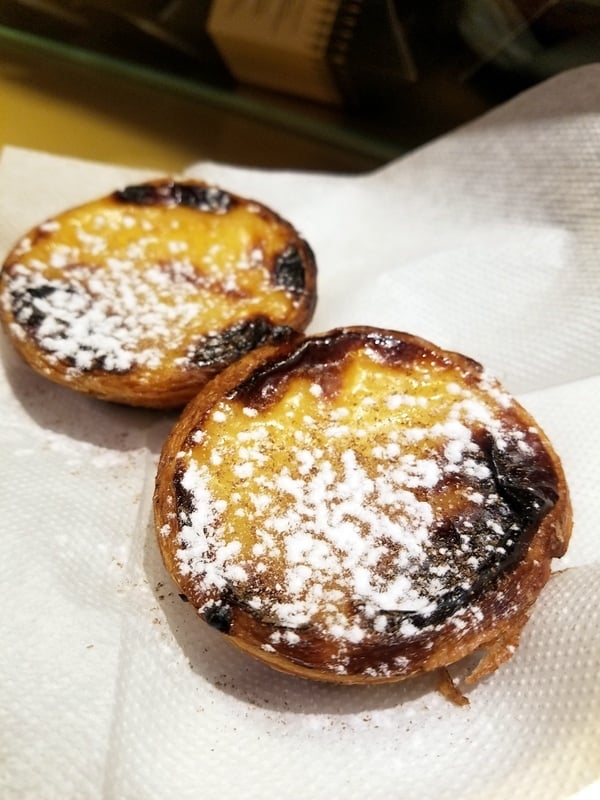 Beyond Belém, there are plenty of other pastelarias that are well worth a visit. Manteigaria is a classic, and my personal favorite spot for these pastries. Other popular chains include Aloma and Fábrica da Nata.
More traditional Portuguese cafés with fantastic pastéis de nata in Lisbon include Confeitaria Nacional and Pastelaria Santo António. And of course, if you see a window display that looks particularly tempting, it's never a bad idea to try somewhere new.
For the egg-free and dairy-free diners among us, it may seem like pastéis de nata are hopelessly out of reach. Fortunately, there's the aptly named Vegan Nata, which sells a vegan version that's about as close as you can get to the classic custard tart!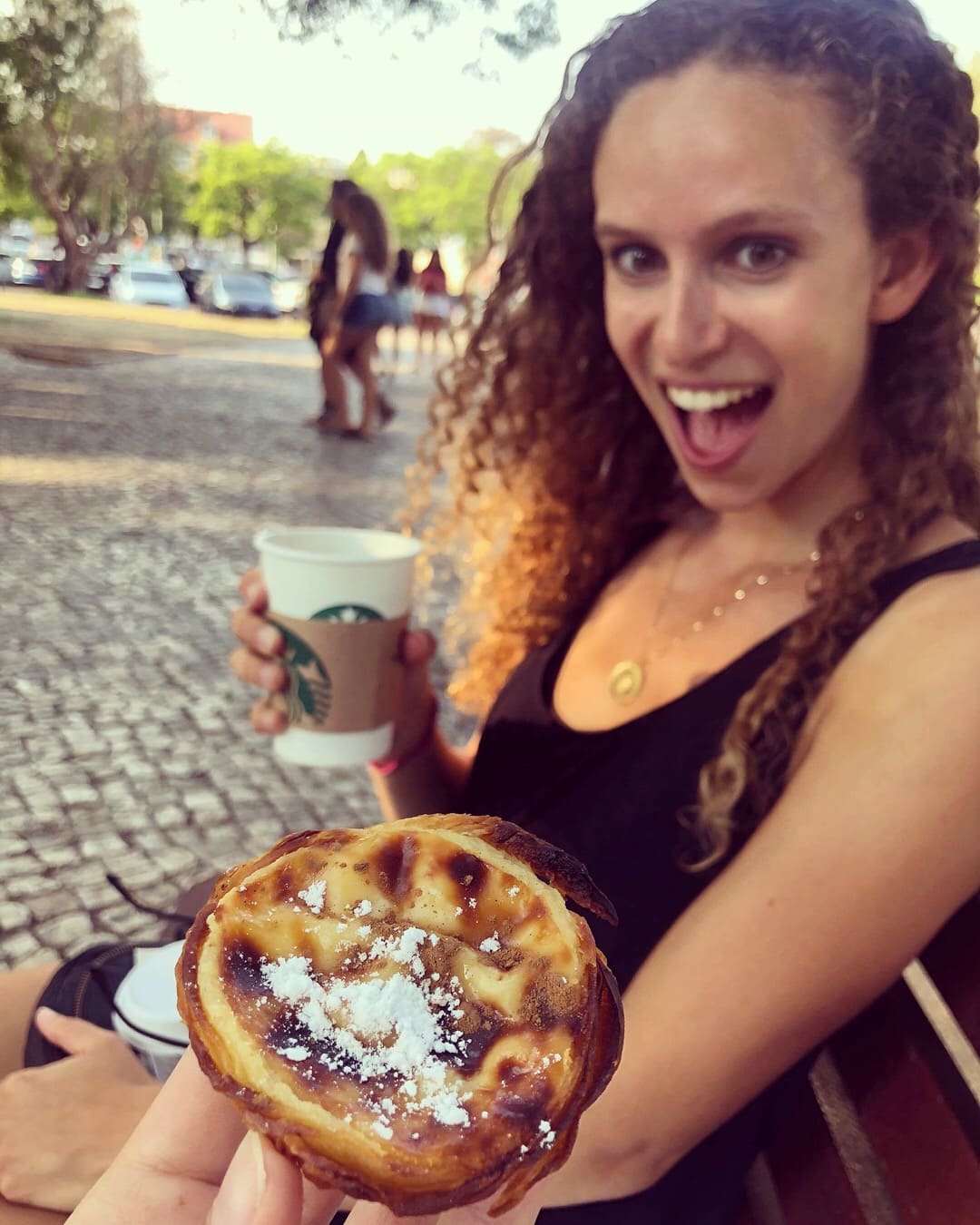 See Also: Where to Eat in Lisbon – The Ultimate Guide
How to Enjoy Portuguese Custard Tarts as Much as Possible
It's easy to get caught up in a search for the very best pastéis de nata in Lisbon; and if you're up for it, I fully support that mission. But luckily for you—and the rest of us—these delicacies hardly ever disappoint.
The truth is that no matter where you buy them, they'll probably be delicious despite their differences. In my opinion, what matters most is that you enjoy them warm and freshly baked if possible!
With that in mind, I suggest that you sample them at every opportunity, regardless of the relative prestige of each pastry shop. For breakfast, after lunch, as an afternoon snack… it's always a good time for a pastel de nata.
And now that you know the history of pastéis de nata in Lisbon—plus their composition and preparation—each bite will taste that much better.
Pastéis de Nata in Lisbon FAQs
What is a pastel de nata?
A pastel de nata (the singular form of pastéis de nata) is a custard tart made with egg yolks, sugar, and a flaky pastry crust. It's the most iconic pastry in Portugal, and can be found all over Lisbon and the rest of the country.
What are custard tarts called in Lisbon?
The iconic custard tarts that you'll find across Lisbon are called pastéis de nata in Portuguese (literally meaning "cream pastries"). They're sometimes also referred to as pastéis de Belém.
What is the best place to get custard tarts in Lisbon?
That's up for debate! The two most famous spots are Fábrica de Pastéis de Belém (which has the original recipe) and Manteigaria (my personal favorite). But in reality, you can get incredible custard tarts at any number of bakeries in Lisbon!
Heading to Portugal? Don't miss our 5* Lisbon food and walking tours! Looking for Spanish recipes? Download our free ingredients guide and get a weekly recipe sent directly to your inbox.