If you're wondering where to eat in Lisbon, this post is for you 🙂
A few months ago my talented husband, Alejandro, won a startup contest with his company Green Eagle Solutions. Portugal's EDP Renewables awarded them the top prize in the EDP Starter competition. And as he planned a last minute work trip to Lisbon, I decided to tag along. It had been over seven years since I'd been to Lisbon, and in that time the city has gone from under the radar to exploding as a top travel and food destination.
I was excited to see what it was all about -- would Lisbon's food scene be worth the hype? (Spoiler alert: definitely!).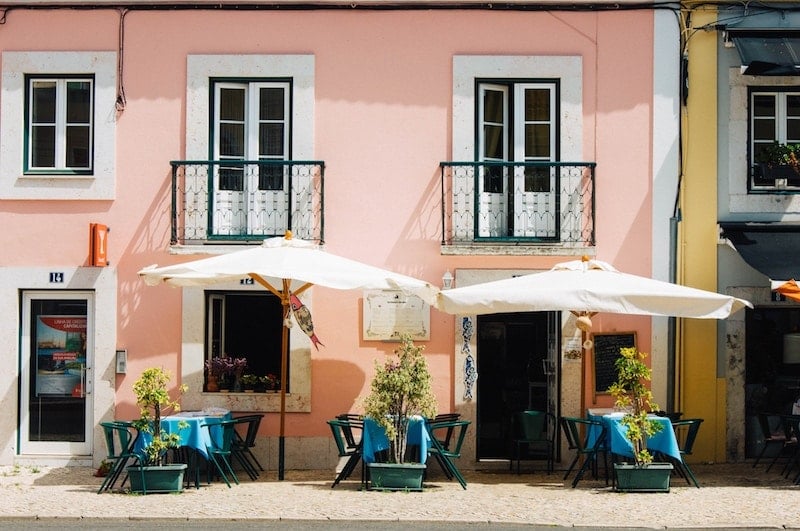 I had only three days to devour my way through Lisbon, but luckily I have a lot of foodie friends in my profession! My list of places to try was a mile long, and cutting back was no easy feat.
Yet I can honestly say that I enjoyed every bite we had in Lisbon (a rare claim), and am already planning a trip back.
Here's what I ate on this trip to Lisbon, my own self-guided Lisbon food tour!
Devour Lisbon Food Tours
***EXCITING NEWS!*** After writing this post I returned to Lisbon many times over the following year to plan my company's Devour Lisbon food tours. If you'd like to Devour Lisbon on a guided food tour, we are now up and running with some incredible local experiences! Take a look at the food tours in Lisbon we currently have available and book early as we keep groups small and intimate!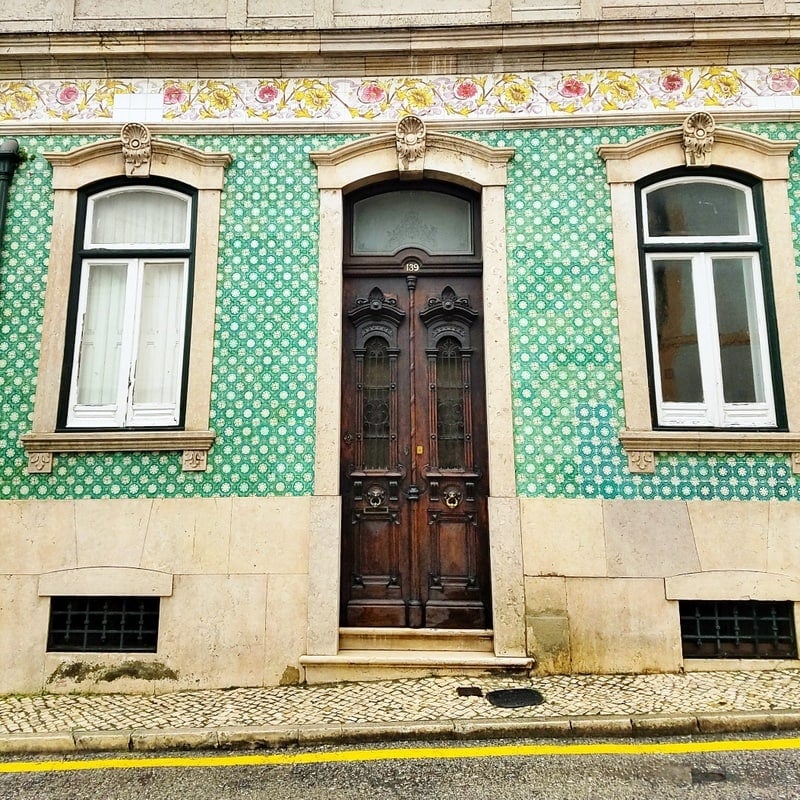 My Ultimate Lisbon Food Tour
What to Eat in Lisbon
Bacalhau
The Portuguese word for salt cod, bacalhau sneaks its way onto most menus in Lisbon. While salt cod is also traditional in Spain, the Portuguese take it to new heights, with a variety of delicious dishes that are true labors of love. From crispy salt cod fritters to creamy cod in a cheesy bechamel sauce, the options are endless and there are even whole restaurants dedicated to this special fish! Don't miss my favorite spot (named below).
Read more: Everything you ever wanted to know about salt cod here!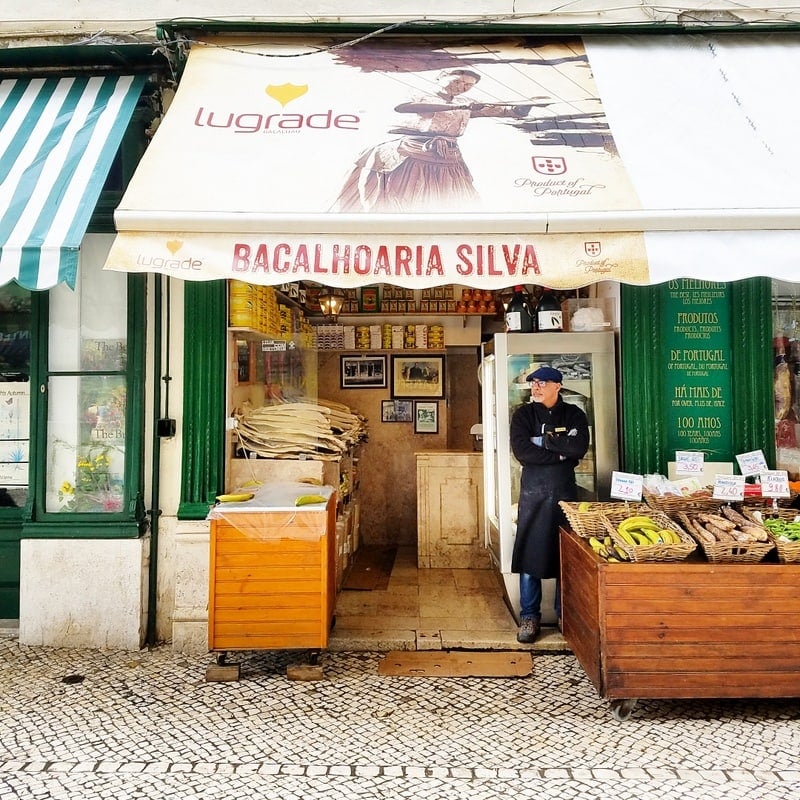 Pastéis de Nata
I think by now everyone has seen this quintessential Lisbon pastry on a travel show or Instagram feed -- it's certainly photogenic. But unlike many pretty pastries, the pastel de nata tastes amazing too.
These Portuguese custard tarts can be found everywhere in Lisbon, but like most great foods, not all are created equal! My favorites were served warm out of the oven, dusted with cinnamon and powdered sugar. And when you gave it a squeeze for that first bite, you'd hear a satisfying "crack!" from the crispy base. Just writing about these delicious treats makes me want to run back to Lisbon!
Get the recipe: Pastel de Nata recipe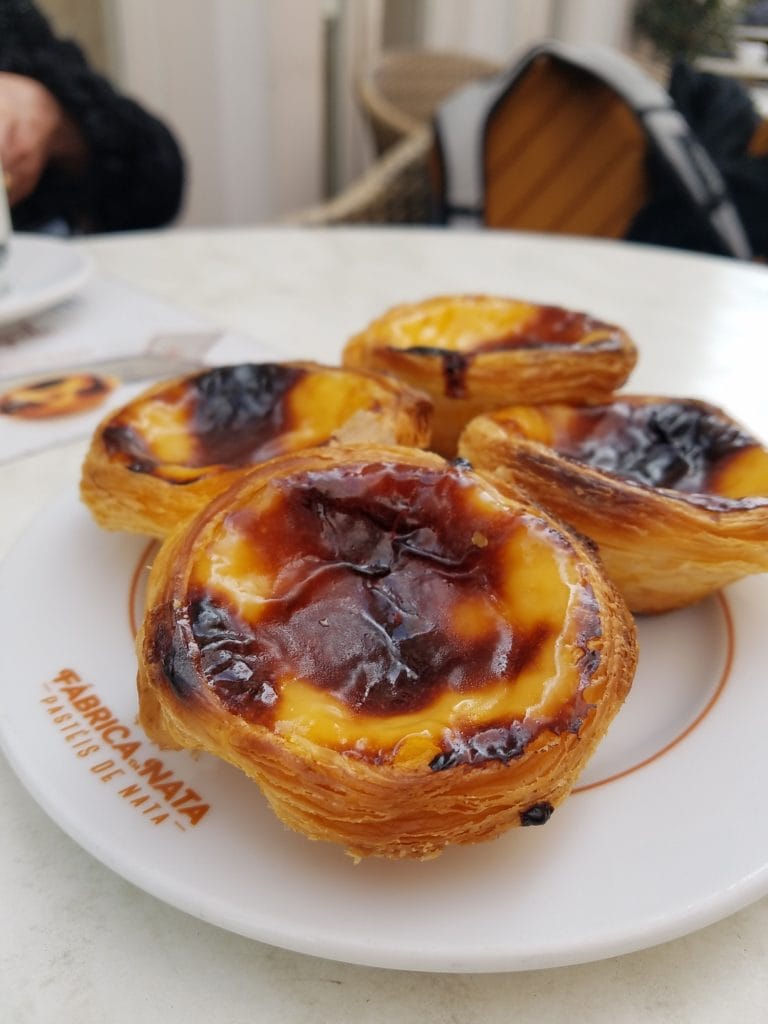 Apparently, the original pastéis de nata were convent sweets, invented by Catholic monks who had plenty of leftover egg yolks after using the whites to do laundry and/or filter wine. This story as familiar, as many Spanish pastries have a similar origin story. However, in my opinion, there's no pastry here in Spain as good as one of these pastéis!
More history: Melissa talks all about the story behind the humble pastel de nata
Bifana
The bifana was a new discovery for me this trip, but it was at the top of the must-try list from all my foodie friends. Some even claim it's the best sandwich in Portugal!
So what exactly is a bifana? At its core, it's a simple pork sandwich: stewed pork slices on bread-- nothing fancy! But when done well it's incredibly delicious. The best places marinate the pork in garlic, spices and white wine and slow cook the meat. The meat is placed on soft bread, and there's always the option to add a few drops of spicy piri piri sauce (highly recommended). And a cold beer to wash it all down is a must for the truly local experience!
Taste it: We try a fantastic bifana on our daytime Lisbon food tour!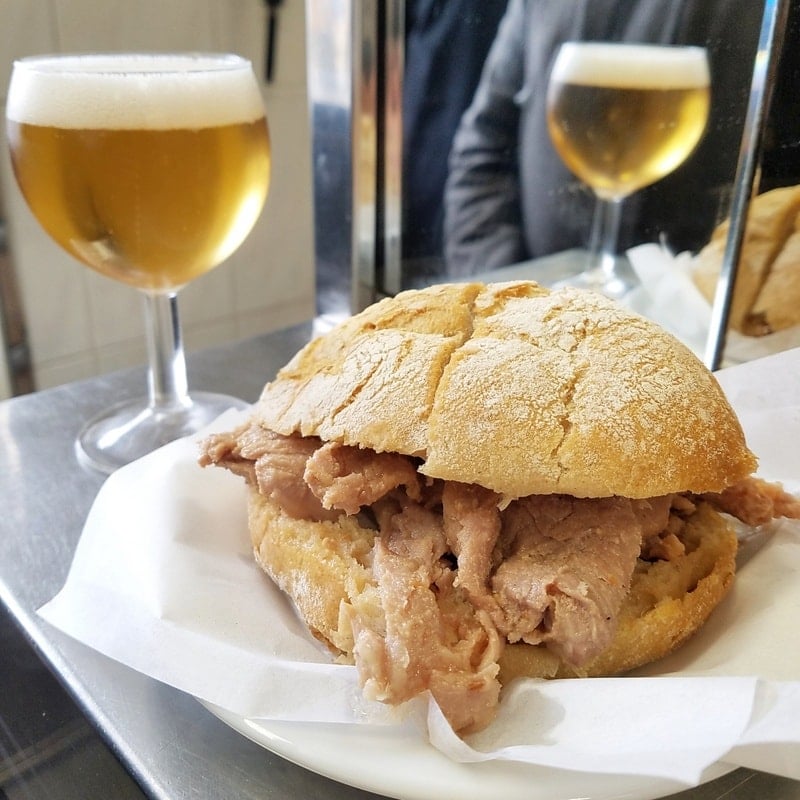 Chicken piri piri
Speaking of piri piri sauce, chicken piri piri is another simple but delicious dish you'll find in Lisbon. A humble roast chicken, frango assado or frango na brasa, is a popular and cheap quick meal throughout the city. For under 20 euros you can often find a whole roast chicken, sides of rice and salad, and a couple of beers.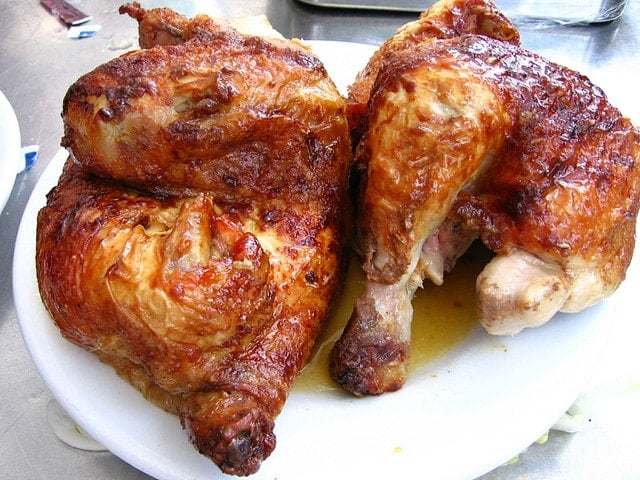 Crab
As you'd probably expect, Lisbon is heaven for seafood lovers. But one of the most unique seafood dishes you'll find in Lisbon is crab. Seafood restaurants are especially famous for brown crab, which is often served whole in its shell, mixing the crab meat and roe with butter, garlic, onions, and white wine. Try this at the famous Cervejería Ramiro (see below).
Sardines
One of the symbols of Portugal, you'll find canned fish shops featuring delicious tinned sardines all across town. Like in Spain, canned goods are a delicacy, and the Portuguese specialize in canned sardines. You'll also find tuna, mussels, and other delicacies. And of course, if you go to a seafood restaurant you may also find fresh sardines, depending on the season. If you see them, be sure to try them!
Read more: Discover everything about canned fish in Lisbon with this guide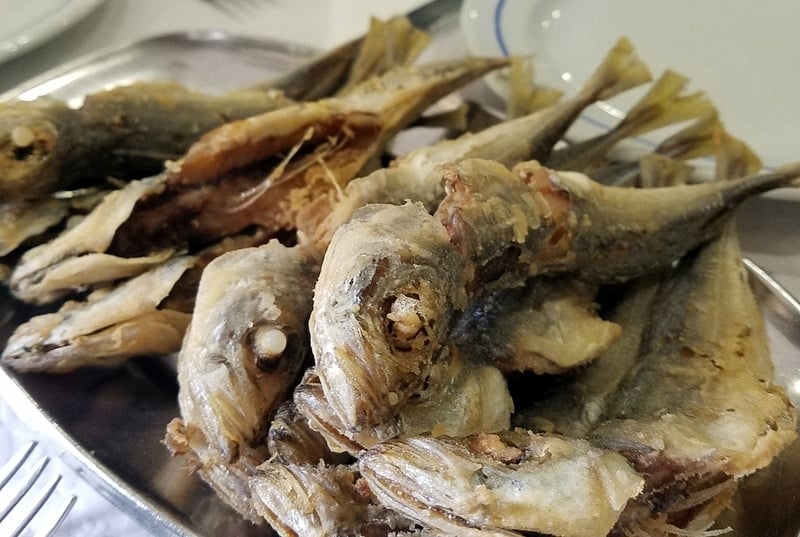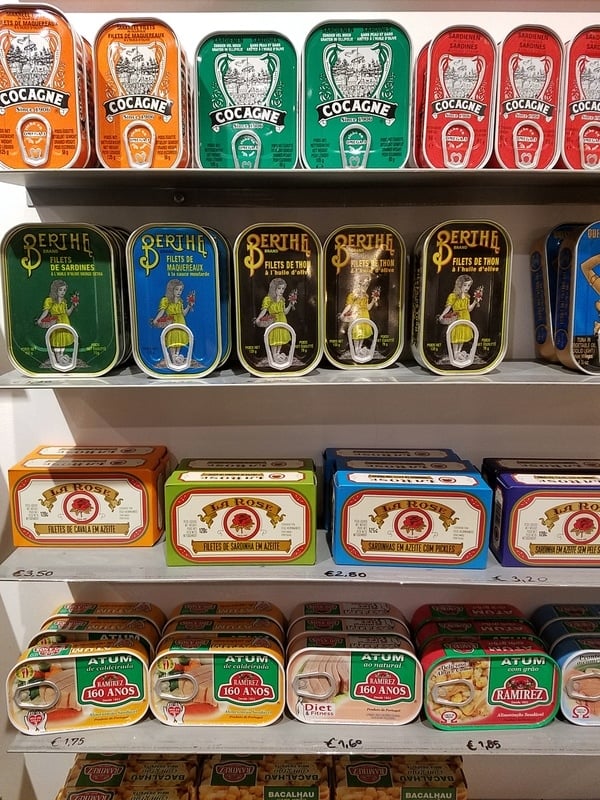 Read more: A look at the popularity of canned foods
Fresh seafood
Apart from amazing sardines and fresh crab, Lisbon is home to countless varieties of seafood. Giant prawns, lobsters, fresh fish, razor clams, gooseneck barnacles, clams, mussels... the list goes on. I highly recommend visiting the local markets to see the variety of seafood on offer. And plan a special evening at one of the city's marisqueiras, seafood restaurants. The bill adds up quickly, but it's well worth it.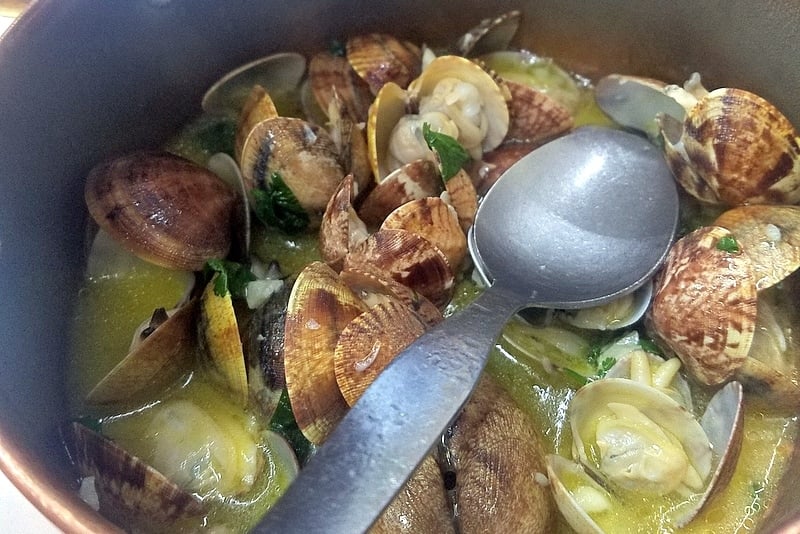 Cozido
Cozido à portuguesa is another typical Portuguese dish that you'll find in Lisbon (and throughout the country). It's a delicious and hearty stew, consisting of different cuts of meat (including pork, chicken, and beef), pork fat, and sausages. It can also include vegetables, such as potatoes, cabbage, and carrots. Some versions also make use of offal, such as intestine or pig ear. Regardless of the recipe, you can be sure it'll warm you up on a chilly winter day.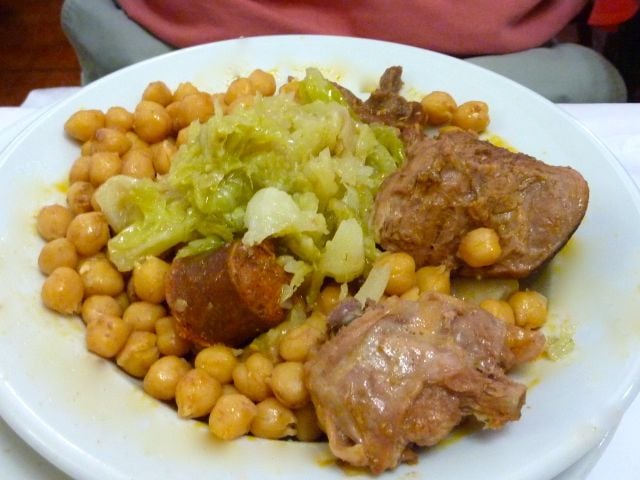 Caldo Verde
Another dish to warm you up is caldo verde - literally, green broth. Best served piping hot, this comforting dish is so popular that McDonald's in Portugal has even added it to the menu (don't try it there, however!). The soup is made with a simple combination of potatoes, collard greens, garlic, onion, choriço (Portuguese sausage), olive oil and water. It's another example of Portuguese simplicity that pays off in a rich depth of flavor.
Ginjinha
My last recommendation for must-try foods/drinks in Lisbon is ginjinha. A sweet liquor made of sour cherries, you might not think of it as a must try-- but just trust me. There are tiny ginjinha bars in Lisbon that are well worth a visit, not only for the tipple but also to stand at the bar and people watch for a moment. I hope that these little treasures will survive Lisbon's tourism boom-- they're one of a kind!
Read more: All about ginjinha and why you should try it in Lisbon!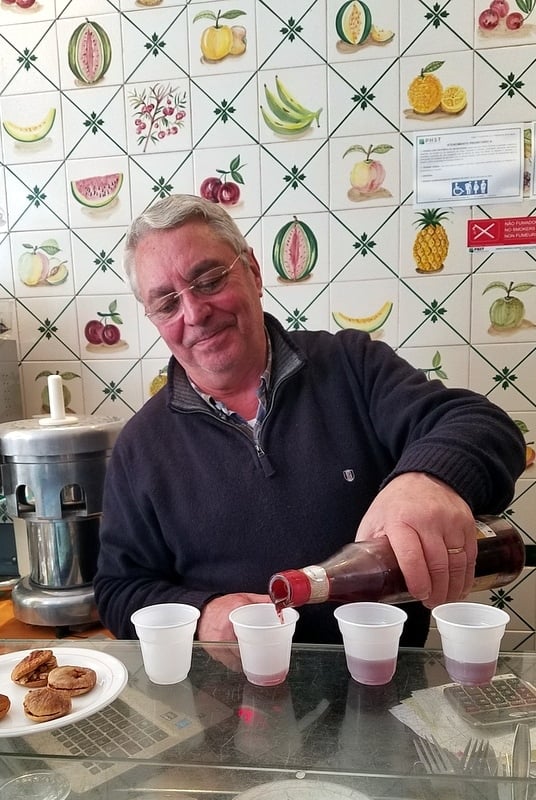 Where to Eat in Lisbon - My Lisbon Food Tour
I was only in Lisbon for a few days, but made it to some fantastic places that were highly praised by foodie friends. Here is my self-led Lisbon food tour, and below you'll find some of the top recommendations I haven't been able to try yet. If you have a Lisbon food suggestion, please leave me a comment for my next visit!
O Martinho da Arcada e Lisboa
Best known as Cafe Martinho da Arcada, I stumbled upon this place by accident. I'd checked into my nearby Lisbon hotel and was starving; it was raining and I didn't want to go far. Despite being super centrally located, this historic café looked special, so I wandered inside.
I stood at the bar, surrounded by locals and chose one of the plates of the day and a cup of soup. The food was deliciously homemade, and I couldn't even finish (I forgot how huge Portuguese portions can be). Founded in 1782 this place is worth a visit, especially for the plates of the day!
Praça do Comércio, 3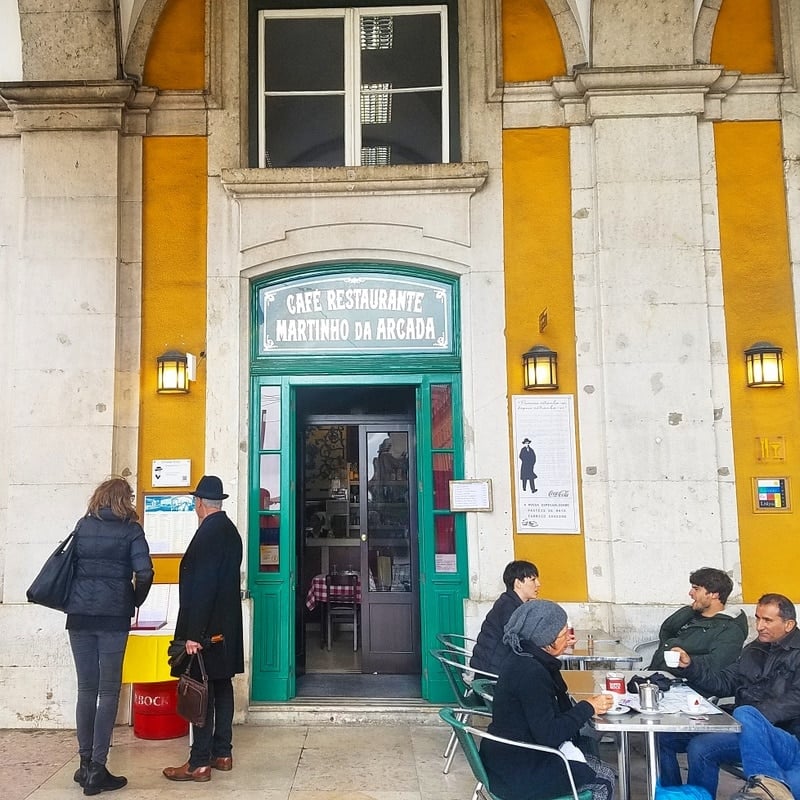 As Bifanas do Afonso
Everyone told me that this is THE place to try a bifana in Lisbon, and I wasn't disappointed! A tiny "old man bar" with barely enough room to eat inside, we squeezed in and ordered two sandwiches. Prepared before our eyes, the smell of the stewed pork in white wine was intoxicating. With a squirt of piri piri sauce and a cold beer, I was in my happy place.
Rue da Madalena, 146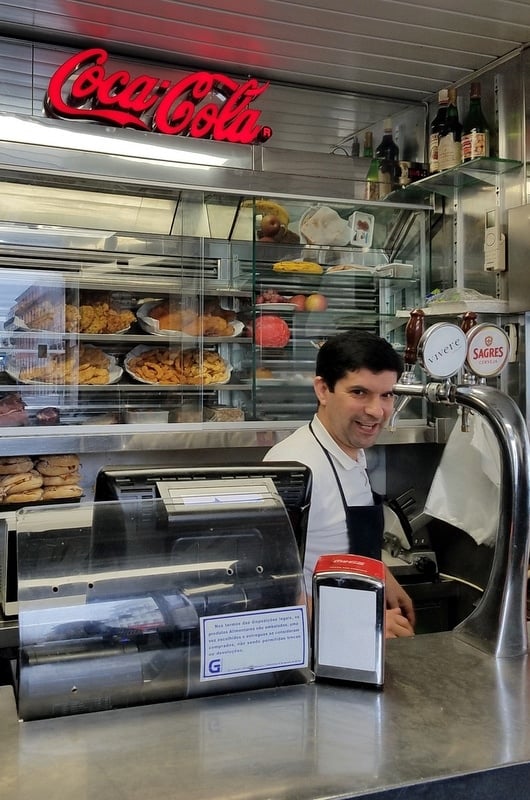 Manteigaria
I discovered Lisbon's best pastéis de nata by accident, and for a moment thought I was privy to a secret gem. But I soon realized that many fellow food lovers had already been seduced by the delicious custard tarts at this local institution. After eating an embarrassing number of tarts in my short stay, I can confidently call these my favorite -- a must visit.
Rua do Loreto, 2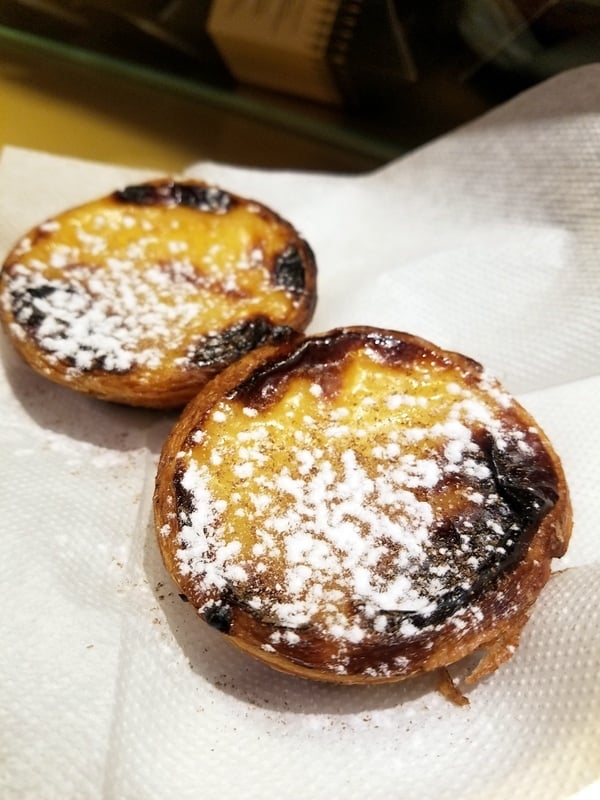 M

ercado da Ribeira

Lisbon's Mercado da Ribeira has been the city's main market since 1892. Recently renovated, a large part of the market is now a food court hosted by Time Out Magazine. This is a great place to taste a variety of food's from Lisbon's best restaurants, and also a great place to see the local foods on offer.

Avenida 24 de Julho, 49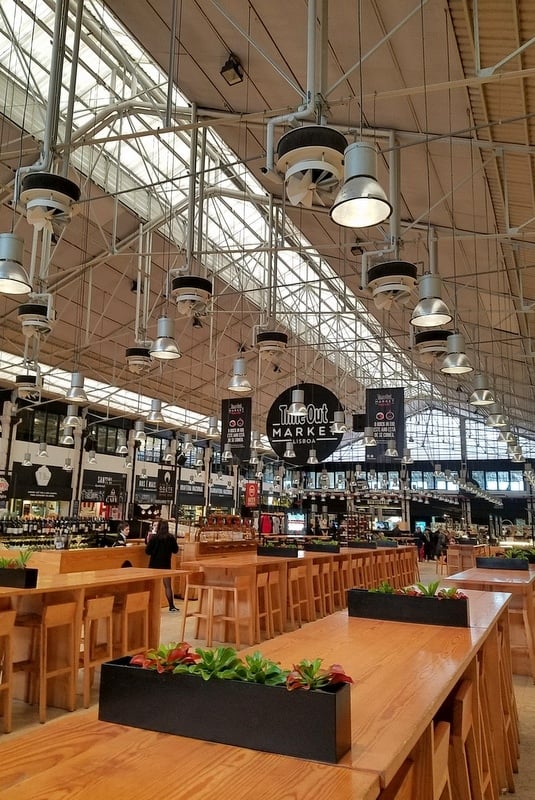 Cervejaria Ramiro
One of Lisbon's most recommended seafood spots, our hopes were high when we set off for Cervejaria Ramiro. Upon arrival, we took a ticket, and waited nearly one hour until our number was called! Could it possibly be worth the wait? Luckily, it was and we really enjoyed our meal at this iconic place. We ordered the most delicious grilled giant tiger prawns, garlic butter clams, and razor clams. And a steak sandwich-- just for balance!
Avenida Almirante Reis, 1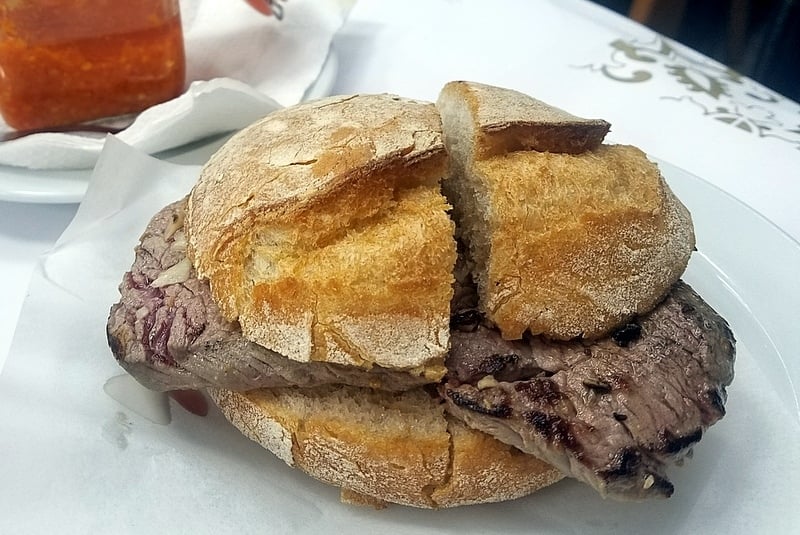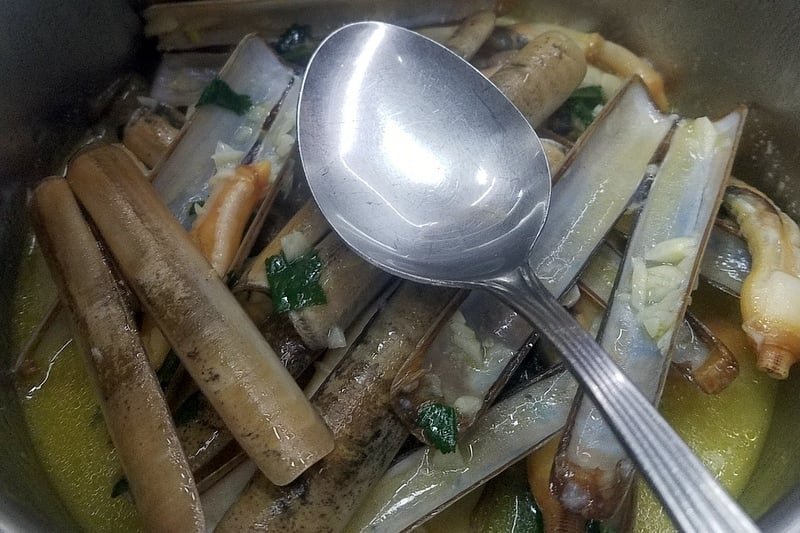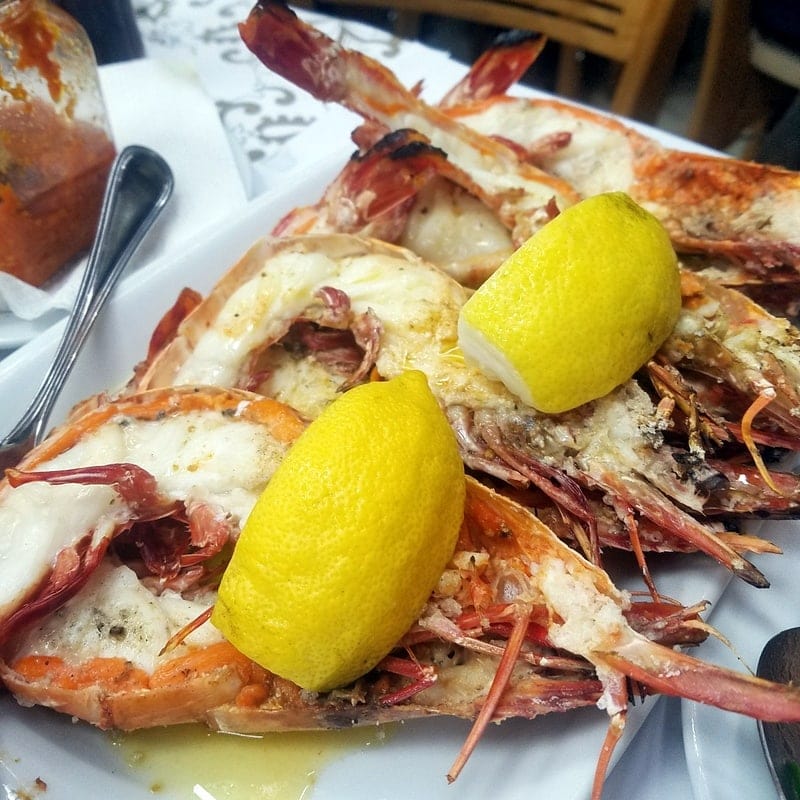 A Casa do Bacalhau
This elegant restaurant outside of the city center is well worth a taxi ride over. It is truly the "house of cod" and offers a variety of delicious preparations. We absolutely loved the dishes we tried here (get the bacalhau com broa!), and enjoyed the service and ambiance as well. It's the type of place you could easily spend hours - and we did our best, ordering a couple of rounds of delicious port wine for dessert.
Rua do Grilo, 54-58
Cantinho do Avillez
Called the casual canteen of Lisbon's top chef, this was another recommendation that topped the list of friends. We made a late reservation and started with cocktails at the bar. I have to say it was not my favorite stop in Lisbon, and I probably wouldn't be back. But if looking to taste modern Lisbon cuisine from a Michelin star chef, this is the place.
Rua dos Duques de Braganca, 7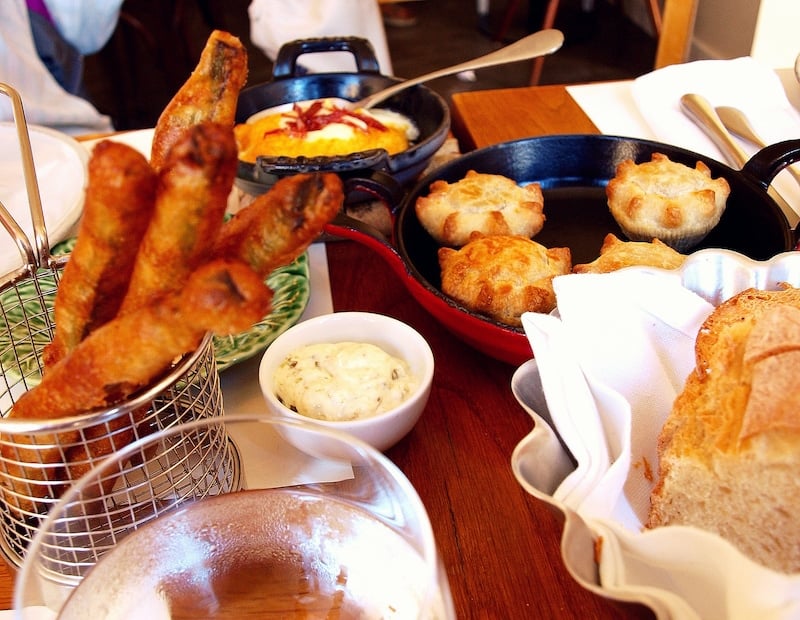 By the Wine
Located in the trendy Chiado neighborhood, we stumbled upon By the Wine by chance, but soon realized it is one of the city's top wine bars. We only stopped in for a drink, and were wowed by the sleek design and friendly service. It's definitely on the list to revisit next time.
Rua das Flores, 41-43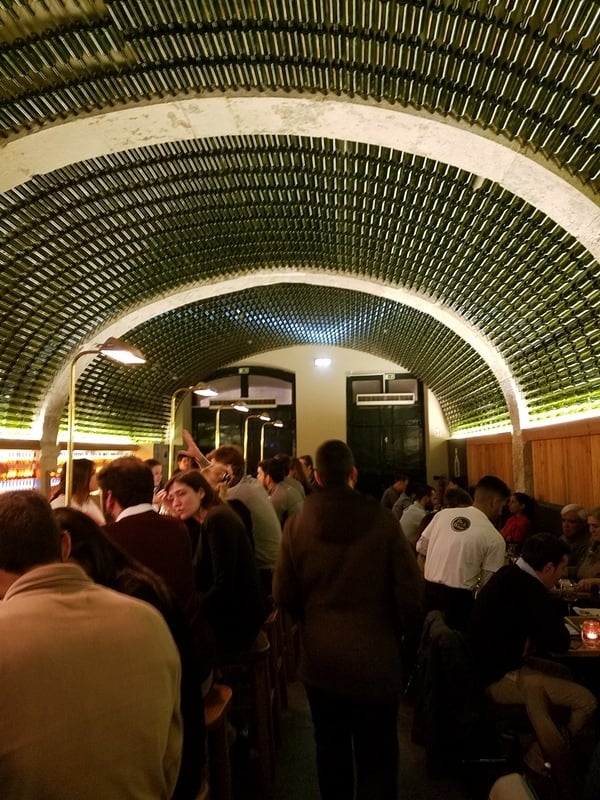 Duque Brewpub
Lisbon is as trendy and hip as any European capital, and its growing craft beer scene is booming. We visited the popular Duque Brewpub for a couple of pours and loved the laid-back vibe and friendly owners (as well as the great beer!).
Calcada do Duque, 49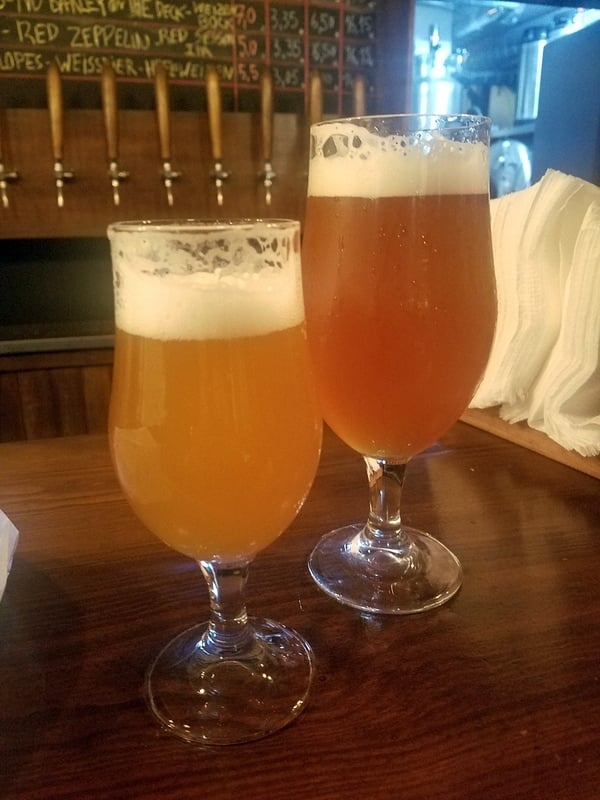 Wine Bar do Castelo
Better known as "that wine bar near the castle" we found this inviting place when it started pouring and we were trapped at Lisbon's castle. Fearing it might be super touristy, we ventured in hesitantly, but the pouring rain didn't give us much choice. Luckily, it was a great place, and we spent a couple of hours drying off and sipping port. Their menu is enormous, and they offer a great variety of fine wines, as well as cheese and charcuterie plates.
Rua Bartolomeu de Gusmão, 11-13
A Ginginha
Lisbon's most famous ginginha spot, this is where you can enjoy a ginginha liquor like a local (hint: get it with the cherry!). Simply walk up to the bar, order, sip it quickly, pay and go. No lingering at a tiny hole-in-the-wall like this one!
Largo de Sao Domingos, 8
On the list for next time!
I ran out of time, but highly trust these other Lisbon food recommendations!
Bonjardim
Known as some of the best piri piri chicken in Lisbon, this is top of the list for next visit!
Travessa Santo Antao, 11
Taberna Rua das Flores
This old-fashioned Lisbon tavern doesn't accept reservations, but friends tell me it is worth the wait.
Rua das Flores, 103
Ze do Cornos
A truly local tavern famous for its pork ribs and salt cod, and also known for its epic bifana sandwich.
Beco dos Surradores, 5
Ibo Cafe
Recommended as a great place to try Mozambican-Portuguese fusion.
Cais do Sodré, 22
Zapata
Known for cheap, no-frills seafood (sounds like my kind of place!).
Rua do Poço dos Negros, 47
Tasca do Chico
Recommended by friends in the know as the place to see good fado with a local vibe (but skip the food and just drink!)
Rua do Diário de Notícias, 39
Do you have a tip for where to eat in Lisbon? Please share your best foodie tips for Lisbon in the comments below!
Devour Lisbon with a Local!
Join my passionate team at Devour Lisbon on our daytime Lisbon food tour and taste the best of the city. In between stops you'll learn all about Lisbon's unique culture and history, and meet the locals behind the food. Even if you aren't a "tour person" this unique experience is well worth trying.
More Lisbon Tips
If you're just starting to plan your trip, I have a lot more info to help!