Tenerife may be an island known for its rowdy beach resorts and enormous water parks, but that's only half the picture. This incredible, volcano-studded island sits off of the west coast of Africa as the largest of Spain's Canary Islands. We recently visited for a quick three night stay, in hopes of escaping chilly Madrid for a few days. Our adventure began in the quiet town of Garachico at the welcoming Hotel San Roque.
We arrived to Garachico on a sleepy Sunday, after a forty minute drive along the coast from the Tenerife Norte airport. We were there to stay at the Hotel San Roque, a boutique hotel that we were hoping would give us the rest and relaxation we craved. For once, we'd stepped off the plane without any plans-- we'd go with the flow, island style!
I was surprised to see how small the town of Garachico was, as I'd read that it was once Tenerife's main port city. Later, I found out that the town was destroyed by a volcanic eruption in 1706, when it was covered in lava. It never recovered, and today is one of the island's most virgin towns-- no fake beach shipping in sand from the Sahara Desert, and no high rise hotels!
It's here that the Hotel San Roque first opened its doors to guests in 1996, going on to become one of the best boutique hotels in Tenerife.
HISTORY
When the hotel's current owner Laly and her late husband first walked in to the 18th century manor house in Garachico, they never imagined that the old building in ruins would become their life's work. But they fell in love on the spot with the old property, and in 1992 began to restore it to its former glory. The painstaking process was not without its challenges, but the couple poured their heart and soul into the project. Nearly four years later they opened the doors of Garachico's first boutique hotel.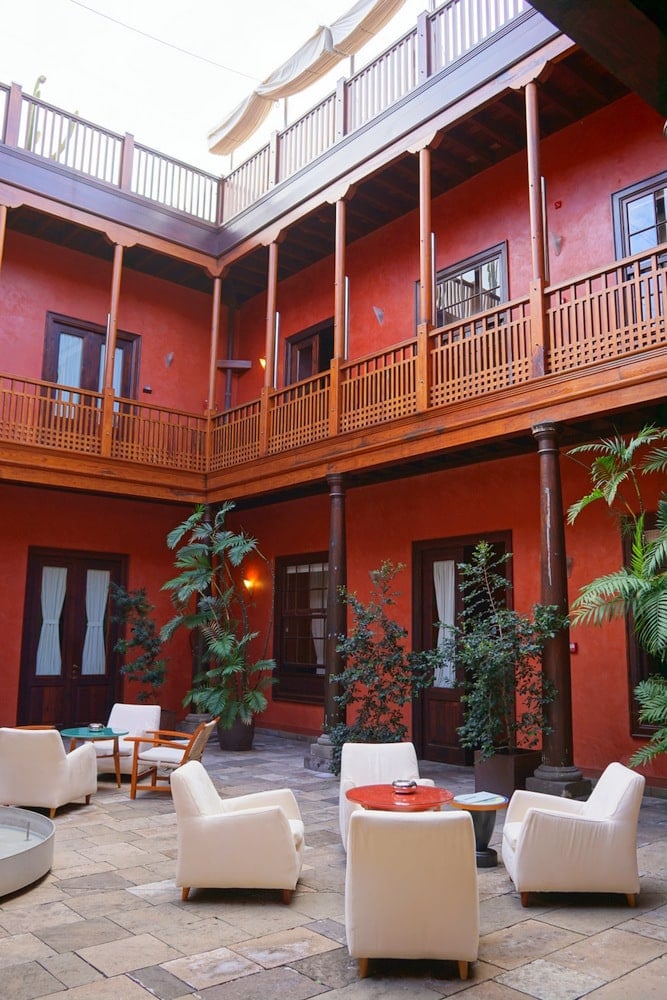 ROOMS AND AMENITIES
We stayed in one of their 20 rooms, a duplex room that featured a comfortable living room and huge bathroom on the bottom floor and a quaint and comfortable loft bedroom above. The bathroom had a jacuzzi tub and all of the amenities you could need. The bedroom was simple and charming, with a large double bed (with a super comfy mattress) and skylights that let in the morning sun.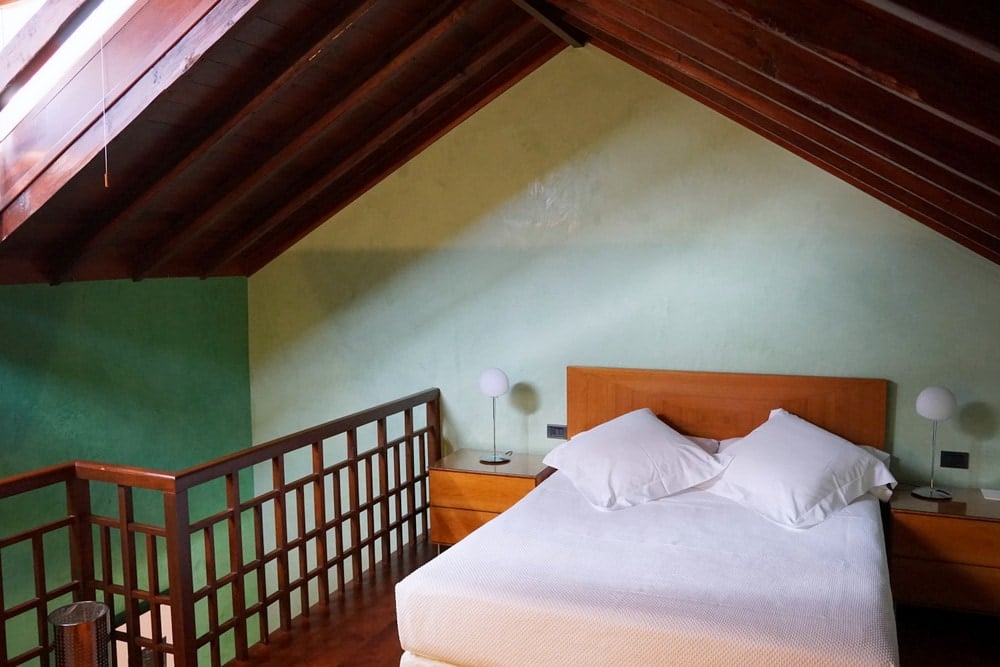 Upon arrival, we decided to quickly check out the rooftop terrace and the pool. It wasn't quite warm enough for a swim in February (it was around 68°F), though had we wanted to brave it, the pool was heated! We ordered a glass of wine and the lovely waiter took pity on our hungry bellies (we'd left Madrid at 6am) and snuck us some cheese leftover from the breakfast buffet.
The hotel also boasts a beautiful bar and library, the perfect place to pour over a map and plan the next part of your trip (with a cocktail in hand, preferably!).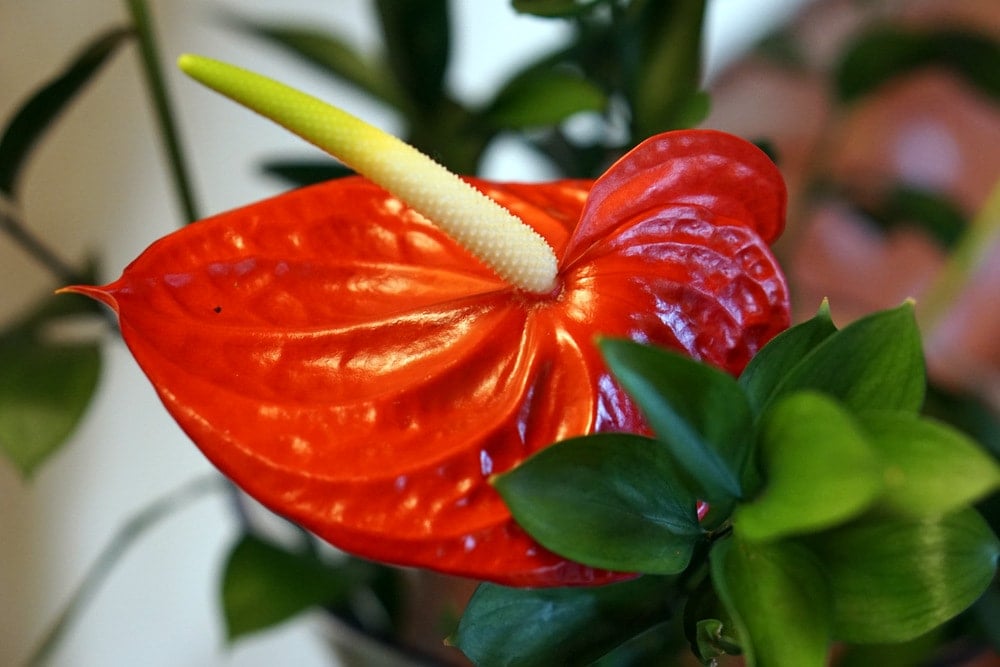 LOCATION
The town of Garachico was once Tenerife's most important port city, heavily involved in exporting local wine and other goods to the Americas. But in 1706 the nearby Arenas Negras volcano exploded, covering much of the city in thick black lava. You can still very clearly see the trails of lava in parts of the town! This changed things quite a bit, and today Garachico is peaceful and charming, at least in February!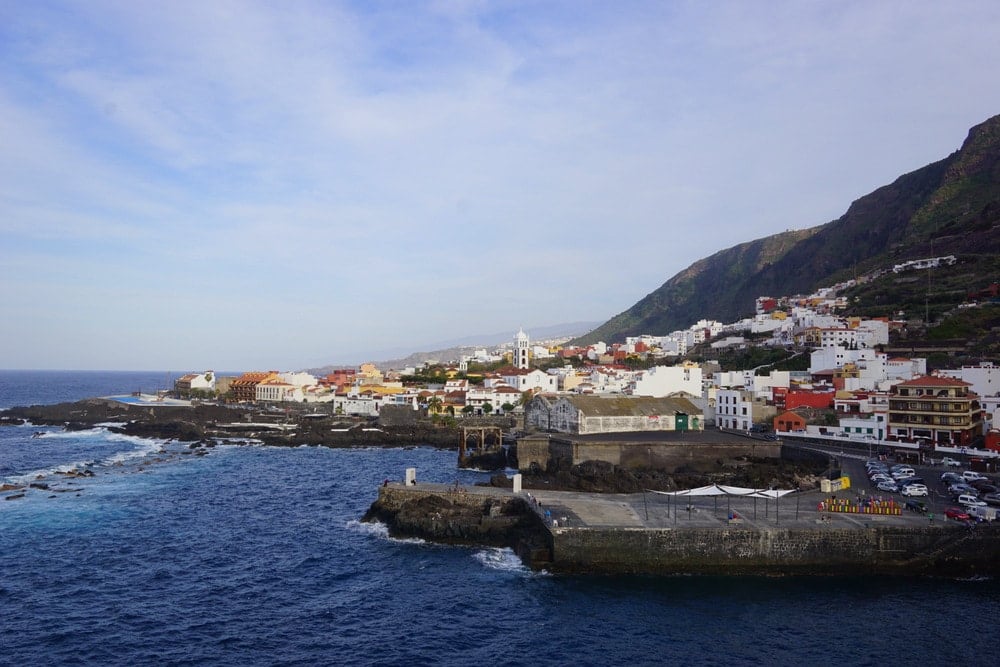 The hotel is within walking distance of all the town's main sites, which include a gorgeous town square, a short hiking trail to view the city from above, and natural swimming pools where people can walk along stone paths and even take a dip (the actual ocean here is too rough for a swim).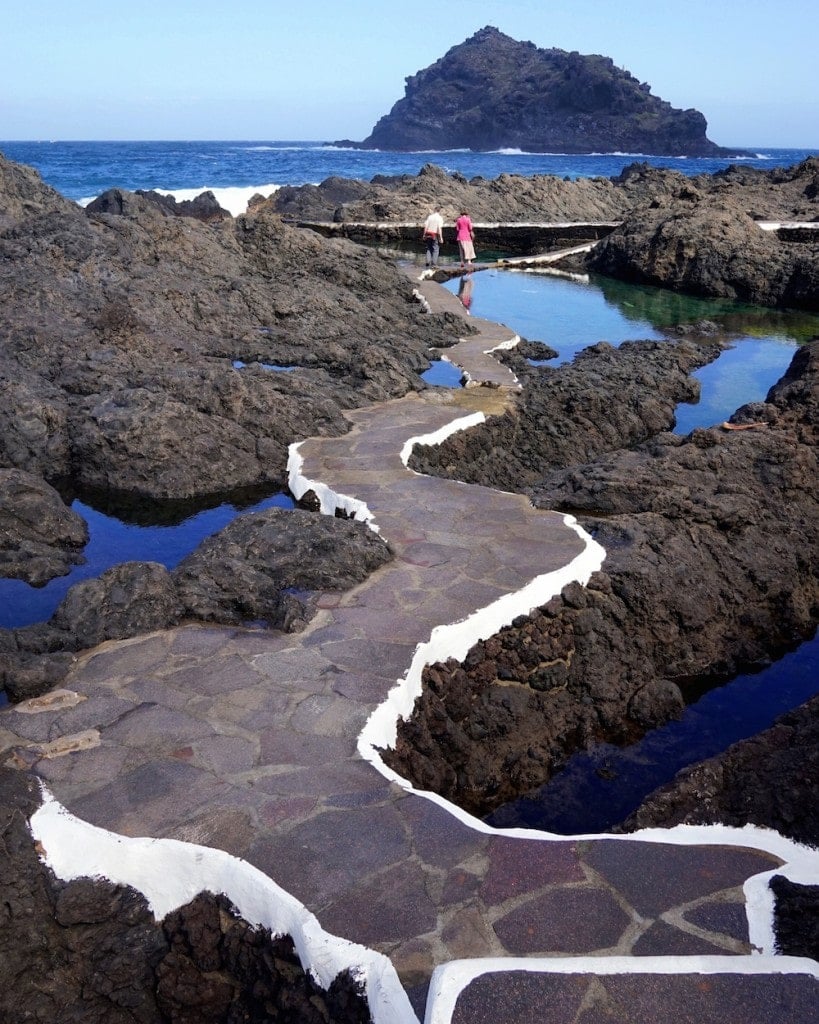 You are also a short drive away from plenty of other attractions, such as the town Icod de los Vinos and its millennial Drago tree, and the gorgeous Punta de Teno rural park.
It was an excellent base for exploring the northwest of the island, and we were sad to leave after only two nights-- the concierge told us that many people spend up to ten days with the hotel as their base (next time!).
OUR STAY
From start to finish we felt like we were at the perfect sized boutique hotel, and were made to feel very welcomed. Laly, the hotel owner, was the first to greet us as we checked in while sitting in the beautiful patio, as our bags were whisked up to our room (which was ready for us early, at 11am, far earlier than we'd expected).
Throughout our stay the concierge and receptionist were happy to help us with advice for things to see and do, and they gave us tips that you could tell they were recommending from the heart-- something difficult to find in some hotels!
FOR FOODIES
A stay at Hotel San Roque includes a full buffet breakfast, which changes daily but always includes toast, cured meats and cheeses, cereals, baked goods, yogurts and fruits. They'll also prepare farm fresh eggs to order, which we took advantage of every day!
Restaurante Anturium
We were invited to dine with the owner, Laly, one evening in their onsite restaurant, Restaurante Anturium. Over glasses of crisp Catalan cava, Laly told us the story of how she and her late husband had come to own the hotel, and how the restaurant had evolved.
Laly had never planned to give the hotel a proper restaurant, but hungry guests ended up demanding food! And on Christmas Day shortly after opening the hotel, all the other restaurants in town were closed. So Laly had no other choice but to cook! She is from a farming family and her mother had taught her how to cook simple, but delicious, homemade food. Yet though she considered herself a very capable home cook, she was well aware that running a restaurant was a different thing!
With the hotel restaurant underway, she enlisted the help of a young girl from a nearby village, Nazaret, who at 17 years old had to get her parents' permission to come work. All these years later, Nazaret is still working at the hotel, as assistant chef!
Throughout the years Laly had a handful of world-class chefs come in to train her and her eager staff. Even one of the top chefs from El Cellar de Can Roca, Spain's #1 restaurant in recent years, came year after year to train staff and plan the menus.
Eventually though, Laly found Danny Nielsen, a Dane who had been living in Tenerife for some time, cooking at one of Laly's favorite restaurants in a nearby city. When she heard he wanted to move to her part of the island, she knew she had to grab him up!
So for the last three years, guests and Garachico locals have been extremely lucky to enjoy Danny's delicious fusion of flavors. His dishes mix international cuisine with mediterranean techniques and some Canarian products. The results are excellent, as we soon learned over our five course meal. Perfectly complimented by local wine, we enjoyed every bite and only wished that we had another evening to try other dishes on the menu that we'd been eyeing!
Above (clockwise): Herring tartar and a tosta with smoked eel and a quail egg, seared salmon with infused mayonnaise and raspberry, Mahon cheese with violet marmalade, seared beef with a Stilton cheese sauce. Not pictured: another amazing cheese bite (Lanzarote goat cheese with palm syrup) and a delicious apple tatin with Granny Smith apple and cider sorbet for dessert!
Restaurante Anturium is open to hotel guests and the public (with prior reservations) and is an absolute must for a romantic meal in Garachico.
Overall we greatly enjoyed the beautiful Hotel San Roque. The relaxed atmosphere, super friendly staff, delicious food and incredible surroundings make it the obvious choice for staying in Garachico and in the northwestern part of Tenerife in general. I hope to make it back to the area sometime in the near future, as there were so many incredible hikes, towns and beaches we missed. And I have a lot more to try from the delicious menu at Restaurante Anturium!
Tenerife was a place that exceeded my already high expectations. I would strongly recommend that if you're planning a multi-week visit to Spain you should consider spending a portion of your trip here, as it will open your eyes to another side of Spain that many people don't experience.
Hotel San Roque
Calle Esteban de Ponte, 32, Garachico Tenerife
Website
What's your favorite boutique hotel in Tenerife?
More about my experience on the Canary Islands here!