The vineyards of Lanzarote are stunning and fascinating-- I still remember the first time I saw a photo of the contrasting dark black and bright green landscapes. I'd been itching to see them in person for years now, so when deciding on where to go for a four-day summer break, Lanzarote was top of the list.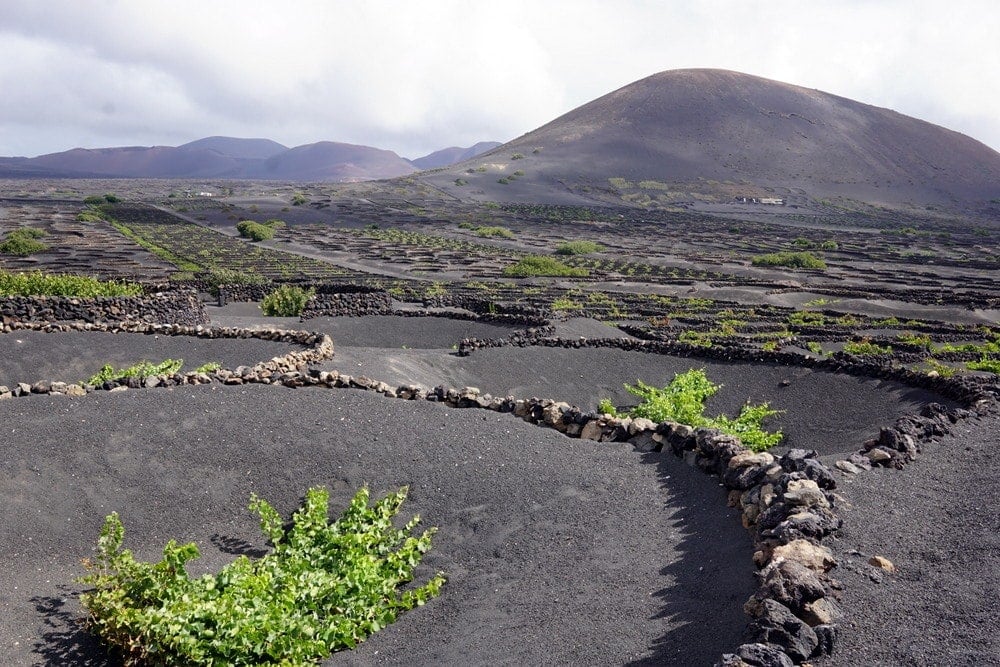 Our 4-days in Lanzarote were filled with incredible sights and food-- but one of the highlights was the Lanzarote winery tour we took with Eco Insider. I finally got my chance to see Lanzarote's famous vineyards, and they were just as spectacular as I'd imagined.
A must for wine lovers, Lanzarote vineyards are among the most striking I've ever seen and worth the trip from Madrid just to experience them. We took full advantage of a day between vines by trusting in Eco Insider to take us on their popular bodega hopping tour (that way Alejandro could drink too)-- good decision!
Lanzarote Winery Tour with EcoInsider
Our tour guide, Ed, picked us up at our rental apartment in sleepy Playa Quemada around 10 am and off we went on a private Lanzarote winery tour. The island is so compact that we didn't have to drive far to our first destination-- in only about 15 minutes we were in La Geria, Lanzarote's gorgeous winery strip, and we arrived at the first bodega of the day, La Geria.
Tip: We stayed in the simple but lovely Ventanas de Lanzarote apartments in the non-touristy Playa Quemada area and loved our stay!
Visiting Bodega La Geria in Lanzarote
Bodega La Geria is one of the island's most known (they claim to be the most visited bodega in all of Spain actually-- with 300,000 visits a year!). Luckily, the place was pretty empty when we arrived with Ed, and didn't seem overly touristy. Here we tasted two of their premium white wines (most of Lanzarote's wines are white-- and mainly made using volcanic malvasia). We tasted their dry Malvasia and their semi dulce, a semi sweet white wine that is a popular style here. It was surprisingly nice and I could understand how locals love this style for a leisurely afternoon lunch.
Here we met the winemaker, Alejandro, who talked to us about the 2017 production-- which was quite good, especially since 2016 had been awful (yielding only about 15% of norm). Although it was only early July, they were getting ready to harvest, as the grapes had already reached maturity and were just about ready to go. In Lanzarote everything has to be harvested by hand, which is quite a challenge for the wineries. Locals often help out -- hopefully for a bottle or two of wine in exchange!
A Look at Bodegas Rubicon
Since Ed knew we work in the wine industry, we made a quick unscheduled stop at Bodegas Rubicon, an estate that has existed since 1570-- though was made into a modern winery in the late 1970s. Here we tasted a few of their wines-- I was already wishing for extra room in my suitcase to start buying, but I had to settle with a taste for this trip.
Bodegas Rubicon also houses a nice local restaurant, which Ed says is worthwhile.
Touring Bodegas El Grifo
One of Lanzarote's most famous bodegas, and the oldest in all of the Canary Islands (1775), Bodegas El Grifo is stunning and friendly, home to a small winemaking museum and a lovely tasting area.
We took a private tour of the El Grifo winery with Ed, taking a peek at 200-year-old pre-phylloxera Moscatel grape vines, and then sat down to a tasting of six of the winery's signature wines. Now that's my idea of a tasting!
Ale broke our no buying rule for a bottle of their barrel fermented Malvasia (and now that we had to check a suitcase anyway, we planned to buy a couple more!). One wine I wish I'd tried and will have to seek out in Madrid is their Canari-- a wine made in the style of what was famous from the island in the 17th century!
An Urban Winery: Bodega Vulcano
As a contrast to the La Geria area bodegas, we next made our way into the small village of Tias, where Bodega Vulcano-- an urban winery-- started in 2009.
The Díaz family had been producing its own wine for decades and also selling their grapes to other local bodegas. But in the middle of Spain's economic recession, some of their customers stopped paying them-- and they were left with a decision to make: go out on their own, or sell off the land.
They chose to take a risk, and it has paid off so far! They set up a small, design-focused urban winery (production takes place underground!) and produce some excellent wines. Here we tasted their full range and settled on a bottle of their aged white Malvasia (we were checking a bag after all!).
Lunch in Teguise
Next we made our way to the gorgeous town of Teguise-- Ed's hometown and also the oldest capital in all of the Canary Islands. We'd been here a few days prior for the Sunday flea market (NOT worth it in my opinion-- filled with tourists and lacking authenticity), but today was totally different. We ate lunch in Ed's friend's restaurant, La Cantina, a place that puts a modern twist on Canarian ingredients. We were starving after all the wine, and enjoyed everything.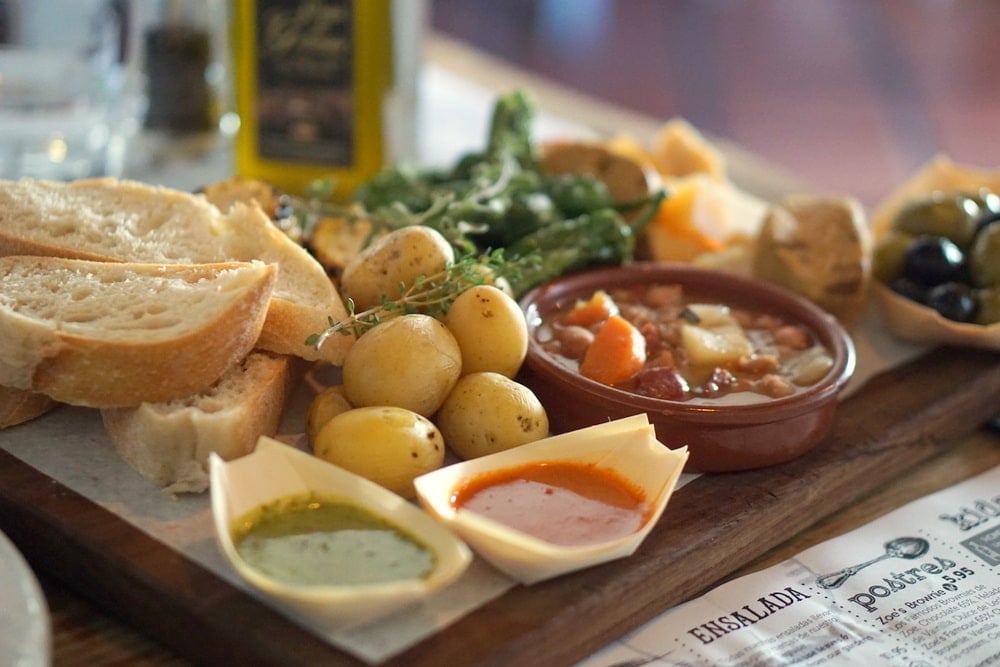 Arrecife Food Tour
Instead of ending here, Ed wanted to show us the growing food scene in Arrecife, Lanzarote's capital city. The city itself is unpolished but filled with small gems if you know where to look. Ed took us to visit Vicente, a young cheesemonger, and owner of The Queso Project-- a gorgeous hole-in-the-wall cheese shop that specializes in local Canarian cheeses (but has a great selection from further afield as well!). I have no doubt it's the best cheese shop in Lanzarote.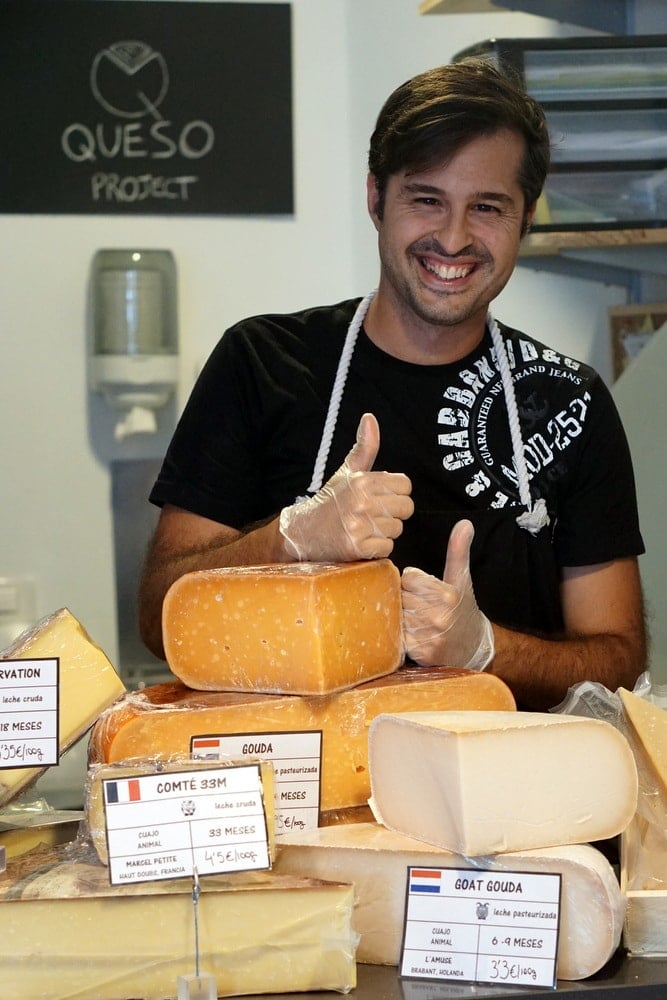 Next we headed to a local wine shop/bar, Territorio Sibarita. Owned by Isabel and her husband, they specialize in lesser-known Spanish wines, which you can taste there or take home. Their mission is similar to ours in Madrid (at our Devour Madrid shop and tasting space) and it was lovely to meet someone with such a similar outlook. Another glass of wine and we were off for a nap at our hotel-- much needed after our busy day out!
Our day visiting Lanzarote wineries and "bodega hopping" with Eco Insider's Lanzarote Winery Tour was so much fun. It was awesome that Ale didn't have to worry about driving, and Ed taught us a lot about island life. I think wine tours are a fantastic way to spend a day wherever I go (and totally worth the cost to be able to relax and not have to drive), and this was an excellent day out.
If you are a wine lover a visit to the unique vineyards and bodegas of Lanzarote are a must! The landscapes are unforgettable. I hope to return again soon for more!
Visiting the Canary Islands? See these other posts for more tips!