Today David shares a fantastic recipe for one of Cordoba's most famous tapas - flamenquines cordobeses.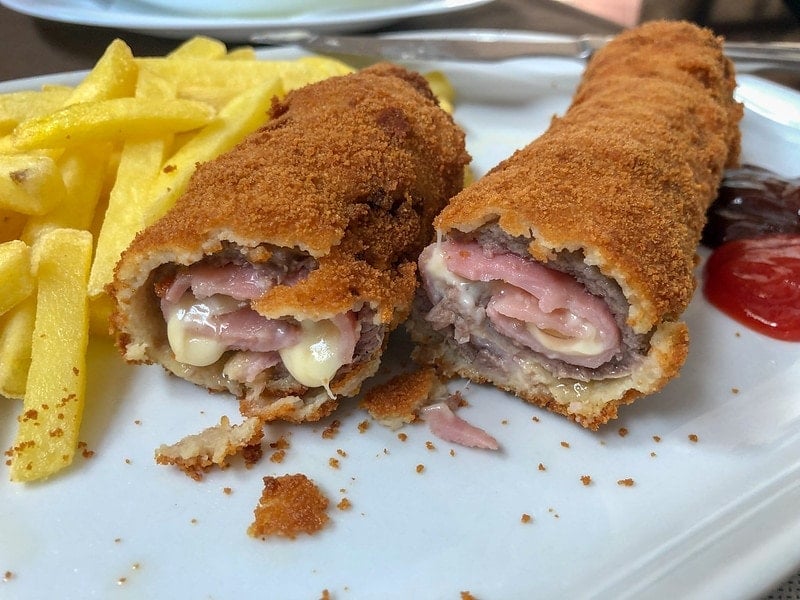 The first time I ate a flamenquín I didn't know what to expect. It just sat there unassumingly on the table, with golden crumb and steam rising off it. Truth be told, I hadn't even known what I was ordering!
"Little Flamenco Dancer" was the English translation, which (like most tapas bar translations) doesn't really tell you much. The best way I could have described it was as a fried pork roll; about a foot of long, cylindrical pork, ham, and cheese that had been battered and deep-fried into delicious submission.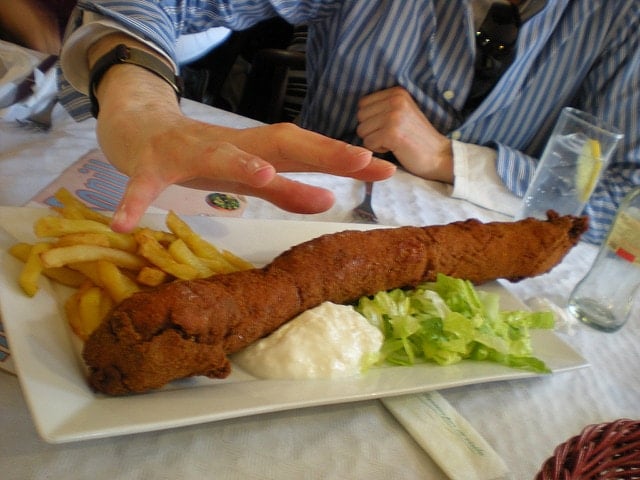 I now know that flamenquín is the Andalusian version of a pork roulade, and one of the guiltiest of guilty pleasures that you'll see on a tapas bar menu! The dish traditionally comes from the small city of Cordoba, where almost every tavern claims to have the best or most traditional version in town. And the most wonderful part of flamenquín? You're never quite sure what you're going to get.
As long as you have some pork in there, it doesn't matter what else you add to your flamenquín. I've come across roulades with ham, cheese, roasted peppers, grilled asparagus and so much more. My flamenquín recipe is for the most classic tapas bar version (pork loin, ham, and cheese), but feel free to pimp out your own at home!
Specifically, I use jamón serrano (or jamón ibérico if I'm feeling fancy) and a melty cheese like Gruyere. But if in doubt, any thinly-sliced deli ham will substitute for the jamón, and any fondue-appropriate cheese can work in place of the Gruyere.
Flamenquín: What's in a name?
Many Andalusian dishes have names that perfectly describe their ingredients. Seville has its famous espinacas con garbanzos (spinach with chickpeas), and Cordoba has its other famous tapa, berenjenas con miel (fried eggplant with honey).
Flamenquín, however, is not one of these types of dishes, and in fact, no one is really sure what the name means.
Some locals claim that it comes from its shape, resembling the long, thin legs of a flamingo. Others, like my tapas bar from the start of the post, reckon that while it does come from the shape of a leg, it's the leg of a flamenco dancer, not a bird. Finally, and perhaps most strangely, there's a rumor that flamenquín means "little Flemish man". Sure, it sounds weird to name a pork roll after the long blonde hair of the Flemish assistants to Emperor Charles V, but stranger things have happened.
Fortunately, no matter the name, this is a delicious way to experience the taste of southern Spain! You can find my flamenquín recipe below. Traditionally, flamenquín is served simply, with a fresh garden salad and french fries and a dollop of homemade mayo.
Traditional Flamenquínes Cordobeses Recipe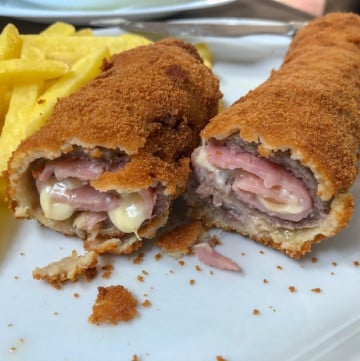 Flamenquin Cordobes Recipe - Andalusian Fried Pork Rolls
This fried pork and cheese roll is a classic tapas dish served in taverns all throughout the south of Spain. Get your traditional flamenquín cordobés recipe right here!
Print (images optional)
Pin
Rate
Ingredients
4

pork fillets

roughly 150g / 5 oz each

2

cloves

of garlic

minced

Juice of 1 lemon

1.5

tablespoons

of dried parsley

Pinch

of salt

¼

pound

/ 120g of jamon serrano

¼

pound

/ 120g of Gruyere cheese

sliced into sticks, roughly ½-inch wide

Flour

2

eggs

beaten

120

g

/ ¼ pound breadcrumbs

Olive oil

for frying
Instructions
Place the pork fillets between two sheets of plastic wrap, and use a meat mallet to flatten to ¼-inch thick at most.

Remove the plastic wrap and place the pork in a small bowl. Add the garlic, lemon juice, parsley, and salt and leave to marinate in the fridge for 1-2 hours.

Remove from the fridge and lay the pork out flat. Cover completely with a thin layer of the jamon serrano, and then place the sticks of cheese end-to-end along one of the long sides of each pork fillet.

Carefully roll the pork and ham into a log around the cheese sticks, so that the pork forms the outer layer of a log. Roll each log in flour, then in the beaten egg, and then in the breadcrumbs.

Meanwhile, place a large heavy skillet over medium-high heat and fill with olive oil to a depth of ¼-inch.

When the oil is heated, fry the flamenquines one by one, placing them open side down in the pan. Cook each side until golden to ensure that the pork is cooked through and the cheese is gooey. Remove the flamenquines from the pan and place on a paper towel to drain any excess oil, and serve hot with a garden salad and/or french fries.
Notes
1. If you can't find jamon serrano, any other thinly sliced deli ham should do the trick.
2. Aside from Gruyere, any gooey, fondue-appropriate cheese will work in this recipe.
Nutrition
Calories:
578.77
kcal
|
Carbohydrates:
26.68
g
|
Protein:
54.34
g
|
Fat:
28.03
g
|
Saturated Fat:
9.59
g
|
Cholesterol:
220.36
mg
|
Sodium:
980.95
mg
|
Potassium:
726.57
mg
|
Fiber:
2.31
g
|
Sugar:
2.8
g
|
Vitamin A:
402.1
IU
|
Vitamin C:
15.71
mg
|
Calcium:
380.62
mg
|
Iron:
4.01
mg
What's your favorite version of flamenquín? And if you've eaten it in Spain, where is your favorite place to order it? Let me know in the comments below!
Pin me!