This blog post was originally posted on July 14th, 2015 and was updated on August 3, 2017.
Not sure if finding decent vegetarian food in Malaga is even possible? While it is true that many dishes in Spain feature pork or fish, there are also a growing number of vegetarian options. In Malaga there are an increasing number of delicious restaurants where you can try traditional Spanish food that is also vegetarian—here are a few standouts.
Top Vegetarian Restaurants in Malaga
There are several vegetarian restaurants in Malaga that locals love. That's not to say that you can't find great vegetarian options at your local bar—you just might have to ask the waiter to "hold the ham" or specify that you don't eat meat at the beginning of the meal. This will help you avoid any surprises when your food arrives.
1. Vegetariano el Calafate
Vegetariano el Calafate is a great place to enjoy vegetarian food in Malaga. Located in the city center on a tiny side street just five minutes walk from the Carmen Thyssen Museum, El Calafate has a daily vegetarian lunch menu that includes a first course, a main dish and a dessert. Portions are generous and everything is delicious, and this is one of the best vegetarian restaurants in Malaga if you are looking for a relaxing sit down meal.
Address: Calle Andrés Pérez, 6
2. Recyclo Bike Café
Centrally located with fun and original bike themed decorations, Recyclo Bike Café is one of the best places for vegetarian food in Malaga. They serve fresh fruit and veggie smoothies, as well as coffees from around the world. The staff is super friendly, and the menu has a lot of options for vegetarians and carnivores alike, such as veggie and meat burgers. They also have different art exhibits on the walls and sometimes even host live music performances on the weekends. Finally, it's centrally located, and a true breath of fresh air for vegetarian restaurants in Malaga.
Address: Calle Marques de Villafiel, 4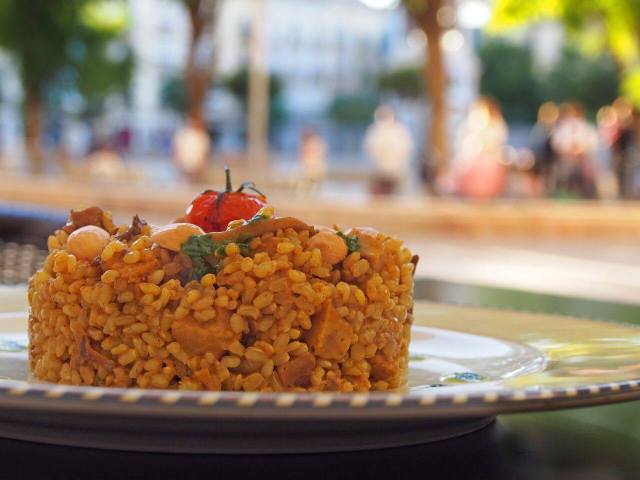 3. Vegetariano Cañadú
Cañadú is a great option for vegetarian food in Malaga, with plenty of healthy options for both vegetarians and gluten-free diners alike. The prices are incredibly fair for the location and quality. For €10, you can order the filling daily menu, which consists of a starter, a main, and dessert. If you're having trouble deciding, try the cous cous, the apple and pine nut croquettes or the mushroom croquettes.
Address: Plaza de la Merced 21
Going beyond the vegetarian restaurants in Malaga
Apart from these vegetarian restaurants in Malaga, there are many traditional tapas that are already vegetarian. Make sure to try the porra de Antequera, a cold tomato soup thickened with bread and olive oil (although make sure to ask for it without ham or tuna on top!). Another favorite in Malaga is ajo blanco. This cold almond and garlic soup is sometimes served with shrimp, so double check before you order. Malaga is also famous for its almonds, which are fried in oil, salted and sold in the street, but you can also find them in the market along with local raisins, dates, and delicious fruits. And of course there are always the classic options of delicious cheese, tortilla española, and local olives.
Read More: The Complete Vegetarian Guide to Malaga
Pin me!