This blog post was originally posted on March 28th, 2016 and was updated on November 16th, 2017.
Malaga is so much more than an airport and launch pad for the Costa del Sol. Despite the fact that many visitors to Spain don't think of Malaga as a city with many interesting things to see and do, this misconception couldn't be further from the truth. Whether it's delicious food, interesting museums, historic monuments or wonderful markets, you're sure to find something in Malaga that will surprise you. Here are 10 things to see in Malaga that will make you want to start planning your visit ASAP.
10 Essential Things to See in Malaga
1. Cathedral
Malaga's cathedral is one of the city's main sights, and boasts a fascinating history of its own. During Moorish rule, there was a mosque located on the same site, but when the Christians took over Malaga in 1487, they got rid of the mosque and started building their cathedral right away.
The cathedral is the second largest in Andalusia, and was built over a period of 250 years. But despite the amount of time it took to build, it's still not quite finished. The second tower was never completed, which has led the cathedral to be nicknamed La Manquita (the one-handed woman).
Insider's Tip: You can also visit the roof of the cathedral, where you will find great views. The ticket for this can be bought at the Bishop's Palace (Plaza del Obispo).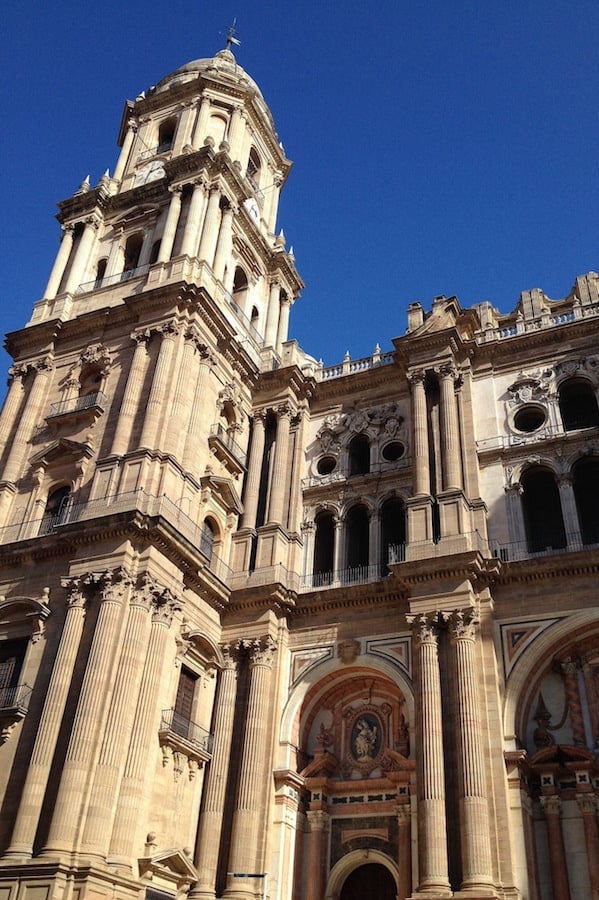 2. Alcazaba
Malaga spent quite a bit of time under Moorish rule, which means that many of the city's top sights and monuments date back to this time. The most impressive of them all, though, is the Alcazaba. Located right in the city center, you can't miss this beautiful building that's home to beautiful floral patios, orange trees and stunning Arabic architecture—and that's not even including the view from the fortress over the city. With the ticket price just €2.30, it's an absolute bargain and worth paying a visit to see.
Interesting fact: Because the Alcazaba is 300 years younger than the Alhambra (the Moorish palace in Granada, locals call it the "Mini Alhambra."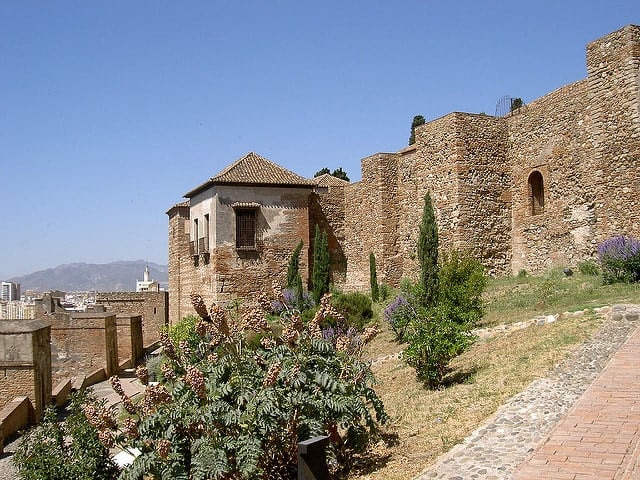 3. Roman Theater
Malaga's Roman Theater dates back to the first century, although its existence was only discovered in the 1950s! Once upon a time the theater was covered in white marble and surrounded by columns and pillars, but much of this material was scavenged by the Moors to built the Alcazaba. Today, it's a fascinating monument to visit—and it's free to enter! Go inside and walk around, or take a seat and feel like a true Roman. Every now and then there are still plays or musical concerts at the theater, so check when you arrive for updates.
See Also: The complete guide to free things to do in Malaga
4. Plaza de la Merced
There's always something going on at this square—people walking their dogs, kids playing outside, and sometimes even a little pop-up market. In fact, Plaza de la Merced is a meeting spot for many malagueños, as well as a must-visit spot for fans of the city's favorite son: Pablo Picasso. His birth house is located in the plaza and in front of it there is a statue of the man himself, enjoying the Malaga sun.
Insider's Tip: Rub the Picasso statue on his head—locals believe it will help his creativity rub off on you!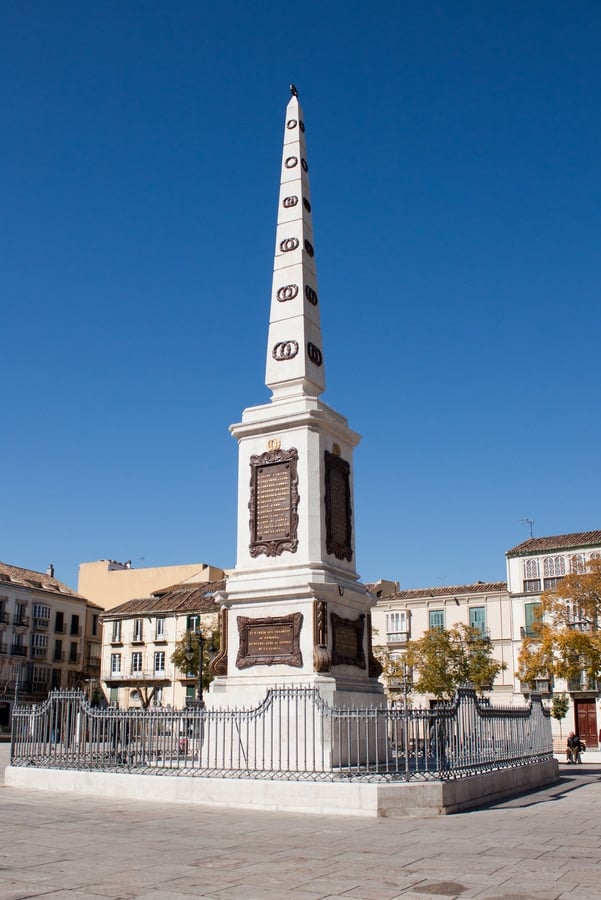 5. Picasso Museum
Speaking of Picasso, his namesake museum is definitely worth a visit. For €7, you can see three floors filled with pieces from his formative years. As you make your way through the museum, you'll learn about Picasso's life and how his experiences affected his art. Take the audio guide, which is included in your entrance ticket, to get to know the man a little bit better.
Insider's Tip: Don't forget about the basement of the Picasso museum. There's no art here, but there are some pretty fascinating ancient ruins.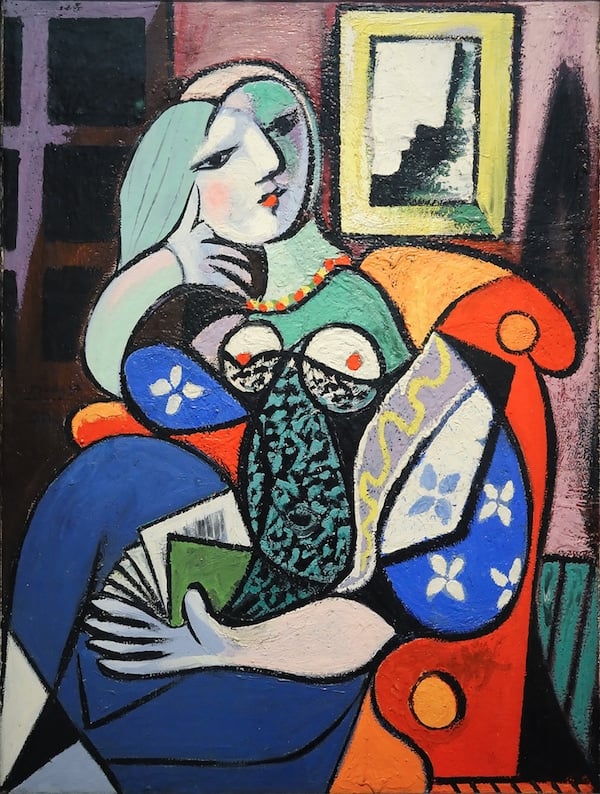 6. Gibralfaro Castle
Located on a steep hill near Malaga's city center, Gibralfaro Castle gives you the best views you can find. The castle was built by the Moors for defensive purposes—hence its prime location—and today you can enjoy the scenery from the high defense walls as you walk around them. If you want to imagine the castle in its former glory even more, in the middle of the fortress you'll find a small museum with weapons and armors that the soldiers used on the battlefield.
Insider's Tip: As you walk up to Gibralfaro, you'll come across an amazing view point. Don't forget to take a little break to take great pictures from up here.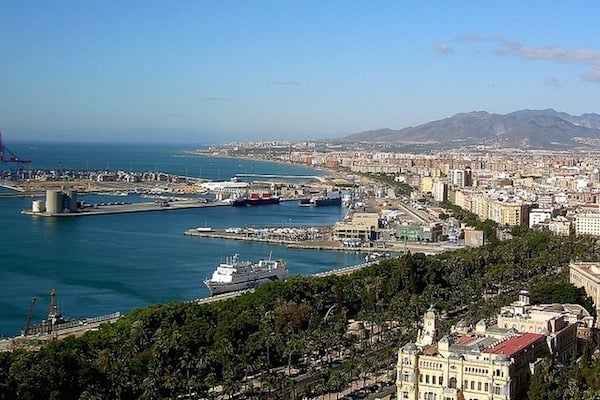 7. Plaza de la Constitución
Malaga's heart lies in the central square known as Plaza de la Constitución, a beautiful square surrounded by grand buildings and palm trees. At the edge of the square you'll see huge newspapers printed directly into the ground. These are copies of the papers that were printed on the first day of the Spanish democracy, and the reason the square is called Plaza de la Constitución today.
8. Malaga Park
If you want to relax and cool off a bit, head for the Parque de Málaga. This beautiful little green space runs right along the harbor for 300 meters, and is home to plants and trees from all over the world—it's basically a free botanical garden! There are lots of fountains, statues and also benches to sit down and relax, perfect for winding down on a hot summer day.
9. Muelle Uno
Malaga is a quickly evolving city, and in 2011 one of the newest things to do in town popped up: the city's newly rejuvenated port area. Shop at one of the many hip stores, sit down at a great restaurant or simply enjoy the view from the other side of the city center. If art if your calling, Malaga's Centre Pompidou is located nearby, with its brightly colored exterior bringing even more personality to this new part of town.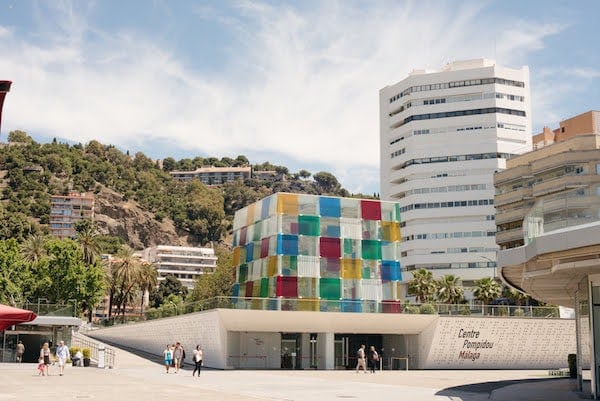 10. Malagueta Beach
No trip to the Costa del Sol would be complete without visiting the beach, but you don't have to go far to find it. And with 330 days of sun every year, Malaga is the perfect destination for sunbathing, swimming or simply taking a walk. Head down to Malagueta Beach, where you will find some chiringuitos (beach bars & restaurants) to stop by and have a drink or a bite to eat while taking in the breezy sea air.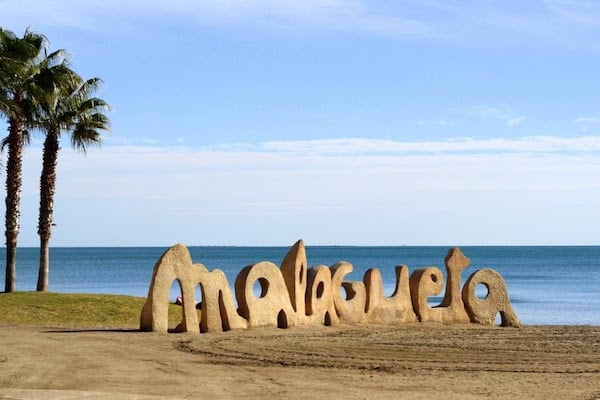 See Also: The ultimate guide to the best beaches in Malaga (and beyond!)
Pin me!