This Andalusian city is full of flamenco shows—but which ones are worth attending? Check out our picks for the top four places to see flamenco in Malaga.
Over the centuries, flamenco has become an integral element of Andalusian culture. While most people envision graceful female dancers twirling around in the typical frilly dress, flamenco is more than just dancing. Singing, guitar playing, and, of course, dancing all come together to create something magical.
Malaga has a beautifully vibrant flamenco scene. While some visitors might be lucky enough to stumble upon an impromptu show on the street or in a bar, it's not a bad idea to plan ahead.
Top Picks for Authentic Flamenco in Malaga
If you're researching where to see flamenco in Malaga, here are some of the best options in the city!
1. El Jardín Restaurante
Delicious Andalusian cuisine and a stunning flamenco show—what's not to love? At El Jardín, you can enjoy delicious traditional food from Malaga while watching flamenco come to life before your eyes.
The beautiful venue, a house built in 1887 with stunning views of the cathedral, is the cherry on top. Malagueños also love this place for celebrating baptisms and first communions.
Address: Calle Cañón, 1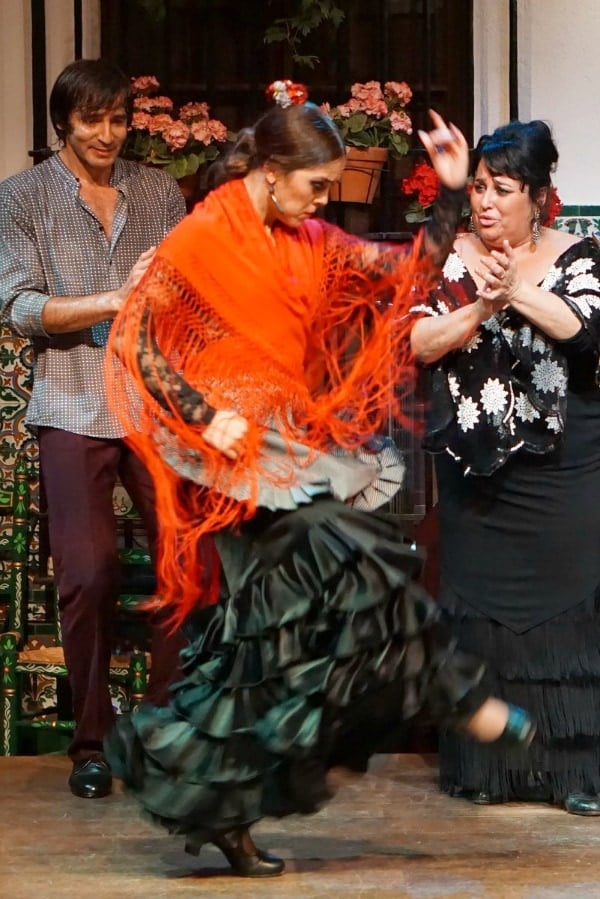 2. Restaurante Vino Mío
This stylish, modern restaurant near the Teatro Cervantes is also one of the best places to see flamenco in Malaga! Restaurante Vino Mío offers a show every evening from Wednesday through Sunday, plus an afternoon show on Fridays.
If you're looking for even more artistic experiences, you've come to the right place—they also offer jazz performances and art exhibitions in addition to flamenco.
Address: Plaza Jerónimo Cuervo, 2
3. Peña Juan Breva Flamenco Museum
This incredible museum is a must for fans of flamenco in Malaga! The Peña Juan Breva Flamenco Museum boasts an impressive collection. You'll see thousands of records, guitars made two centuries ago, posters, authentic dresses, and more. And, of course, you can also catch a show!
Address: Calle Ramón Franquelo, 4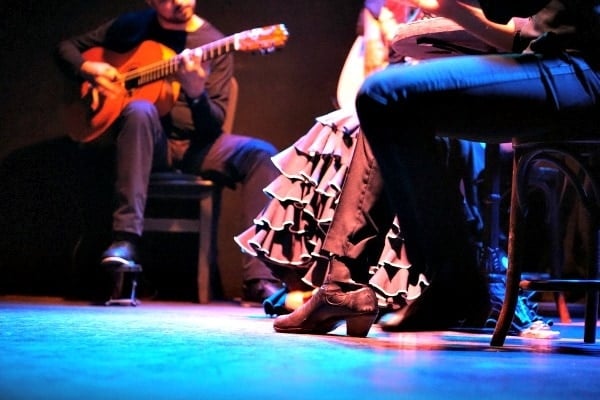 4. Flamenco Festivals
Depending on when you visit, you might be lucky enough to catch one of Malaga's many flamenco festivals!
The most famous is the Bienal de Flamenco, which takes place every other year. The country's best flamenco artists flock to this Spanish festival to perform on open-air stages, making it the perfect way to spend a spring or summer evening.
Many other towns and villages in Malaga province also hold flamenco festivals. Some of the longest-running are the Torre del Cante Flamenco Festival in Alhaurín de la Torre, the Cante Grande Festival in Ronda, and the Flamenco Festival in Casabermeja.
See Also: 5 Standout Spots for Live Music in Malaga
Flamenco in Malaga FAQs
Where can you see flamenco in Malaga?
Malaga is full of places to see flamenco, but some are more authentic than others! We love Restaurante Vino Mío for dinner and a show; Peña Juan Breva Flamenco Museum for historical context; and seasonal flamenco festivals for outdoor shows starring famous artists.
Where is flamenco from?
Flamenco originated in the southern Spanish region of Andalusia, which is where Malaga is located. Although some other Andalusian cities may be more well known for flamenco, Malaga is also a fantastic place to see authentic performances.
What is flamenco, exactly?
Many people think of flamenco as a style of dance, but it's actually a whole art form that combines dancing, singing, and instrumental music in a moving display of emotion and skill. The word is also used to describe the modern and traditional musical styles of flamenco.
Love Spanish food? Sign up for my free weekly newsletter and receive a new Spanish recipe once a week! Join today and get my FREE Spanish ingredient essentials guide!