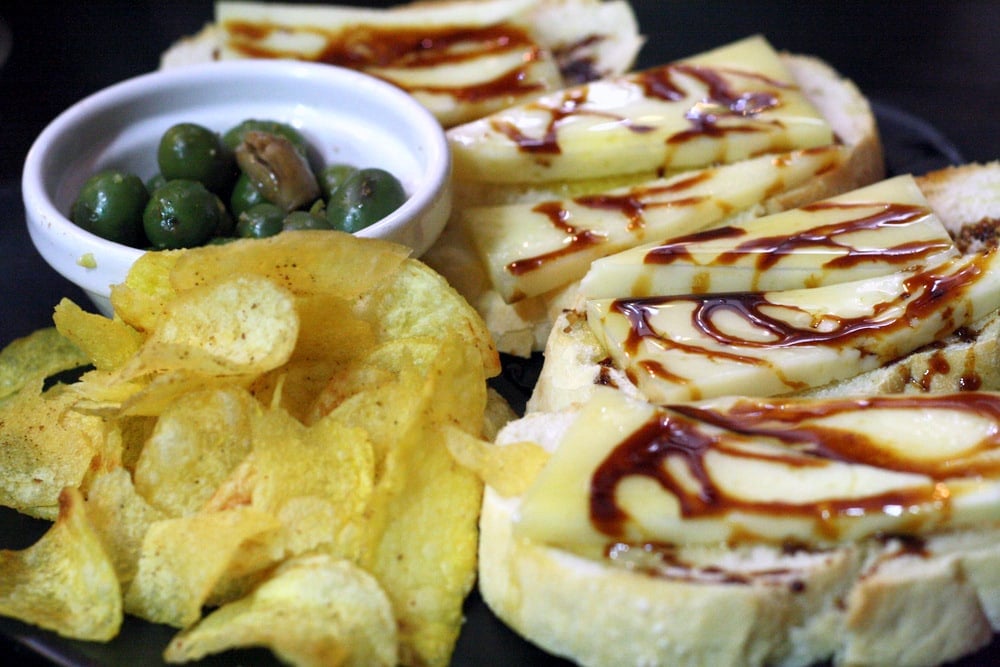 If the world knows one thing about eating in Spain, it's tapas. But what exactly are tapas? If you ask ten Spaniards that question you will undoubtably get ten different answers. Some tapas are plate-sized, some are bite-sized. Some are hot, some are cold. Some are free, some aren't. Some come atop bread or on a skewer or in a clay pot…
But one thing is always true: Spain wouldn't be Spain without tapas.

How Did the Tapas Tradition Begin?
From their origins to their ingredients, Spaniards have been arguing about tapas for centuries. According to one theory, the word tapas comes from the Spanish verb tapar, which means "to put a top on something." One popular legend is the following:
Around the turn of the century Spanish King Alfonso XIII stopped at a bar during his journey through a dry, windy part of southern Spain and ordered a drink. In order to keep the blowing sand out of the king's drink the bartender topped the wine glass with slice of cured ham. The king loved the idea and voila, tapas were born!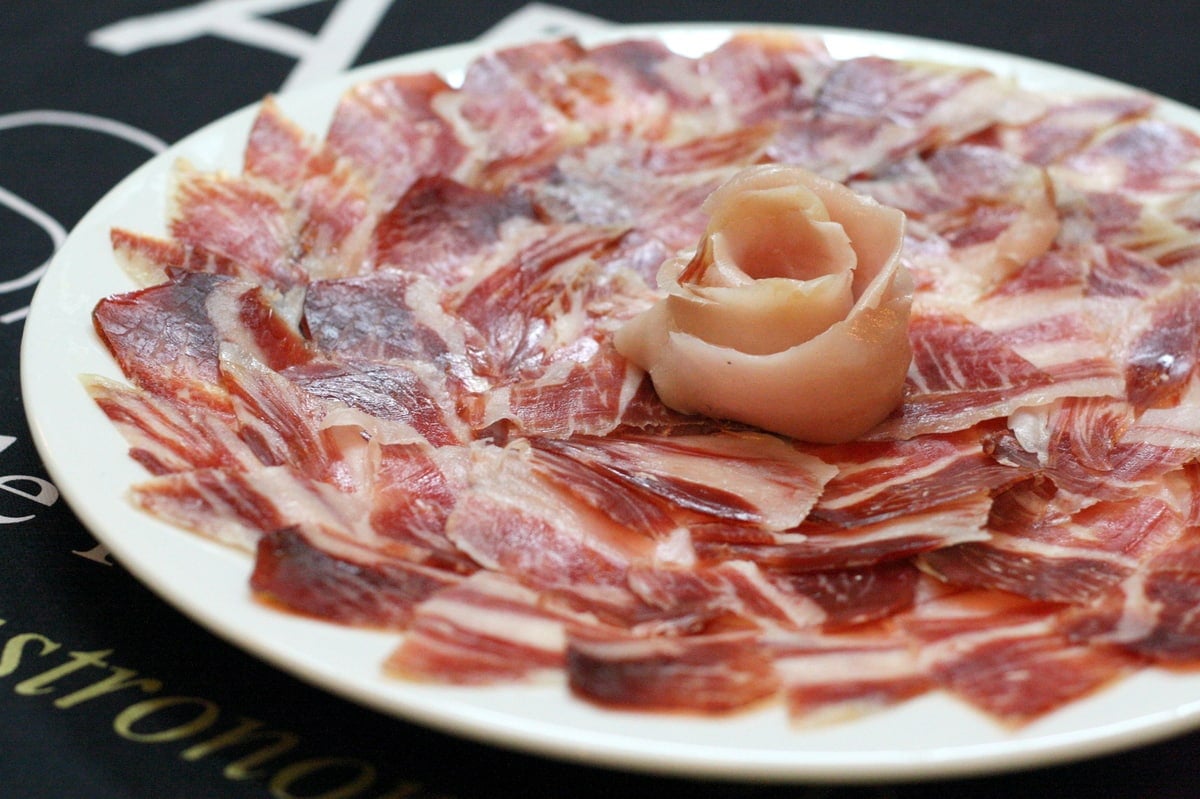 Another story places the origin of tapas in the Middle Ages when northern Spanish laborers would drink heavily to warm themselves from the bitterly cold winters. In order to offset the alcohol, bartenders would serve a bit of food with each drink, a tradition that soon became popular with laborers and leisurers alike!
What Are Tapas?
If the history of tapas is less than clear, the definition of what is and is not a tapa is even more confusing. That definition is determined largely by region. Two of Spain's most famous tapas areas are Andalusia in the south (especially Granada and Seville) and Basque Country in the north (San Sebastian has been called the best place to eat in the world by many discerning palates!). I'd say that Granada and San Sebastian possibly represent the two extremes of Spanish tapas.
In Granada tapas are typically large and free. Granada tapas are famous for getting increasingly more fantastic with each drink you order (a smart way for the bars to prevent the inevitable tapas crawl!).
In San Sebastian tapas are often smaller and more gourmet, and almost always served atop a medallion of baguette. In fact, they even have different names! In Granada, they are called tapas while in the Basque Country they are referred to as pintxos/pinchos, a word that is now used throughout most of Spain to refer to more elaborate or gourmet tapas and/or tapas served atop bread.
In Madrid tapas vary hugely from a simple bowl of potato chips to a plate of meatballs. That being said, when you order a drink in the capital city, 99 percent of the time it will come with something to snack on.
In Seville you have to pay for tapas and as such the tapas there tend to be higher quality and often larger. For 2€ to 5€ you get the freedom to choose exactly which tapa you're in the mood to try!
In the northwestern province of Galicia, tapas are free and tend to be quite good. After ordering a drink the waiter will typically read you a list of the day's tapas and allow you to choose which small plate you'd like.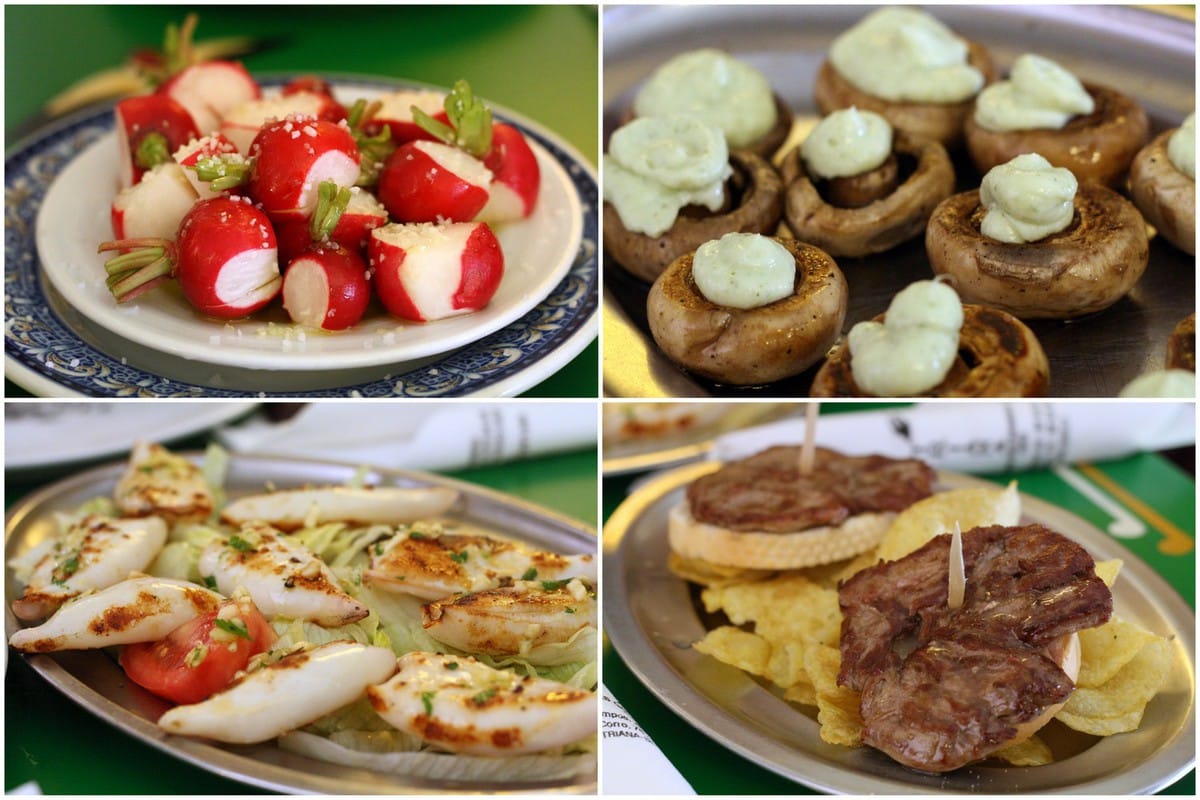 Popular Tapas
While the vast majority of foods that are served as tapas are regional, there are a few tapas that have transcended those regional boundaries.
Tortilla de patata: Without question the most popular tapa in all of Spain is tortilla de patata, or Spanish potato omelet. This titan of tapas is made by frying potatoes and onions, smashing them together with egg and then flipping the mixture in a hot skillet until both top and bottom are lightly browned. Many bars serve tortilla sliced into cubes which are eaten with a toothpick.
Jamón: If tortilla is the king of Spanish tapas, jamón is the queen. There are few things as succulent and awe-inspiring as a freshly shaved slice of cured Iberian acorn-fed ham.
Croquettes: These fried balls of béchamel are just about has heavenly as heavenly gets. Stuffed with everything from cubes of cured ham to sharp cabrales blue cheese, croquetas are one of my favorite tapas in Spain.
Olives: Aceitunas as they are called in Spanish are one of the most typical free tapas you'll get throughout the country after ordering a drink. They are often served skewered on a toothpick with pickled peppers and anchovies.
Patatas Bravas: This tapa consists of fried potatoes topped with a spicy (although not very spicy as Spain by and large does not do spicy food) red sauce.
Carrillada: Stewed beef cheek, or carrillada, is always on the hot tapas list and I am definitely not complaining. As it pops up on menus across Madrid I find myself incapable of resisting its intense, rich flavor.
Pimientos de Padrón: "Some are hot and and others not" as the t-shirts in Galicia will tell you. These little green peppers are famous for their element of surprise. Served pan-fried and sprinkled with salt, conventional wisdom warns that every once in awhile one of the sweet peppers is spicy.
When Is the Best Time to Eat Tapas?
There are two main tapas eating times: before/during lunch from about 1:30 until 3:30 and in the evening from roughly 8:30 until midnight. In smaller towns people pop down to their neighborhood bar around 1:30 p.m. to have a glass of wine or beer and a tapa or two before lunch. On Sundays, even in big cities like Madrid, it is very popular to spend the afternoon tapeando, or going for tapas.
Tapas time in the evening really starts to get underway around 8:30 p.m. Some people go for one tapa and a drink before dinner or make tapas themselves their dinner. Tapas bars typically start to close around midnight.
What are your favorite Spanish tapas?