This pork stuffed peppers recipe got plenty of compliments from my Spanish mother-in-law, which is no small feat! I love how simple and delicious Spanish stuffed peppers are. David shares his excellent version with us today.
Ever look in the fridge in the middle of the week and think "how can I turn all of these things into dinner?". I do.
It gets to that point of the week where I have just enough in the pantry to not need to go grocery shopping, but not quite enough for a clear recipe to scream out at me. Luckily, for times like these, Spanish pork stuffed peppers are here. The great thing about this easy recipe is you can use whatever you have lying around.
This recipe uses the staples I normally have at home. But feel free to make some substitutions! They make a great appetizer or tapas dish for gatherings, or a simple main when served with a salad or roast potatoes. It's also a great way to serve more vegetables to your family!
What You'll Need to Make This Recipe
Apart from the peppers, there's not much you'll need for this recipe. I've usually got ground pork in the freezer for mid-week crises, but ground turkey would work just as well. Add in the pantry staples (rice, canned tomatoes, onion, garlic, and spices), and you're on your way to having this dish finished! Lean protein, whole grains, and vegetables... this dish is a delicious and healthy option!
Even better, you can easily prep these pork stuffed peppers in advance. Just get them oven-ready, and bake them when you're ready to serve! You can also scale the recipe up or down depending on how many mouths you have to feed.
Similar Recipes
If you love these pork stuffed bell peppers, try some of my similar Spanish recipes!
Spanish Pork Stuffed Peppers Recipe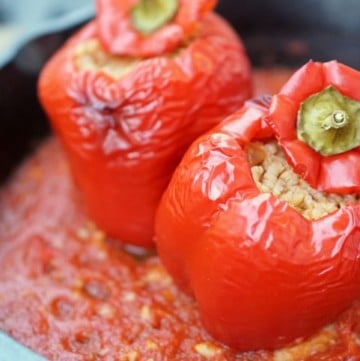 Pork Stuffed Peppers Recipe (Pimientos Rellenos de Cerdo)
Bring the taste of Spain into your kitchen with this pork stuffed peppers recipe! They're an easy and delicious meal and a great way to get more vegetables on the table.
Print (images optional)
Pin
Rate
Ingredients
6

large bell peppers

tops cut off and set aside

1

tablespoon

olive oil

1

medium onion

finely diced

2

cloves

garlic

minced

2

teaspoon

smoked Spanish paprika

2

teaspoon

ground cumin

1

lb

ground pork

1

cup

white rice

1

can of diced tomatoes (14oz/400g)

1

tablespoon

tomato paste

or sofrito
Instructions
Pre-heat your oven to 400°F (200°C).

Fill a small saucepan with 1.5 cups of water and the cup of rice. Cover with a lid and place over a high heat and bring to boil. Reduce to a simmer and leave over a low heat until the water has evaporated and the rice is cooked.

Meanwhile, prick the peppers all over with a fork, and microwave on high for 5 minutes until soft but not falling apart.

Place a large skillet over medium heat and add the olive oil. When the oil is hot, add the onion and saute until soft and translucent (about 4 minutes). Add the garlic, paprika, and cumin and saute for another minute.

Next, add the ground pork to the pan and saute, stirring often, for another 5 minutes or until nicely colored all over. You can add a splash of water to the pan if it looks too dry.

Pour the can of tomatoes into the pan and add the tomato paste/sofrito. Stir to combine and simmer for another 5 minutes until it has reduced slightly. Remove from heat and stir in the rice. Season with salt and pepper.

Stand the peppers upright in a large baking tray, and split the rice-pork mixture evenly among them. Don't overfill, leave a little room at the top. Place the pepper tops back on and bake in the oven for 15-20 minutes until the filling has reduced and is no longer runny. Serve by themselves as an appetizer or tapas, or with a salad or potatoes for a light main.
Thanks for checking out my authentic Spanish pork stuffed peppers recipe. You might also be interested in Lauren's recipe for vegetarian stuffed peppers. Let me know how your family enjoyed these peppers in the comments below!