The word paella means different things to different people. And to my Andalusian mother-in-law, it simply means a dry rice dish with lots of delicious things (chicken, shrimp, vegetables, and even... chorizo!).
That's right, my Spanish mother-in-law puts chorizo in her paella. It is not authentic, and Valencians might shudder at the thought, but she doesn't care. She calls it paella and puts what she wants in it!
So today, David is going to share a version of Spanish rice he calls prawn and chorizo paella -- and what's important is it is delicious and totally approved by my Spanish mother-in-law!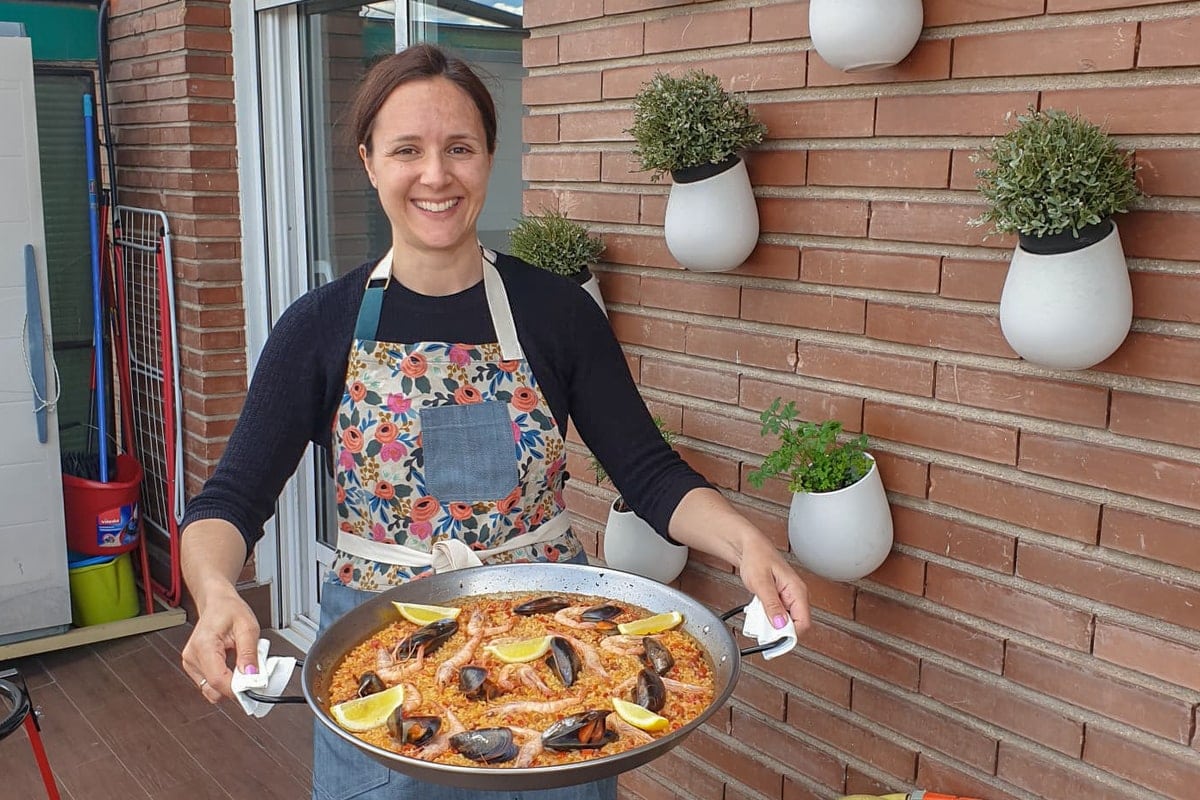 Don't shoot the messenger (or the recipe maker!).
This prawn and chorizo paella recipe is absolutely delicious, but it's not very traditional.
Ask a Spaniard how much chorizo to put in paella and they might narrow their eyes, pin you with an icy stare, and slam the door in your face. The truth is: chorizo never goes into a paella in Spain! Rabbit, chicken, snails, eel, crab... they're all fine, but chorizo? Never.
That being said, I do it anyway!
Why do I add chorizo to my paella recipe?
First, it's delicious. Chorizo makes everything better, it's a fundamental fact of nature. In paella, it adds fattiness, smoky paprika flavor, and bags of umami.
Second, why not add it? Sure, it might not be the traditional recipe. But the history of paella isn't that old, and there have been plenty of changes made in the last 200 years.
The old-school paella includes rabbit and eel, but I don't see people up in arms when they don't get a plate of rice with a dollop of eel meat on top.
Plus, tomatoes and potatoes only came to Spain in the 16th century, and I for one can't picture Spanish cuisine without them! Spanish cuisine is constantly changing, and that's what I love about it.
What You'll Need
To make the best paella possible, you should invest in a good paella pan. (It's also called a paella). It'll let you spread the rice out into a thin layer to help it cook evenly and get crispy. But if you don't have one, don't worry. Just use the widest and flattest saute pan you have.
In terms of rice, paella is traditionally made with a short Spanish grain called bomba. It's the perfect rice for this dish, so I'd encourage you to seek it out.
You'll also want to get semi-cured chorizo. It needs to be cooked before serving (it's still a bit raw), and goes into the paella at the start of the recipe to add flavor and get crispy.
Next, get saffron. Yes, it's worth more per gram than gold. But that aroma is magical, and the color it gives the dish is just beautiful!
Otherwise, this recipe is pretty flexible. You can replace the prawns with any bit of seafood or protein that you have on hand (chicken is great, too). Enjoy!
*If you are located in the US you can find most of the above from the online shop La Tienda.
More Delicious Rice Recipes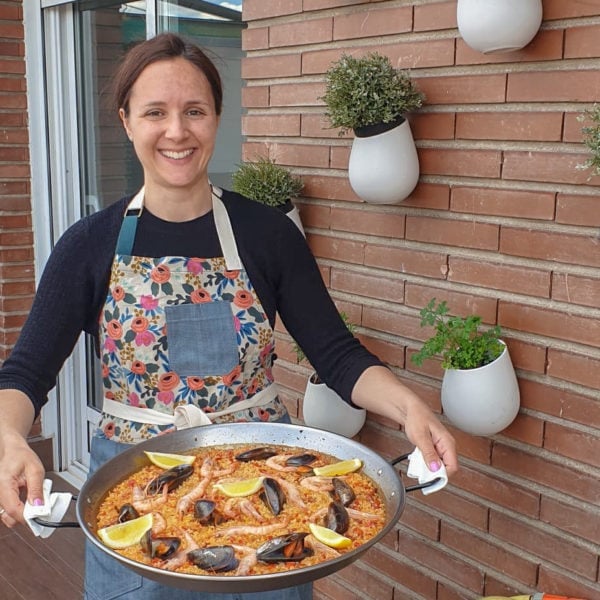 Prawn and Chorizo Paella Recipe
While it's not traditional to add chorizo, this prawn and chorizo paella recipe is a no-brainer! It's delicious, easy, and sure to impress.
Print (images optional)
Pin
Rate
Ingredients
2

tablespoon

olive oil

1.5

cups

bomba rice*

3

cups

chicken or vegetable stock

1

yellow onion

finely diced

1

red bell pepper

diced

3

cloves

garlic

crushed and diced

2.5

tablespoon

tomato puree

2

teaspoon

smoked paprika

2

pinches

saffron threads

2

teaspoon

ground cumin

½

lb

chorizo

semi-cured, thickly sliced

1

lb

raw prawns/shrimp

heads and shells removed, tails on

lemon wedges

to serve

fresh parsley

to serve
Instructions
Place a paella pan or large saute pan over medium heat and add the olive oil. Fry the chorizo to release some of the oil, about two minutes.

Add the onion and bell pepper and saute, stirring occasionally, until the onion is soft and translucent. Next, add the garlic, paprika, saffron, and cumin and saute for another minute until aromatic.

Stir through the tomato paste, and cook for a further 2 minutes. Add the rice and saute, stirring, for another 2-3 minutes until the grains are completely covered in the tomato and spices.

Pour in the stock, season with salt, and bring to a boil. Bring the heat down to low straight away and reduce to a simmer. Cook for 10-15 minutes. Don't stir the rice: it will release its starch and get gluggy. Resist the urge! Add a splash of water if the pan dries out.

When the rice is almost finished (about five minutes to go) arrange the shrimp/prawns on top of the rice, pressing into the rice with the back of a spoon. Cook until the seafood is just cooked all the way through and all of the liquid in the pan has evaporated.

Serve with lemon wedges, and bring the pan to the table for extra effect!
Notes
* If you can't find bomba rice, you can use another short-grain, starchy rice like Arborio.
Thanks for checking out my prawn and chorizo paella recipe! You can see Lauren's similar recipes, like this great traditional paella. Let me know how you liked this recipe in the comments below!