This simple seafood rice recipe is called arroz caldoso (literally "soupy rice"). It is famous in Spain for being hearty and delicious. If you love rice and seafood, this easy meal is perfect for you!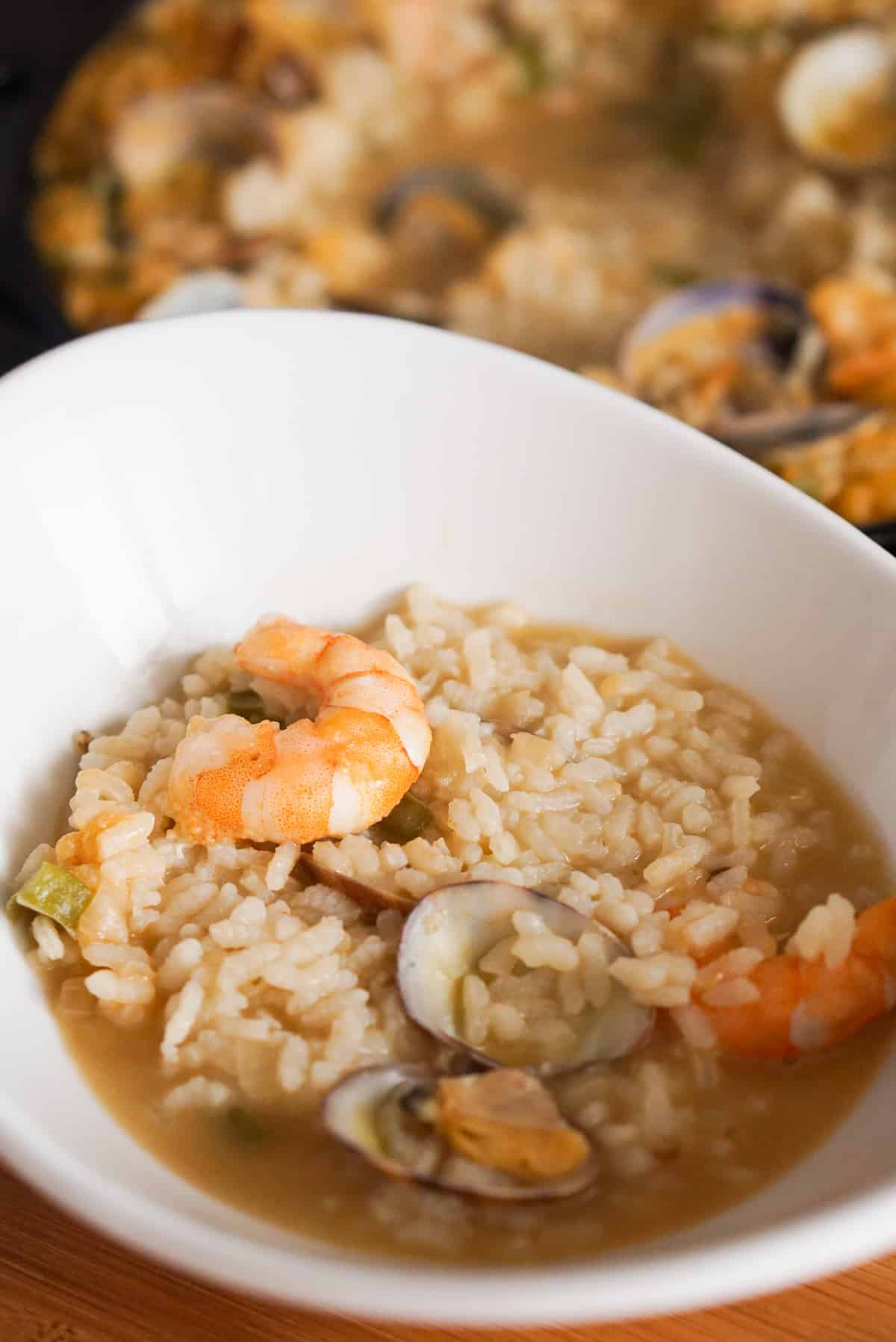 I always thought of paella when it came to Spanish rice, but after living in Spain for over a decade, I realize paella is only one of countless traditional Spanish rice dishes.
Arroz caldoso is another popular style of Spanish rice. The main difference to paella is that the end result is a bit soupy instead of being totally dry. I personally think this is even more comforting and delicious -- I love soup and I love rice, so this combination of the two is perfection!
When I studied Spanish rice dishes at culinary school in Barcelona, we made a few fantastic arroz caldosos. Here is my favorite seafood rice recipe to date.
Key Ingredients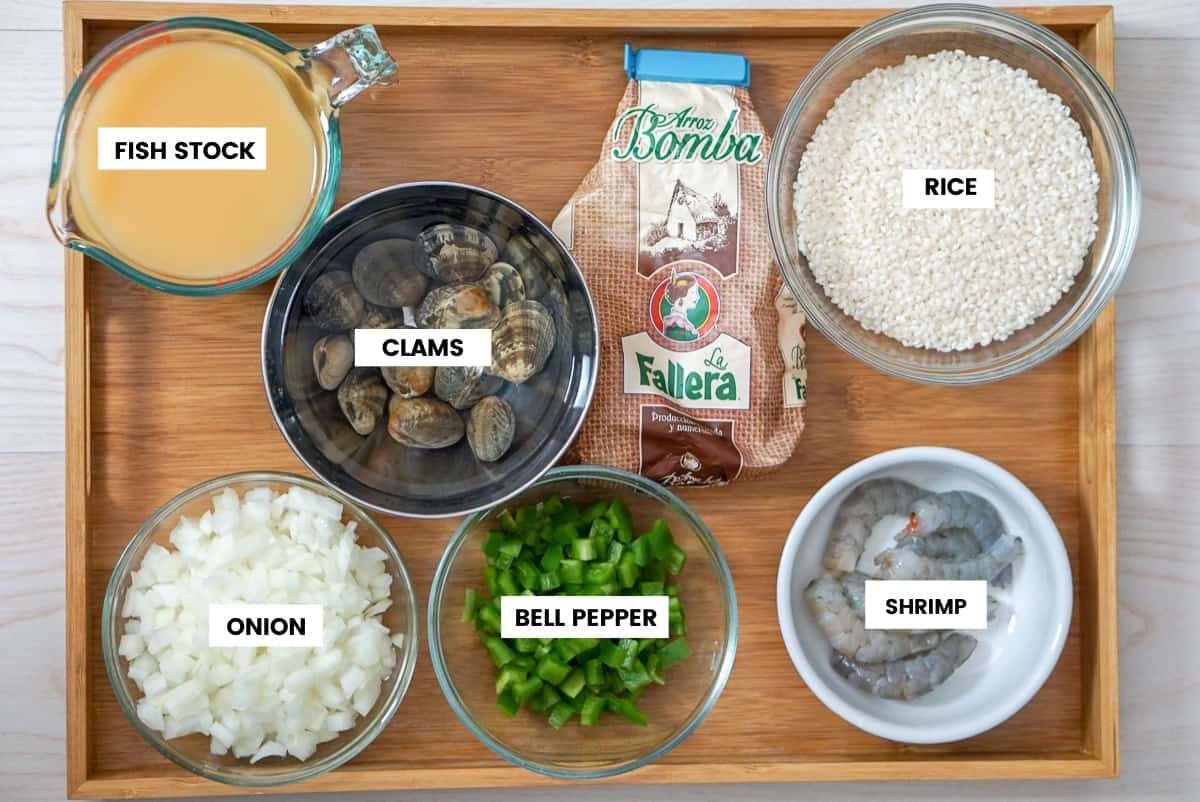 Key ingredients: Fish stock, clams, Bomba rice, shrimp, diced green pepper, diced onions, salt, olive oil.
Ingredient Notes & Substitutions
Fish stock: as always, use the best quality stock you can -- if it's homemade, even better. As this is a soupy seafood rice recipe, a lot of the flavor will be in the stock. You can use fish stock or shellfish stock here. As long as it's good!
Clams: I like to use clams, as they give a lot of flavor and are cheap and easily available in Spain. You can substitute (or add) other shellfish like mussels or scallops too.
Bomba rice: ideally you use a Spanish round, short-grain rice like Bomba or Calasparra. But in a pinch, you can substitute Arborio. The difference is Arborio is more starchy and the end result may be more of a risotto (called an arroz meloso in Spanish) instead of a soupy arroz caldoso rice.
Shrimp: You can substitute more shellfish if you can't find shrimp, but I personally would not omit it! It really gives this rice with seafood recipe a deep, rich flavor.
Seafood Rice Recipe: Step by Step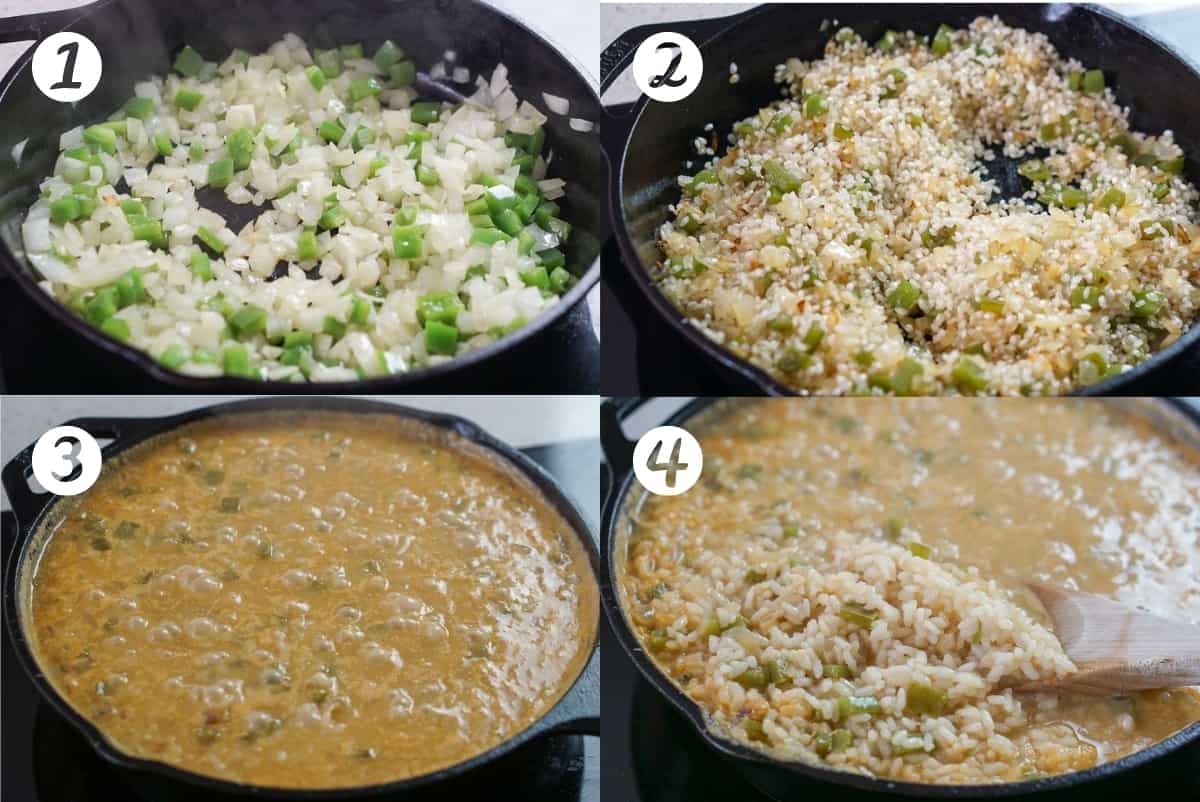 This recipe is very simple -- only six steps!
Step 1: Start by slowly browning the diced onion and pepper in olive oil over medium heat.
Step 2: After about 10 minutes, they'll start to color. Add the rice and stir to coat fully in the oil. Sauté for a couple of minutes, but don't let the rice stick or burn.
Steps 3-4: Then you start to add the warm stock. Make sure the rice is always fully covered by the stock. Stir every couple of minutes and when it starts to look dry, add more stock!
Step 5: After about 15 minutes, add the shellfish you are using. They'll take about five minutes or so to fully cook and open up. Keep adding the stock when things get dry.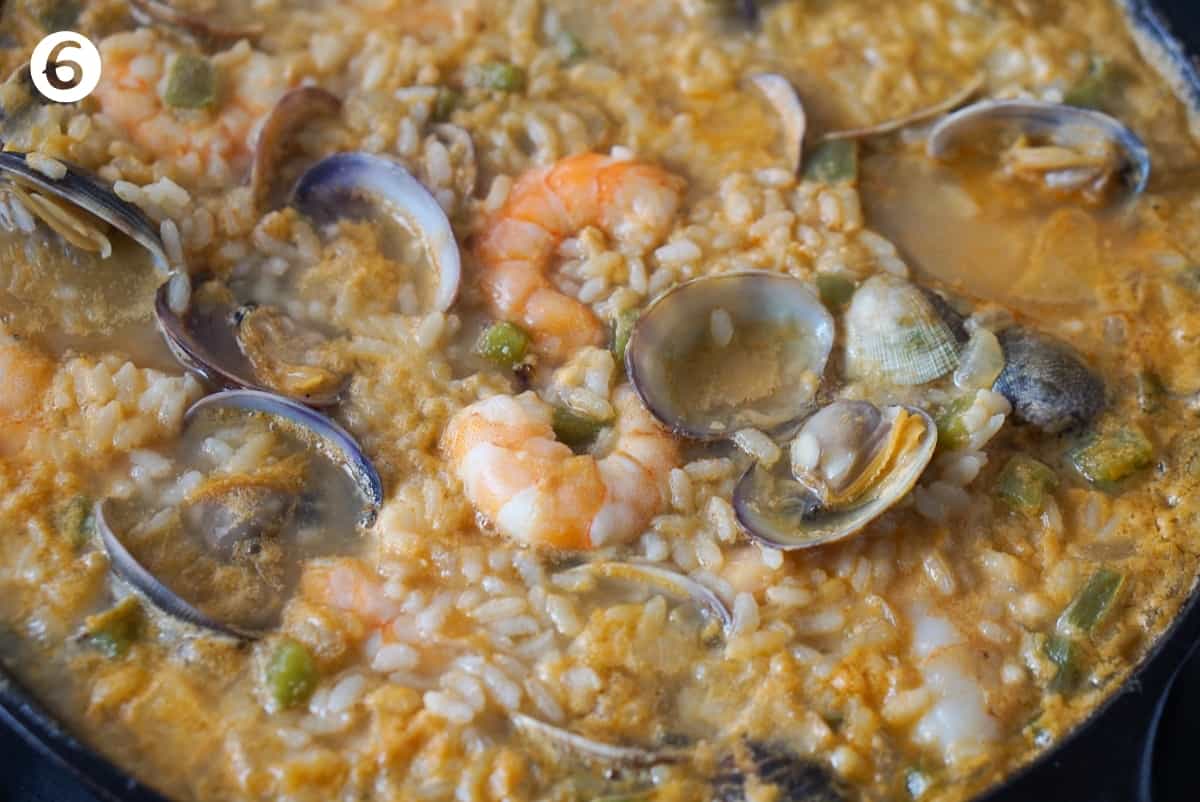 Step 6: Start tasting the rice at the 20-minute mark. Most rice varieties take 20-25 minutes to be fully cooked.
When done, remove from the heat and let the rice rest for a few minutes. Serve immediately so that the rice doesn't absorb all the broth and overcook. Enjoy your delicious Spanish seafood rice!
Recipe Tips & FAQs
Because this is supposed to be a wet (soupy) rice dish, it's best served right away while the rice is perfectly cooked. If you leave it too long or eat it the next day the rice will be a bit overcooked.
This seafood rice is very forgiving -- add the fish/shellfish you have on hand and it will surely be delicious!
What is the difference between arroz caldoso and paella?
Arroz caldoso is "soupy rice". It is served like a rice soup and has plenty of flavorful broth. Paella is a dry rice. All of the liquid is absorbed into the grains of rice and there is no broth.
Does arroz caldoso always have seafood?
The most famous arroz caldoso recipes in Spain are for a Spanish seafood rice. The most common ingredients are shrimp, clams, and squid. But there are many versions that are not seafood based. Arroz caldoso with mushrooms is one of my favorite vegetarian versions.
What kind of pan should I use?
Most people make arroz caldoso in a big pot, called an olla. Any large, heavy, deep pot, pan, or Dutch oven will do -- even a cast iron skillet. A paella pan will not work, however, as it is too shallow and meant for dry rice dishes.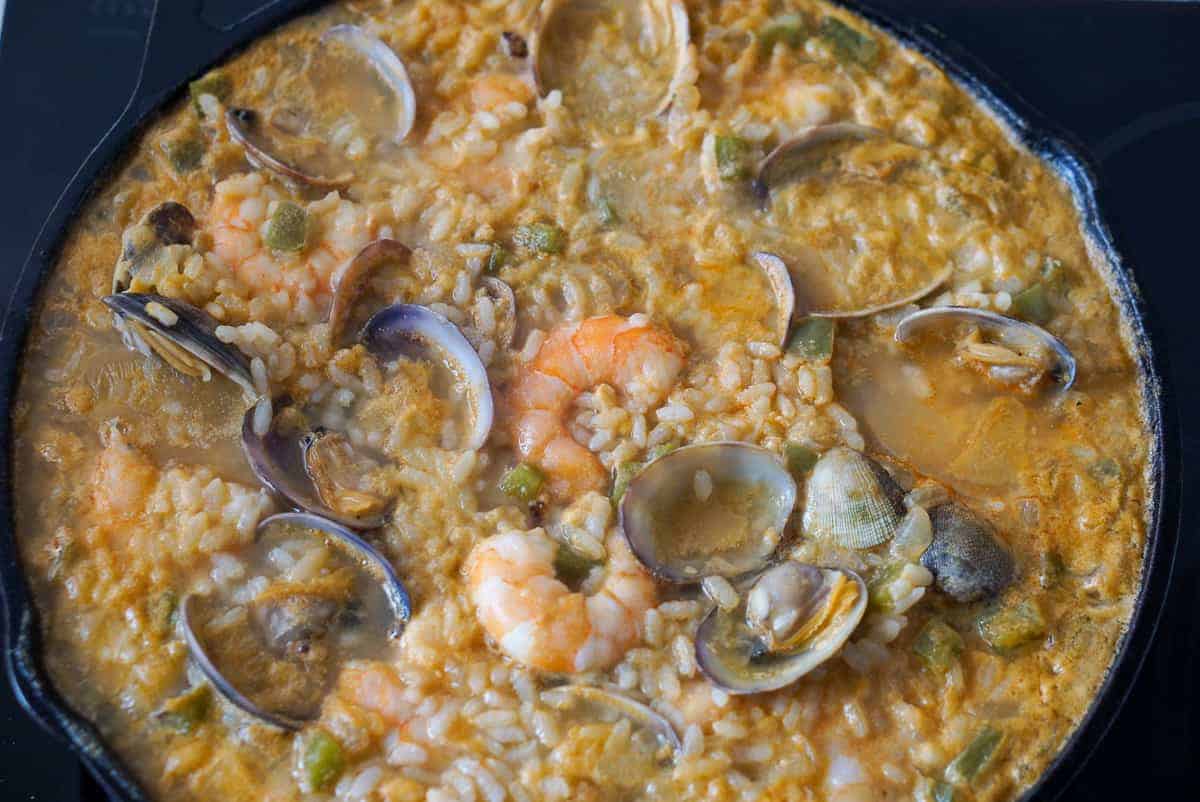 Serving Suggestions
Here in Spain, we usually eat seafood rice dishes like this one for lunch on the weekends. They're special meals, meant to be enjoyed with family and with plenty of wine.
We usually start a meal like this with some tapas -- croquettes or patatas bravas would be perfect. And with the meal, we serve Spanish wine of course! Oh-- and plenty of hearty bread to mop up the sauce!
More Seafood Rice Recipes
Seafood Paella: Spain's most famous rice dish is undoubtedly paella, and this seafood version is a family favorite.
Prawn and Chorizo Paella: This take on paella combines delicious prawns (shrimp) with smokey Spanish chorizo. It's a must-try!
Black Paella (Arroz Negro): This traditional squid ink paella is a must for all true seafood lovers.
Hungry for more? Sign up for my free weekly newsletter and receive a new Spanish recipe once a week! Join today and get my FREE Spanish ingredient essentials guide! 
Ingredients
1

bell pepper

diced

1

medium onion

diced

4

tablespoon

extra virgin olive oil

2

scant cups

Bomba rice

(360g) Note - you can sub any round, short-grained rice instead, though results may be a bit different. Arborio will work but the dish will be more creamy than soupy in texture.

8.5

cups

warm fish stock

(2 liters) or shellfish stock -- it must be warmed or room temperature

4-5

pieces

of shellfish per person

such as shrimp, mussels, or clams
Instructions
Put a large, heavy pot over medium heat (I use a cast iron pan or a Dutch oven). Add the olive oil and slowly cook the diced onion and pepper until tender and browned (about 10 minutes).

Add the rice and stir for a couple of minutes, allowing the rice to coat itself in the oil but making sure it never burns or sticks.

Start adding the fish stock little by little. Cover the rice with about ½ an inch of stock and stir every couple of minutes. When it looks dry add more stock. It should take about 20 minutes to add it all.

Add the shellfish after about 15 minutes. They will cook through and open up before the dish is done. If any happen to remain closed, discard.

Start tasting the rice around the 20-minute mark. Adjust for salt now. Depending on the rice used, it usually takes 20-25 minutes to be fully cooked. As soon as it's done, remove it from the heat and let it rest for five minutes before serving.

Enjoy this seafood rice with your favorite Spanish wine!
Notes
You can use any fish or seafood stock you prefer, just remember the better the quality, the better the taste!
You can use any variety of shellfish you prefer -- shrimp, clams, mussels, scallops etc.
Since this is a wet (soupy) rice dish, it's best served right away while the rice is perfectly cooked. If you leave it too long or eat it the next day the rice will be a bit overcooked.
If you can't find Spanish Bomba rice, you can substitute another round, short-grain varieties like Arborio, but the end result may be more creamy than soupy (still delicious!). 
Nutrition
Calories:
229.77
kcal
|
Carbohydrates:
6.84
g
|
Protein:
11.21
g
|
Fat:
17.24
g
|
Saturated Fat:
2.65
g
|
Cholesterol:
2.52
mg
|
Sodium:
1659.19
mg
|
Potassium:
550.35
mg
|
Fiber:
1.1
g
|
Sugar:
2.88
g
|
Vitamin A:
952.76
IU
|
Vitamin C:
40.07
mg
|
Calcium:
165.69
mg
|
Iron:
1.38
mg
What do you think of this soupy seafood rice recipe? Will arroz caldoso be a part of your next meal? I hope so!