Today David takes on the traditional Spanish paella recipe — paella Valenciana. While he doesn't go all the way local and use snails, the results are authentic and amazing!
Is there anything more Spanish than a good paella?
At its best, traditional paella is the happiest thing you can do to rice. But the problem is: paella is rarely at its best. All too often, the paellas served across Spain are just bad copies of the real thing. They'll blind you with their neon yellow color (from an overdose of artificial food coloring), and the rice gets piled so high in the pan that you can barely see the overcooked and rubbery shrimp they've thrown on top!
Learn all about the history of paella here
Paella Valenciana: The authentic, meaty thing
So how are you meant to get a taste of authentic paella?
Like most Spaniards will tell you, the best traditional paellas are all homemade!
Good paella takes time and love to make well. The ingredients may vary, but they're usually fresh and local.
And contrary to popular belief, the traditional version of paella from Valencia doesn't have seafood! While the most well-known versions of the dish are covered in shrimp and mussels, traditional paella is altogether meatier. A real paella valenciana is made with chicken and rabbit (and often snails), spiced with smoky sweet paprika and a few strands of golden saffron.
And best of all is the socarrat. The slow, undisturbed simmering of the rice in broth means that the bottom layer will start to caramelize. It's this crispy base of rice that makes paella a heavenly experience for locals, and a taste sensation for everyone else!
Just remember one thing: never add chorizo to your traditional paella. In Spain, that's almost a crime! (But you can add it to your "arroz con cosas" — as most Spanish home cooks do!).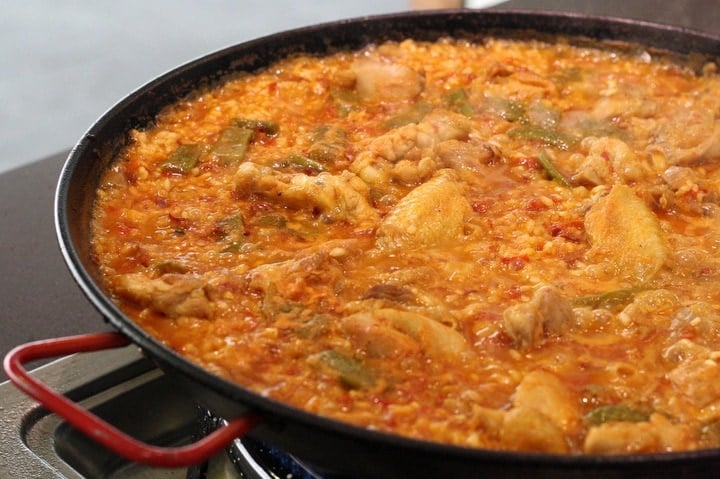 Traditional Spanish Paella Recipe (Paella Valenciana)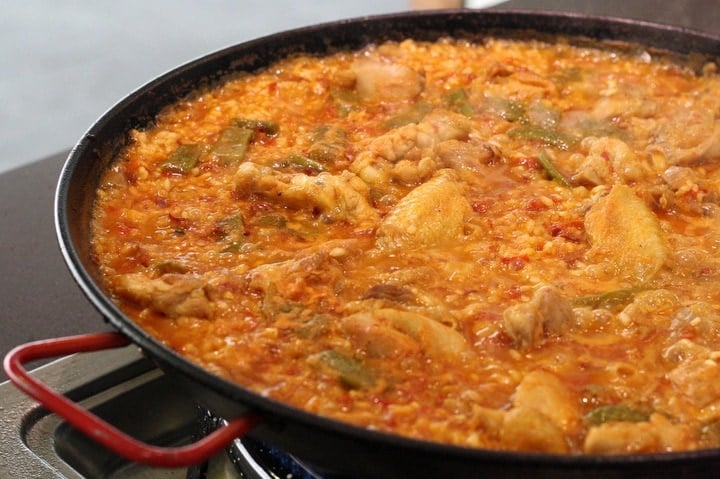 Best Traditional Spanish Paella Recipe
This authentic recipe for traditional paella valenciana is as simple as it is delicious! Try it for yourself, and taste the real flavors of Spanish rice.
Print (images optional)
Pin
Rate
Ingredients
2

tablespoons

olive oil

1/2

a whole chicken

roughly 4 pounds, cut into 6 pieces (keeping bone)

1/2

a whole rabbit

roughly 2 pounds, cut into same size pieces as the chicken *OPTIONAL* Only if you want to go fully authentic!

1

head of garlic

with cloves separated and peeled

2

medium tomatoes

finely chopped

1

can of butter beans

10

ounces

285g frozen green peas

10

ounces

285g frozen green beans

1

tablespoon

smoked paprika

salt

to taste

1

pinch

saffron

4

bay leaves

4

cups

bomba rice
Instructions
Heat a paella pan over medium-high heat and add the olive oil. Swirl to coat the entire base of the pan.

Add the garlic, chicken, and rabbit (if using) and fry until browned.

Push the meat away from the center of the pan, and add the tomatoes, butter beans, peas, and green beans. Season with the paprika and mix to combine.

Using a measuring cup, add enough water to fill the paella pan almost to the top. Record how much water you needed, this will let you know how much rice to use later on. Bring to a boil and then reduce to a simmer. Keep simmering for 45 mins to an hour, to make a broth.

Once the broth is formed, add a few generous pinches of salt. Also add the saffron and bay leaves. Taste and add more salt if necessary. Stir until the broth becomes a vivid orangey-yellow color. If the color doesn't seem intense enough, add a bit more paprika and another strand of saffron.

Now it's time for the rice! Add half as much rice as you did water to make the broth. Reduce heat to a low simmer and cook until all of the liquid has been absorbed by the rice. You'll know when the rice is ready and the broth is gone, as you will hear a faint ticking/cracking coming from the bottom layer of rice.

Serve immediately, straight from the pan. If it's done well, the paella should have a healthy socarrat, the crispy, blackened layer of rice at the bottom!
Nutrition
Calories:
823.44
kcal
|
Carbohydrates:
91.21
g
|
Protein:
57.47
g
|
Fat:
23.68
g
|
Saturated Fat:
6.23
g
|
Cholesterol:
173.5
mg
|
Sodium:
144.46
mg
|
Potassium:
1185.34
mg
|
Fiber:
7.26
g
|
Sugar:
5.26
g
|
Vitamin A:
1355.13
IU
|
Vitamin C:
24.57
mg
|
Calcium:
84.91
mg
|
Iron:
7.4
mg
More delicious rice and paella recipes
Black paella recipe (arroz negro)
Have you ever had a "real" paella? Let me know where (and if it had rabbit or snails!) in the comments below!