Black paella is one of my favorite Spanish rice dishes -- yet it took me a while to try it! Today David shares his own arroz negro recipe.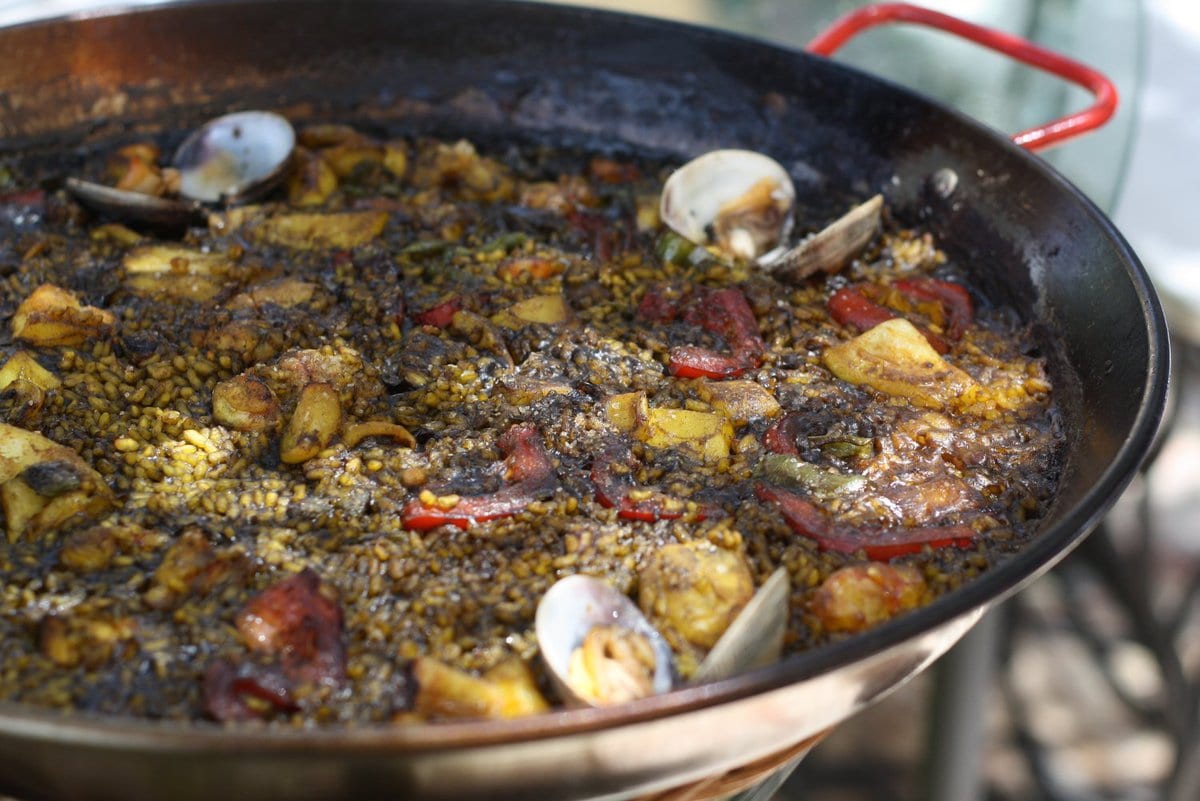 Black rice with monkfish and squid ink-- yum!
Everyone stopped talking when the plate landed in the middle of the table. Inky black rice, vividly red prawns, bright wedges of lemon... arroz negro is definitely a dish that catches the eye.
What is arroz negro?
The black color comes from squid ink, a natural food coloring used in Spain for centuries. It's the signature ingredient of the black paella I had traveled across Spain to try.
I was at a tapas bar with some friends, having lunch on a hot afternoon in Valencia. This is the spiritual home of all things paella, and we'd heard that this was the place to come for arroz negro.
It didn't disappoint.
When we dug our spoons into the wide and flat paella pan to serve ourselves way-too-generous portions of rice, we discovered the delicious secret at the bottom of the pan. Socarrat is what real paella aficionados seek out: the crusty, crunchy, almost burnt layer of rice sitting at the bottom of the pan. You don't stir paella rice while it's cooking, so this layer gets a lot of heat.
It was the best paella I'd ever eaten! Now, when I make arroz at home, I'm trying to recapture that dish and all of its flavors. This recipe is the closest I've gotten to the real Valencian thing!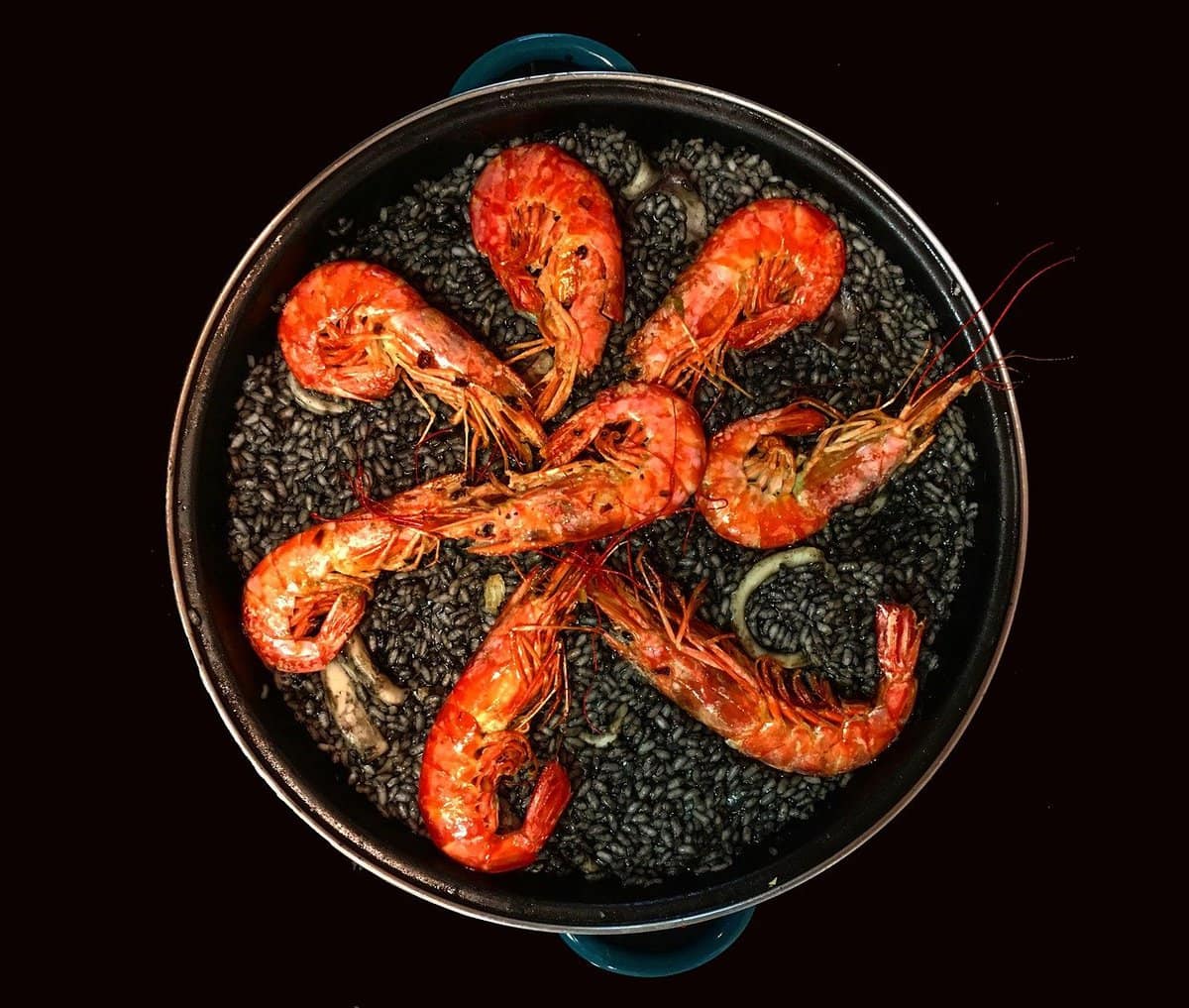 The colors of arroz negro are very striking, and so is the taste! Photo from Tony Plats.
It's All About the Rice
Don't be fooled by the seafood on top, paella is all about the rice. It should be delicate, but not creamy like risotto. It should be crispy on the bottom, but not dry and undercooked. And most of all, it should soak up all of the flavors that go into the dish; the spices, stock, and vegetables at the base of the recipe.
That also makes it a pretty flexible dish!
You can substitute whatever meat, poultry, seafood, or vegetables you have to hand. As long as you treat the rice right, you'll end up with a delicious paella.
The best rice for paella is bomba. It's a Spanish rice, short-grained and starchy. If you can't find it (it's not the easiest thing to track down lesser-known rice varietals), you can also use arborio, which won't be quite the same but will work.
To cook it properly, it really is worth investing in a paella pan. These flat, wide pans let you spread the rice out thin, to get that crispy bottom layer of socarrat. If you don't want to buy one (maybe you're only ever going to make one paella), just use the widest, flattest frying pan you have. Enjoy!
Your Black Paella Recipe (Arroz Negro)
Black Paella (Arroz Negro)
This black paella recipe will make you the best arroz negro outside of Spain! Bring the flavors of Spain into your kitchen with this tasty, easy, one-pan recipe.
Print (images optional)
Pin
Rate
Ingredients
1

lb

prawns

shells on

½

lb

squid

cleaned and sliced into ¼-inch rings

2

tablespoon

olive oil

1

yellow onion

finely diced

1

red bell pepper

diced

4

cloves

garlic

minced

2

tablespoon

tomato paste

2

teaspoon

smoked paprika

1

teaspoon

ground cumin

2

pinches

saffron threads

1.5

cups

bomba rice

*or arborio if you need

1

cup

dry white wine

4

cups

seafood or vegetable stock

¼

cup

squid ink

1

lemon

cut into wedges, for serving
Instructions
Place a paella pan (or wide frying pan) over medium heat and add the olive oil. When the oil is hot, add the squid rings and saute for 30 seconds. Remove from pan and set aside for now.

Add the onion and bell pepper to the pan (adding more olive oil if needed), and saute for 4-5 minutes or until the onion is soft and translucent. Add the garlic, paprika, cumin, and saffron and saute for another minute until aromatic.

Stir in the tomato paste and cook for another 2 minutes. Pour in the rice, stirring to coat in the tomato and spice mix. Add the wine and let it simmer for 5 minutes or until the wine has almost completely evaporated.

Add the stock and squid ink to the pan and stir to combine. Season with salt. Bring to the boil and immediately reduce to a gentle simmer. Leave for 15 minutes until the stock has reduced and the rice is almost cooked. Resist the urge to stir! Leave the rice as is so that the socarrat has time to develop on the bottom of the pan.

Add the prawns on top of the rice and cook for another 4-6 minutes until fully cooked. Add back the squid.

Take off of the heat and leave to settle for about 10 minutes. Serve straight out of the pan and garnish with lemon wedges.
More delicious rice and paella recipes
Thanks for checking out my black paella recipe! If you've had arroz negro before, how does my recipe measure up? Let me know in the comments! You can also head to Lauren's other rice recipes, like this fantastic traditional paella recipe. 
Pin me!