Located in the small town of Lizaso in the beautiful Ulzama Valley, Restaurante Orgi is one of Northern Navarra's culinary gems. Easily accessible to those in the area (and worth the trip for those who aren't) this Navarran restaurant is located only a short drive from the gorgeous Robledal de Orgi Nature Park. It's the type of place that no one minds driving out of the way to get to (especially since the ride is gorgeous, as you make your way up and down the valley's green hills and pastures). It's even worth organizing a cheap rental car and making a weekend trip from Madrid if you are looking for a gastronomic escape from busy city life.
Recently awarded one of Navarra's greatest honors, El Premio Turistico del Reyno de Navarra, Restaurante Orgi is the restaurant to try when visiting Northern Navarra. We had the pleasure of sitting down to their tasting menu, which features local Navarran products such as white asparagus and locally foraged seasonal mushrooms.
Restaurante Orgi's success didn't come without hard work. The owners, Mikel Odriozola and Oihana Larraia, certainly weren't newbies when they opened their doors seven years ago. Their impressive curriculum includes stints at big name Spanish restaurants such as Arzak and El Bulli. But while their culinary style isn't anywhere near as extravagant as that of their mentors, they've achieved success with their idea of serving traditional Navarran cuisine with a modern twist.
Take a peek at Restaurante Orgi's tasting menu.
Cantabrian anchovies marinated in cayenne infused vinegar and dressed with Navarran olive oil and chopped olives.
A white asparragus cuajada (similar to a pannacotta) topped with slivered seasonal mushrooms, rendered pork bits, and a warm egg yolk in the center.
A garden salad with tomato vinaigrette topped with crispy fried shrimp and served with some shrimp infused mayonnaise.
Grilled octopus with roasted potatoes and onion confit.
Glazed veal hock with potato puree.
Goats milk flan with moscatel wine gelatin and candies hazelnuts.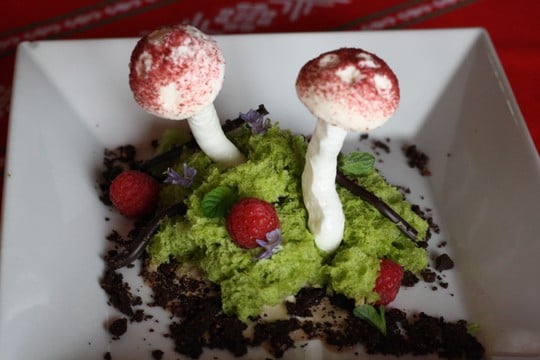 "The Valley of Orgi" (cocoa soil, hazelnut ice-cream, pistachio cake, meringue mushrooms.)
I am always a fan of small places like this-- quaint restaurants run by well trained chefs who have chosen to work with local products in a rural area of the country. Some of Spain's best spots are hiding in small towns like Lizaso, and the value you can get for your money is incredible. The price of a tasting menu at Restaurante Orgi ranges between 25€ and 30€ per person! So next time you're hungry, hop in the car and set the GPS for Lizaso.
Be sure to check out our other recommendations for visiting Navarra:
10 Things to do in Northern Navarra
Not a Restaurant: The Navarran Cider House
Maskarada: Discovering the Joys of Non-Iberian Spanish Ham
Restaurante Orgi
Calle San Simón, 1
Lizaso, Navarra
[mappress mapid="18"]