Jamón Ibérico es lo mejor, Jamón Ibérico es lo mejor, Jamón Ibérico es lo mejor... they basically drill this phrase into your brain when you first move to Spain. Forget about about the yummy Serrano ham you tried back home, here in Spain if it isn't Iberian it simply isn't worthy-- or at least that's what some hardcore ham addicts will have you believe. Little do they know, that isn't always the truth...
On our trip to Navarra we learned something new. Something I'm ashamed to say I didn't really consider earlier. While Jamón Ibérico (ham from Spain's Iberian black hoofed pig) is pretty incredible, there are other strong contenders on the Spanish ham scene-- and many of them are hidden away in small towns throughout the country.
I made this discovery while spending the evening at factory/shop/deli/restaurant, Maskarada in Lekunberri, Navarra. The owners were kind enough to open up for us one night and give us the VIP treatment, with a tour of the factory followed by an incredible dinner. We left with stars in our eyes, and left our email addresses for future purchases.
Maskarada is a unique business run by a young and ambitious husband and wife team. They work exclusively with the Euskal Txerria breed of pig, a local breed that they found produces very high quality meats.  In 1981 there were only 50 of this breed left in all of Spain. Today, there are currently about 300 females capable of reproduction, and their numbers are slowly rising (the females only birth about half as many piglets as other breeds).
Involved in every step of the process, Maskarada is the place to learn about this incredible breed of Spanish pig that only escaped extinction due to the efforts of the local people. Maskarada's work starts at their farm, where they study, breed and care for the animals. The next stage of involvement is their factory where they carefully cure the meats from these magnificent animals. Finally, they package and distribute their products both in their store and online. Lastly, they allow people to come in and try their artisanal goods at their incredible restaurant.
Here are the highlights of our visit to Maskarada. As soon as we are anywhere near Lekunberri again, you better bet that we'll be making a Maskarada detour!
The Factory
The owner explains his hams, to a hungry and eager crowd. More than one blogger contemplates grabbing a leg and running away...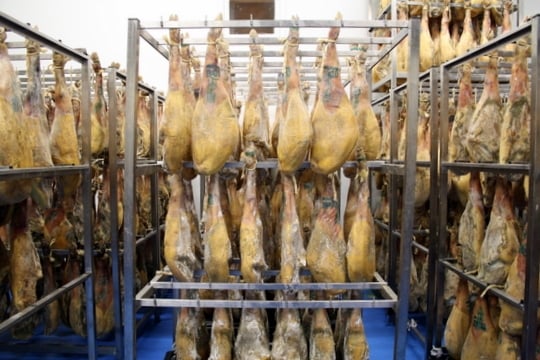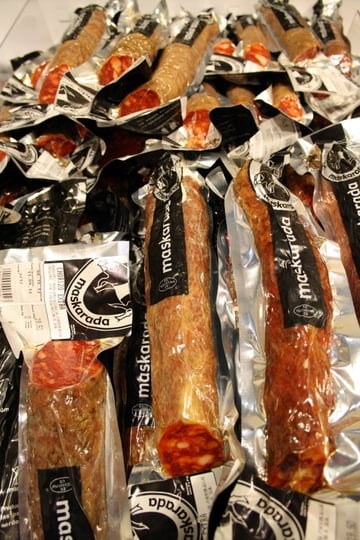 Some of the final products that Maskarada produces. One of our best finds is called cabezada.
The Dinner
Our first course was gorgeous platters of cured ham and cured pork loin (lomo), thinly sliced fat (tocino), and a cooked and sliced piece of the pig (cabezada) dressed with Navarran olive oil. I never thought that I'd be eating pig fat as a first course before, but let me tell you it was one of the best things I tasted all night.
The next plate was a bright green Navarran artichoke wrapped in crispy papada, a flavorful piece of the chin fat that most restaurants rarely serve. They were the best artichokes I've ever had!
A mixed greens salad with lentils and braised then fried pigs tail was the next course. My dining companions loved the tail, but I wasn't the biggest fan. Nonetheless, the salad was fresh and delicious, and I appreciate that they cook with all parts of the animal.
Some of the best blood sausages we tried on our trip to Navarra came from Maskarada.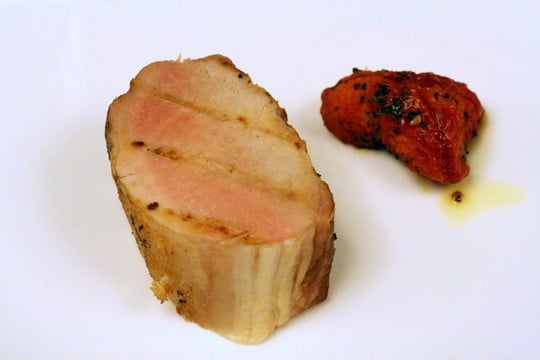 This was hands down one of the best pork dishes I have ever eaten. The pork was so juicy, tender, and flavorful. It was served with a small roasted tomato that just took the dish to a whole other level-- that a small tomato can hold so much flavor simply amazes me. I need to start cooking more often!
After hearing that Maskarada prepares fantastic ear, some of our group members wanted to try it. I know from experience that I am not a big fan of ear, but I took their word that it was fantastic.
Dessert was a platter of crispy Navarran cookies-- simple, but delicious. I couldn't fit another thing in my stomach anyway after that meal!
If you are ever visiting Navarra I strongly recommend making a reservation at Maskarada. And can you believe that their seasonal tasting menu is only 24€ per person? It makes it worth making the drive from Madrid!
Aralar, Pol. 12, Parc. 295 | 31870 Lekunberri
609 233 203
[mappress mapid="16"]
Many thanks to Anartur, Hotel Ayestaran, and Maskarada for hosting us on this visit. Opinions are all our own.