We pulled into the train station in Pamplona, the capital of Navarra, Spain (or Navarre in English-- but that just sounds weird!) famous for its yearly running of the bulls. But we weren't there to see the city, we'll have to save its many charms for another time. We were in Northern Navarra for Rural Trip, an initiative to increase tourism to this beautiful, but often overlooked, region of Northern Spain.
Organized by Navarra's association for hospitality and rural tourism (Anartur) and hosted by the Hotel Ayestaran, I was thrilled to be included among a small group of Spanish food bloggers for this special glimpse of what Northern Navarra has to offer.
If you live in Madrid you have no excuse not to visit this incredible, green region of Spain. In only three hours you can get to Pamplona by train, and once there you can easily reach more rural towns by bus or rental car. While renting a car would certainly help you see more of the local sights, you could also simply rent bikes in one of the towns like Lekunberri or Leitza, and bike the beautiful Vía Verde with a picnic lunch.
Here are our top 10 things to do in Northern Navarra; each and every one is definitely worth your time, though some may only be reachable by car and with a prior appointment.
1. Bike the Vía Verde
The Vía Verde is an old train route that went out of use over the years, and is now being restored as the perfect place to go biking and walking. Whether you bring bikes of your own or rent them in one of the Vía Verde towns, exploring this picturesque trail is a must-do when visiting Northern Navarra.
2. Visit the Cuevas de Mendukilo
We've visited other Spanish caves in Nerja and Aracena, but Navarra apparently has many underground marvels of its own. We spent a morning on a guided tour of the Mendukilo Caves, where we headed underground to see some of the most impressive stalagmites we've ever seen.
3. Make Talos
Talos are a version of corn tortillas that became popular when the region had little else to eat. Usually stuffed with hearty Navarran chistorra, you can find them at town fairs throughout the region.
4. Taste a Good Rosé
In the US many people still associate rosé wine with boxes of sugary, syrupy liquid. Little do they know rosé wines can actually be a refreshing and enjoyable option, especially in Navarra. The rosés in Navarra are dry and drinkable, best served within a year of being bottled.
5. Participate in the Txotx!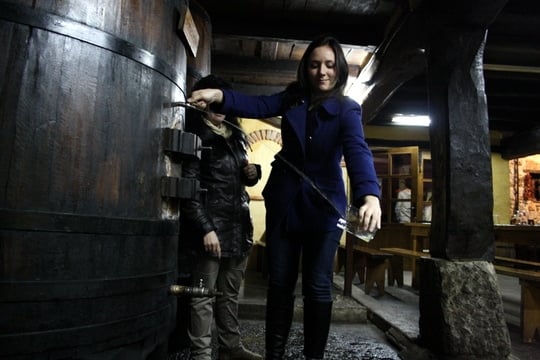 The cider house is one of the most incredible experiences you can have in Northern Navarra. Bring your appetite and get ready for an evening of food, cider, and friendly locals.
6. Visit the Honey Museum
If you want to learn about the bees and honeys of Spain, the Museo de la Miel is the place to go. The owners are happy to give an in-depth explanation of where honey comes from, and speculate on what might be causing the bee population to quickly dwindle. Luckily, they still produce plenty of honey, some of the best we've ever tried.
7. Take a Drive to Peru Harri
A man's dream turned reality, that is how I'd describe Peru Harri. This strange Navarran museum is dedicated to the popular local sport of rock lifting, and was built by the man who was a champion of the sport for many years, Iñaki Perurena.
8. Stay in a Hotel with History
We stayed in the Hotel Ayestaran, which at first glance seems like your average, homey rural hotel. But after finding out it's fascinating history (Hemingway stayed here on various occasions, as did the Spanish royal family, celebrities, and soldiers from both sides of WWII!) I would have liked to have been able to explore it's hidden corners for a few more days.
9. Experience the Local Gastronomy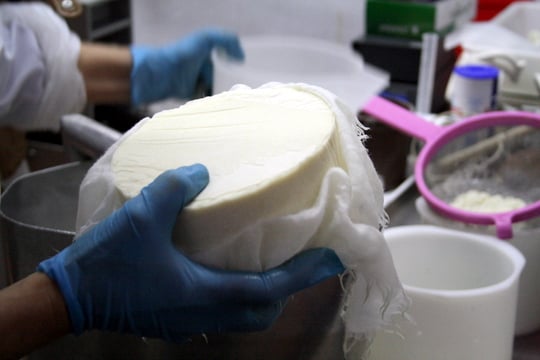 As with most regions of Spain, Navarran gastronomy is an intersection of Spanish flavors with top quality local products. We ate like kings during our three day escape, trying some of the region's best cured meats, cheeses, vegetables and more.
See Also: Restaurante Orgi: Modern Cuisine in Rural Navarra
10. Take a Walk through the Forest
There are plenty of areas to go hiking, as much of Northern Navarra is covered by hills and mountains. We took a quick walk through the gorgeous Robledal de Orgi in Lizaso, where many families were enjoying their right to have an open barbecue (this area has a very low risk of forest fires and the barbecue area is controlled). I wish we could've cooked up some crispy chistorra on the spot!
Overall, Northern Navarra was everything we were expecting and more. From friendly people to fantastic food and some incredible views, I would highly recommend a visit to anyone living in Spain looking for a short getaway. Being such a rural area, the prices are also fantastic for both food and lodging, and if you want to extend your trip you could start in Pamplona, head to Lekunberri, and then check out nearby San Sebastián.
Would you like to visit Navarra?
Many thanks to Anartur and Hotel Ayestaran for hosting us on this visit. Opinions are all our own.