Home to just under 1,000 inhabitants, you may wonder how on earth I ended up walking around the quaint yet strange town of Leitza, located in Northern Navarra, Spain. I'd never heard of Leitza before visiting as a part of my trip to Northern Navarra, but our hosts promised us that a stop was worth the trouble.
And it was. Charming and beautiful, yet at the same time rather unsettling and strange, Leitza was a place of contradictions. As we strolled the charming village roads, we admired the bright green hills in the distance and snapped pictures of the flower adorned homes. The scenery was as cozy as could be, but painted on buildings all around town were powerful messages in Basque, claiming independence and supporting freedom for Basque prisoners.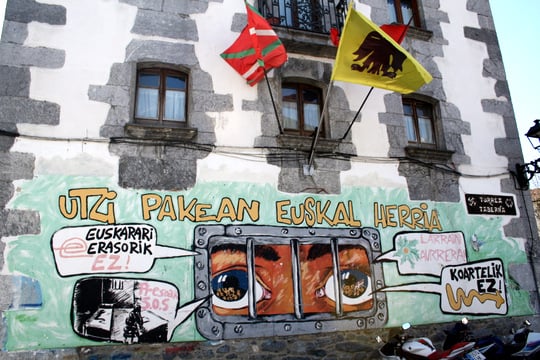 I won't even pretend to understand the deep emotions that would allow an otherwise picture perfect town to embrace an outpour of powerful, political graffiti. I just hoped the locals put the same passion into their cooking as they did their politics, as we were there to try the local food.
We started by making talos con chistorra (a corn tortilla similar to the ones found in Mexican cuisine) and later went on to try some of the most amazing local dishes. My conclusion?  I'd say that the people of Leitza are passionate about it all.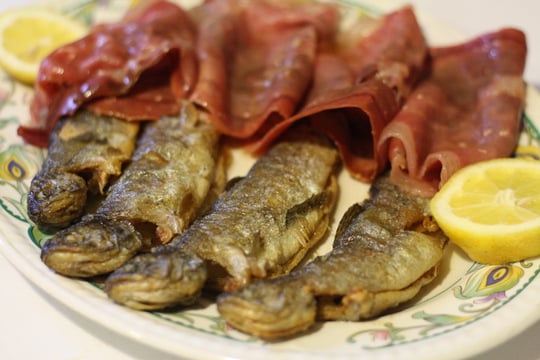 We even got to see a young man demonstrate the local sport, axe wielding (I think that's what it's called in English). He was seriously impressive, and very strong!
Leitza was an interesting stop in the hills of Northern Navarra. The food was homemade and fantastic, and the scenery and locals were wonderful. I just wouldn't recommend talking politics...
Have you ever visited a place with strong political opinions?