Three Kings' Day in Spain is a big deal. Read on for my thoughts on celebrating the Three Kings' parade in Spain, and other Spanish holiday traditions!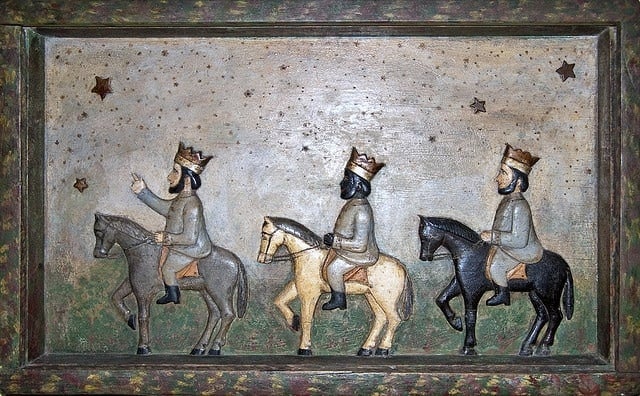 I should have known that a parade in Spain would be no ordinary event. I had heard stories about La Cabalgata de los Reyes Magos-- rumors of old men fighting off small children to snag hard candies, of Spaniards tastelessly painted dark black to portray African characters from the bible, and of overzealous parents who turn umbrellas inside out to catch more candy for their bratty kids.
It was all true.
But let's start back at the beginning. La Cabalgata de los Reyes Magos is a big parade that many Spanish towns and cities celebrate on January 5th, the night before El Día de Los Reyes Magos.
That's right, in Spain the holidays don't end on New Years Day. As if there hasn't been enough eating, drinking, and gift-giving already, Spaniards party on until January 6th, "King's Day" or what many Christians call the Epiphany.
The night prior to El Día de los Reyes Magos is much like Christmas Eve. Children leave sweets, wine, and water for the three kings, Melchor, Gaspar, and Baltasar (who we usually call the Three Wise Men in English) and their camels, and go to bed anxious to see their presents the next morning. But earlier in the evening, Spaniards take to the streets for the big parade in which the three kings pass by on floats throwing candy to the masses. I'd avoided it until this year, as crowds and cold weather don't usually appeal to me-- despite the temptation of free candy!
But this year we stumbled upon it by accident. We were innocently wandering around the center of El Puerto de Santa María eating an ice cream, when we ran into a crowd of people eagerly awaiting the event. The curiosity was too much to bear and I had to stay and watch.
I'm so glad that I did. La Cabalgata in El Puerto was probably one of the most fun parades I've ever been to. It wins the award for most dangerous too! The candy throwing was intense, and I was lucky to escape with only a few light bruises and my camera still intact.
Reasons Why You Shouldn't Miss Next Year's Cabalgata de los Reyes Magos:
1. They march for 3 hours!
At least they do in El Puerto, so you don't have an excuse for missing it. The Kings have their route planned out ahead of time and people can find it online or at the town hall. The procession passes throughout the historic center, allowing everyone to admire the floats and catch candies. Watching the procession only takes half an hour, so people have a lot of options for where and when they want to watch.
2. The floats are pulled by John Deere tractors.
I grew up riding a John Deere with my Dad every weekend so I have a soft spot for these big machines. They seemed a bit out of place on the narrow cobblestone streets of El Puerto, but I think the farmers driving them probably felt like celebrities for the night!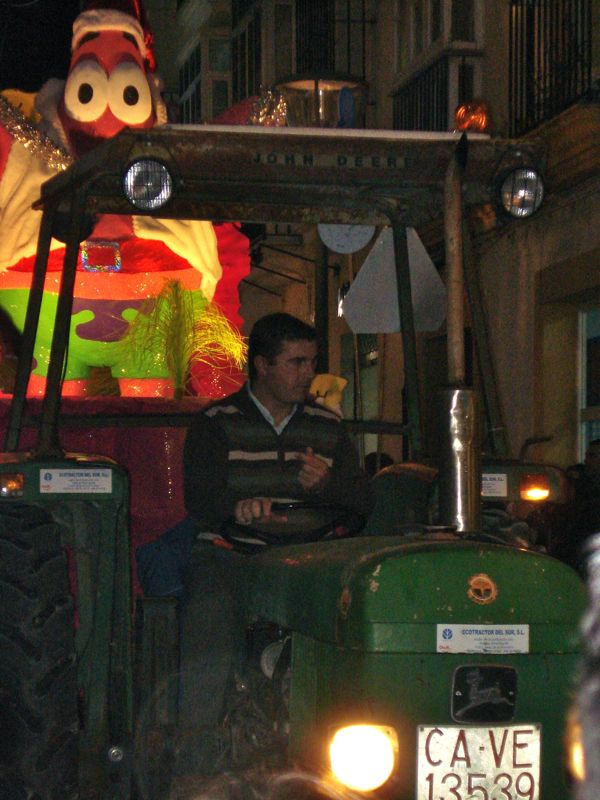 3. It's a cultural experience.
Spaniards take this parade seriously. Everyone comes with big, empty plastic bags, hoping to fill them to the brim with candy. A few die-hard spectators bring an umbrella and turn it inside out-- cheating if you ask me, but it seems to be effective. I heard teenage girls strategizing about how to catch the most candy, and Ale almost got knocked out when trying to retrieve a treat that had landed on the ground next to him. You'll need to protect your face from the candies that the Kings throw at you at full speed, and I wouldn't recommend bringing a very good camera (I had my old point and shoot thank goodness!).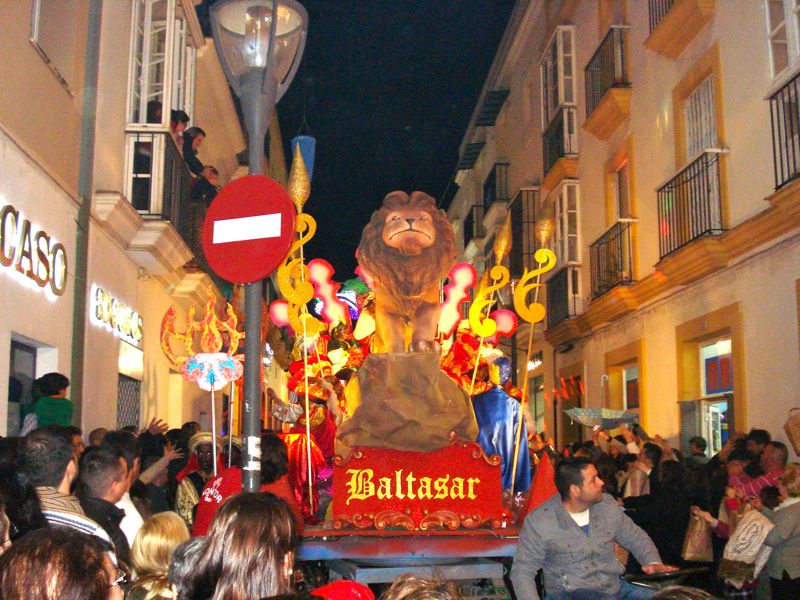 4. The floats are eclectic
...or maybe just cheesy. Anyway, they were funny. We saw Spongebob, Disney princesses, a DJ booth... none of it really related to Christmas time but all quite amusing!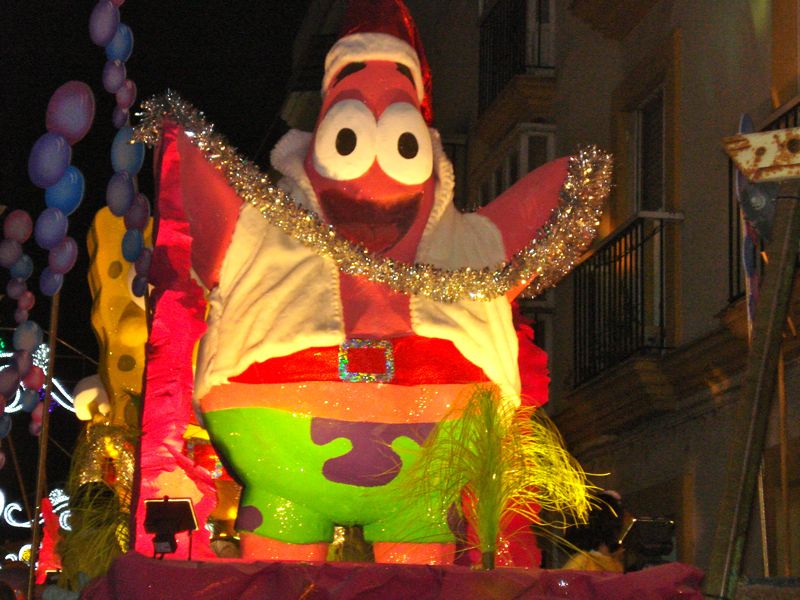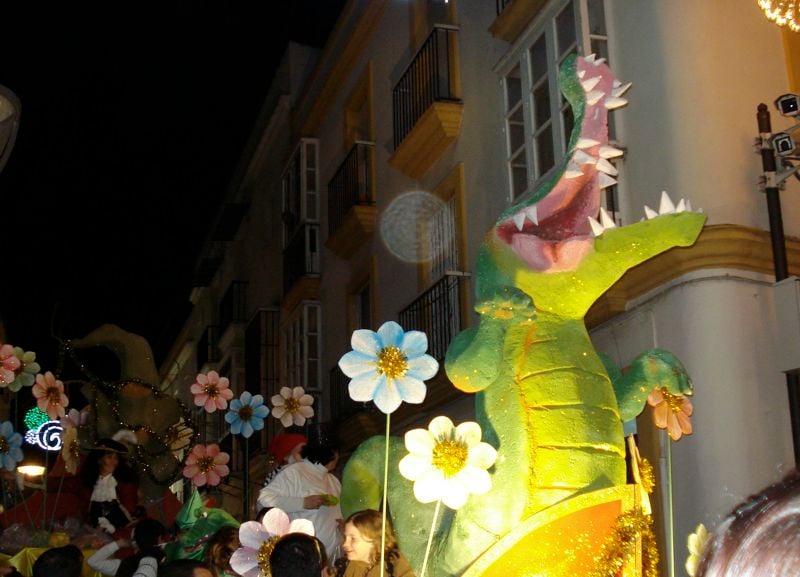 5. Free Candy!!!
Ok, I'm joking here. The candy they give away is kind of gross, and you have to fight to the death to catch it. I caught two by accident (they got lodged in my scarf) but I'm just not a lemon and orange hard candy kind of girl. That said, the challenge of catching the candy that comes your way (and not getting hit in the eye) is kind of fun. I was laughing the entire time!
Overall, I really enjoyed La Cabalgata de los Reyes Magos and if the weather is ever as nice as it was this year, I'd definitely consider going again. My advice: be alert, and protect your face and possessions. Remember, it's just candy, and although it's free it's not worth fighting for. Have fun!
Need a snack after the parade? Try this delicious Spanish Kings' Cake recipe!
Have you ever been to a really strange or fun parade while abroad? Where?
Enjoy my videos to get a better idea of the parade. If you like my post, please share it below on facebook and twitter! Gracias!