I love anchovies. I didn't use to love anchovies. But Spain has that effect on people. If you think you don't like anchovies, try this recipe-- it just might change your mind.
This is my famous Spanish style green beans recipe, one that has made me a bit of a Thanksgiving celebrity. See if your guests can guess the secret ingredient!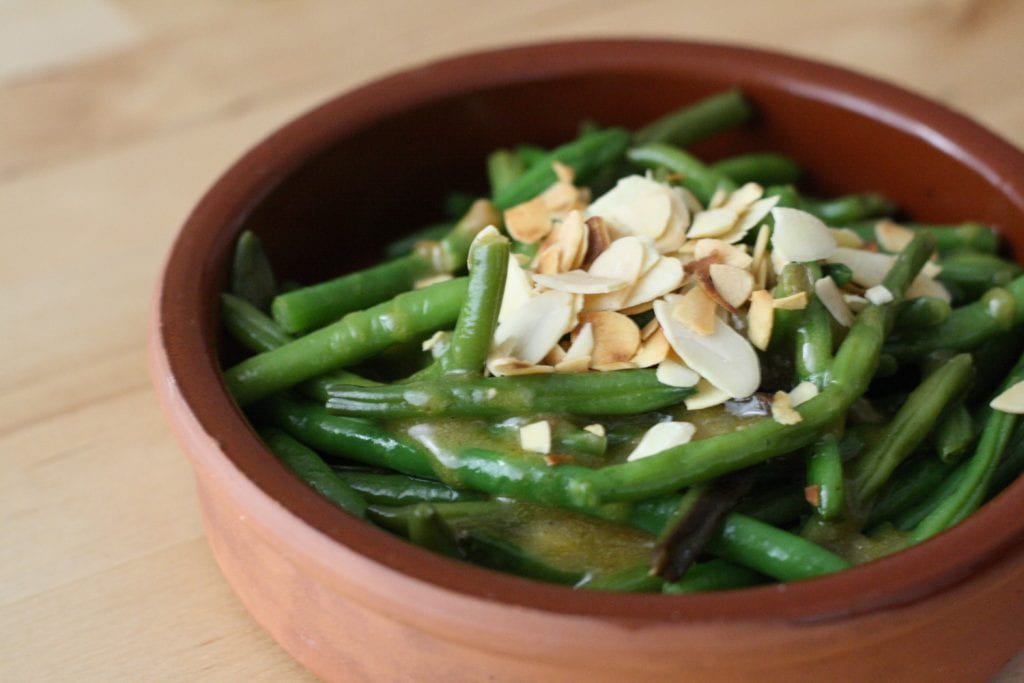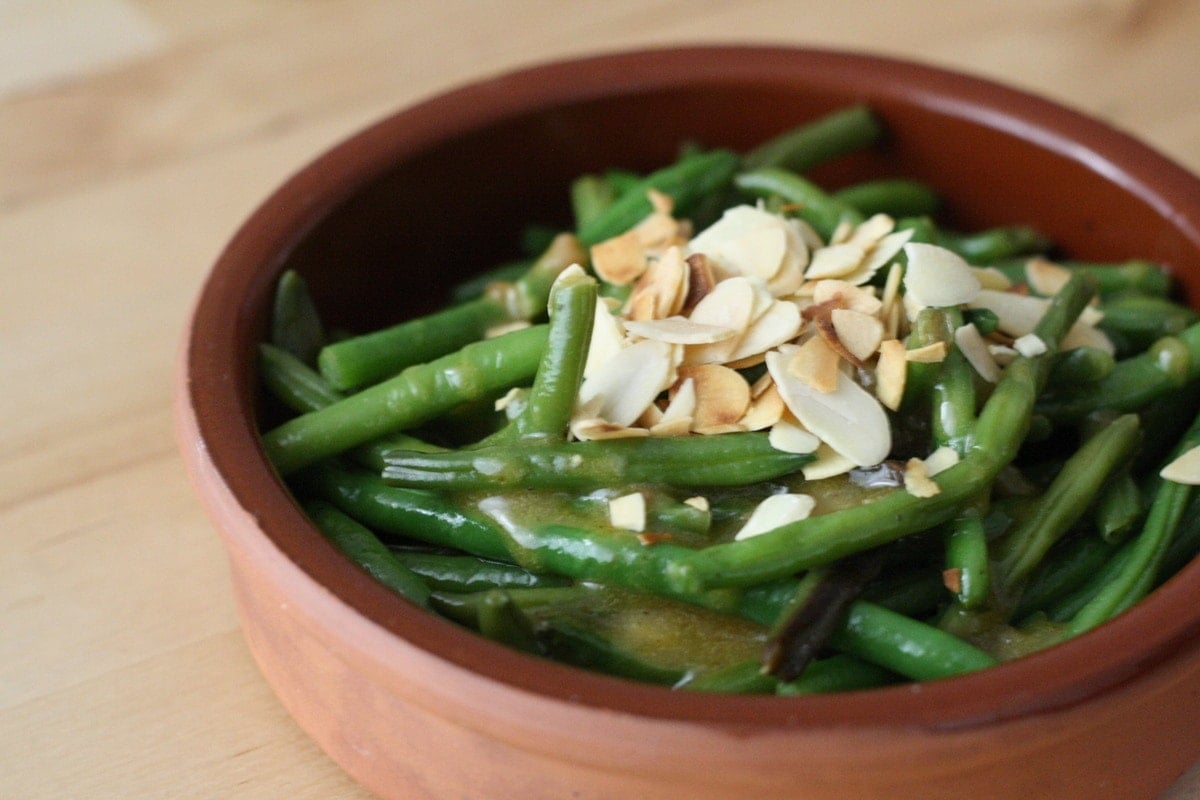 Here in Spain anchovies can go for big bucks for a tiny tin-- and the expensive stuff is well worth it. But we also enjoy anchovies in a variety of recipes, and often you don't even know they are there.
Added to sauces, dressings, and more, these little fish add a depth of flavor and umami that is hard to replicate! That's the trick to this delicious recipe for my Spanish style green beans. I urge you to try it, and see who names the hidden ingredient first!
See also: Spain's obsession with canned foods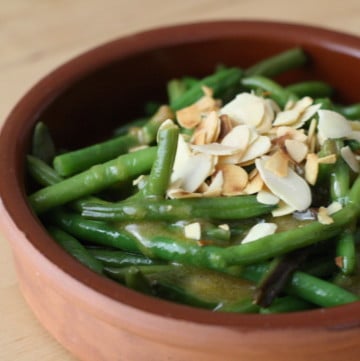 Spanish Style Green Beans with Almonds & Anchovy Dressing
My famous Spanish style green beans with almonds and anchovy dressing recipe. These are my favorite Thanksgiving green beans-- no one ever guesses my secret ingredient!
Print (images optional)
Pin
Rate
Ingredients
1

bag of haricot vert

thin French-style green beans, rinsed and drained (generally a bag is around 1kg or 2 lbs)

2

tablespoons

extra virgin olive oil

for the green beans

Sea salt

6

tablespoons

extra virgin olive oil

for the dressing

3

tablespoons

of sherry vinegar

substitution: red wine vinegar

1

teaspoon

dijon mustard

1

clove

garlic

2

salt-cured anchovy filets

¼

cup

slivered almonds
Instructions
Start by preparing the green beans. You can use fresh beans, but I usually buy a bag of frozen ones. Here in Spain I go to La Sirena, and in the US I love the ones at Trader Joes. Heat a heavy pan over medium-high, and add 2 T of olive oil. Add the green beans and sauté for about seven minutes until just cooked through, but still crunchy. Season with salt and pepper and put into a large bowl.

Now toast the slivered almonds. Place them in layer on a dry frying pan and sauté over medium heat. Make sure to keep a close eye on them because they'll burn in a second! Remove the pan once lightly browned and fragrant.

Now make the dressing-- I know anchovies can be scary to some people, but just try this dish. It's incredible. The anchovies add a depth of flavor that's hard to achieve. Smash the anchovies and garlic in a mortar and pestle until you have a thick paste. Whisk in the mustard and sherry vinegar, and slowly drizzle in the olive oil until everything emulsifies and the consistency looks like a dressing.

Now add the dressing to the cooked green beans, little by little until just coated. Warm if necessary, and then place into a serving dish and decorate with the toasted almonds. Enjoy!

This anchovy dressing is also great on green salads, broccoli and brussel sprouts.
Nutrition
Calories:
323.85
kcal
|
Carbohydrates:
5.64
g
|
Protein:
5.09
g
|
Fat:
32.12
g
|
Saturated Fat:
4.31
g
|
Cholesterol:
7.5
mg
|
Sodium:
104.81
mg
|
Potassium:
211.51
mg
|
Fiber:
2.31
g
|
Sugar:
2.07
g
|
Vitamin A:
379.5
IU
|
Vitamin C:
6.95
mg
|
Calcium:
56.55
mg
|
Iron:
1.39
mg
What do you think? Will these Spanish style green beans grace your table this holiday season?