Spain loves a good celebration—as evidenced by the abundance of Spanish holidays and traditions throughout the year. Every festivo is a chance to relax, spend time with family and friends, and enjoy all kinds of traditional treats! Here's our guide to holiday foods in Spain.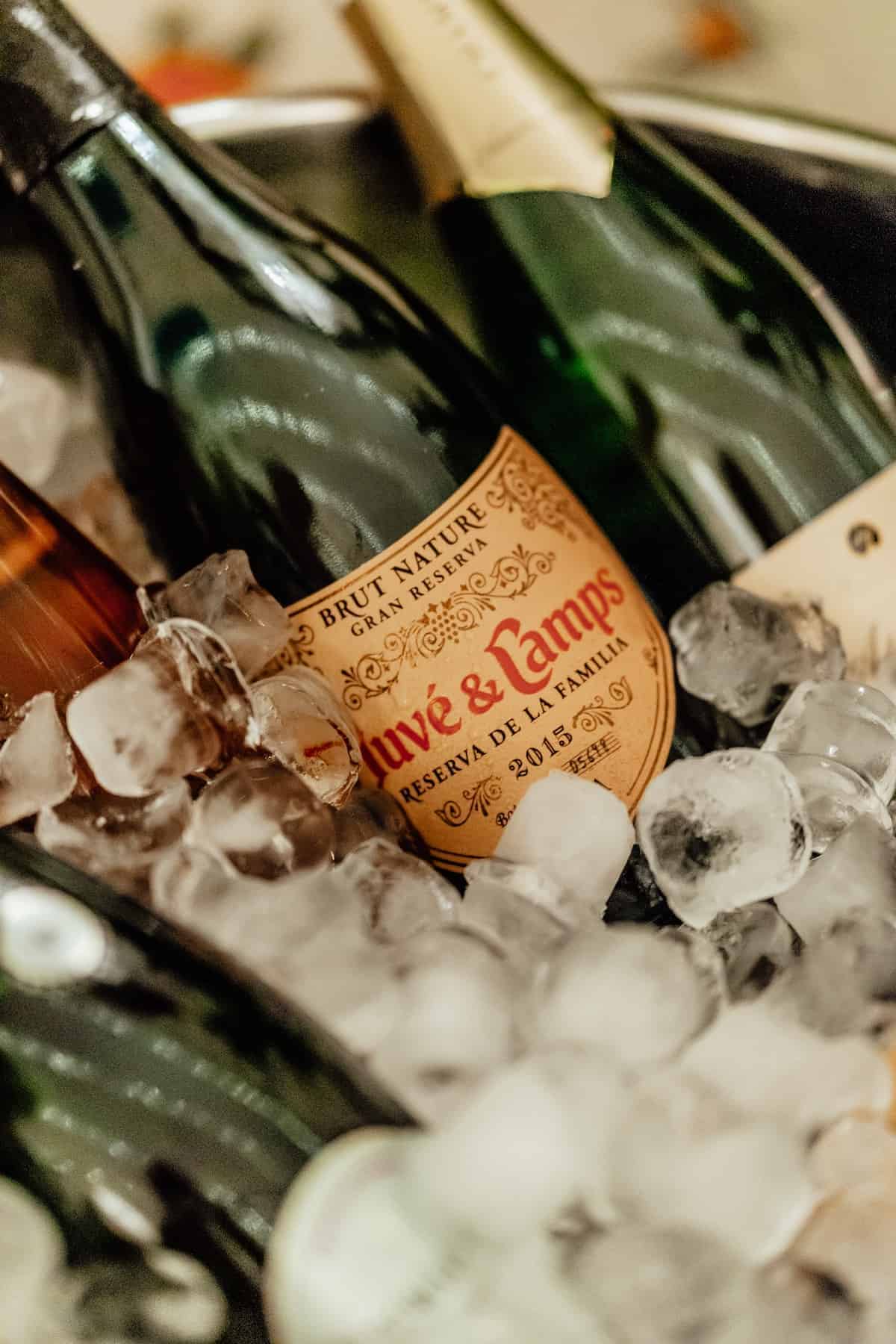 Many people are surprised by the sheer number of holidays in Spain. It seems like as soon as one ends, there's already another coming up on the calendar. Each municipality has up to 14 festivos (public holidays) per year, including regional, national, and religious celebrations.
We can't complain; Spanish holidays are incredibly festive and fun. Most importantly, each one has its own unique culinary traditions, so there's a whole universe of traditional holiday foods in Spain to discover!
If you're wondering what holidays are celebrated in Spain, we've got you covered. Here's our guide to the country's special days and the Spanish holiday dishes that define them.
Popular Spanish Holidays
As a rule, the most popular Spanish holidays are religious in origin. After all, this is a Catholic country. But much like Christmas and Easter in the US, today these holidays include secular traditions that anyone can enjoy.
In addition to the major holidays covered below, there are literally dozens of other popular Spanish festivals in certain cities and regions. One of our favorites is Las Fallas in Valencia, held every year in March.
Although Las Fallas commemorates St. Joseph, this celebration is much more well known for the massive sculptures on display, which are set on fire when the festival ends. The most traditional food to enjoy at Las Fallas is bunyols or buñuelos de calabaza: sugary pumpkin fritters.
There are also lots of non-religious holidays celebrated in Spain to commemorate important historical events or express local pride. For example, the Feria de Abril in Seville was originally a livestock fair.
Today the Seville Fair is a vibrant event featuring a parade, dancing, traditional costumes, and plenty of pescaíto frito (fried fish) and rebujito (manzanilla sherry mixed with lemon-lime soda).
Christmas Eve & Christmas Day
Christmas in Spain is a multi-day event, with weeks of preparation preceding it. Above all, it's a time for family and friends to gather, give thanks… and eat a lot of food. There are several unique Spanish Christmas traditions, from a massive national lottery to the famous "pooping log" (not as gross as it sounds).
The main festivities start on December 24th with a huge evening meal, usually featuring several courses of tapas, soup, seafood, roasted meat, and traditional Spanish Christmas desserts. Then the whole thing happens again less than 24 hours later, for the Christmas Day lunch!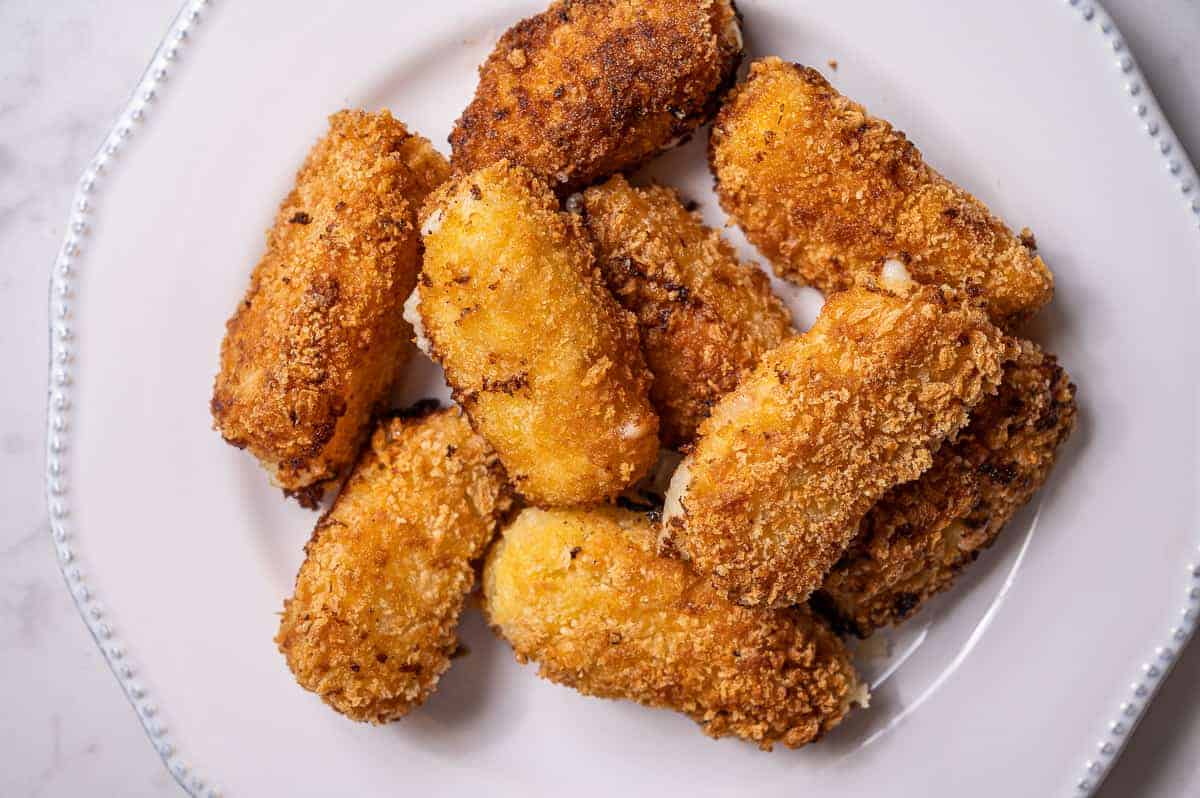 Christmas Food in Spain
If you want to create your own Spanish-style holiday feast, check out our list of Spanish Christmas recipes. Here are a few essentials that should never be missing from the table:
Tip: If you're looking for the perfect presents for the foodies in your life, we've got some ideas for delicious Spanish Christmas gifts.
St. Stephen's Day
In Catalonia, the day after Christmas is actually its own holiday: St. Stephen's Day (San Esteban or Sant Esteve, in Catalan).
On December 26th, locals celebrate with—you guessed it—another big meal. This feast often includes canelons, a mainstay of traditional Catalan cuisine and one of our favorite winter foods in Spain.
New Year's Eve & New Year's Day
New Year's festivities are a big deal in Spain. Although they technically fall within the Christmas season (between Christmas Eve and Three Kings Day), December 31st and January 1st have their own distinctive customs.
Many Spanish New Year's traditions promise luck for the 12 months to come, often involving delicious food and drinks. It's also customary to have a big evening meal in the hours leading up to the main event, featuring all kinds of Spanish holiday dishes.
On New Year's Eve, many cities have large celebrations with musical performances. The most famous one takes place in Puerta del Sol in Madrid, and is broadcast on TV across the country (much like Times Square in the US).
When the clock strikes midnight, it's tradition to eat 12 green grapes in quick succession: one for each toll of the bell. If you can manage to eat them all (it's harder than it sounds!) you'll supposedly enjoy good luck throughout the year.
Some people substitute the grapes for raisins or even small candies, which are easier to eat—but where's the fun in that?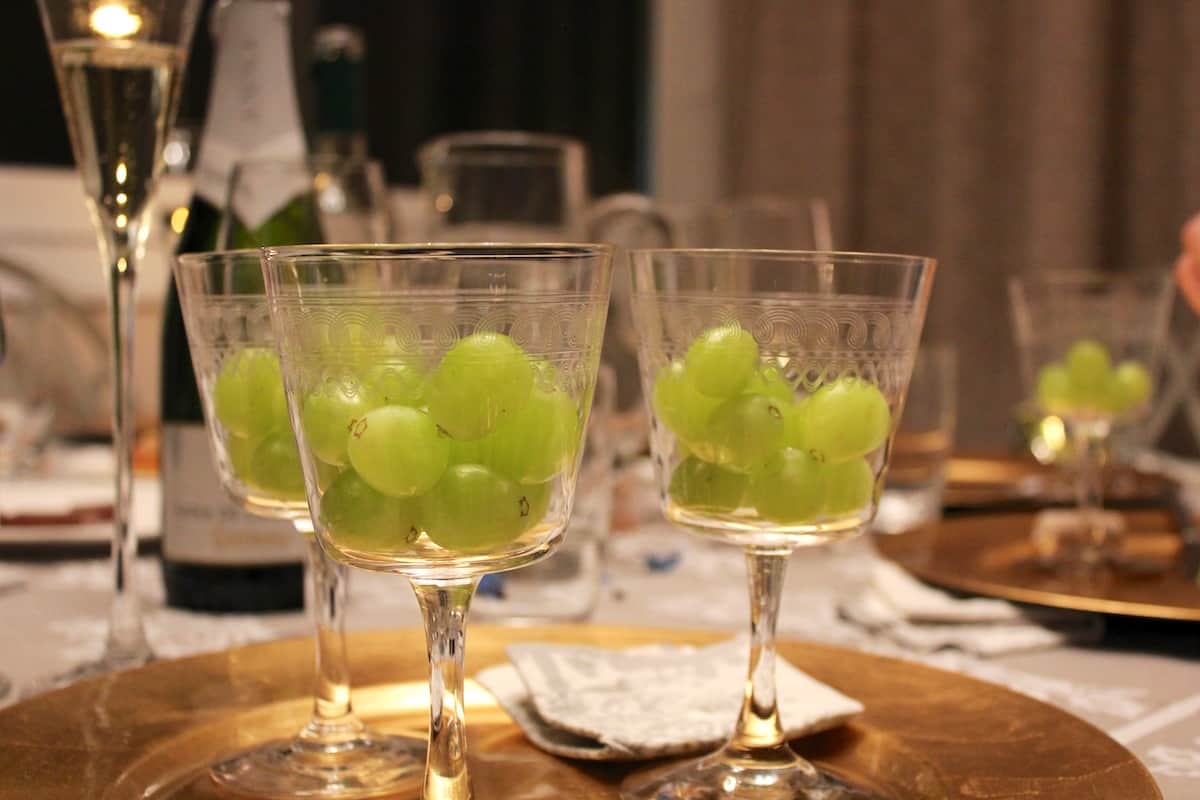 New Year's Food in Spain
The classic New Year's drink is definitely cava, Spain's version of Champagne. Before you start sipping, make sure you drop something made of gold into your glass for luck.
On January 1st, the fun continues with a multi-course feast for lunch. To attract prosperity, chow down on a bowl of lentils with chorizo (kind of like the Spanish version of black-eyed peas).
Here are some of the best Spanish celebration foods to help you ring in the new year:
Three Kings Day
The Christmas season in Spain lasts far beyond December 25th. In fact, it extends for another 12 days, all the way to January 6th: Three Kings Day, or Día de los Reyes Magos. This is when Spanish children traditionally receive presents—not from Santa Claus, but from the Three Wise Men.
The night of January 5th is similar to Christmas Eve, with one big difference: it includes La Cabalgata de los Reyes Magos (the Three Kings Day parade). People all over Spain gather in city streets to watch the floats and catch the candy thrown into the crowd by parade participants.
Three Kings Day also has one of the all-time best holiday foods in Spain: roscón de reyes. This crown-shaped cake is topped with candied fruits and often filled with whipped cream.
A small plastic figurine is hidden inside it, and whoever finds it in their slice gets good luck for the year. Sometimes there's also a dried bean, which is less lucky; whoever finds it has to pay for next year's roscón!
Easter
Easter in Spain is a massive event that lasts a full week, known as Semana Santa (Holy Week). In the days leading up to Easter Sunday, or domingo de Pascua, the streets are transformed by enormous religious processions—especially in Seville and the rest of Andalusia.
The processions themselves aren't super exciting, but the spectacle is something you have to experience at least once. The crowded streets become incredibly solemn and silent. It's not uncommon to see especially devout spectators shedding tears of emotion.
Apart from the main event, Semana Santa is also famous for its food. The most iconic Spanish Easter dish is probably torrijas, which are kind of like a cross between French toast and bread pudding.
Thick slices of bread are soaked in milk or wine, fried in olive oil, and then soaked in honey, drizzled in syrup, or coated in cinnamon sugar. It's a truly special and indulgent dish!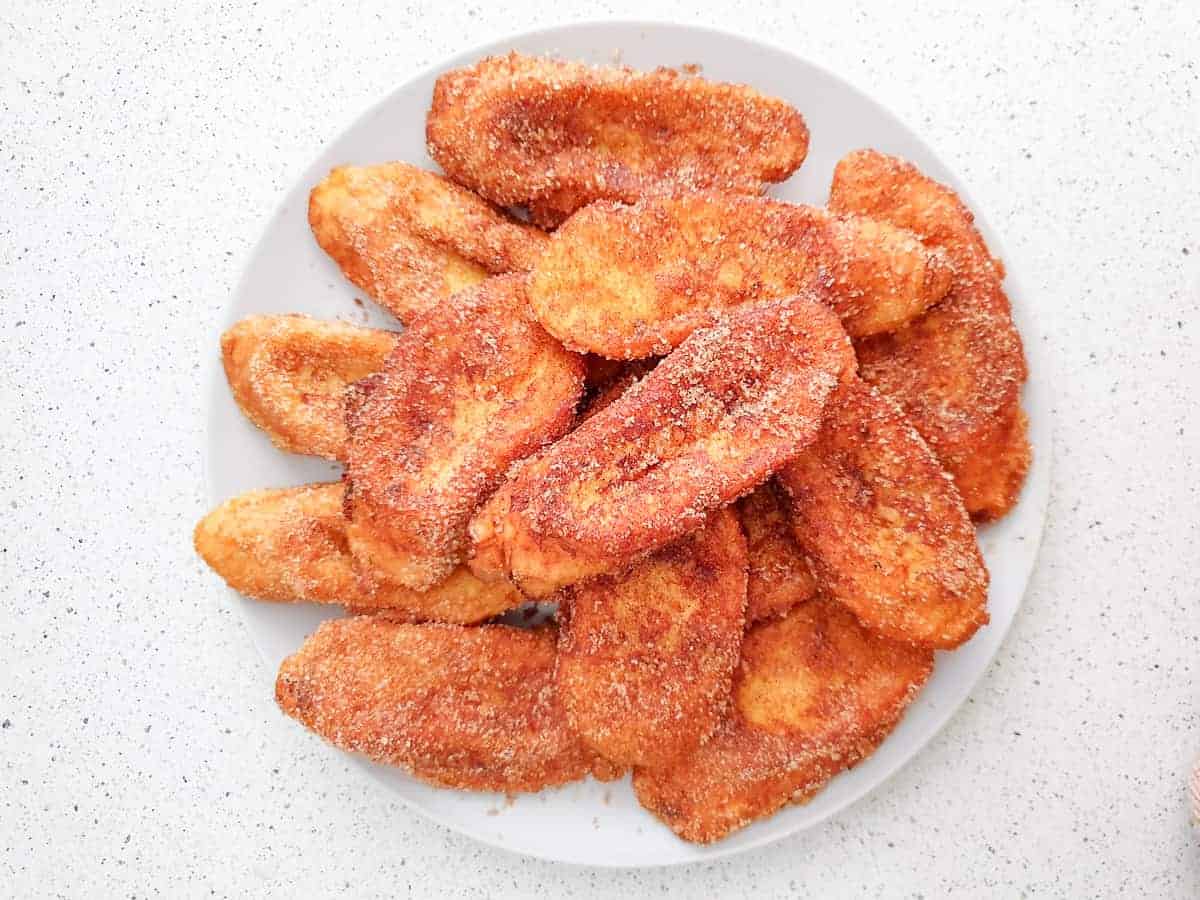 Torrijas are also one of our favorite Spanish recipes for Lent, the period of 40 days leading up to Easter. At this time of year, traditional Spanish tables are full of salt cod, squid, and plenty of sweets.
Here are a few of the best Spanish Semana Santa recipes:
Spanish National Day
This holiday goes by many names, including El Día de la Hispanidad and La Fiesta Nacional de España. It falls on October 12th, commemorating the arrival of Cristóbal Colón (Christopher Columbus) in the Americas in 1492.
Today the National Day of Spain is celebrated with parades featuring the Spanish Armed Forces and displays of national pride. But they also usually highlight other Spanish-speaking cultures, with performers dressed in traditional outfits from different Latin American countries.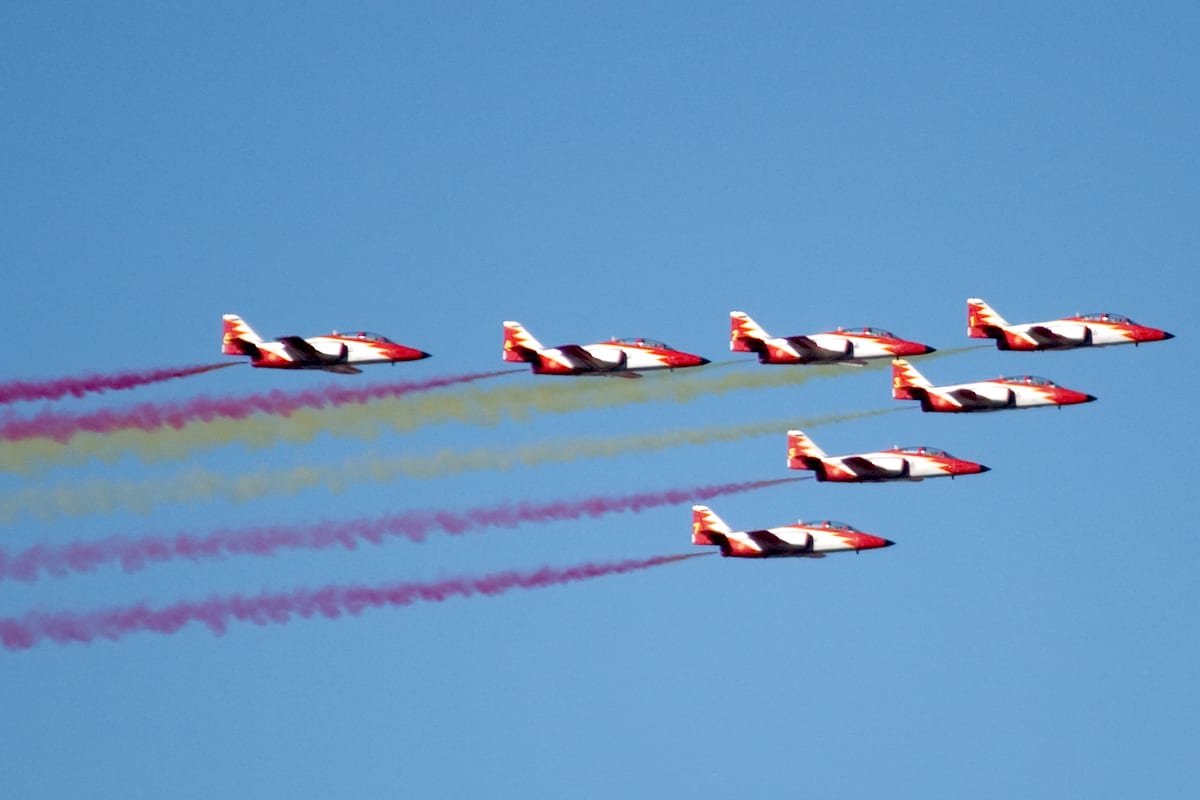 As you might expect, the most popular foods to eat on this day are also the most typically Spanish. Here are a few ways to express your love for Spain in the kitchen:
All Saints' Day
You're probably familiar with Halloween, but in Spain the following day is a much more traditional holiday: All Saints' Day (Día de Todos los Santos). It's an opportunity for Spaniards to honor loved ones who have passed away, often by laying flowers on their graves.
November 1st is also a day to spend quality time with family, which almost always involves food. There are several special treats associated with this holiday, like roasted chestnuts and sweet potatoes. These are some of the most common fall foods in Spain, and are often sold by street vendors.
Traditional All Saints' Day sweets include panellets (almond cookies coated in pine nuts or other toppings) and huesos de santo (rolls of marzipan filled with egg yolk and sugar).
For an especially indulgent treat, try buñuelos: nuggets of fried dough that are perfect for cold weather. Make them at home with this Spanish buñuelos recipe!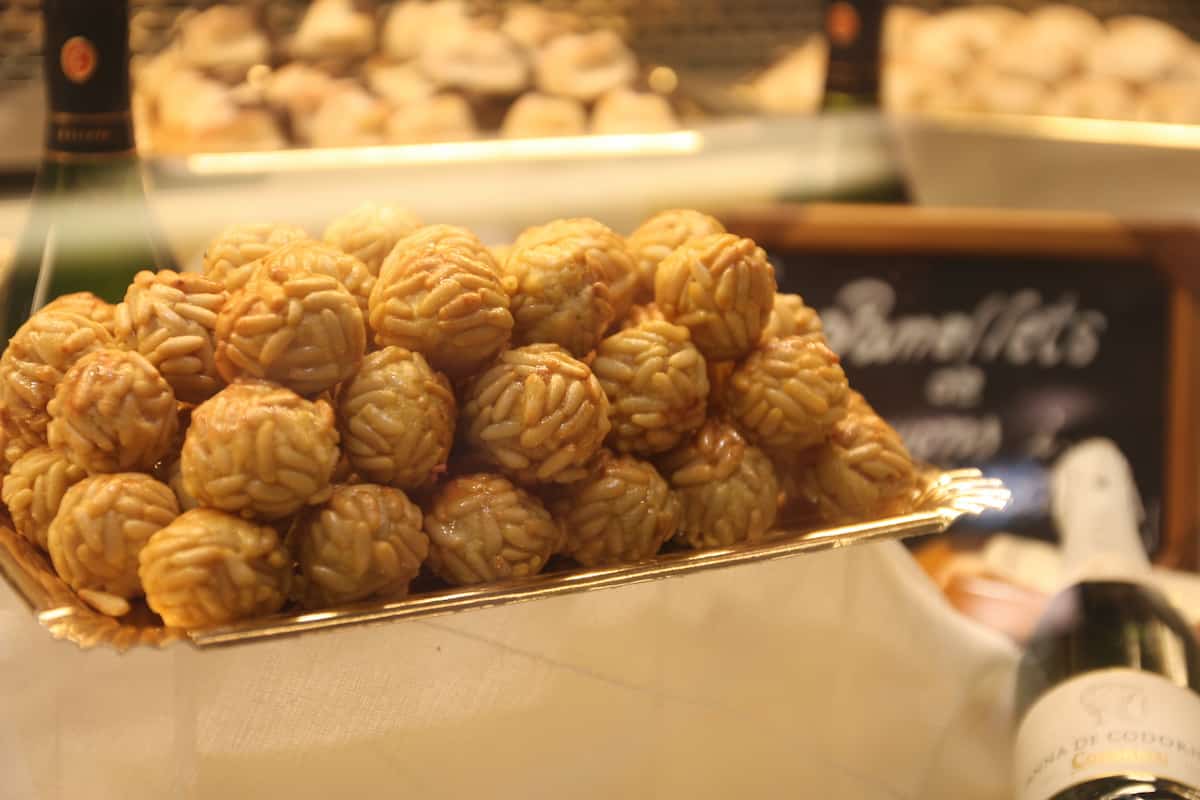 Celebrating Saints
As previously mentioned, many of the most traditional Spanish holidays are religious in nature. On the regional and local level, they often honor particular saints who represent certain cities, towns, seasons, or concepts. 
For example, Madrid holds the Fiesta de San Isidro on May 15th to pay tribute to the city's patron saint. Madrileños celebrate by enjoying the spring weather in San Isidro Park and nibbling on rosquillas, small ring-shaped cookies that are similar to Spanish doughnuts.
In Catalonia, one of the most exciting nights of the year is June 23rd, when the Nit de Sant Joan marks the summer solstice with bonfires and fireworks. Food is a central part of the festivities—especially cava and coca de Sant Joan, a type of sweet bread characteristic of this holiday.
There are literally dozens of other festivos in honor of various saints, from San Fermín in Pamplona (famous for the running of the bulls) to Sant Jordi in Catalonia (a celebration of love and literature). But they all have a couple of things in common: a spirited, festive atmosphere and delicious foods to devour!
Spanish Holidays FAQs
What are the main holidays in Spain?
The biggest holidays in Spain are Christmas and Easter, each of which includes several days of festivities and unique traditions. There are also many other important holidays, such as All Saints' Day (November 1st), the National Day of Spain (October 12th), and various regional and local celebrations.
How many national holidays are there in Spain?
There are nine national holidays in Spain, from New Year's Day and Three Kings Day to the Immaculate Conception and Christmas. Considering all the regional and local festivos, most Spaniards get a total of around 14 days off work per year for official holidays. 
Does Spain celebrate Valentine's Day?
Valentine's Day isn't a traditional holiday in Spain, but globalization has made it more common for people to celebrate. In Catalonia there's actually a different day to celebrate love: April 23rd, when couples exchange books and flowers for the Dia de Sant Jordi.
Does Spain celebrate Halloween?
Halloween isn't traditionally celebrated in Spain, and it's certainly not as big of a deal as it is in the US, but these days many Spanish kids (and adults) dress up on October 31st. However, the following day is an actual Spanish holiday. On November 1st, people celebrate All Saints' Day by honoring deceased loved ones—and eating traditional sweets.
What is Santa Claus called in Spain?
Unlike in the US, Christmas in Spain doesn't revolve around Santa Claus! You might hear Spaniards talking about San Nicolás or Papá Noel (Santa's Spanish monikers), but kids are usually more excited about los Reyes Magos: the Three Wise Men, who leave gifts for them to open on January 6th (Three Kings Day).
Does Spain celebrate Cinco de Mayo?
No. Cinco de Mayo is celebrated mostly in the US, and is a minor holiday in Mexico—but it has nothing to do with Spain. Be careful not to confuse it with Dos de Mayo: a Spanish holiday celebrated on May 2nd in Madrid, which commemorates the city's rebellion against French troops in 1808.
Hungry for more? Sign up for my free weekly newsletter and receive a new Spanish recipe once a week! Join today and get my FREE Spanish ingredient essentials guide!