Where to stay in San Sebastian? It's a common question for Spain-bound travelers! As the city is quite small, accommodation can be tricky at popular times of the year. Luckily, San Sebastian is home to plenty of beautiful, historic, and trendy places to stay. Here are some of our favorites!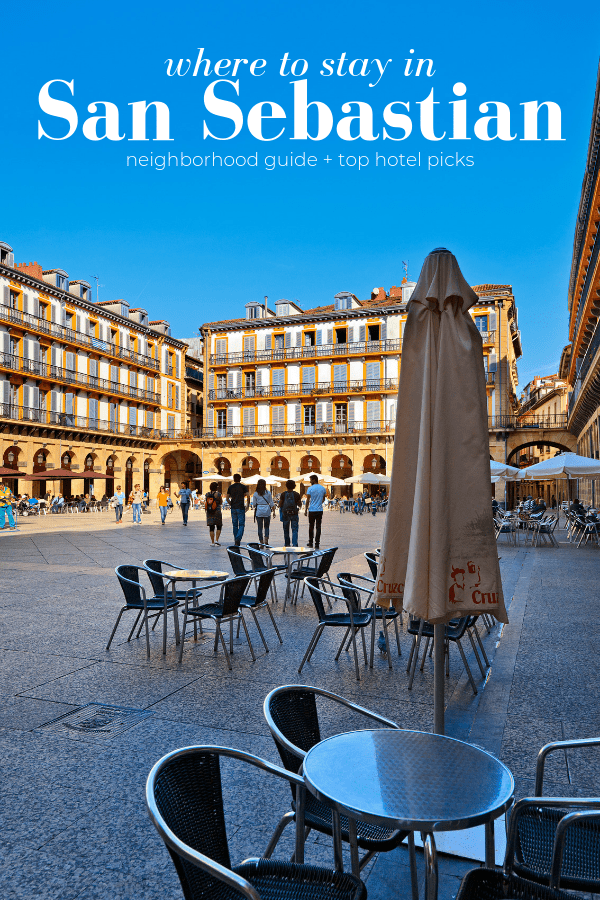 Tucked between rugged green mountains and pristine beaches along Spain's northern coastline, San Sebastian is the perfect spot for the vacation of your dreams. Whether you're in town for a classic summer beach holiday or are dropping in during the low season, you'll never regret visiting the Basque Country's most beautiful city.
Plus, with a population of just under 200,000 full-time residents, you'll find that it can have a much more laid-back vibe compared to some of Spain's more densely populated tourist draws.
When it comes to deciding where to stay in San Sebastian, a little bit of research can take your experience from good to great. Having a solid home base can truly make or break your trip. And despite the city's small size, it has a wide variety of neighborhoods and hotels to choose from.
No matter what brings you to this sophisticated coastal gem of a city, there's sure to be a place that's perfect for you. This guide on where to stay in San Sebastian will help you narrow down the options!
See Also: Where to Eat in San Sebastian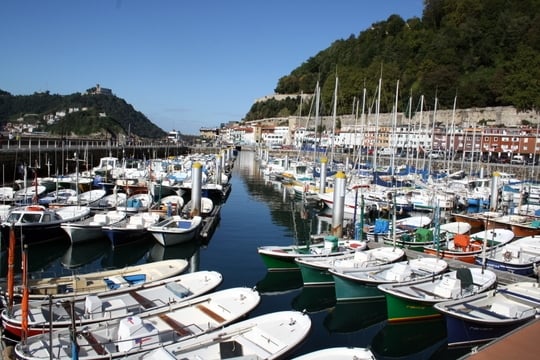 Where to Stay in San Sebastian's Old Town (Parte Vieja)
The Old Town's history, culture, and unforgettable sights make it San Sebastian's most iconic neighborhood. With its charming cobblestone streets winding between some of the city's most historic buildings, it's hard not to fall in love with this beautiful barrio.
No matter what you're in the mood to do, you'll find it in the Parte Vieja (Old Town). Want to dive into the past? The San Telmo Museum, arguably the city's best, will be right up your alley. Prefer to get out and about in nature? Hike nearby Mount Urgull and drink in the stunning views along the way.
And since this is San Sebastian's most popular neighborhood, it should come as no surprise that there are plenty of fabulous places to eat (but more on that in a bit)!
Where to Stay: The most happening street in the Old Town is Calle 31 de Agosto, lined with buzzing pintxos bars and plenty of shops. Staying here will put you right in the heart of the action, but it can get quite noisy. Consider staying down one of the nearby side streets for a bit more peace and quiet.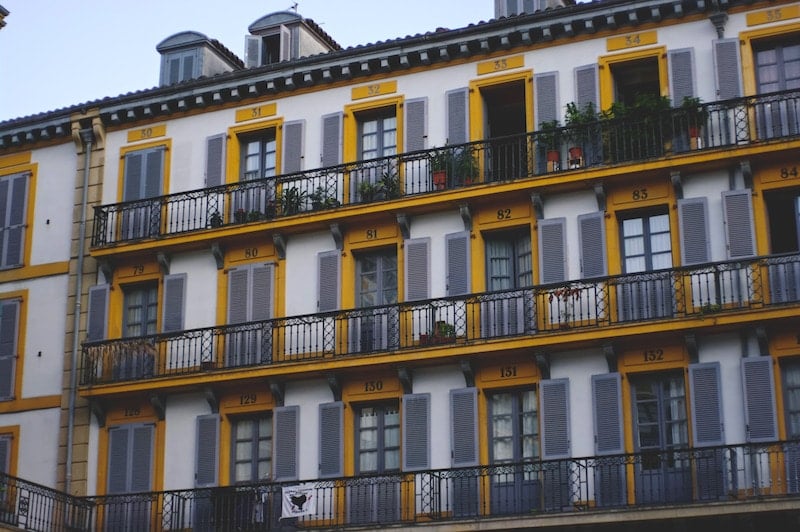 Recommended: With stunning views of La Concha Beach and crisp, contemporary rooms, Hotel SANSEbay offers excellent value for money. Another lovely option is Artea Narrika, a modern guesthouse with a clean, minimalist feel.
Where to Eat: No matter what you're craving, you're sure to find it in the Old Town, where rustic pintxos bars sit side-by-side with internationally recognized restaurants.
You can never go wrong with La Cuchara de San Telmo, which has a well-earned reputation as one of San Sebastian's top pintxos bars. For a once-in-a-lifetime meal complete with a fabulous wine selection, treat yourself to the ultimate San Sebastian experience at Michelin-starred Kokotxa.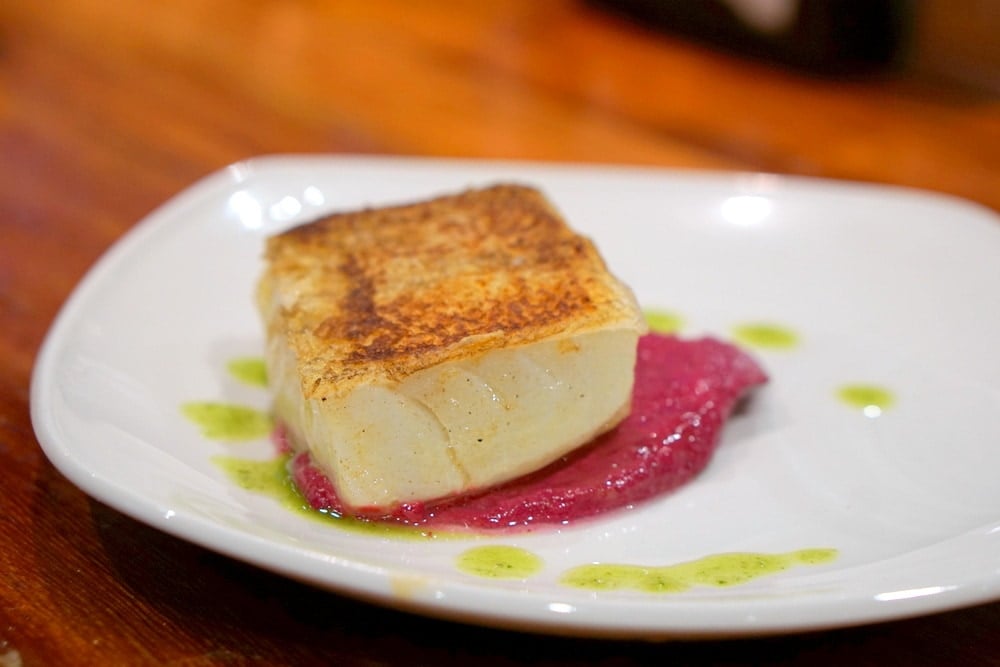 Read More: For more great food picks, check out Devour Tours' guide on where to eat in the Old Town!
Where to Drink: Enjoy a delicious variety of local and international craft beers at Etxeberria, one of the neighborhood's most popular watering holes among locals. If wine is more your thing, you'll love Essencia, a lively bar and shop with more than 70 wines available by the glass.
Insider Tip: With so much going on, the Old Town can be overwhelming for first-time visitors, and unfortunately it can be hard to tell the tourist traps from the real gems. Discover this must-visit neighborhood like a local on Devour's Ultimate Pintxos & Wine Tour!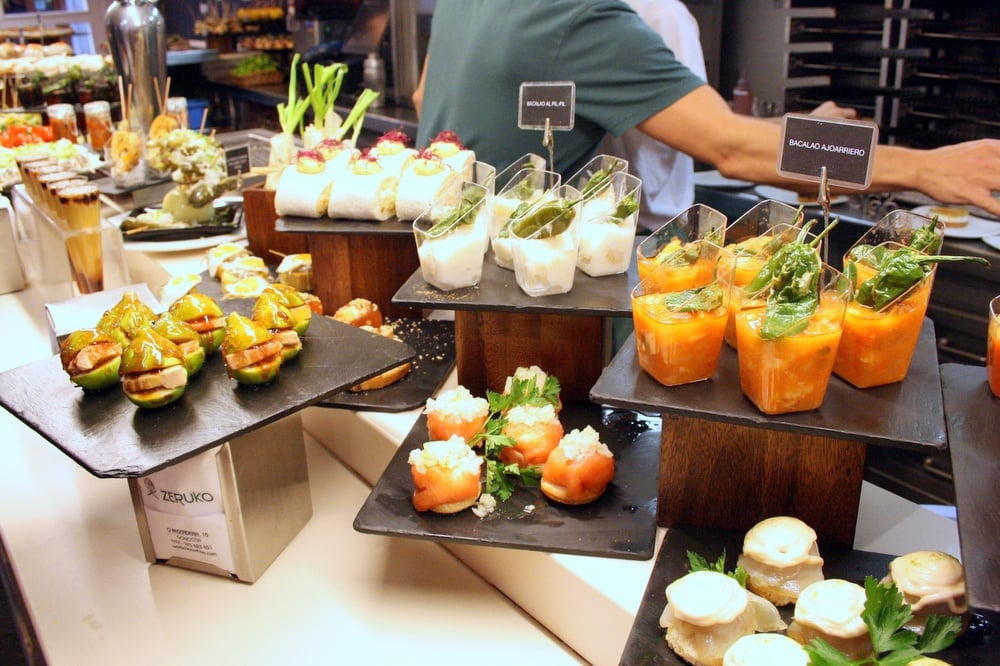 Where to Stay in San Sebastian's City Center (Centro)
In terms of location, it's hard to beat San Sebastian's most central district. Sandwiched in between the beach, the Old Town, and Gros, the Centro is a wonderful area to stay in. Plus, it tends to be quieter than the Old Town, so you're guaranteed to get a good night's sleep.
Where to Stay: With wide, sweeping avenues and lush green plazas, San Sebastian's city center offers everything from luxury hotels to no-frills inns.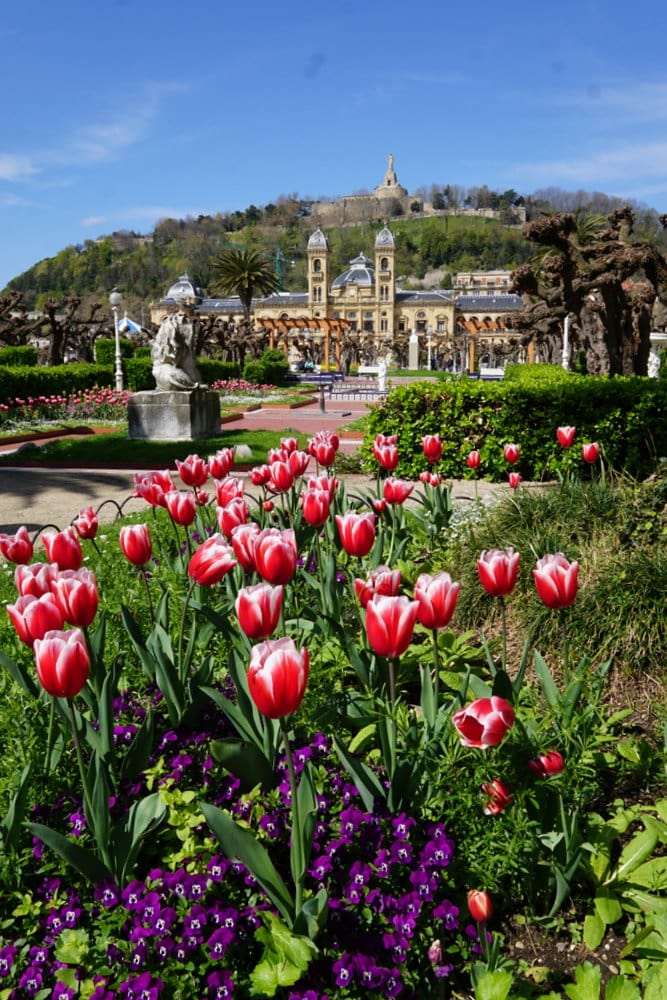 Recommended: For the ultimate luxury, it doesn't get much better than the Hotel Maria Cristina. If you're looking for something more budget-friendly, Pensión Garibai offers simple yet charming rooms and excellent service.
Where to Eat: The bustling modern market of Mercado San Martín is a veritable paradise for foodies. And for down-home local eats—including one of the best tortillas de patatas in town—you can't go wrong with Lobo (which also has a location in Gros).
Where to Drink: The city center is home to some of San Sebastian's best specialty coffee shops, including Old Town Coffee (which, despite its name, is not in the Old Town), Kafe Botanika, and Koh Tao. In the evenings, try Arenales for exceptional wine (and food!) or Pub Drop for craft beer.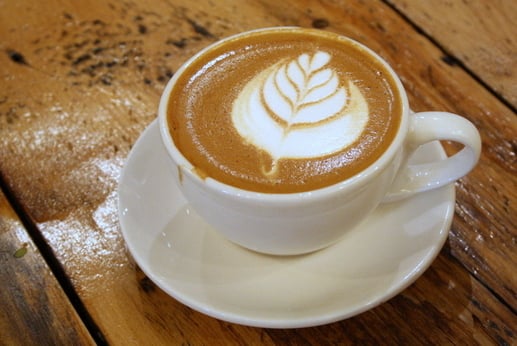 Where to Stay Near La Concha Beach
If your top vacation priorities are sun and sand, you can't beat the area around San Sebastian's iconic beach, La Concha. Widely recognized as one of Europe's best urban beaches, its gleaming white promenade and pristine sand make it a draw for locals and visitors alike.
Where to Stay: The accommodations along Calle Zubieta offer stunning beach views, but staying a few blocks away from the shore can help you save a few euros.
Recommended: With bright, spacious rooms and a lovely international restaurant, Hotel San Sebastian Orly offers exceptional value. The iconic Hotel de Londres y de Inglaterra is an upscale choice set in an elegant 19th-century building. A bit farther back yet still within walking distance from the beach, A Room in the City is a happening hostel—perfect if you want a more casual vibe.
Where to Eat: Don't miss La Madame's legendary brunch and La Espiga's perfect pintxos.
Where to Drink: A beachside location means one thing: al fresco cocktails are a must! Check out chic La Perla (at the iconic spa of the same name) for sweeping bay views and fabulous drinks. And even if you're not staying at A Room in the City, its gorgeous garden terrace, Convent Garden, is a great place for drinks, live music, and good vibes.
Read More: If spending a day among the waves sounds like your thing, check out Devour Tours' guide to the best beaches in San Sebastian!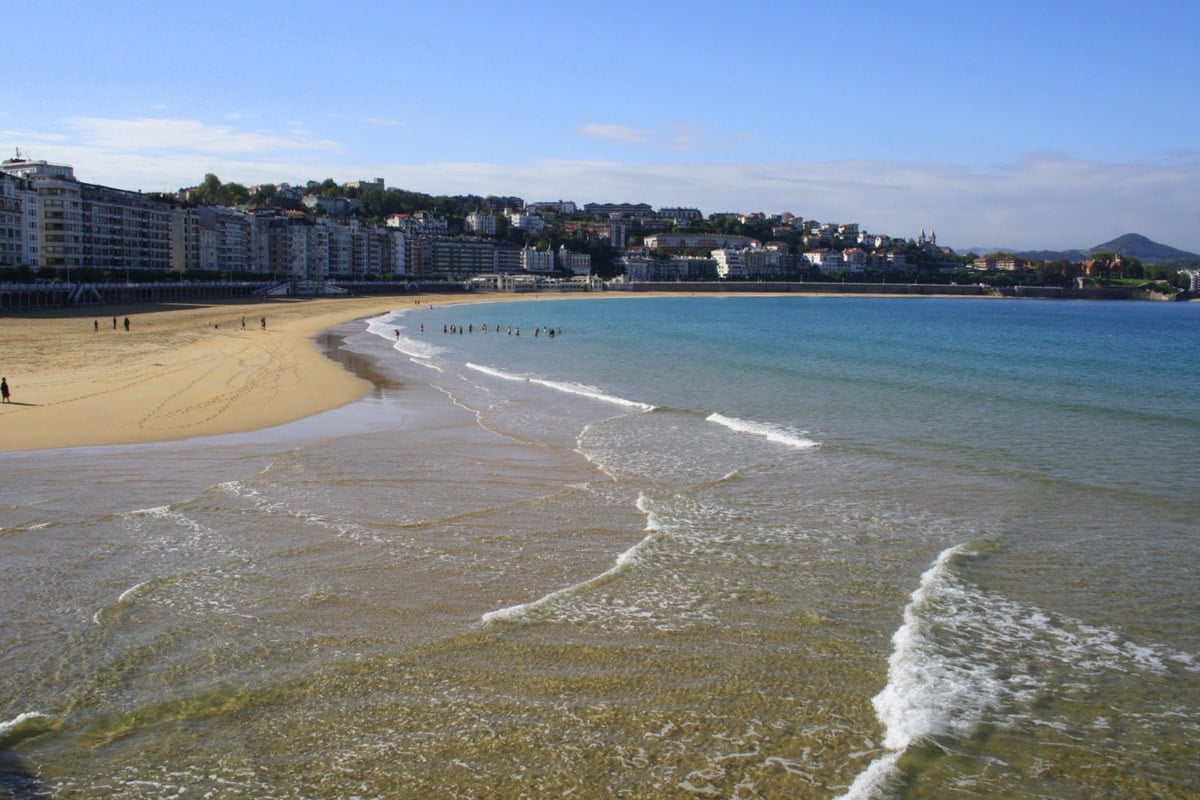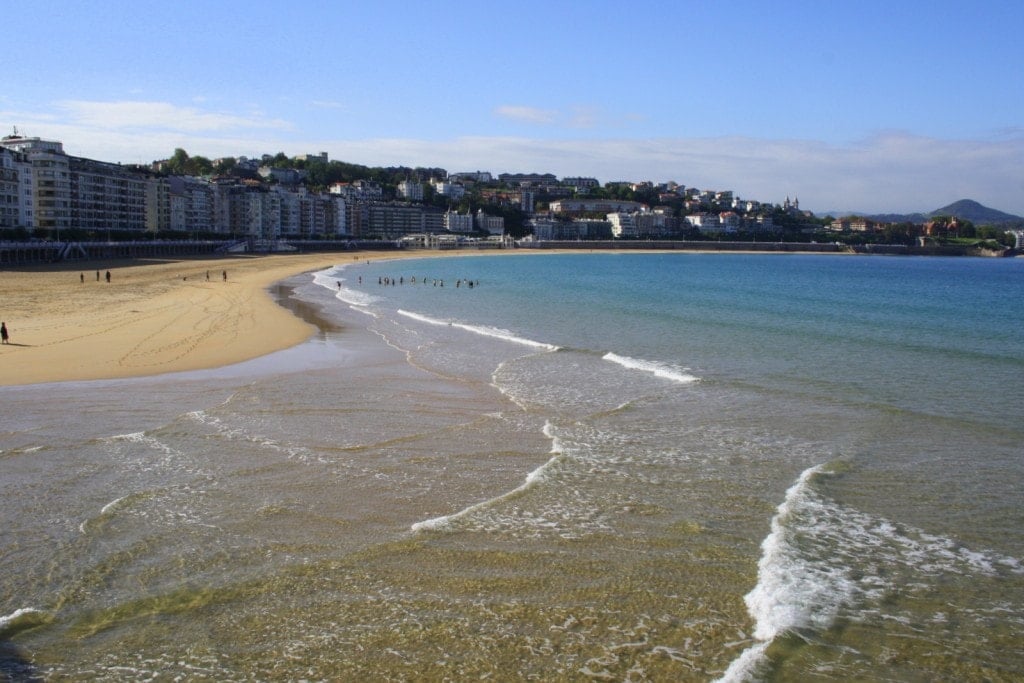 Where to Stay in Gros
Head east of the Old Town and the city center, and you'll find yourself in the laid-back surfers' paradise of Gros.
Perfect for young couples, adventure lovers, and intrepid solo travelers, this relaxing neighborhood has it all: world-class entertainment at Kursaal, great waves at Zurriola beach, contemporary art and culture at Tabakalera, and a fabulous dining scene that gives the more central areas a run for their money.
Where to Stay: Gros is a great option for budget-conscious travelers, with plenty of hostels and apartment rentals at unbeatable prices.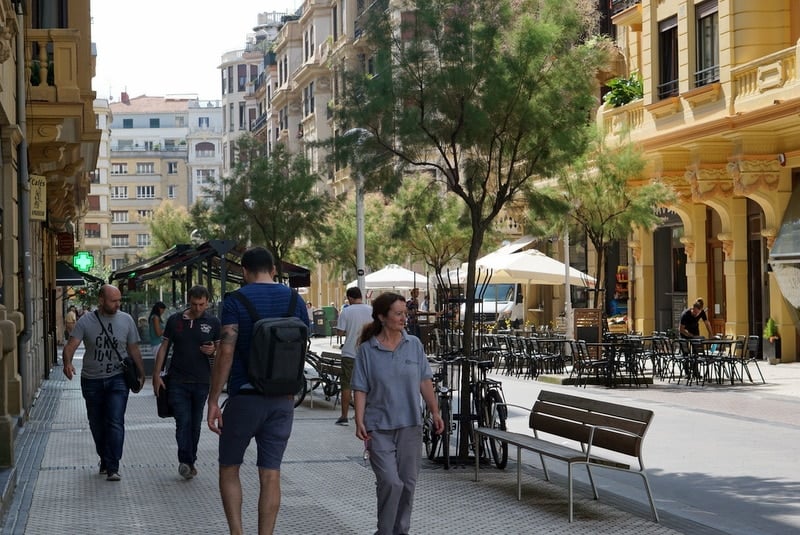 Recommended: Pensión del Mar offers unbeatable value with bright, beautiful rooms and a shared kitchen area in case you'd like to do your own cooking. Another great option is Hotel Okako, an eclectic boutique hotel with an avant-garde, artsy vibe.
Where to Eat: The innovative pintxos at Bar Bergara are a must. For something a bit different, Tedone offers a unique slow-food concept specializing in organic and seasonal dishes, with plenty of vegetarian and gluten-free options. (Read our vegetarian guide to San Sebastian for more veggie-friendly spots!)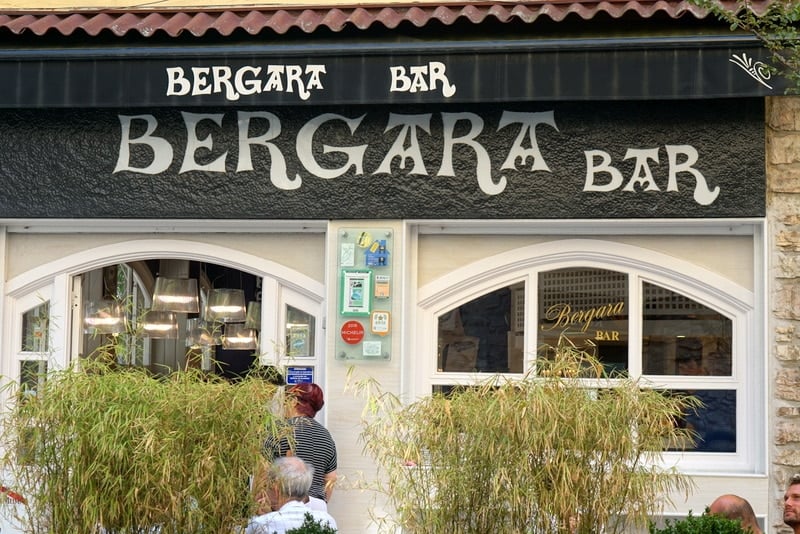 Where to Drink: Spain is famous for its generously sized gin & tonics, and in San Sebastian, no place does them better than La Gintonería Donostiarra. Craft beer lovers shouldn't miss the artisanal brews at Mala Gissona and Bar Desy.
Read More: Check out our guide to the best pintxos bars in Gros.
Where to Stay in Amara
Very few tourists make it down to Amara. As a result, it remains one of San Sebastian's most authentic neighborhoods. Staying here will get you off the beaten path and immersed in local life in a way that's just not possible in the more central barrios.
This quiet, residential corner of town is a great option for families or anyone looking for a more laid-back experience. And since this is where you'll find San Sebastian's soccer stadium, it's a perfect home base for fans who are dropping in to catch a game.
Where to Stay: Since Amara is located a bit farther away from the Old Town and city center, you can often find upscale accommodation for a fraction of what you'd pay in more popular neighborhoods!
Recommended: Sophisticated and artsy yet unpretentious, Hotel Silken Amara Plaza is a relaxing option with a serene riverside location. Cinephiles will love Hotel Zinema7, a boutique hotel designed in homage to San Sebastian's famous annual film festival.
Where to Eat: Casa Javier is a humble gem hidden among several lower-quality tourist traps near the train station. If fine dining is what you're after, don't miss the mouthwatering tasting menu at Amelia.
Where to Drink: For nearly a decade, Syráh has been one of the most popular wine bars in San Sebastian among locals. It's known for its modern ambience and a respectable selection of hard-to-find wines.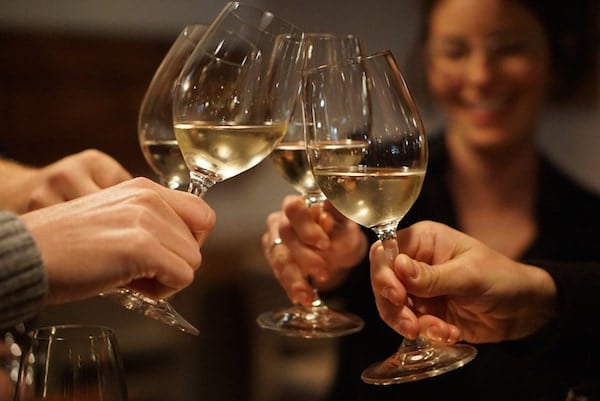 Where to Stay in Antiguo
Don't let Antiguo's far-flung location fool you. This young, trendy neighborhood is home to some of San Sebastian's top sights, including Monte Igueldo, Miramar Palace, and the Comb of the Wind sculptures. Its welcoming, friendly vibe also makes it an excellent option for families.
Where to Stay: Don't let La Concha steal the show—Antiguo is home to the beautiful Ondarreta beach. Seaside properties in this neighborhood are often less expensive than those on the city's more famous beach.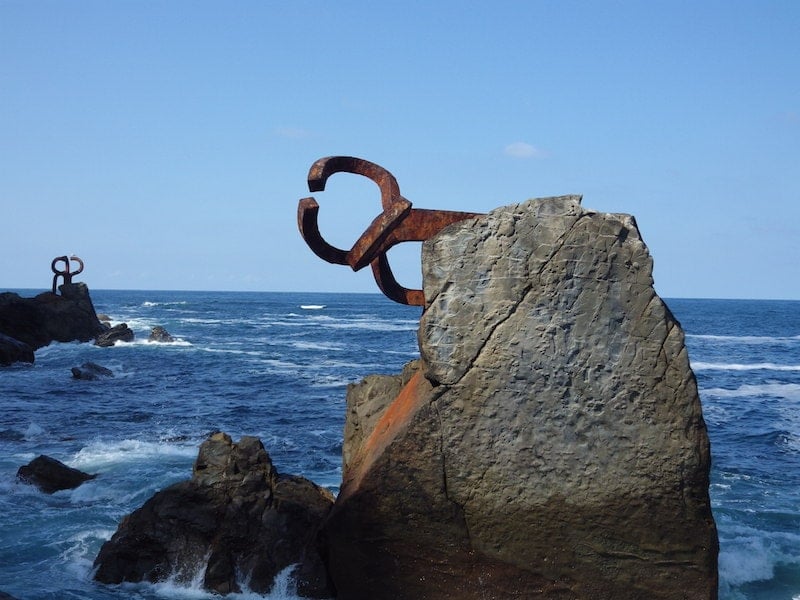 Recommended: Located in a stunning 19th-century French-inspired building, La Galería offers a perfect blend of vintage charm and all the modern amenities you could need.
Where to Eat: Despite its off-the-beaten-path location, Antiguo boasts a great dining scene. La Mera Mera has fabulous Mexican fare, and Abakando serves up incredibly fresh seafood in a chic setting.
Where to Drink: Plaza José María Sert features several great bars where you can enjoy outdoor drinks surrounded by good company.
FAQs on Where to Stay in San Sebastian
What's the best part of San Sebastian to stay in?
The most popular areas to stay in San Sebastian are the Old Town and city center—which are perfect if you want to be right in the middle of the action. Gros and La Concha are ideal for beach holidays, and Amaro and Antiguo are a bit quieter and off the beaten path.
Is San Sebastian walkable?
Yes, San Sebastian is a great city to explore on foot! It's small enough that you can walk between most of its neighborhoods and popular attractions. But it also has plenty of bike lanes and city buses if you want to get around faster.
How many days should I spend in San Sebastian?
You'll need at least two or three days to see the city's main sights, although you might want to stay a bit longer to fully explore it. Spending a week in San Sebastian will give you enough time to visit all of its different areas—and plenty of pintxos bars!
What's the best time to visit San Sebastian?
San Sebastian is beautiful all year round. You'll get the warmest and sunniest weather in summer, although you might want to visit in May–June or September–October for smaller crowds. Winter is also a lovely time to visit, as long as you don't mind chillier temperatures.
Love Spanish food? Sign up for my free weekly newsletter and receive a new Spanish recipe once a week! Join today and get my FREE Spanish ingredient essentials guide!