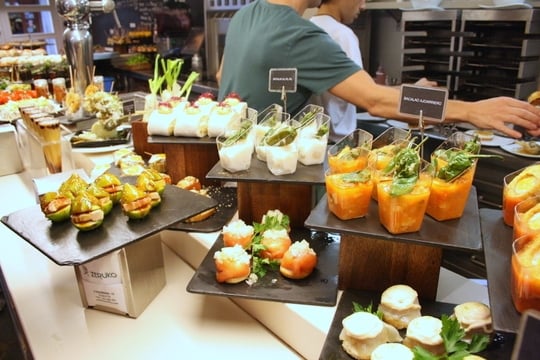 San Sebastian is a small city on the coast of Northern Spain, but its reputation couldn't be larger. With more Michelin star restaurants per capita than anywhere else in the world, people visit San Sebastian with food on the mind. And even if your wallets aren't quite wide enough for Michelin star dining, you can still eat like a true gourmand on just about any of the small streets in San Sebastian-- just don't expect to sit down.
Read more: Devour your way through San Sebastian with my curated San Sebastian food guide!
Pintxo Culture: Pintxos in San Sebastian
Pintxos are the Basque Country's answer to tapas, small portions of food. The word pinxto literally means spike, and if you enter any Basque pintxo bar, you'll see why. Don't even think about pulling up a barstool in Basque Country, because the bar surface is heaping with plates topped with tempting pintxos. The majority of the snacks are placed on top of a slice of bread and skewed with a toothpick-- hence their name.
Learn More: Find out the top typical foods to try in San Sebastian here!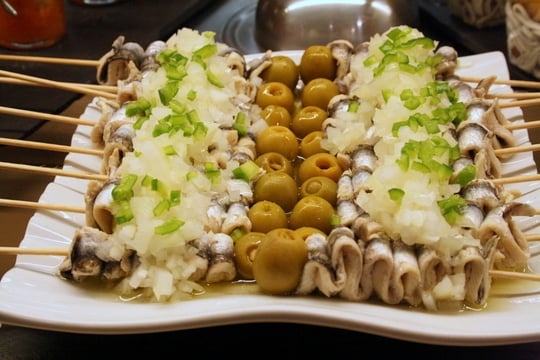 But not all pintxos are pre-prepared and skewed. The house specialties are generally made to order, found on the standard chalkboard menu behind the bar. In my experience, it's generally better holding out for these, or going for the truly cold pintxos (as pictured above) because the ones they reheat are often a disappointment.
A Quick Visit
After living in Spain for four years and working in the food and tourism industry for the past year, it was getting a bit embarrassing that I hadn't yet visited the food famous San Sebastian. After all the build-up I was afraid that it would disappoint, just like a movie that people rave about so much that your expectations are too high when you finally see it.
Update! It's now 2017 and I've been to the Basque country a dozen times. We've even expanded our Devour Tours to this incredible city, where our food tours and pintxos tours combine the best of the San Sebastian food scene with local culture and history. Join us!
When my parents decided to visit us in early October, I knew that I wanted to take a short trip within Spain. Since they'd already been south, an obvious option was going north, and, as fellow food lovers, San Sebastian seemed like the obvious choice.
I didn't make the final decision until a few days prior to the trip, as I was determined to only go if there were nice weather. Luckily, the weather cooperated and we headed into a mostly sunny few days.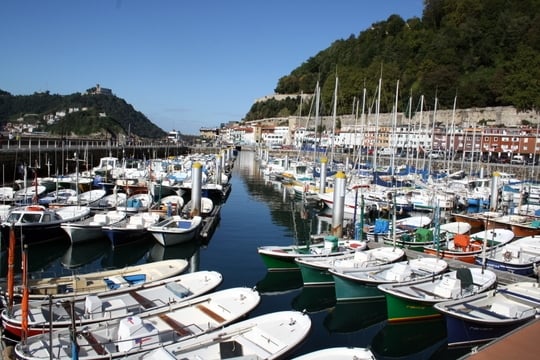 I was armed with loads of good research and some fellow food lovers' tips and tricks-- but with only two full days there it was hard to even make a dent in my list!
We arrived in San Sebastian late at night, after getting swept away in the beauty of Burgos (our lunch stop on the drive up). It was drizzling as I picked up the keys to our rental apartment. But the questionable weather was bettered by our beautiful lodgings and a delicious dinner.
We rented an apartment from The Rentals Collection, and for 160€/night we had a gorgeous apartment in an ideal location right by the river and the old town. The views from the balcony were outstanding, everything was clean and comfortable, and the guy who gave me the keys even shared a great tip for parking in San Sebastian. We parked about a 15-minute walk from the rental apartment in a garage called Txofre that only cost us 30€ for three full days, and we were able to take the car in and out as many times as we wanted! Other garages would have cost us triple the price.
 An Intro to Pintxos at Bar Haizea
Starving and exhausted, we knew we wanted to go somewhere close by. I consulted my list, and quickly checked how far away one of my friend Paula's recommendations was-- Bar Haizea. This is a place that had been featured in an Anthony Bourdain episode (which I tried, without success, to track down) and was also a favorite of some of San Sebastian's most famous chefs, Juan Mari and Elena Azark. Paula promised it was good. Luckily, it seemed meant to be, located only two minutes away from our rental apartment.
We walked into the unsuspecting place and gave my parents a crash course on pintxos. They were still feeling a bit unsure of things, so Ale and I took control and ordered. After hearing that the Anthony Bourdain fame factor wasn't the owner's favorite subject, we acted like we'd stumbled upon the bar by chance (although I already knew exactly what the house specialties were)!
We ordered some salt cod fritters (buneulos de bacalao), a cod and shrimp cream inside of pastry brick (similar to phyllo dough), giant prawns covered with crab bisque, grilled foie with apple, and a skewer of shrimp and scallops with relish.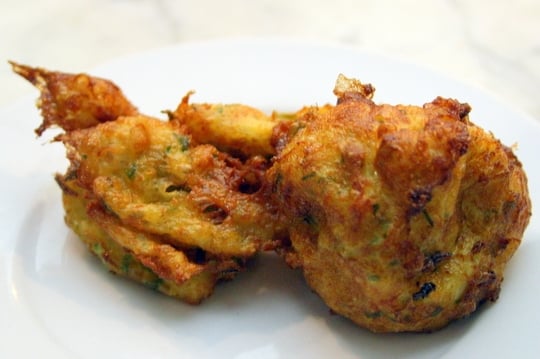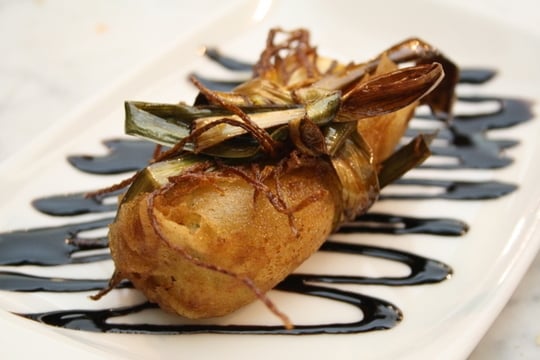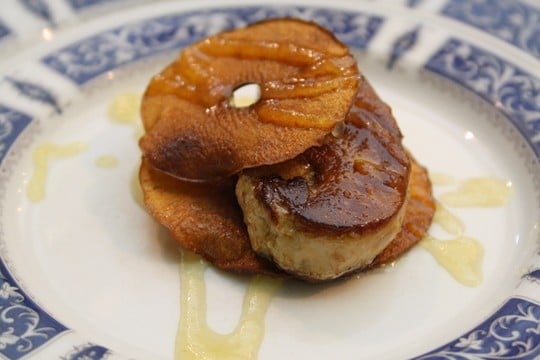 I must admit, we'd broken the first rules of pintxos (eat on your feet, and a maximum of two pintxos per place, before you move on to the next one) but it was too late (and everyone was too tired) to have moved on to anywhere else.
In my opinion, the salt cod fritters were just okay (not crispy enough and lacking in seasoning) but everything else was outstanding. The shrimp with lobster bisque and the relish for the shrimp and scallops were to die for (and they aren't pictured because I was too hungry to remember to photograph them!). The foie gras was delicious, and I could tell it was the house specialty. The cod brick was also fantastic. The service was lovely, especially considering we realized later we'd come in right when they were about to close (they close at 11 pm on weeknights and 11:30 pm on weekends).
Overall, Bar Haizea was the perfect intro to pintxos in San Sebastian, and a place I'll be back to on my next visit north.
Where are your favorite pintxos in San Sebastian?
Bar Haizea
Aldamar Kalea, 8
20003 Donostia-San Sebastián, Gipuzkoa
Devour pintxos with the locals! Join our Devour San Sebastian food tours and pintxos tours and explore the hidden gems of this incredible city. Learn about the Basque history and culture as you taste the best bites and wines in town.