Basque food is one of the most iconic regional cuisines in Spain—and the world. If you're wondering where it comes from, what it is, or how to make it, you're in the right place!
Below I'll share the secrets of Basque food culture and history, plus some of my favorite recipes to recreate it at home.
For me, travel is all about food. So it's no wonder that on my many trips to the Basque Country, I've made it a point to seek out the best local dishes, restaurants, and bars, from San Sebastian to Bilbao and beyond.
Along the way, I've learned a lot about the incredibly unique culture of this region, and how that culture is reflected in its cuisine. There's something special about the way people cook here, with local ingredients and time-tested recipes. They demonstrate not only admirable culinary expertise but also immense pride for local traditions and history.
The Basque Country itself may be small, but its global reputation is huge.
It has one of the highest concentrations of Michelin-starred restaurants per capita in the world and more famous chefs than you can count. Despite all this international recognition, however, the region has kept its distinctive identity—and inimitable flavors—intact.
History of Basque Food
The Basque Country (Euskadi in Basque or País Vasco in Spanish) is located along the northern coast of Spain and its border with France (the region also extends into southwestern France, but here I'll focus mainly on the Spanish part).
The Basque people are one of the oldest surviving ethnic groups in Europe, predating even the Ancient Romans.
Part of the mystery surrounding this culture is due to its language, Euskera. It's a linguistic isolate, meaning it's not related to any other languages—unlike Spanish, French, and other regional languages like Catalan, which all belong to the Indo-European language family.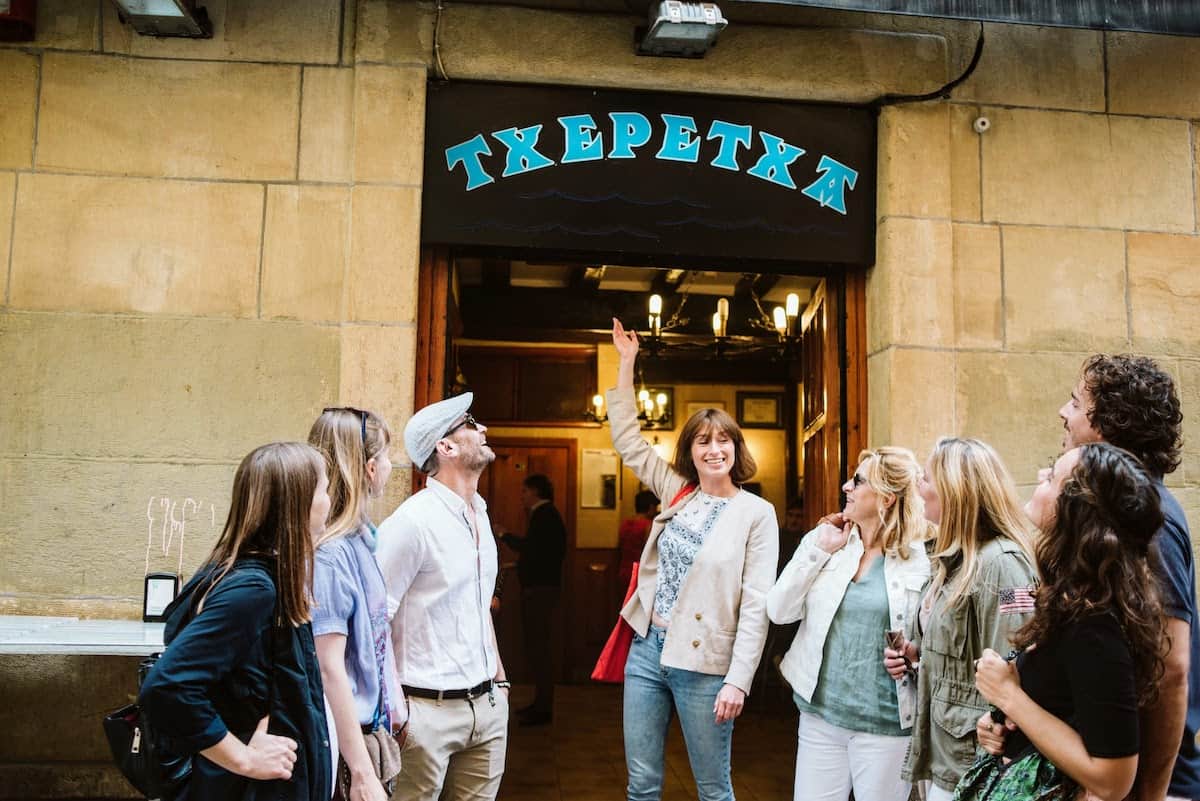 Part of the reason why Euskera has survived for so long is that the Basque Country is geographically isolated, surrounded by mountainous terrain and the ocean. This explains why many aspects of Basque culture, including food, are so different from the rest of Spain.
The Evolution of Basque Cuisine
In the Middle Ages, the Basque people had a humble diet of locally grown grains, legumes, and fruit. Over time they started to consume more seafood, and after the colonization of the Americas, they started to integrate foods like corn, tomatoes, and peppers into their cooking.
During the Industrial Revolution, Basque cuisine was heavily influenced by French chefs. It didn't develop much during the Franco regime (1939–1975), as the dictatorship sought to erase the unique culture that distinguished Basque people from Spaniards. But once democracy was established in the 1970s, a new era of innovation began.
New Basque Cuisine
New Basque Cuisine, or Nueva Cocina Vasca, was pioneered by chefs Juan Mari Arzak and Pedro Subijana beginning in the late 1970s. They combined inspiration from French Nouvelle Cuisine with local ingredients and traditions, creating a culinary movement that put the Basque Country on the gastronomic map.
If you've ever heard of molecular gastronomy, you're familiar with the style of New Basque Cuisine. The creative concepts and techniques developed by Basque chefs have conquered the world, and today their influence can be felt far beyond this relatively small region of Spain.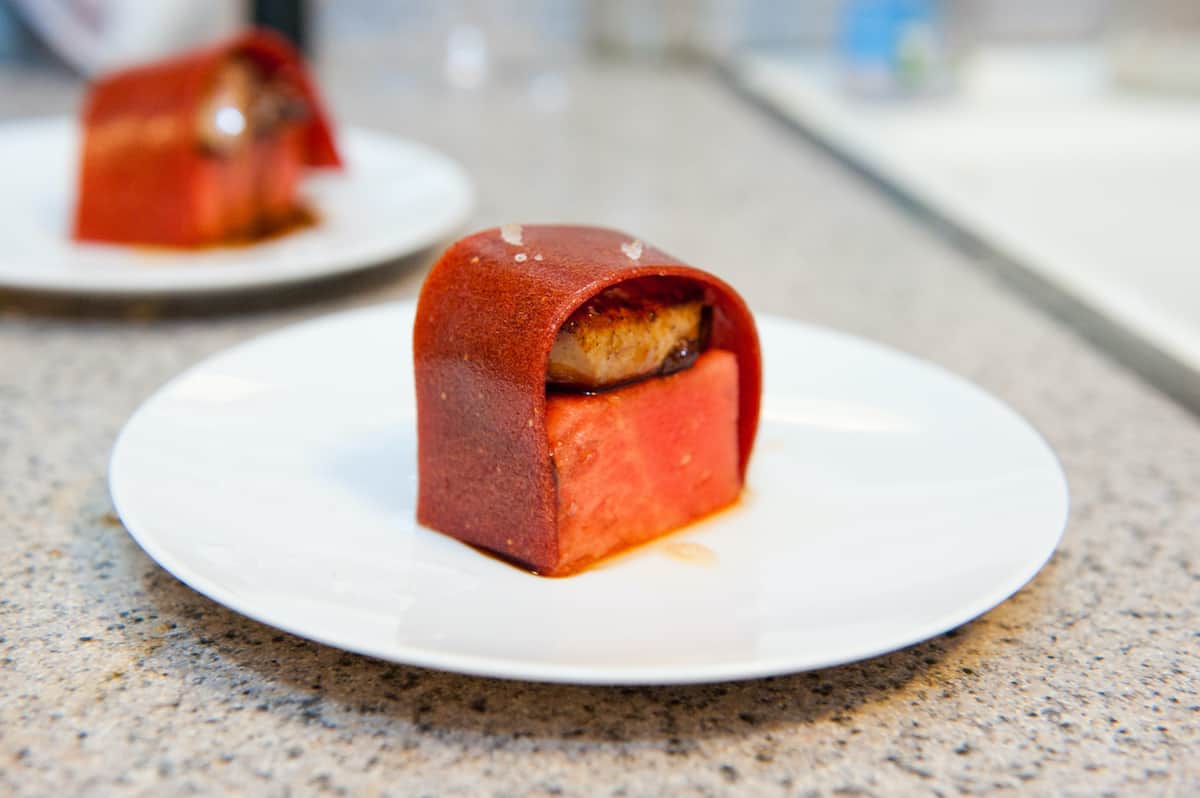 But despite its worldwide prestige, Basque cuisine stays true to its roots. Visiting the Basque Country could mean eating Michelin-starred creations while standing shoulder-to-shoulder with locals in a crowded bar, picking pintxos off the counter to pile on your plate, or digging into hearty dishes that are a far cry from the minimalistic masterpieces of Arzak or Mugaritz.
Famous Basque Chefs
I've already mentioned the founders of New Basque Cuisine, Juan Mari Arzak and Pedro Subijana, but they're not the only culinary superstars hailing from the Basque country. Martín Berasategui and Eneko Atxa are also practically household names (if you live in a food-obsessed house, anyway).
These four chefs, together with Karlos Arguiñano, Hilario Arbelaitz, and Andoni Luis Aduriz, founded the Basque Culinary Center in San Sebastian, which combines top training programs with a center for research and innovation. These chefs and many others collaborate in order to advance and preserve Basque cuisine.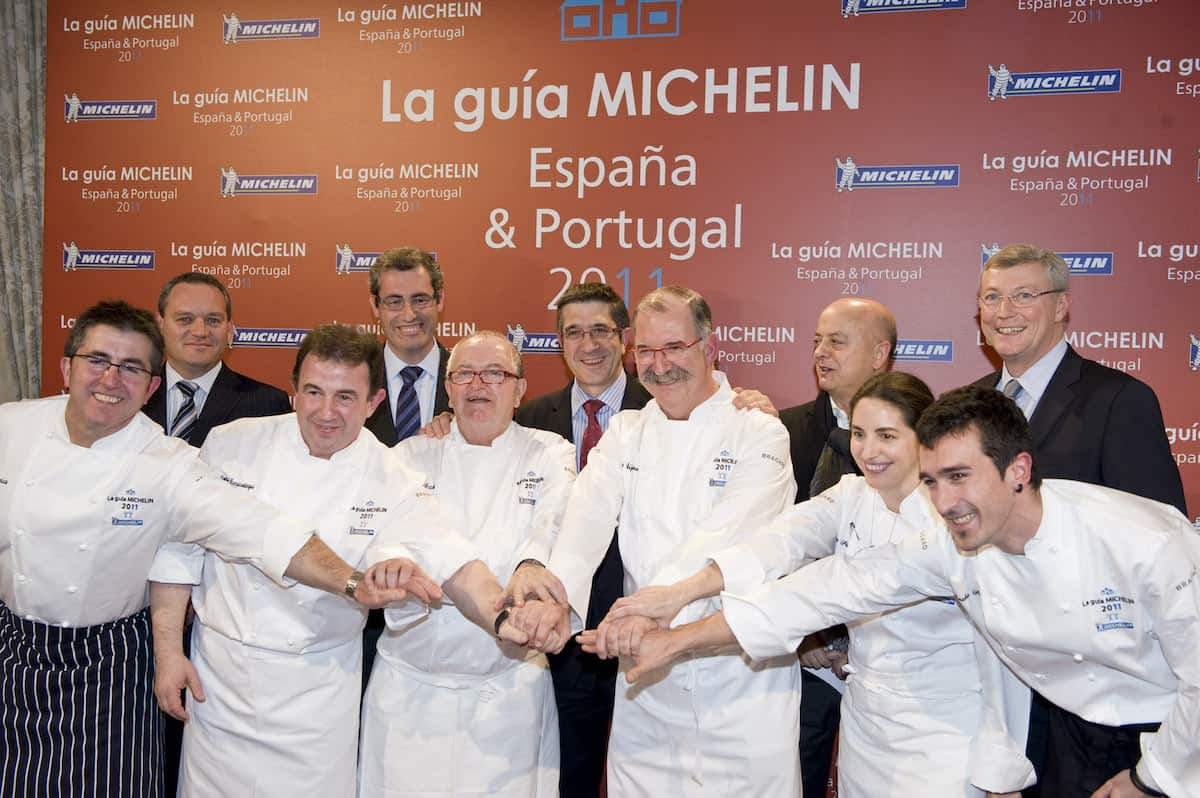 A New Generation of Innovation
In recent years, other Basque chefs have also gained international attention. Elena Arzak, Juan Mari Arzak's daughter and co-head chef at their legendary family restaurant, has been recognized as one of the world's best chefs. And chef Josean Alija has made waves with his avant-garde cuisine at Nerua, located inside Bilbao's Guggenheim Museum.
Local Basque Products
Basque food includes everything from tuna stew and salt cod to burnt cheesecake and sparkling cider. It's a unique and eclectic cuisine—but one thing that all Basque dishes have in common is locally sourced ingredients.
The Basque Country is home to several unique products. Many of them come from the nearby coastline; locally caught tuna, shellfish, anchovies, squid, and other types of seafood figure prominent on most menus. Meat is also common—especially the famous cured ham, jambon de Bayonne (which comes from the Bayonne region of Basque France).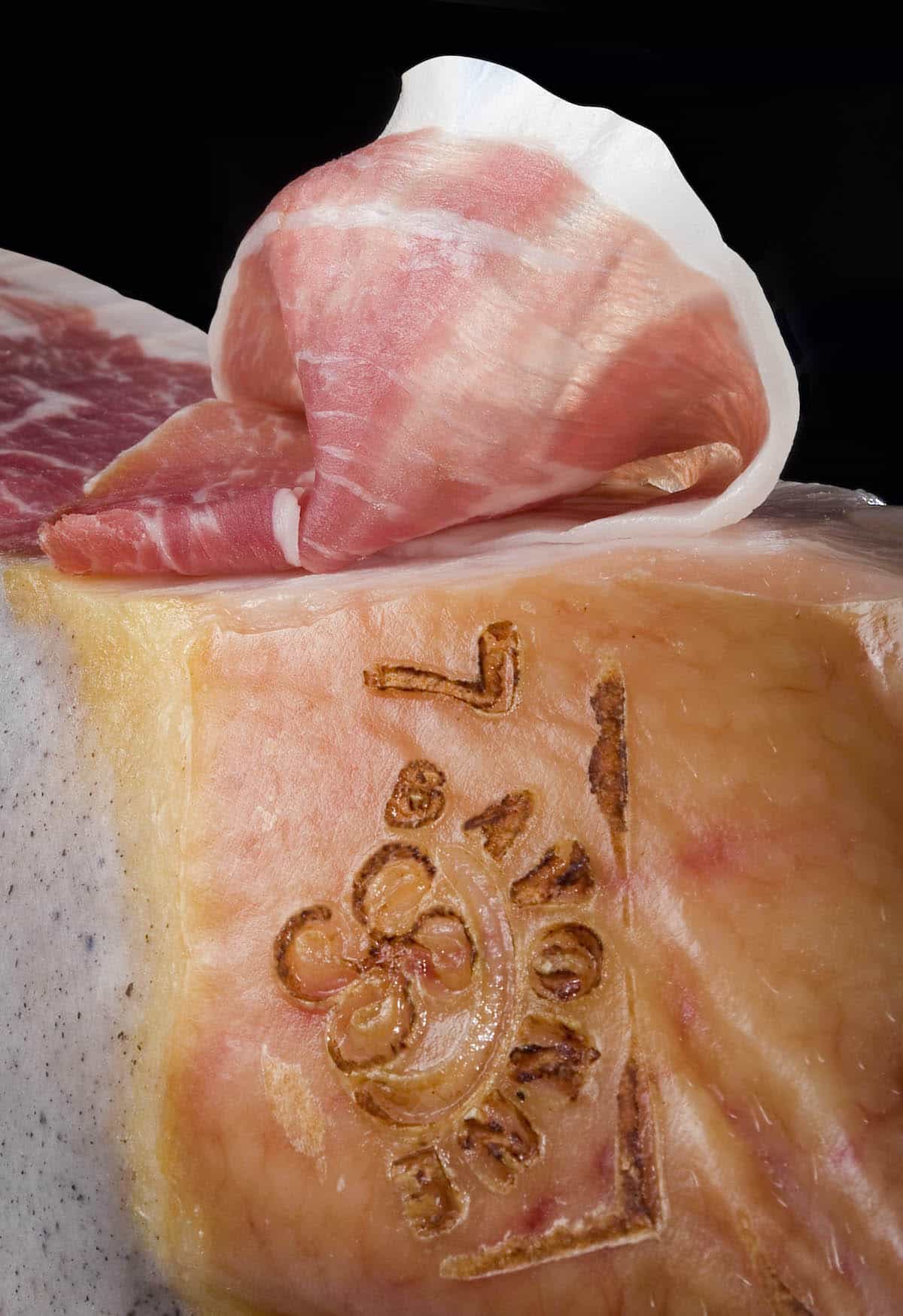 Lots of local recipes rely on seasonal produce like peppers, potatoes, and cherries. The Espelette pepper is so integral to Basque cuisine that it has its own festival, held in the French town of Espelette each October.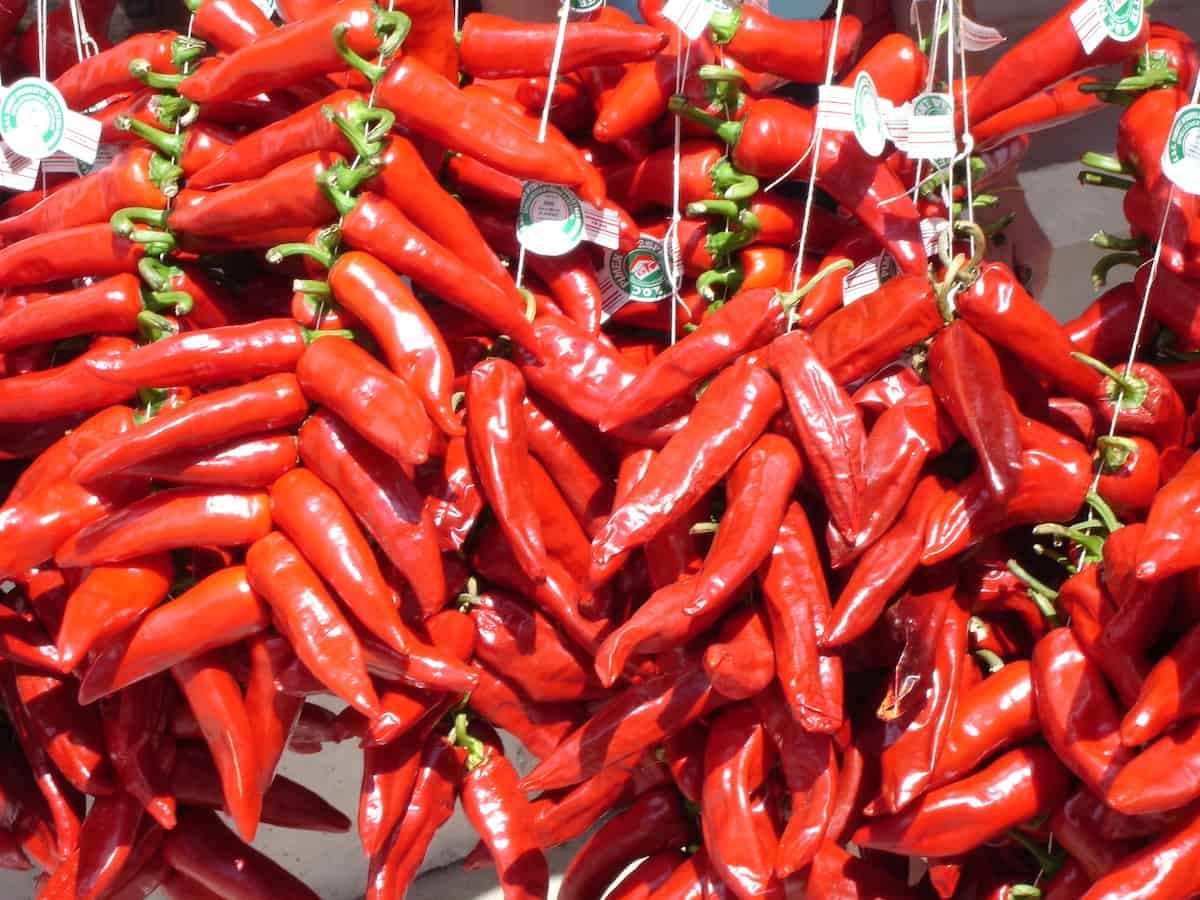 Finally, there's the iconic Idiazabal cheese. This rich and smoky cheese is made from unpasteurized sheep's milk and named after the town of Idiazabal in Gipuzkoa. I'll never forget my first bite of the impossibly creamy Idiazabal risotto at Borda Berri in San Sebastian.
Traditional Basque Dishes
The high-quality local products of the Basque Country are integral to its most famous dishes. To start with, there's marmitako, a stew that combines tuna with potatoes, peppers, tomatoes, and a splash of txakoli—make it at home with this easy marmitako recipe.
Other seafood specialties include kokotxas (hake cheeks), bacalao a la Vizcaína (cod in a red pepper sauce), bacalao al pil pil (cod cooked in olive oil and garlic), merluza en salsa verde (hake in green sauce), txipirones (baby squid cooked in squid ink), ttoro (fish stew), angulas (baby eels), percebes (goose barnacles), txangurro (spider crab), and many, many others.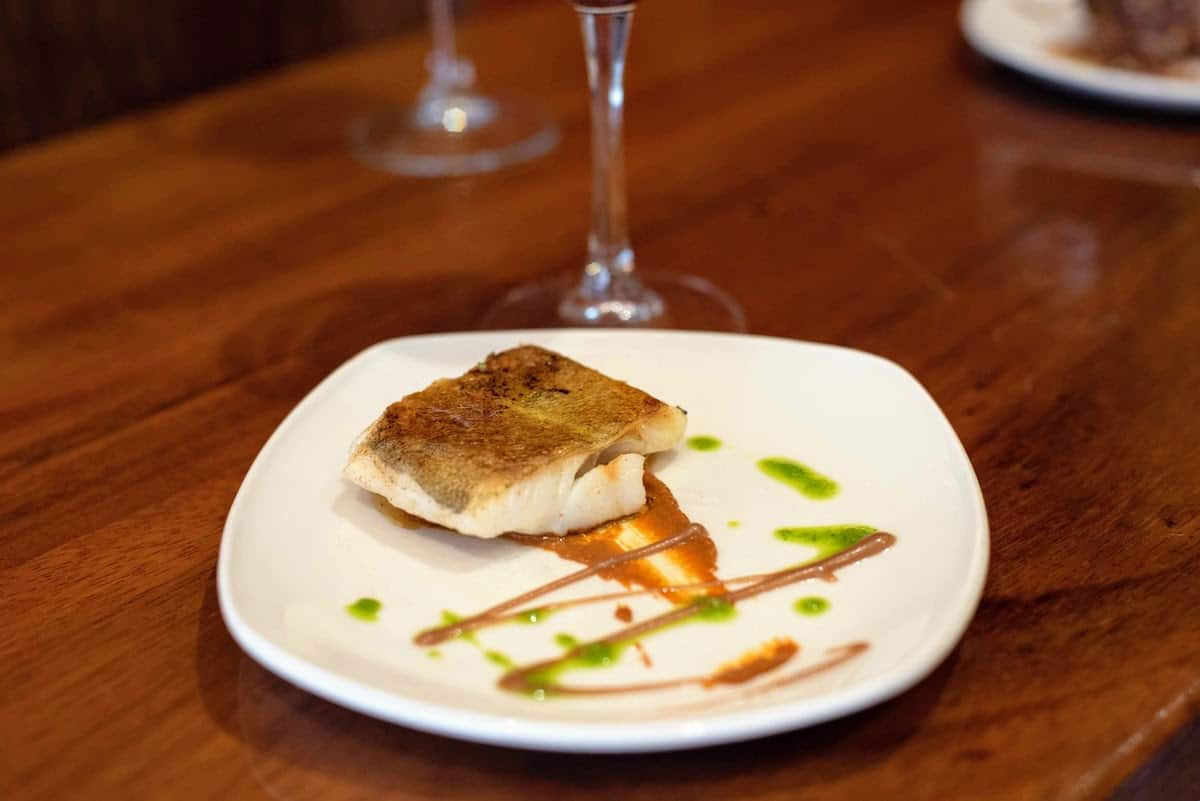 Apart from seafood, there's pollo al chilindrón (chicken stew with peppers, tomatoes, and cured ham), alubias de Tolosa (black beans with onion, pepper, pork, and blood sausage), and lamb stew. Noticing a pattern? Warm, hearty dishes are definitely a staple of Basque cuisine.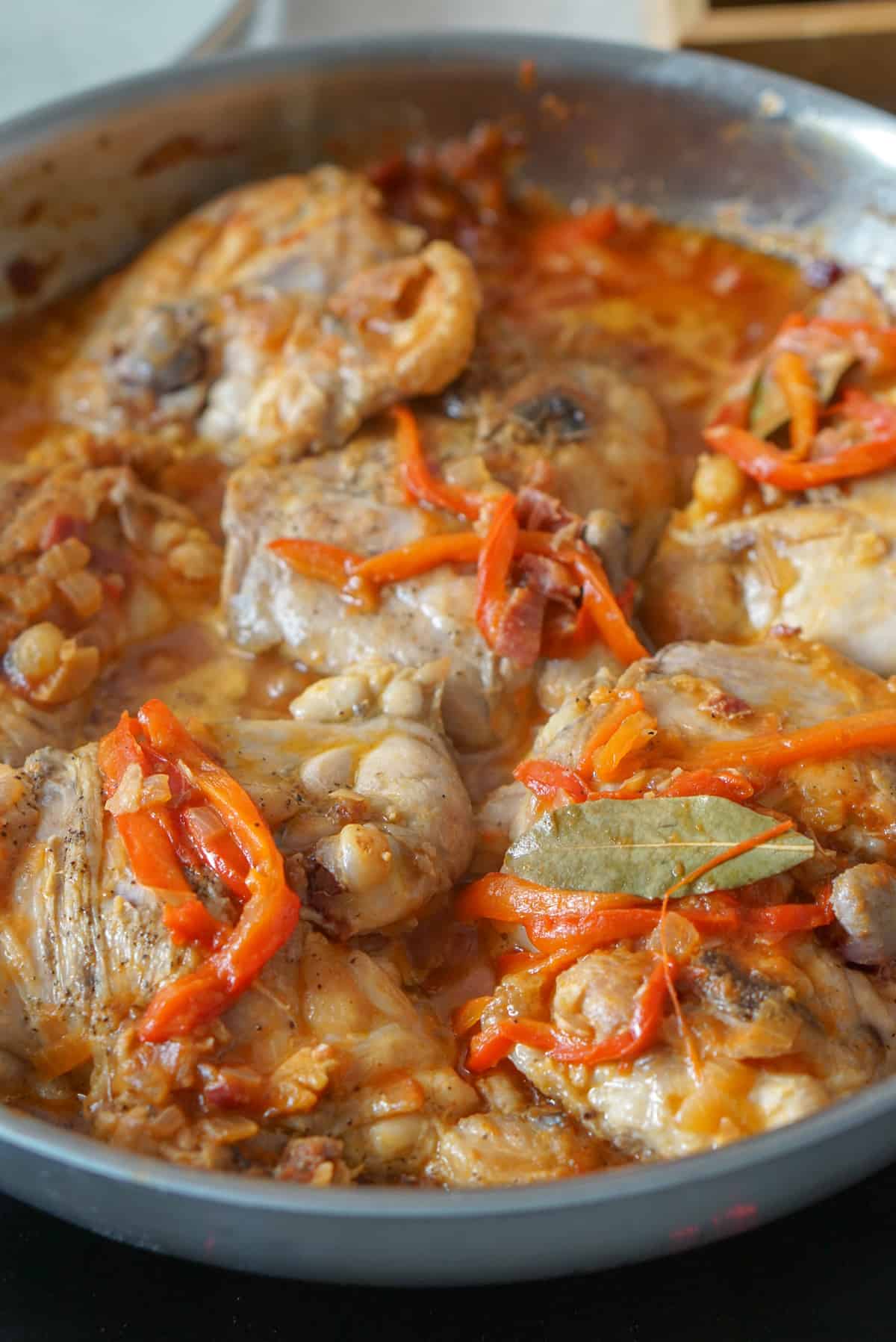 However, some of the most recognizable local specialties are exactly the opposite. Pintxos (spelled pinchos in Spanish) are small plates that allow you to try a bit of everything, instead of filling up on just one dish. They can be hot or cold, prepared to order or pre-made… but they're always delicious.
On your way to Basque Country? Don't miss our guide on Where to Eat in San Sebastian.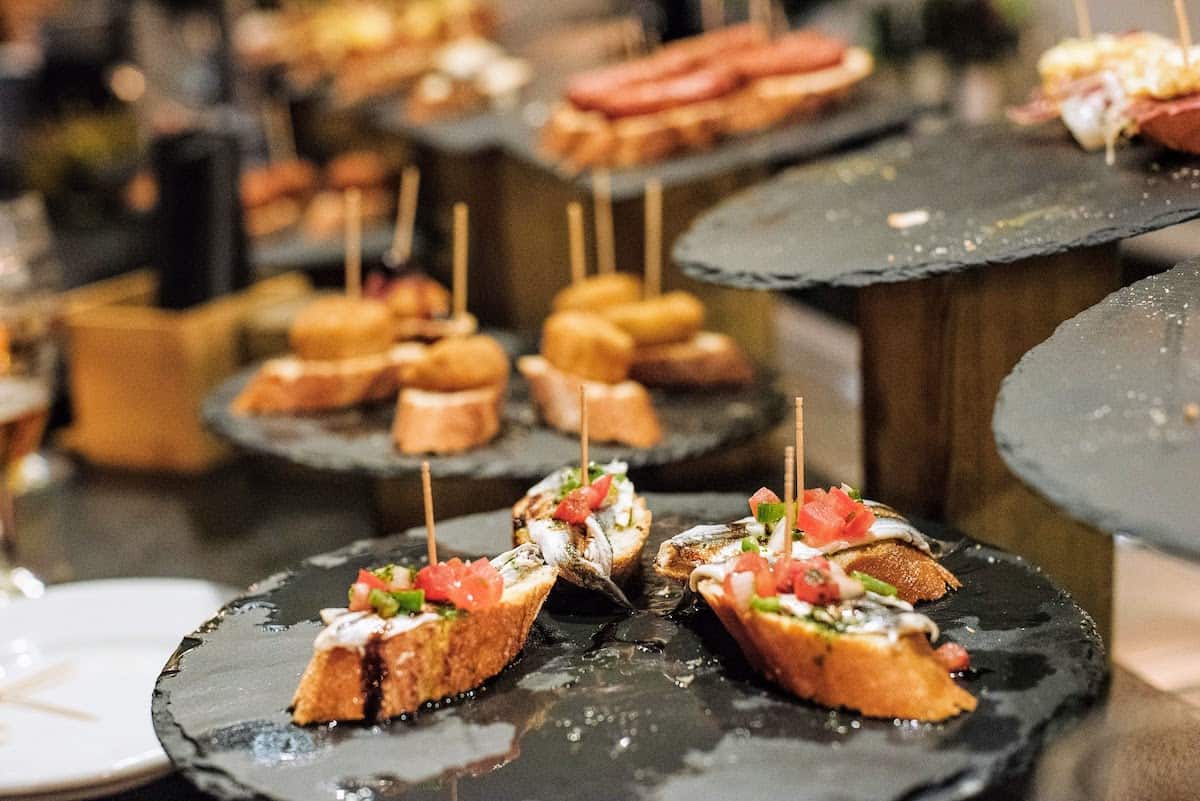 Famous Basque Desserts
Finally, there's the wonderful world of Basque desserts. The most legendary is burnt Basque cheesecake, which has become a pop-culture phenomenon thanks to some high-profile praise.
But there's more to Basque sweets than cheesecake; take Gâteau Basque, a custard-filled cake with a pastry crust, or mamia, made of curdled sheep's milk (it's better than it sounds).
Popular Basque Recipes
Every food-obsessed traveler should put the Basque Country at the top of their list. But when travel isn't an option, recreating Basque cuisine at home is the next best thing. And although this region is home to some of the world's best chefs, its best recipes are refreshingly simple.
Let's start with pintxos: the ultimate party food. To make the most basic version, all you need is some sliced bread, toothpicks, and whatever you want to put on top. If you need some inspiration, check out our round-up of the best pintxos recipes.
My personal favorite pintxo? Anything involving anchovies. I'm an especially big fan of gildas: small skewers of olives, peppers, and anchovies.
Beyond Pintxos
Other Basque-inspired snacks include salt cod croquettes and talos, a kind of corn flatbread that's popular throughout northern Spain. And when it comes to main courses, you can't go wrong with marmitako or pollo al chilindrón.
You'll be happy to know that the most famous Basque desserts are surprisingly easy to make! Check out this tried-and-true recipe for burnt Basque cheesecake. Or for an equally indulgent treat, try making Gâteau Basque at home.
Whatever you do, make sure to have a good bottle of Basque wine on hand to enjoy while you cook!
Basque Pintxos Culture
I've already introduced the concept of pintxos: small dishes that you'll find at bars throughout the Basque Country and the rest of Spain. But these delicacies deserve a bit more explanation, because they're also linked to some of the best parts of Basque food culture.
The classic pintxo consists of a small slice of bread with various toppings, secured in place by a toothpick. They're often piled on the bar, ready for you to pick and choose as you please. But don't assume that this is the extent of your options; most bars in the Basque Country also have a menu of made-to-order pintxos that are even more delicious.
Basque Bar Hopping
If the idea of a tapas crawl excites you, you'll love txikiteo. This is the Basque tradition of hopping from bar to bar, having a few pintxos at each place accompanied by a txikito (small glass of wine), zurito (small beer), or another drink.
It's my personal favorite way to enjoy Basque food culture, as it allows you to try lots of dishes and visit several places in one night.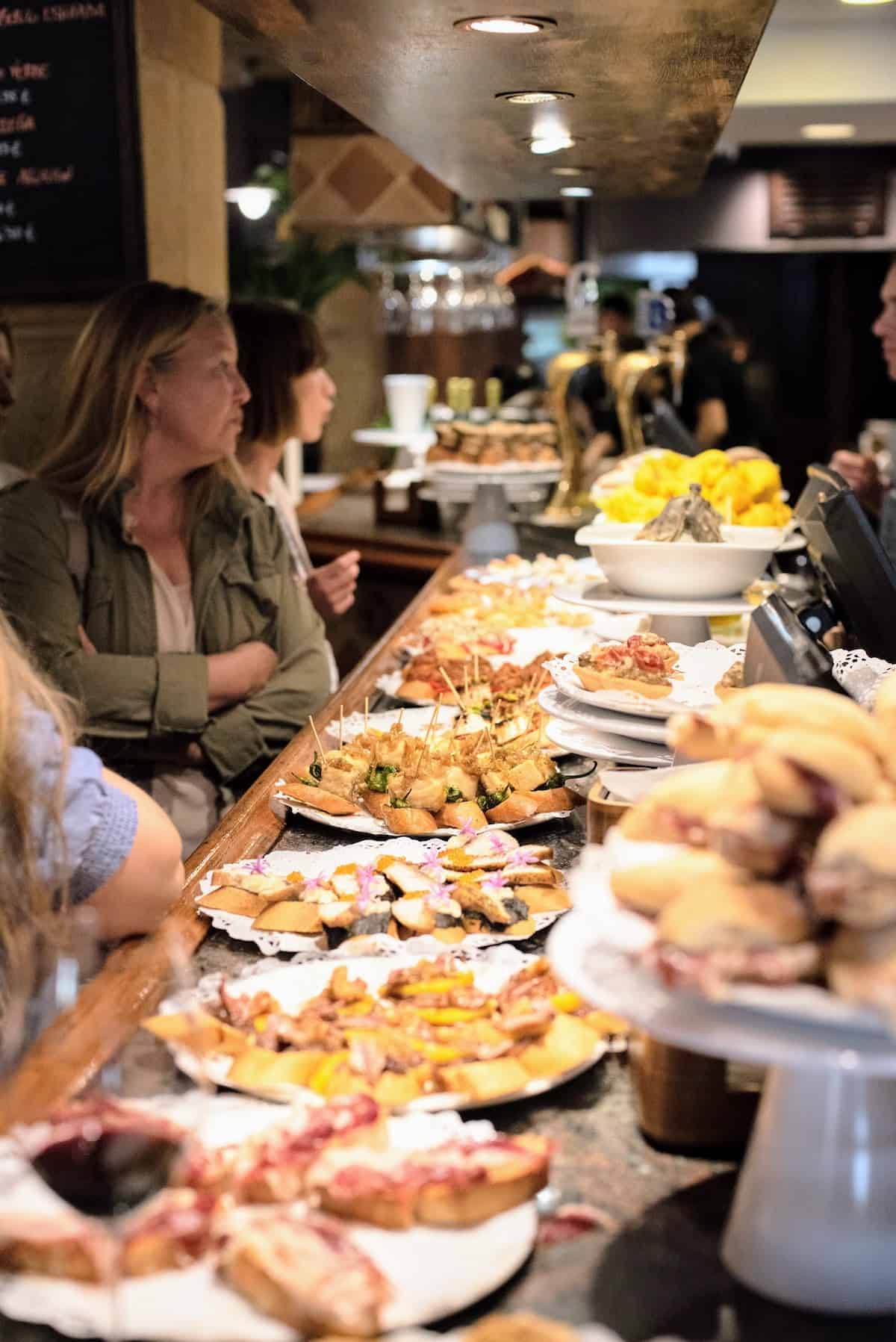 If you're dreaming of a trip to the Basque Country and want to start planning your txikiteo, check out some of the top places for pintxos in San Sebastian and our Bilbao pintxos guide.
Basque Cider Houses
If you're visiting northern Spain between January and May, you absolutely cannot leave without going to a Basque cider house. Sagardotegia (Basque for "cider houses") originated in the 11th century as places where people would go to taste each year's batch of sidra.
Basque cider is crisp, tart, and a far cry from the sugary, alcoholic apple soda you'll find in most other countries. At an authentic Basque cider house, you can still fill your glass in the traditional way, straight from the taps of big wooden barrels.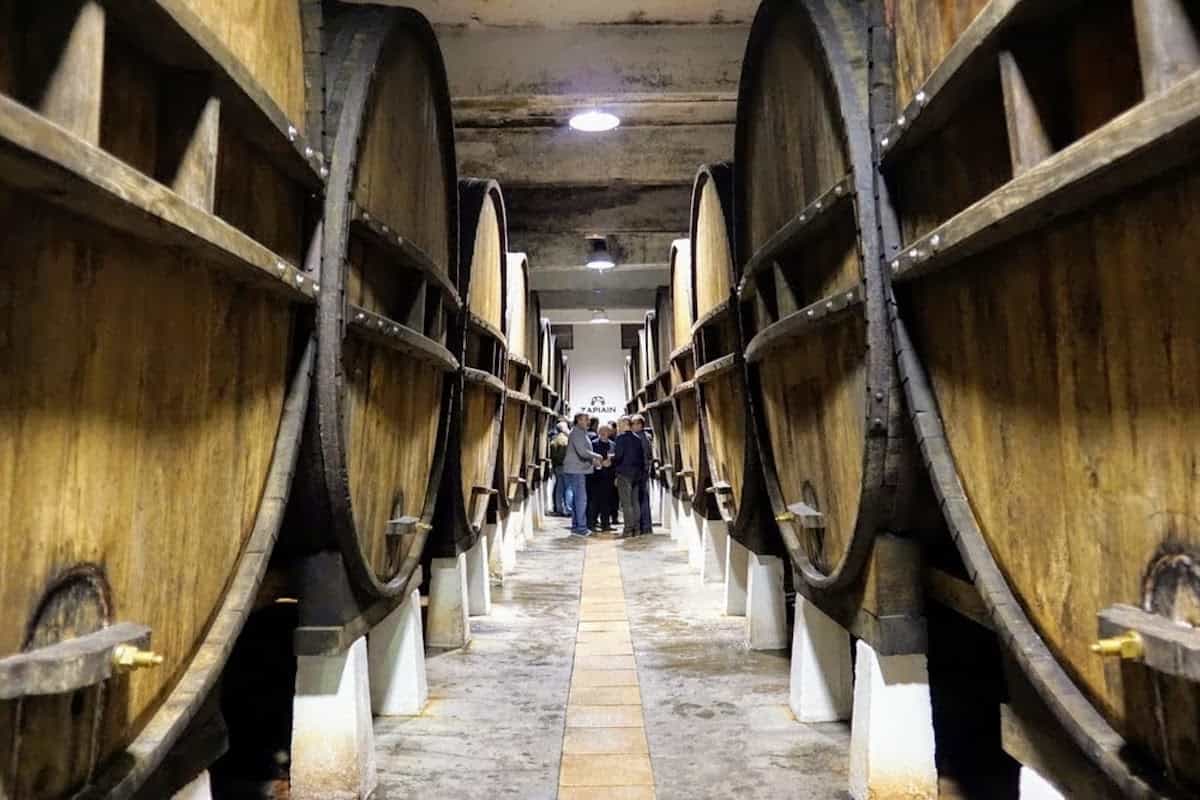 What's on the Menu?
Basque cider houses are all about tradition, and that extends to the food. The menu is almost always the same: tortilla de bacalao (salt cod omelet), txuleta (a giant T-bone steak cooked rare), and Idiazabal cheese with quince jelly and walnuts. Sometimes there's also a course of codfish with peppers and onions.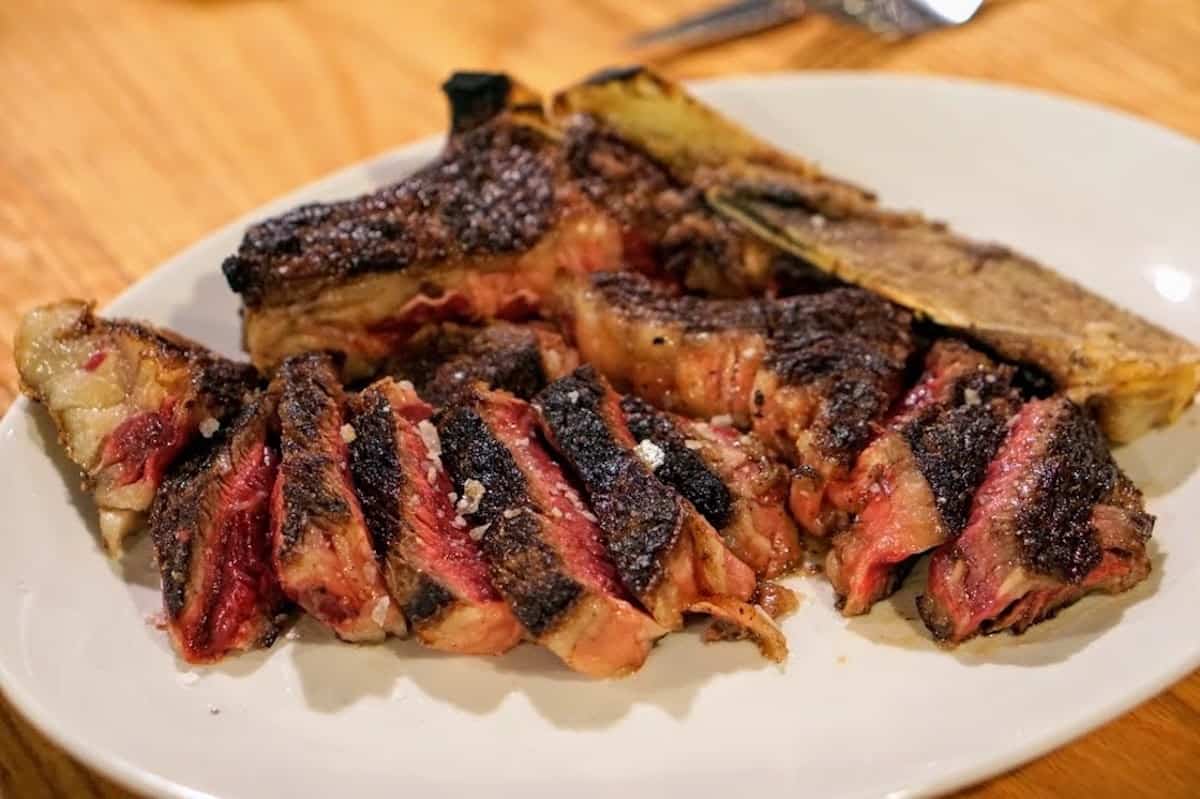 Despite this mouth-watering menu, it's important to point out that sagardotegia are not restaurants. They're extremely informal and often unheated – and don't even think about asking for any substitutions. It's all part of the Basque cider house experience, so go in with an open mind (and an empty stomach).
Basque Gastronomic Societies
Beyond the tourist-filled streets of Basque cities, there's a secret world of locals-only havens where food reigns supreme. Basque gastronomic societies, or txokos, are century-old clubs that revolve around cooking. They're places for members to gather, socialize, and connect through the preparation and enjoyment of good food and drinks.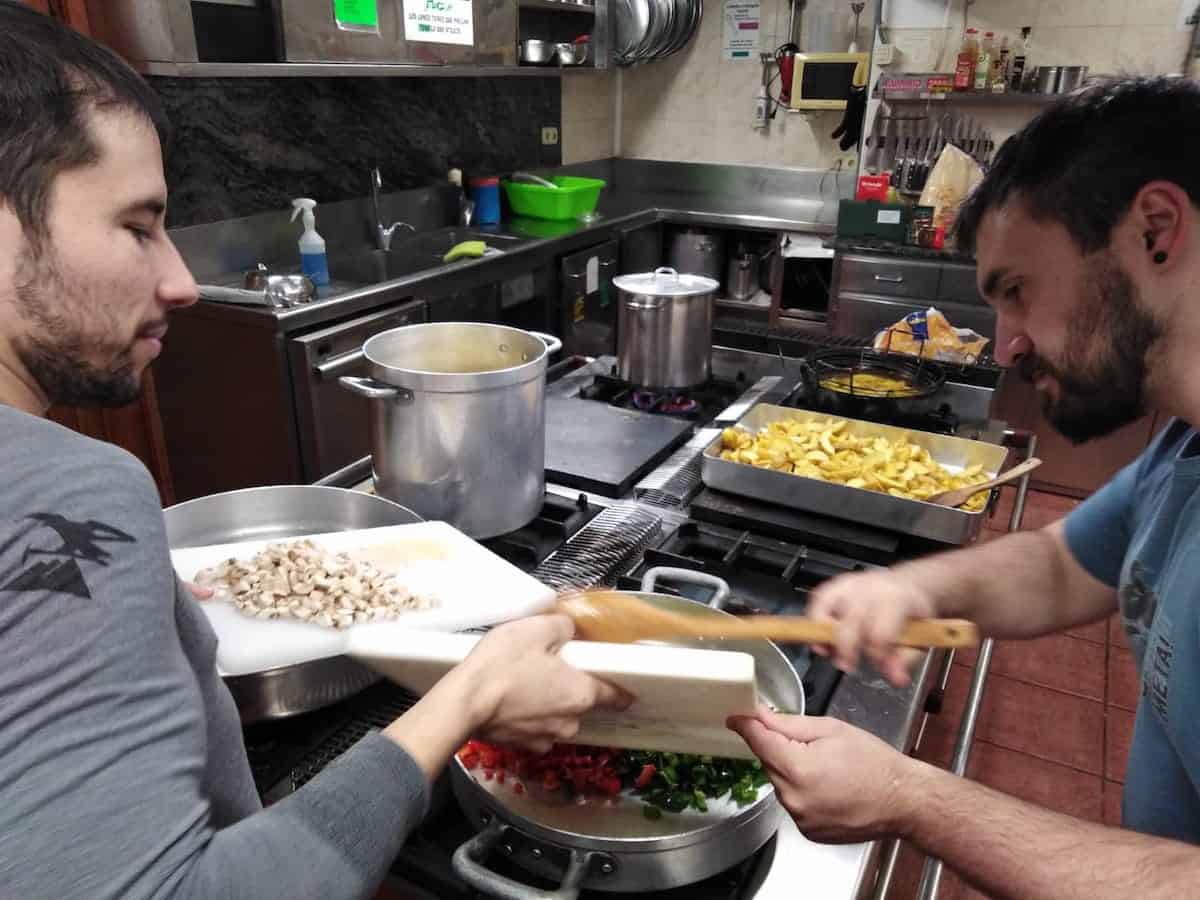 Txokos are traditionally only open to men, although in recent years some have started to allow women to visit or even join. They're engaged in a constant push-and-pull between the past—which is integral to their identity—and the future. And they're inextricably linked to the current of culinary excellence that runs through the Basque Country's veins.
Basque Food FAQs
Where does Basque food come from?
Basque food comes from the Basque Country (Euskadi or País Vasco), which is a region of northern Spain (culturally speaking, it also extends into France). It encompasses the provinces of Álava, Biscay, and Gipuzkoa, and the cities of Bilbao, San Sebastian, and Vitoria-Gasteiz, among others.
What is the difference between pintxos and tapas?
In some ways, you might say pintxos are the Basque version of Spanish tapas: small dishes that are often meant to be shared. The main difference is that pintxos highlight specific Basque products, recipes, and traditions. The classic version consists of a slice of bread with toppings fixed in place with a toothpick, but they come in many different forms.
How is Basque food different from Spanish food?
Basque food reflects the unique culture and heritage of the Basque Country, which is distinct from that of Spain. It relies on local products that are only found in the region, such as Idiazabal cheese and Espelette peppers. It also leans heavily on seafood and stews.

The singular culture surrounding Basque food includes traditions like cider houses, txikiteo (pintxos bar hopping), and exclusive gastronomic societies, as well as recent innovations by world-famous chefs who have spearheaded the molecular gastronomy movement.
When is the best time to visit Basque Country?
It depends on what you're looking for! If you want good weather, go in the summer, when you can fully enjoy the beaches and beautiful natural surroundings. To avoid the busier tourist season, plan a trip for June or September. But if you want to visit a Basque cider house, you'll need to visit between January and May.

If you'd like to tour some wineries and maybe catch the San Sebastian Film Festival, aim for autumn. And if you want to cozy up with some Basque cider and hearty food, a winter escape is ideal—it'll be cold and rainy, but also less crowded!
Are there any Basque food festivals?
Yes! First of all, there's Aste Nagusia, or Semana Grande, which takes place in Bilbao and San Sebastian in August. Although it's not primarily a food festival, this massive celebration includes gastronomic competitions so you can taste the best of the Basque Country.

You'll also find lots of incredible local food at San Sebastian's Tamborrada, a vibrant drum festival held every year on January 20.  

There are several regional festivals centered around wine, such as the txakoli grape harvest festival that takes place in Zarautz in September. For a truly unique experience, attend the Batalla del Vino (Battle of Wine) in Haro, in the neighboring province of La Rioja. 

If you're more into the theoretical side of things, check out the San Sebastian Gastronomika conference, which features talks by famous chefs and culinary experts.
Hungry for more? Sign up for my free weekly newsletter and receive a new Spanish recipe once a week! Join today and get my FREE Spanish ingredient essentials guide!