It was the evening before my birthday and I wanted to have an early birthday dinner, knowing that the next day we would be exhausted after our day trip to France from San Sebastian. My craving? I wanted the best steak in San Sebastian!
I carefully researched places to eat a great steak in San Sebastian, finally deciding on Txuleta, a popular steakhouse near our rental apartment. But upon calling for a table, we were disappointed to find out it was completely booked for the entire evening! I should have realized-- it was a Friday night and a holiday weekend (my birthday conveniently falls on "Spain Day"), and that's when things started looking bad...
Option two was Gandarias Jatetxea (also great reviews, and now one of my favorite San Sebastian restaurants), and they had a seating-- at 11:15 pm! Somehow, I just couldn't imagine rolling into bed at 2:00 am with a T-bone steak in my stomach, so we let that one go to another lucky caller.
I was just about to give up hope and was feeling quite sad about our prospects when Alejandro's searching skills came up with Casa Urola. A quick search on my part (I had to double check his skills!) came up with a nice website, good reviews, and moderate prices (for a T-Bone steak in San Sebastian!). We booked right away.
We had no problem getting a 10:00 reservation, nor any problems changing it to 9:30 when we realized we were starving.
Casa Urola is located on one of the main pintxo bar streets, and the downstairs bar area was buzzing with people eating pintxos and sipping txakoli. We were directed upstairs, where a comfortable table in an intimate dining room awaited us.
Update! As of Spring 2017 my company, Devour Tours, offers an incredible San Sebastian Pintxos Tour. We eat our way through the best pintxos bars in the old town, and learn the history and culture of the Basque people along the way!
Our server was brusque but pleasant, and they had the menus in English which was nice for my parents. We were comfortable from start to finish and the food was delicious, which is just what we'd been looking for. Expect to spend about 45€-65€ per person, depending on the appetizer, wine, and dessert choices, but it is definitely money well spent.
A birthday meal at Casa Urola, San Sebastian
We started with a mixed plate of tuna belly, anchovies, roasted Morron peppers, and small Basque peppers called piparras. Everything was top quality and delicious.
Ventresca de atún 
Local anchovies
Roasted pimientos morrones with piparras
We ordered the rest of the appetizers along with our entrees, which may be unconventional, but it worked for us! My parents (like most visitors to Spain) didn't quite understand that rice and vegetable dishes are appetizers, or first courses, rather than side dishes. But credit goes to Casa Urola for not making us feel bad for eating unconventionally, as some places do!
Rice with clams (only available when in season).
Stir-fried local green beans with hake and a delicious cream sauce.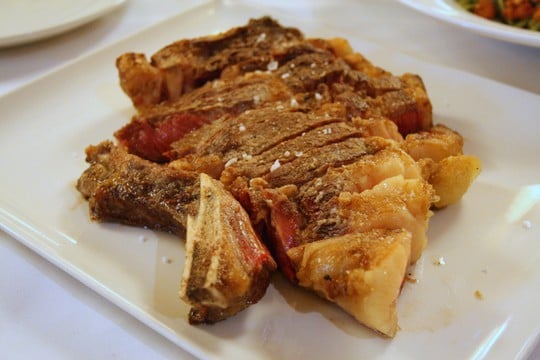 The famous T-bone steak (txuleta).
Chocolate and hazelnut molten soufflé with fresh milk ice-cream and raspberry coulis.
Old-fashioned caramelized french toast with white coffee ice-cream.
Guetaria Aroa strawberries with almond biscuit and passion fruit cream, fresh milk ice-cream and txakoli wine and berry infusion.
Everything was absolutely delicious and even though I came for the steak (which was wonderful) the most impressive things I tried were the green beans (oh that sauce!) and the strawberry dessert. The green beans even made my Best Bites of 2013 post (and the strawberries probably should have). I'm missing pictures of my father's ribeye steak and my mother's fish, which were both also excellent.
Overall, we left Casa Urola happy and satisfied, just how you should after a special meal. If you are looking for a great place to eat steak in San Sebastian, don't hesitate to try it!
See also: Check out my recently updated San Sebastian food guide for all the top tips
Casa Urola
Fermin Calbeton Kalea, 20
Devour San Sebastian: Don't miss our food tours and pintxos tours in San Sebastian-- a great way to visit the city and eat some incredible local food!