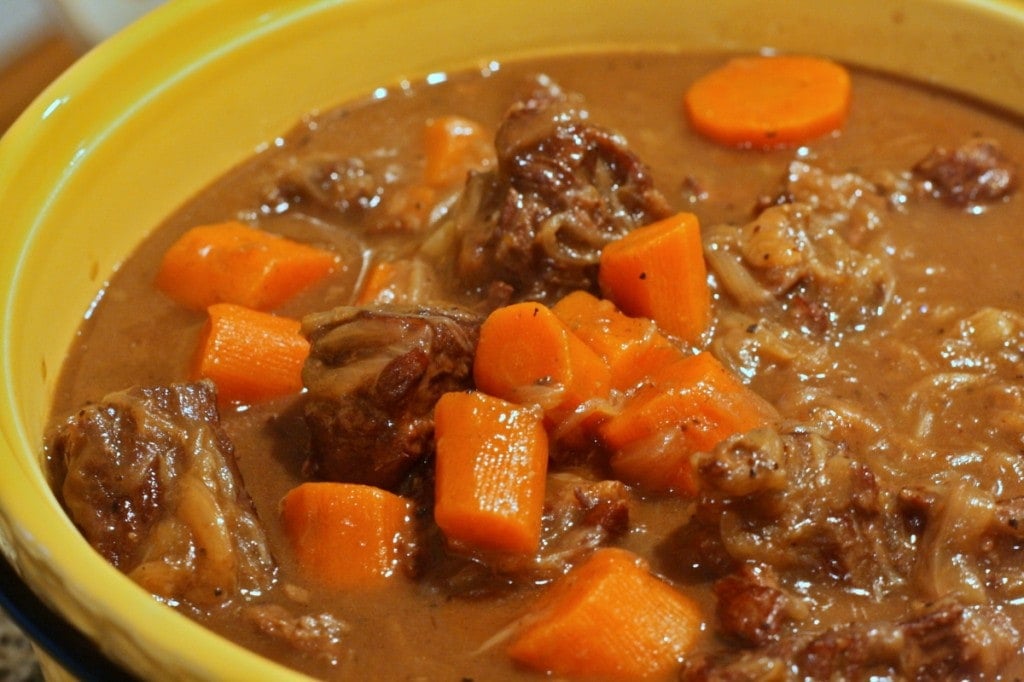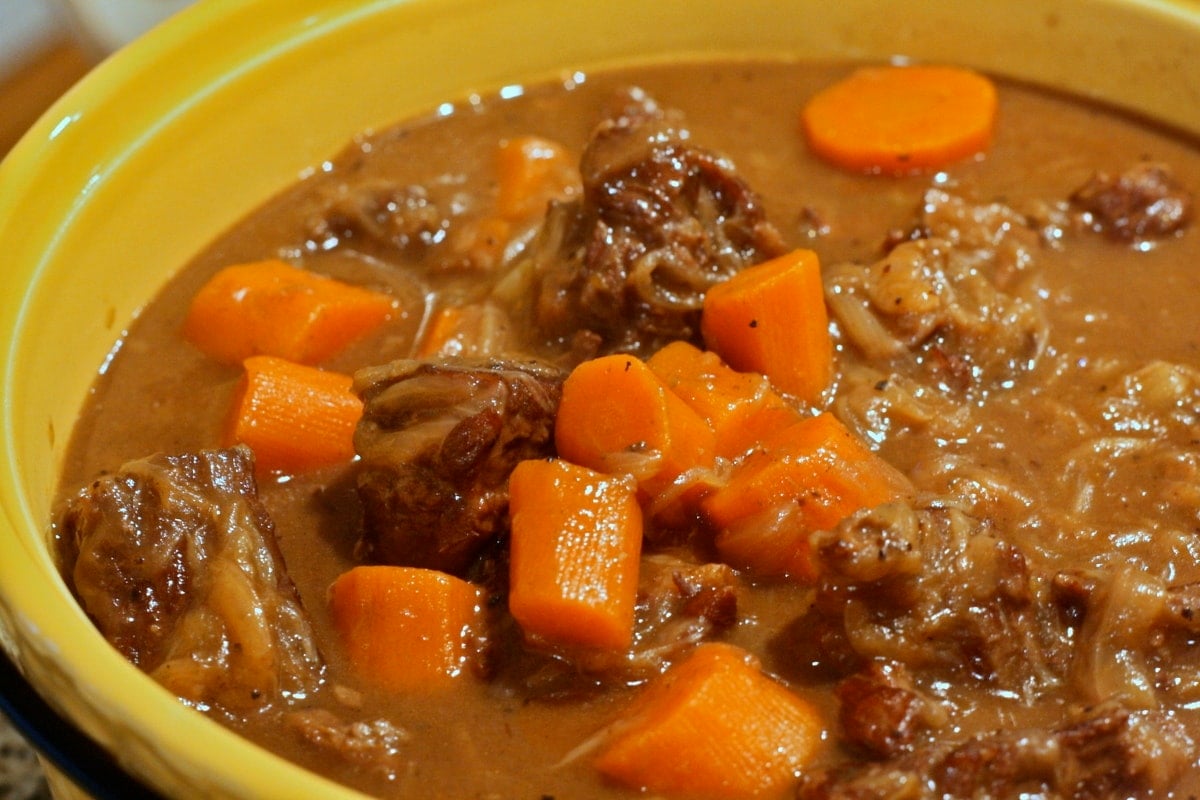 One of the big benefits to living in Spain is the amazingly cheap and delicious wine selection. Some of my personal favorites come from the Ribera del Duero region in Castile y León. When out at night I generally pay between €1,10-€3,00 per glass, although on the lower end you never know quite what you are getting and it is often served cold, a practice I found startling at first but soon got used to!
A benefit to good cheap wine, besides being able to drink it whenever you want, is that you can cook with it without feeling that twinge of guilt while pouring it into the pan. There are multitudes of recipes that use wine, both white and red, but today I had a craving for something I'd seen Anthony Bourdain make once on his show: Boeuf Bourguignon. It sounds fancy, but really it's just beef stew and his version is simple and delicious.
Despite not being the season for a stew, I made it tonight and it came out wonderfully. Here is my modified version of Bourdain's  Boeuf Bourguignon recipe. Bon appetite!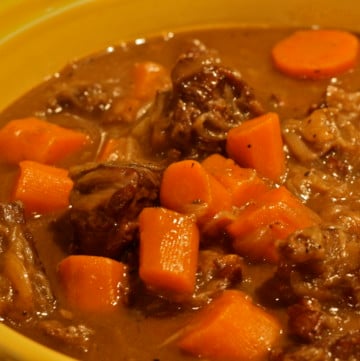 Ingredients
1.5

lbs.

of a stewing beef

I used chuck cut into 1.5 inch pieces

Olive oil

Salt and pepper

2

large onions

thinly sliced

1.5

T

flour

4

large carrots cut into 1 inch pieces

1-5

cloves

garlic

depends on you, thinly sliced

Fresh herbs

such as thyme, bay and parsley

1

cup

red wine

traditionally a burgundy but I use what is on hand!

1

beef bouillon cube/packet

optional
Instructions
Cut your carrots into 1-inch pieces and thinly slice your onions and garlic. Having everything ready beforehand makes the actual cooking very fast.

Pat the beef dry with paper towels (it will sear better) and season generously with sea salt and fresh ground pepper.

Coat the bottom of a heavy pan (preferably a Dutch oven) with olive oil. When it is just about smoking add the beef, searing around 30 seconds per side or until nice and brown (not grey!) When fully seared remove from the pan and set aside. Add the beef in small batches as overcrowding the pan will not allow you to achieve the nice brown crispy sides that you want.

After searing all beef add the sliced onions and give them a good stir to release all of the beef juices from the bottom of the pan. Cook for about 10 minutes, stirring frequently so that they don't burn!

When the onions are nice and brown add the sliced garlic and cook for another minute. Then add the flour and cook, stirring constantly, for 3 more minutes.

Add the wine and try to get all of the good stuff off of the bottom of the pan. Bring the wine to a boil.

Return the meat, carrots, bouillon cube, and herbs to the pot and add enough water to cover the meat by about half an inch. Bring the stew to a boil and then lower to a simmer and partly cover. Allow to simmer for 2-3 hours, stirring about every 15-20 minutes so that it doesn't stick and burn!

Finally enjoy over rice or potatoes and with a big glass of wine, of course! This dish is even better the next day, so make in advance or plan extra for leftovers.
Nutrition
Calories:
603.29
kcal
|
Carbohydrates:
14.94
g
|
Protein:
30.76
g
|
Fat:
41.26
g
|
Saturated Fat:
14.07
g
|
Cholesterol:
120.77
mg
|
Sodium:
168.25
mg
|
Potassium:
810.96
mg
|
Fiber:
2.72
g
|
Sugar:
5.61
g
|
Vitamin A:
10190.66
IU
|
Vitamin C:
7.91
mg
|
Calcium:
68.2
mg
|
Iron:
4
mg
And there you have it. My new go to recipe for easy and cheap Boeuf Bourguignon, courtesy of Anthony Bourdain and excellent Spanish wine! What's your favorite stew recipe?