Wondering what to see in Toledo? Here's a guide to all the city's top sights, from historical landmarks and natural wonders to ancient art and stunning views!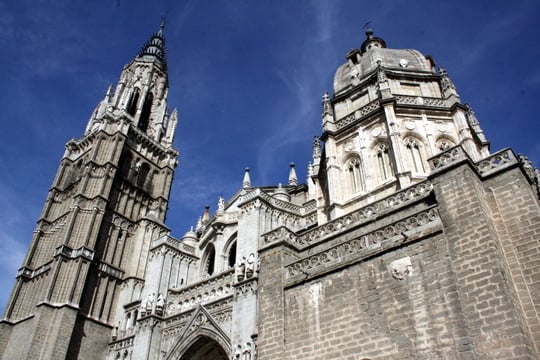 Perched majestically on the banks of the Tagus River, Toledo is a treasure trove of history and culture in the heart of Castile-La Mancha.
Just a short trip away from Spain's capital, this "Imperial City" is undoubtedly the most popular day trip from Madrid. But it can be intimidating to try and fit everything into just one—or even two—days.
To help you prioritize and hit all the highlights, we've rounded up the most essential things to see in Toledo below. We know you'll love this city as much as we do!
Why You Should Visit Toledo
First of all, what makes Toledo worth visiting? This ancient city has an incredibly well-preserved old town, featuring an abundance of historical landmarks and medieval architecture.
It was the capital of Spain until Madrid replaced it in 1561. And at the peak of Spain's Golden Age, Charles V chose it as the main site of his court. But Toledo's history stretches much farther back than that—it was originally founded by the Romans in 192 BC!
Toledo is also known as the "city of three cultures" because of its Christian, Muslim, and Jewish historical influences. This means you can visit impressive churches, mosques, and synagogues all in the same day!
In fact, Toledo is small enough to allow you to see the top sights in just a few hours—most are within walking distance from each other. This is one reason why it's such a popular day trip from Madrid.
In addition to the convenience factor, Toledo boasts a wonderfully rich history, beautiful artwork, delicious local cuisine, and some truly spectacular views. It's the perfect place to escape the big city and immerse yourself in Spain's fascinating past.
What to See in Toledo
Here are Toledo's top sights, from ancient landmarks to art museums and beyond!
Insider Tip: The Toledo "Tourist Wristband" gives you access to seven of the city's main monuments for just €12. You can buy it online or at any of the sites it includes!
1. Toledo Cathedral
Toledo's cathedral, officially known as the Primatial Cathedral of Saint Mary of Toledo, is one of the finest in Spain. It represents centuries of work by talented architects and artists.
From its elaborate golden Gothic altarpiece to its Moorish-inspired arches, the entire building is a masterpiece. Don't miss the Baroque altarpiece El Transparente, illuminated by a skylight, and El Greco's famous painting The Disrobing of Christ.
2. Plaza de Zocodover
Plaza de Zocodover is the central square and bustling heart of Toledo, and has served a variety of purposes through the ages. In the past it's been used as a livestock market and even for public executions. Today you can visit the vibrant traditional market held here every Tuesday.
3. Monastery of San Juan de los Reyes
This ornate monastery was commissioned in the 15th century by Queen Isabella I and King Ferdinand II—known as the Catholic Monarchs—to celebrate their son's birth and an important victory in battle. It features both Gothic and Mudéjar elements.
4. Sephardic Museum
This fascinating museum is housed in the El Tránsito Synagogue, which has served as a church, hospital, and military barracks at various points in history. In the 20th century the building was restored and the museum was created to preserve the legacy of Sephardic Jews in Spain.
5. Mosque of Cristo de la Luz
This thousand-year-old mosque is the oldest surviving building in the city, and a stunningly well-preserved example of Moorish architecture. It was converted into a Catholic chapel during the 12th century, with an apse being added to the small square building.
6. Church of San Román
This Mudéjar-style church sits atop the ruins of Visigothic and Roman buildings at one of the highest points in Toledo. Today it houses the Museum of the Councils and Visigothic Culture, which is dedicated to the history and culture of the Visigoths.
7. Synagogue of Santa María la Blanca
Some say this is the oldest still-standing synagogue in Europe. Like many Spanish synagogues, it was turned into a Catholic church in the 15th century. The building represents an interesting blend of Jewish history and Moorish architecture, although it was built under Christian rule.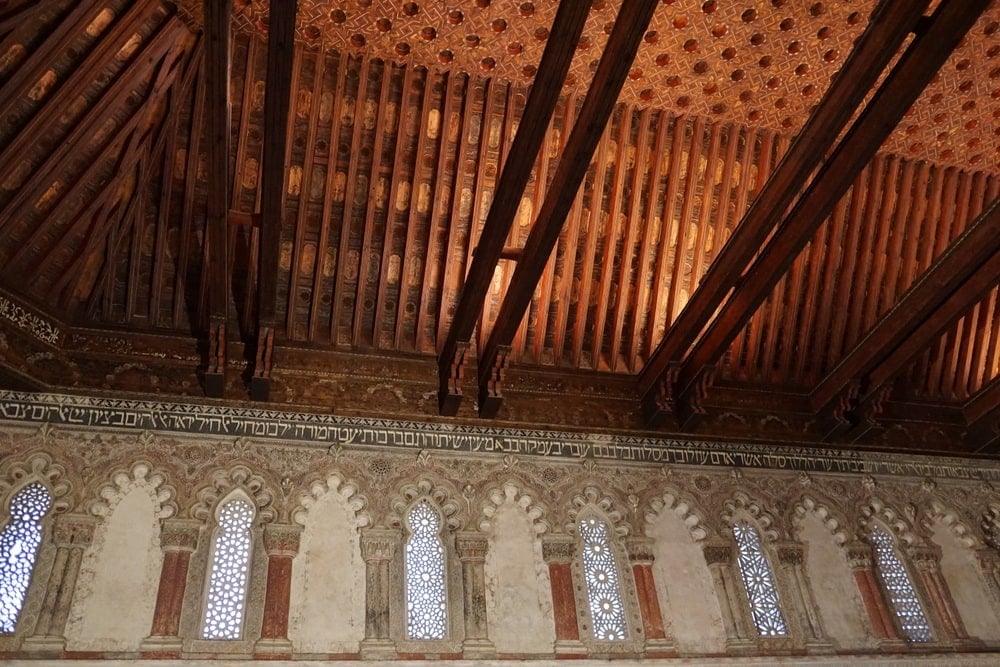 8. El Greco Museum
Whether you're an art expert or not, any trip to Toledo has to include a bit of El Greco's artwork. This Spanish Renaissance painter was actually born in Greece (hence the nickname), but did much of his best work in Toledo.
You'll find El Greco's work in various buildings around the city, but true fans should head to the El Greco Museum in the Jewish Quarter. Here you'll find two buildings full of his finest paintings, as well as other art from Spain's Golden Age.
9. Santa Cruz Museum
This museum is housed in the 16th-century Santa Cruz Hospital, a gorgeous building that blends multiple architectural styles. It has three sections dedicated to archaeology, fine arts, and industrial arts (including local craftwork and other cultural artifacts).
10. Church of Santo Tomé
This church dates to the 12th century, but was totally reconstructed in the 14th century, including the addition of a Mudéjar tower. Inside you'll find an enormous and legendary painting by El Greco—The Burial of the Count of Orgaz—which is a genuine masterpiece.
11. Alcántara Bridge
If you're only in Toledo for a short time, it can be easy to get caught up in hopping between attractions—but don't forget to stop and take in the view! The city's stunning location is one of its true highlights.
For spectacular views of Toledo from below, head down to the river and walk across the Alcántara Bridge. This Roman bridge has sustained all kinds of wartime damage over the years, and has been rebuilt several times (don't worry, it's totally safe!).
12. Alcázar of Toledo
To counter the views from the Alcántara Bridge, head to the highest point of Toledo to see the city from above. This is where you'll find the Alcázar, a massive stone fortress that was once a Roman palace. Today it houses Toledo's Army Museum.
13. Mirador del Valle
This one is technically outside of Toledo, but it's 100% worth it for the views! From here you can see all of Toledo majestically laid out along the Tagus. To reach it from the city center, you can either take a taxi, local bus L71, or the hop-on-hop-off tourist bus—or it's about a 30-minute walk!
The Best Places to Visit Near Toledo
Most tourists only have time to visit Toledo as a day trip from Madrid. If you've got more time, however, it makes an excellent base for exploring the stark beauty of La Mancha.
This largely barren landscape is dotted with castles and windmills, and was famously the setting for most of Cervantes' Don Quixote. It's a place where time seems to stand still.
There are also some lovely small towns worth visiting nearby. Consuegra, less than an hour's drive from Toledo, offers picture-perfect views of 12 traditional windmills perched atop a hill overlooking the town.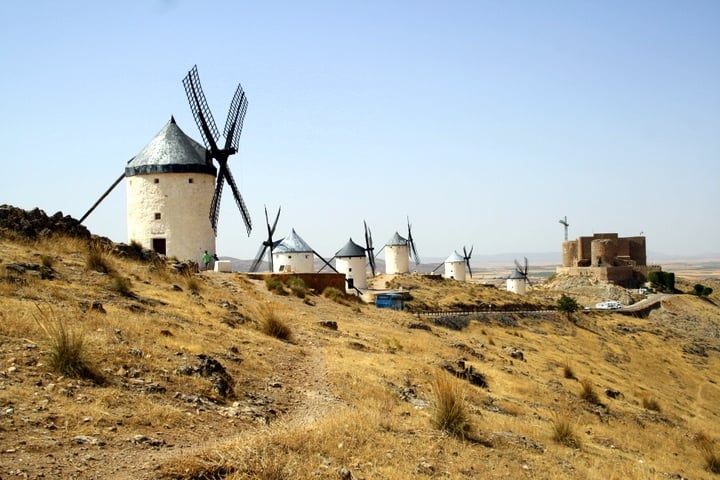 The town of Tembleque is famous for its central square, which reflects the traditional manchego style. (While most people know Manchego as a type of cheese, in Spanish it's also an adjective to describe anything from La Mancha!)
Finally, just to the west of Toledo you'll find the spectacular Barrancas de Burujón. This nature reserve boasts beautiful canyons and dramatic cliffs surrounding the Castrejón reservoir. It's a great place to go for a hike!
The Best Souvenirs to Buy in Toledo
When in Toledo, there are two main things you should shop for: swords and sweets!
For centuries, Toledo was one of the main arms manufacturers for the Imperial Army, and the swords forged in the city became legendary. Today this history is reflected in its many sword shops.
These days, the swords you'll find in Toledo are decorative rather than ready-for-combat. But if you've ever lusted after a perfect Braveheart or Game of Thrones reproduction, you're in luck.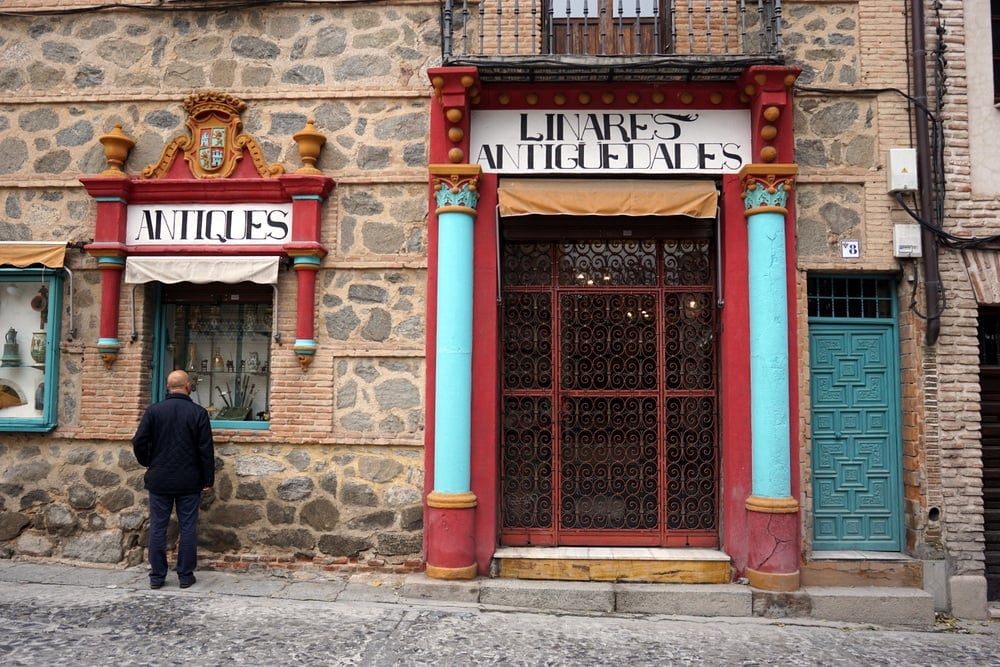 For a more easily transportable (and edible) souvenir, pick up some of Toledo's famous marzipan. This almond-based sweet, known locally as mazapán, even has PGI (Protected Geographical Origin) status.
Santo Tomé may be the most renowned producer of marzipan anywhere in Spain. You can also buy it at the San Clemente Convent, where nuns invented it way back in the 13th century.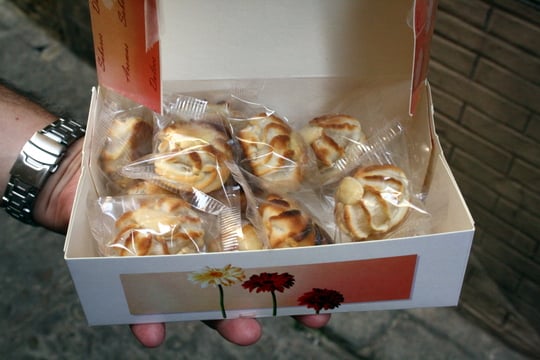 Looking for a great place to eat? Check out our favorite restaurant in Toledo!
How to Get to Toledo from Madrid
The easiest way to get to Toledo from Madrid is the Renfe Avant high-speed train. It leaves from the Atocha station about once every hour, and the journey takes just 35 minutes.
Pro Tip: It's possible for seats to sell out, so consider buying tickets in advance on the Renfe website.
If you're on a tight budget and don't mind a longer journey, you can also take the ALSA bus from the Plaza Elíptica bus station.
Whether you go by train or bus, you'll arrive slightly outside the center of Toledo. You can either walk to the historic center (15–20 minutes) or take a local bus to Plaza de Zocodover. From there, it's easy to explore on foot!
See Also: The Best Toledo Day Trip From Madrid on a Budget
What to See in Toledo FAQs
What's special about Toledo, Spain?
Toledo is a small city that's full of history and local charm! It used to be the capital of Spain, and it's been influenced by various cultures throughout the centuries. There are tons of historical sites to visit, as well as delicious local cuisine and great shopping.
What's the best day trip from Madrid?
If you can only do one day trip from Madrid, make it Toledo. Not only is it super easy to reach Toledo from Madrid, but it's also a fascinating and incredibly scenic city that everyone should visit at least once!
What's the best way to get to Toledo from Madrid?
The easiest way to get to Toledo is to take a high-speed train from Atocha station in Madrid. It only takes 35 minutes and costs €22 round trip (as of 2023). Other options are to take the bus (slightly cheaper, but slower) or to rent a car.
What's the best day of the week to visit Toledo?
If you're trying to pick a day to visit Toledo, keep in mind that some of its attractions close on Mondays. Apart from that, any day of the week works—although you might find larger crowds on the weekend.
What's the Toledo Tourist Bracelet?
This wristband costs €12 and gives you access to the Church of Santo Tomé, Monastery of San Juan de los Reyes, Mosque of Cristo de la Luz, Synagogue of Santa María la Blanca, Church of the Savior, Jesuit Church, and Royal College of Noble Maidens. It's valid for a week, and you can visit each site twice!
Love Spanish food? Sign up for my free weekly newsletter and receive a new Spanish recipe once a week! Join today and get my FREE Spanish ingredient essentials guide!