Wondering what to see in Toledo? Spain expert Ewan breaks down the top sights!
Perched majestically on the banks of the river Tagus, Toledo is truly a city of three cultures. Medieval Jewish and Muslim heritage sits side-by-side with Christian churches in this "Imperial City". At the peak of Spain's Golden Age, Charles V chose it as the main site of his court, making it the perfect place to see centuries of Spanish history in one compact city.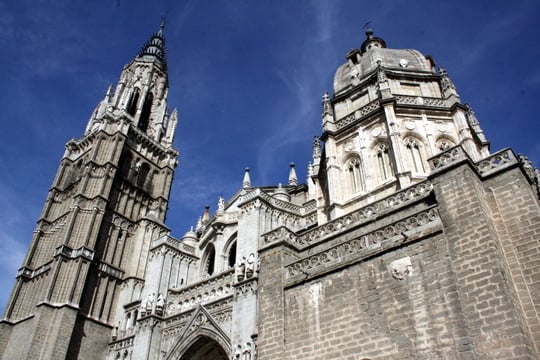 These days, it's undoubtedly the most popular day trip for tourists visiting Madrid, but it can be intimidating trying to fit everything into just one or two days. That's why we want to share our favorite things to do in Toledo with you. We know you'll love it as much as we do!
What to see in Toledo
Three cultures in one city
The combination of Christian, Jewish and Muslim history is one of Toledo's biggest draws. The Cathedral is one of the finest in Spain, representing the work of artists and architects over centuries. From the elaborate golden gothic altarpiece through Moorish-inspired arches to the stunning baroque Transparente, it's a true masterpiece of space and light.
Almost as impressive is the Monastery of San Juan de los Reyes. Built in the 15th century by the "Catholic Monarchs", it's one of the finest gothic buildings in Spain. Elsewhere, the Museo Sefardi houses a fascinating museum about the Jews of Spain in one of the country's best-preserved synagogues. Finally, the thousand-year-old Mosque of Cristo de la Luz is the oldest-surviving building in the city, bearing witness to centuries of Muslim worship in Spain.
Day trip from Madrid: One great option to see all Toledo has to offer is by taking a day trip from Madrid. This jam-packed day includes top Toledo sights and also a visit to Segovia!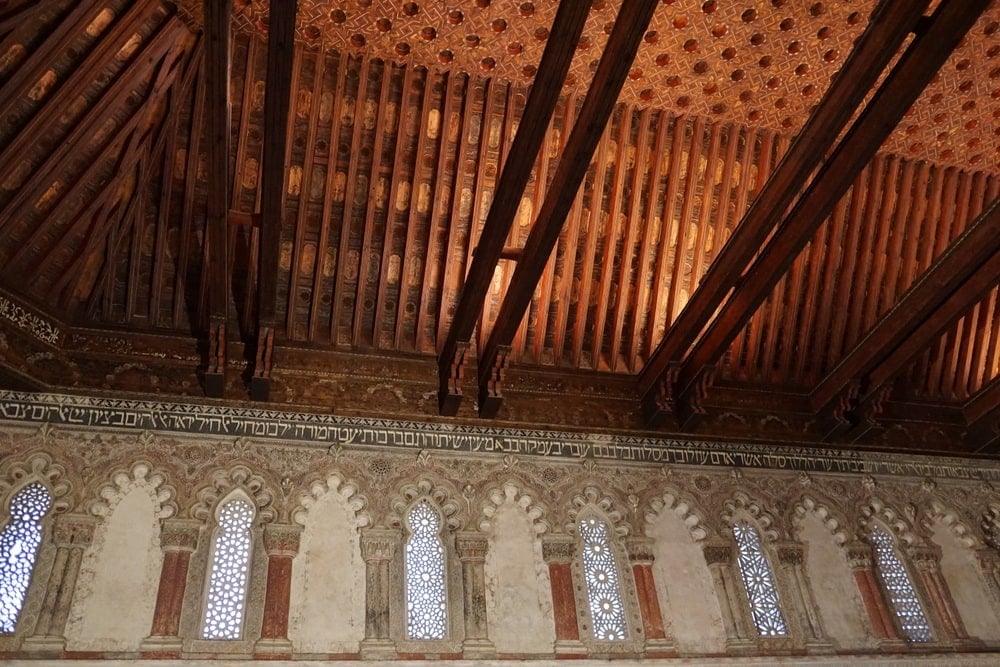 On the El Greco Trail
Whether you're an art expert or not, the great Spanish artist El Greco is unavoidable in Toledo. Born Doménikos Theotokópoulos on the island of Crete, his career saw him move first to Venice and then to Madrid before finally settling in Toledo, where he produced many of his greatest paintings.
The El Greco Museum has a fine selection of his works, but for many visitors, it's the works in the city's churches and other historic buildings that have the greatest impact. Don't miss The Disrobing of Christ in the Cathedral, the works held in the Museo Santa Cruz (itself a beautifully converted hospital) and, perhaps his greatest masterpiece, The Burial of the Count of Orgaz in the San Tomé chapel.
Try this Toledo + El Greco tour for an insider's look at this incredible city and artist.
Get a different perspective
If you're only in the city for a short time, it can be all too easy to get caught up in hopping between attractions and forget to stop and take in the view. That would be a great shame, as the city's stunning location is one of its true highlights. Head down to the river and walk around the Alcántara bridge to get spectacular views of the city from below.
In the historic center, climb to the top of the Alcazár (home to Spain's national military museum) for a birds-eye-view. Further afield, the Mirador del Valle is a little out of the way (get a taxi, the hop-on-hop-off bus, or local bus 71) but offers some of the finest views anywhere in Spain, with the city majestically laid out along the Tagus.
Off the beaten track
Most tourists only have time to visit Toledo as a day trip from Madrid. If you've got time, however, it makes an excellent base for exploring the stark beauty of La Mancha. This largely barren landscape is dotted with castles and windmills and was famously the location for most of Cervantes's Don Quixote. It's a place where time seems to stand still.
Consuegra, less than an hour's drive from Toledo, offers picture-postcard views of one of the greatest collections of traditional windmills in the region, whilst Tembleque is famous for its traditionally Manchego central square. Just to the west of the city is the spectacular Burujón Canyon, with sharp rocks and valleys jutting out of the Castrejón reservoir.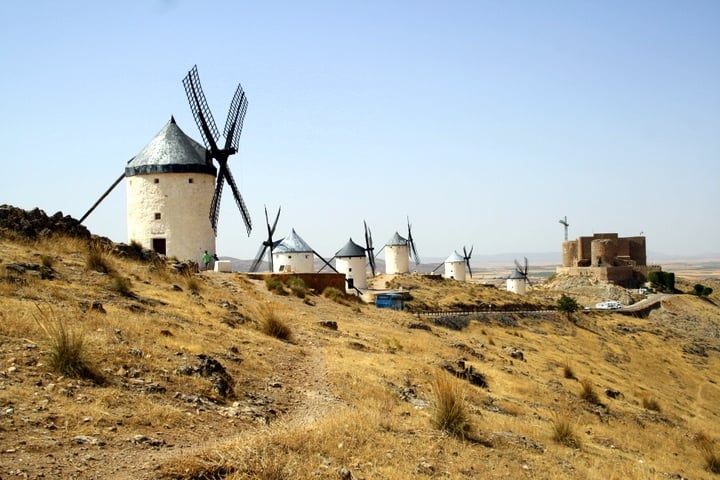 Shopping and Eating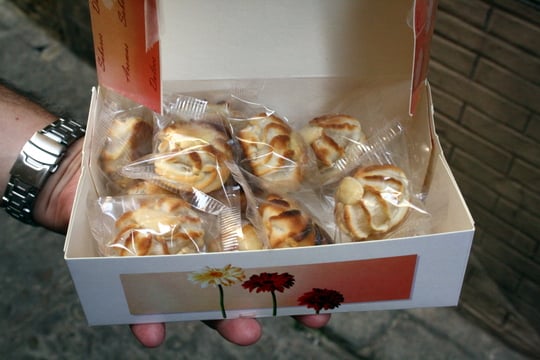 For many Spaniards, shopping in Toledo means one thing: swords! For centuries the city was one of the main producers of arms for the Imperial Army. These days, the swords on sale in the many shops dotted around the city are decorative rather than ready-for-combat, but if you've ever lusted after a perfect Braveheart or Game of Thrones reproduction, you're in luck.
For a more easily-transportable souvenir, the city's also famous for its delicious marzipan. Santo Tomé is perhaps the most well-renowned "obrador" (manufacturer) anywhere in Spain, whilst at the San Clemente Convent, you can buy directly from the nuns who invented the delicacy in the thirteenth century and continue making it to this day.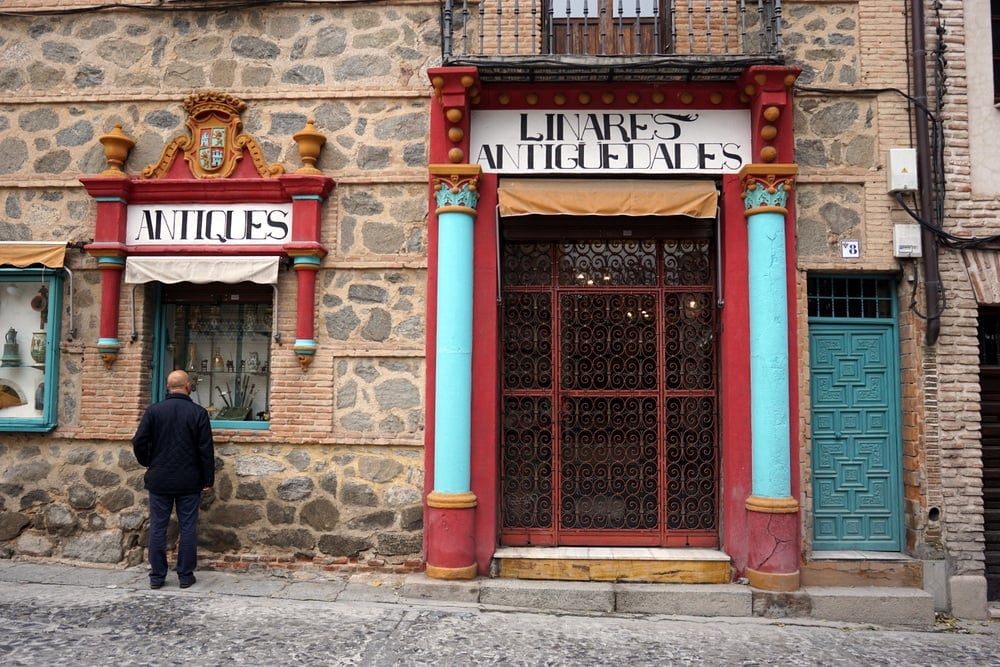 READ MORE: Don't miss Lauren's favorite place to eat in Toledo!
Getting to Toledo
The easiest way to get to Toledo is undoubtedly the AVE high-speed train. Trains leave Atocha every hour and take just 30 minutes. Bear in mind that trains can sell out, so you'll want to buy tickets in advance on the RENFE website. If you're on a tight budget and don't mind a longer journey, you can take the ALSA bus from the Plaza Elíptica bus station. In either case, you'll arrive outside the center, so take a local bus (5, 61 or 62) to Zocodover. From there on in, you can see almost everything by foot.
Day Trip to Toledo
If going by train on your own seems too daunting, I'd definitely recommend a day trip to Toledo. This itinerary includes the top Toledo highlights and also a stop in beautiful Segovia. It's a full day, but well worth it!
Opening Hours in Toledo
Before you plan your visit, bear in mind that some attractions in Toledo close on Mondays. There's still plenty to see, though, and the tourist office on Plaza Zocodover can advise on what's open.
Toledo on a Budget
A day trip to Toledo doesn't have to be a fancy affair– with plenty to see and do without admissions fees, it's a great trip for the budget-conscious.
WANT TO KNOW MORE?: Find out about Lauren's visit to Toledo on a Budget!