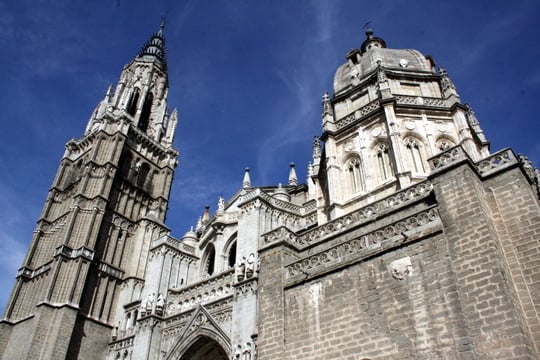 One of our favorite day trips from Madrid is definitely the hilltop city of Toledo. As the former Spanish capital, Toledo is especially known for its stunning historic center (a UNESCO World Heritage Site), gorgeous cathedral, handcrafted swords, and marzipan sweets.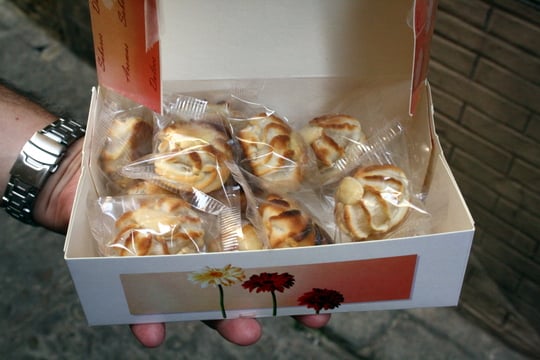 Toledo's cuisine is also highly regarded by the locals, and famous for game meats such as venison, partridge, and quail. The first time I visited Toledo I stumbled upon a rustic, but yummy, restaurant for a traditional menu of the day where I tried some stewed venison. But this time I had my sister in town, and wanted to find the perfect place. I was looking for something simple but delicious, authentic, and affordable. It was a tough bill to fit, but I soon found a place that looked just right. So off we were to yet another fantastic meal during her visit.
Restaurante Fabula is owned by the son of a longtime Toledo restaurant owner, who runs Taberna Embrujo right around the corner. If the father's place is anything like the son's, I'd gladly recommend them both! Next time I'll definitely be trying Taberna Embrujo to be sure.
Despite our best intentions, we arrived in Toledo a bit late-- around 2:30 p.m. and bolted up the hill from the bus stop to make sure to make it before the kitchen closed (most Spanish kitchens will stop around 3:30 unless they are still processing orders). We made it for 3:00 and the place was pretty empty, it was mid-week after all. Simple and unpretentious, I was just hoping the food lived up to the good reviews!
We were all ravenous, as our late start to the day had meant little more than a cup of coffee for breakfast. Among the four of us, we ordered three plates to share (raciones) and one half plate (½ ración). The portions were large and it was a struggle to finish off everything. But it was all so good!
Our delicious lunch at Restaurante Fabula in Toledo
This salad was incredibly delicious, and something I probably wouldn't have ordered at first glance. Luckily, my sister was in the mood for the roasted peppers, and we were thrilled to see them served atop some of Spain's famous cured tuna, with salty anchovies and a light honey mustard vinaigrette.
We also ordered a juicy piece of Secreto Ibérico (a melt-in-your-mouth cut of Iberian pork) with some crispy greens and salad. It wasn't the best secreto I've ever had-- but it was pretty good and plenty enough to share.
This dish was a mix of flavors-- sweet dates stuffed with creamy goat's cheese and almonds, then wrapped in salty bacon and grilled. They were served over apple sauce and came with crispy greens and leeks on the side. I could have eaten more than my share of these...
Lastly we had to try the venison. It came perfectly grilled and was served with potatoes and salad. I'm not usually the biggest fan of venison, but this was honestly delicious!
The food was fresh, beautiful and flavorful. And the bill for everything, including drinks for everyone, came to only 12.50€ per person! A better deal than most local menus of the day. Next time I visit Toledo I will definitely be stopping by Restaurante Fabula again, and I'll also make a point of trying Taberna Embrujo. If the son is so talented, the father should be even more so (he's had extra time to practice!).
Do you have any restaurant tips for Toledo?
Restaurante Fabula
Calle la Merced, 6
Toledo, Spain