Planning a Segovia day trip from Madrid? Here are my tips for how to get there, what to see, where to eat, and how to fully enjoy this beautiful city in just one day. (Spoiler: Don't miss the cochinillo!)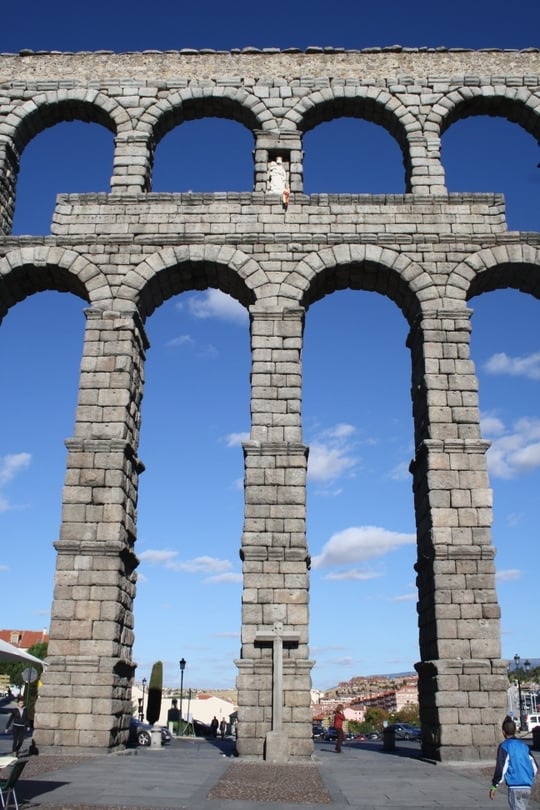 When I first moved to Madrid several years ago, I took lots of day trips to nearby small towns and cities—but I purposely avoided visiting Segovia. Not because I didn't want to go, but because I figured it would be nice to save something new for when family came. And I was right!
When my parents came to visit, we spent eight days pintxo-hopping through San Sebastian, touring the enormous cathedral in Burgos, and walking the streets of Madrid until our feet begged us to stop. By the final day of their trip, we were all pretty exhausted.
So when my father suggested spending his last day in Spain on a day trip, we were all surprised. But I already knew exactly where we'd go: the historic city of Segovia, known for its Roman aqueduct, Gothic cathedral, and medieval castle—not to mention a pretty special local delicacy.
How to Get to Segovia From Madrid
Segovia isn't quite as easy to reach as Toledo or Alcalá de Henares, but it's worth the extra trouble. There are two main ways to get to Segovia from Madrid by public transportation: bus and train.
The bus to Segovia leaves from Moncloa station in Madrid at regular intervals throughout the day. It takes 1 hour and 20 minutes (make sure to choose the direct route) and costs about €11 round-trip (as of 2023). You can check times and buy tickets on the Avanza website.
Although it's more expensive than the bus, I recommend taking the high-speed train to Segovia. It only takes 27 minutes and costs about €22 round-trip. Make sure you choose the Renfe Avant train (the others are either more expensive or take longer), and keep in mind that it leaves from Chamartín station in Madrid.
When you arrive at the train station in Segovia, it feels like you're in the middle of nowhere—all you see is countryside. To reach the city center, you can catch a local bus, hail a taxi, or walk (about 20 minutes to the aqueduct). If you don't have much time, a taxi is the best option.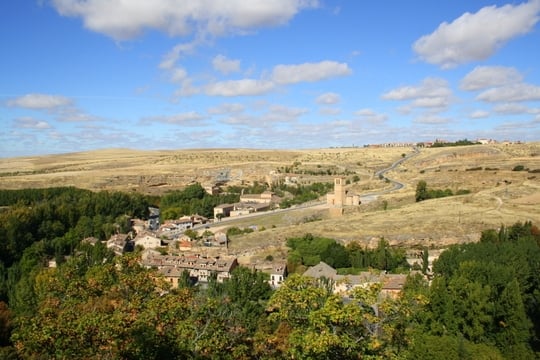 What to See in Segovia in One Day
Segovia is small enough that you can see pretty much everything in one day—which is why it's such a perfect day trip from Madrid! It's also the kind of place where you don't necessarily need to go inside anywhere; you can admire all its main monuments from the outside if you're short on time (or money!).
First there's the Alcázar de Segovia, a medieval castle that's said to have inspired Disney's Cinderella castle. In the past it was a royal palace and fortress, and today it houses a museum and military archives. It even has a place for a moat!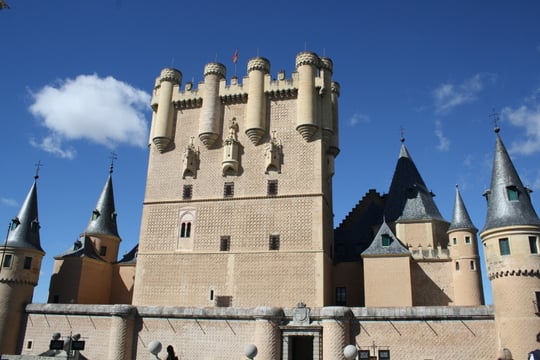 You can tour the inside of the castle, but I think the views of it from the outside are the best part. And its perch above the city means you'll get incredible views of Segovia as well. If you do want to go inside, admission is €10 for the palace, museum, and tower, or €7 for just the palace and museum (as of 2023).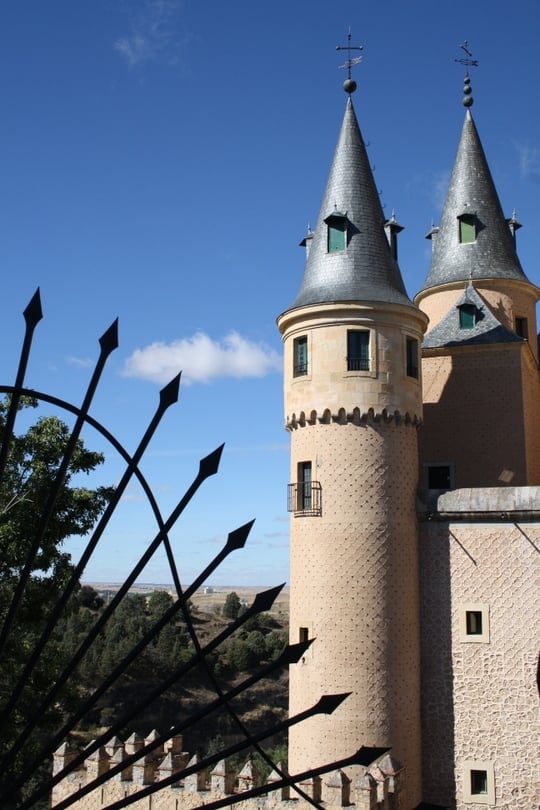 Next, head to Plaza Mayor and the Segovia Cathedral. This Gothic church dates back to the 1500s, and is one of the most impressive cathedrals in all of Spain. It's located on one end of Segovia's main square, Plaza Mayor. If you want to go inside, general admission is €4.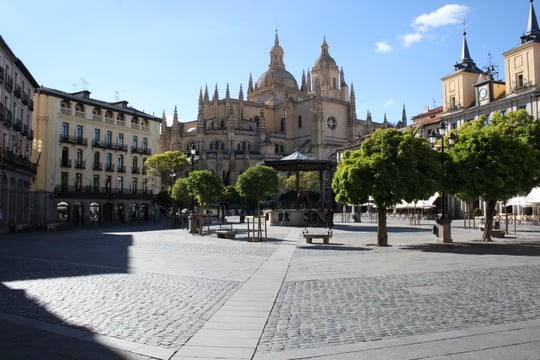 Finally, there's the famous Aqueduct of Segovia. This incredibly well-preserved stone structure was built by the Romans in the first century AD, and was used to transport water until 1973. Its two levels of stone arches stretch across Plaza del Azoguejo, right in the center of Segovia.
Where to Eat in Segovia
With all of that sightseeing you're bound to work up an appetite, and in Segovia there's only one way to satisfy it: cochinillo de Segovia. This is the city's most iconic dish—suckling pig that's slow-roasted in a wood-fired oven for hours.
Cochinillo is an absolute delicacy and a must-try when visiting Segovia. When I went to Segovia with my parents, we stumbled upon Mesón Don Jimeno, where we dined like royalty for a very reasonable price. There are lots of places for roast suckling pig in Segovia, but I can personally recommend this one!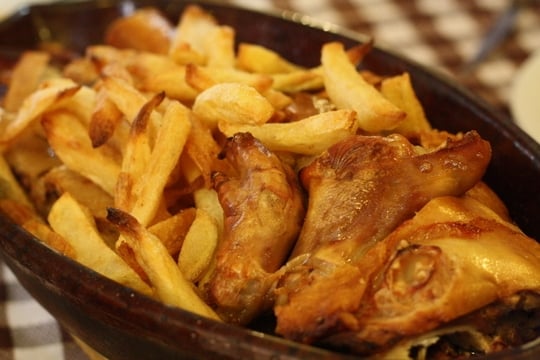 Insider Tip: If you can't make it to Segovia, try cochinillo in Madrid at Restaurante Botín.
Itinerary for a Segovia Day Trip From Madrid
There are plenty of ways to enjoy Segovia, but to give you an idea of what a day trip from Madrid might look like, here's my suggested itinerary!
Take the train from Madrid to Segovia, then a taxi to the Alcázar
Walk around to admire the castle and spectacular views of the surroundings
Make your way down to Plaza Mayor to see the ornate cathedral
Head to Mesón Don Jimeno to have authentic cochinillo for lunch
Walk to the Roman aqueduct, exploring the streets of Segovia and popping into shops along the way
Take a taxi back to the train station—or walk, depending on how tired you are!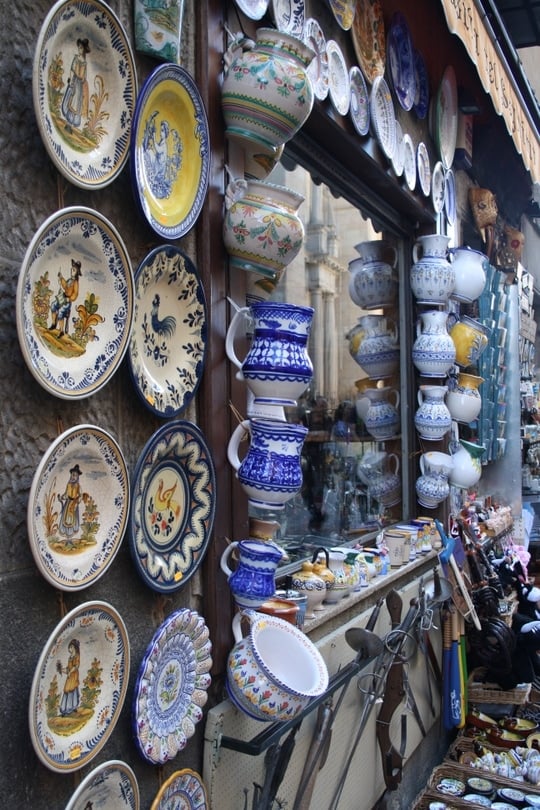 How to Enjoy Segovia on a Budget
If you don't want to spend too much money, you can easily visit Segovia on a budget! Just adjust the above itinerary accordingly; take the bus instead of the train, walk to and from the city instead of taking taxis (or catch the bus), skip souvenir shopping, and admire the Alcázar and cathedral from the outside.
The one thing that's worth splurging on is lunch—but even that doesn't have to be too expensive. At Mesón Don Jimeno, you can get a huge portion of cochinillo (enough for 2–3 people) for around €38. It's not the cheapest meal in Spain, but it's totally worth it!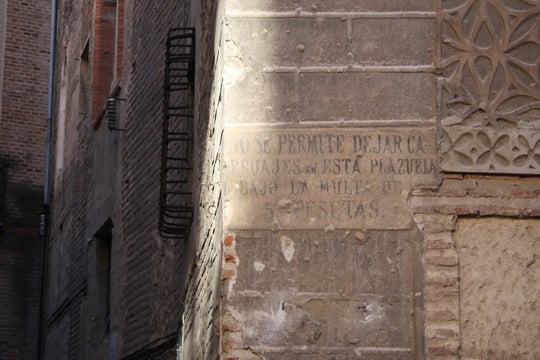 The Perfect Day Trip From Madrid
I loved each and every minute of our trip to Segovia—and so did my parents! It's an extremely beautiful and peaceful town, the aqueduct is incredible, our food was great, and you can easily enjoy the city in one day (although I would've been happy to stay longer).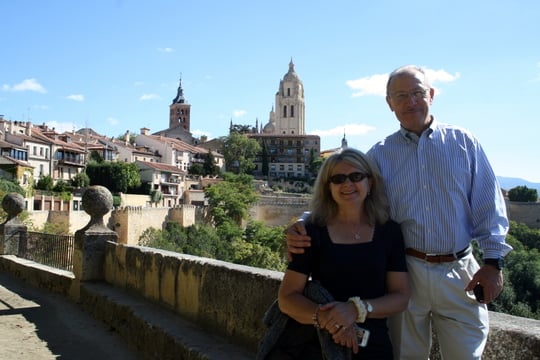 Segovia Day Trip FAQs
What's the best day trip from Madrid?
The top two day trips from Madrid are definitely Segovia and Toledo. It's hard to pick between them! But if you don't have much time, Segovia might be a better choice. It's smaller and there's less to see, so it's not as overwhelming if you only have a few hours to explore.
What's the best time of year to visit Segovia?
The best time for a day trip to Segovia is either spring or fall, when the weather is nicest and there are smaller crowds. A chilly fall day is also the perfect time of year to enjoy a hearty plate of cochinillo asado.
What makes Segovia special?
Segovia is a small city with a few truly special sites: the fairytale-like Alcázar, the impressive cathedral, and the stunning Roman aqueduct. It also has a delicious local specialty—roast suckling pig—that alone makes it worth the trip from Madrid!
Is Segovia a walkable city?
Absolutely! All the main sites in Segovia are within easy walking distance. It only takes about 10 minutes to walk from the Alcázar to the cathedral, and another 10 minutes from there to the aqueduct. You can even walk from the train or bus station into the center.
Love Spanish food? Sign up for my free weekly newsletter and receive a new Spanish recipe once a week! Join today and get my FREE Spanish ingredient essentials guide!