It was the last day of my parents' nine day visit and we were all pretty exhausted. We'd been pinxto hopping through San Sebastian, toured the enormous cathedral in Burgos, and walked the streets of Madrid until our feet begged us to stop. So when my father suggested spending his last day in Spain on a day trip, we were all surprised. But it was no trouble, and I already knew exactly where we'd go. Since moving to Madrid I've taken day trips to many small towns and nearby cities, but I'd purposely avoided visiting Segovia. I always figured it would be nice to save something new for when family came, and as it turned out, it was!
Getting to Segovia
Segovia isn't quite as easy to get to as Toledo or Alcalá de Henares, but it's worth the extra trouble. Although there is a bus that leaves from Principe Pio (definitely the more budget friendly option at around 16€ per person for roundtrip), the ride takes about an hour and a half, while the high-speed train takes only 28 minutes. The catch with the train, however, is that it doesn't depart from the central Atocha Train Station, but rather the much farther north Charmartin Station. Despite the extra time to get to Charmartin (about 15 minutes by taxi or 30 minutes by public transit from our house in the city center) it is still worth it in my opinion.
The train tickets range in price depending on the time you choose, but you can easily find a roundtrip ticket for about 20 euros per person. When you arrive to the station in Segovia, it feels like you are in the middle of nowhere– all you see is countryside. There is a bus that will bring people into the center, but it doesn't come very frequently. Since we had a very limited amount of time to spend in Segovia (we arrived at 1:00 and were taking the return train at 6:30) we opted for a taxi, which for about ten euro took the four of us on a lovely ride all the way up to the castle, where we could then slowly make our way back down to the bottom.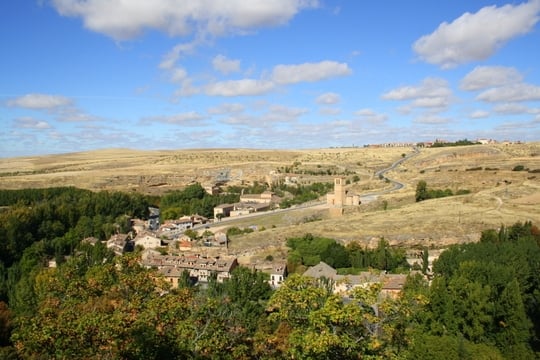 What to See
Our limited time in Segovia made it a "look at everything from the outside" kind of day (often my favorite anyway). We started with the gorgeous castle. Said to be one of the castles that inspired the Walt Disney Cinderella castle, we could see why. There was even a place for a moat! The other main sights are the cathedral, Plaza Mayor, and the famous aqueduct. There is much more to see and do (of course), but with these four stops (and lunch) you'll fill five hours before you know it.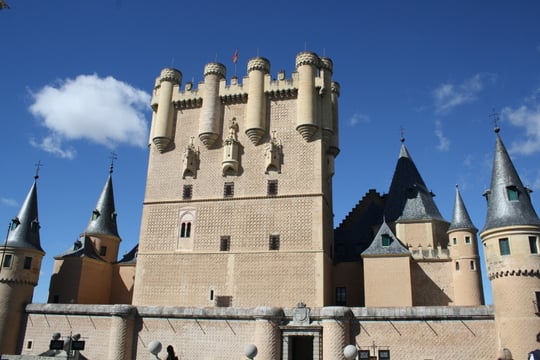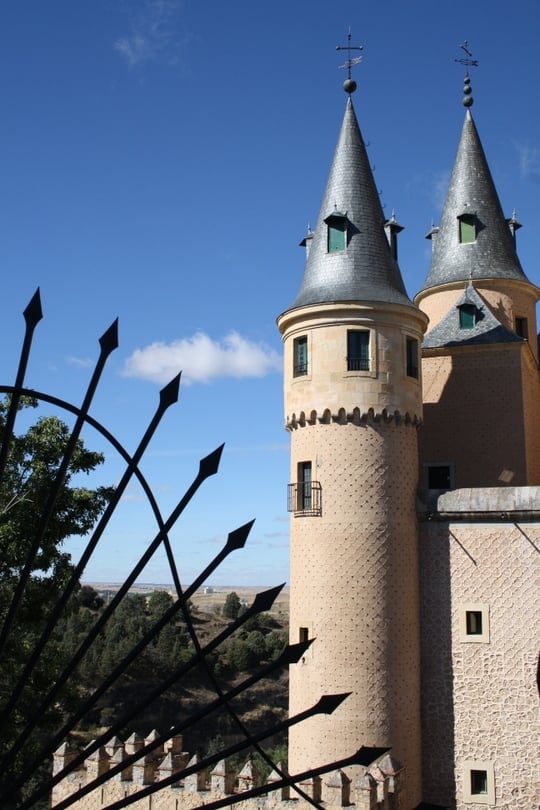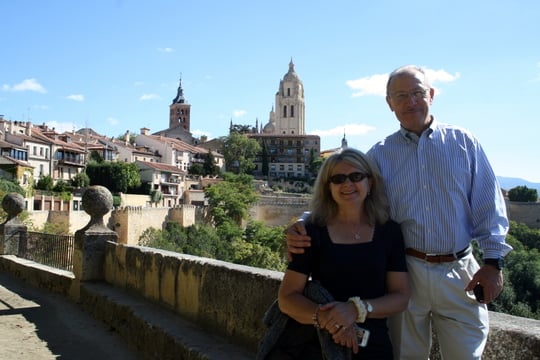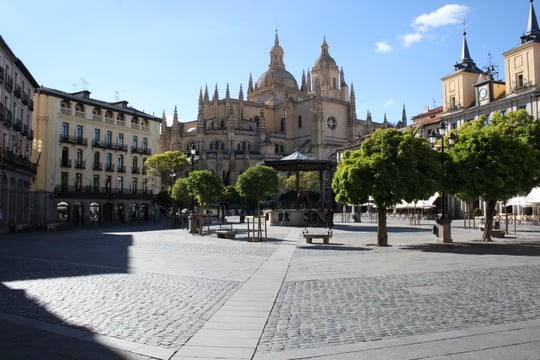 Where to eat in Segovia
As lunchtime neared, I was panicking as we hadn't quite found "the perfect place". We were hoping to try Segovia's famous suckling pig, fed on 21 days of mother's milk and considered an absolute delicacy.
Luckily we stumbled upon Restaurante Don Jimeno, where we dined like kings for a very reasonable price. See all details here (it really deserved its own post!)– and if in Segovia please check them out!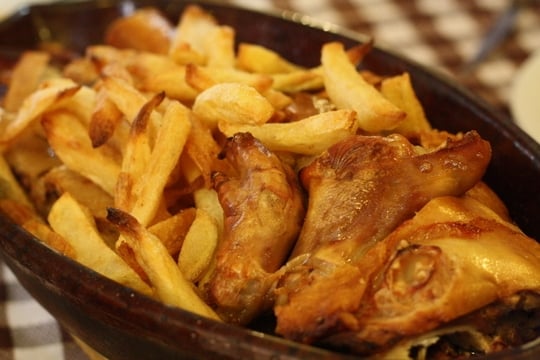 See more: If you can't get to Segovia, enjoy cochinillo in Madrid at Botin Restaurant
A Relaxing Day
After lunch we needed to get up and move. My mom poked into souvenir shops and we walked around the Plaza Mayor. Later we visited the stunning aqueduct, a Roman structure that likely dates back to 1st Century AD (the exact origin is unknown). It is truly spectacular and a must-see when visiting Spain.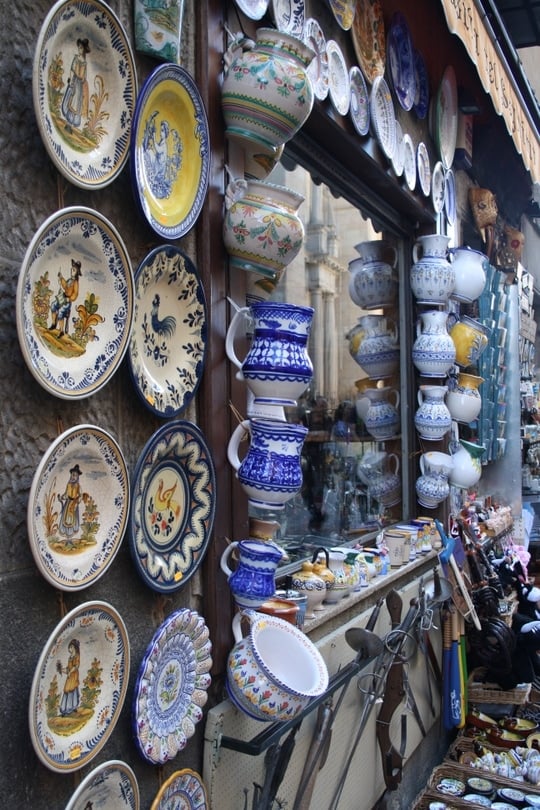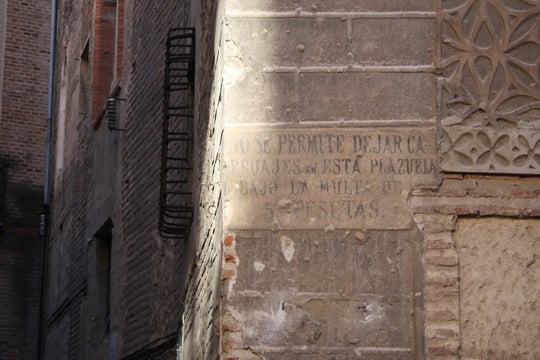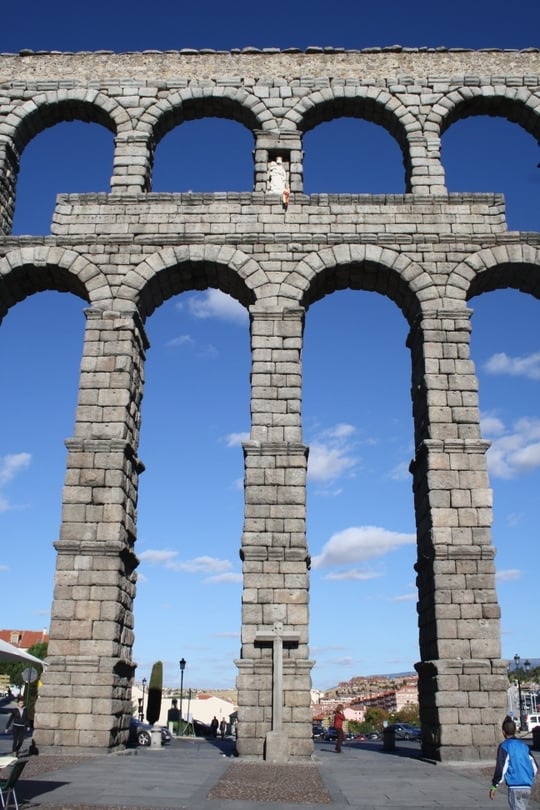 Around 6:00 we caught a taxi back to the train station for about 8 euro from the aqueduct. It was well worth it not to have to figure out the bus.
I loved each and every minute of beautiful Segovia. It is an extremely beautiful and peaceful town, the aqueduct is incredible, our food was great and you don't need all day there (although I easily could have stayed longer).
People always ask me which nearby day trip they should take from Madrid. It is a really difficult decision. The two most impressive would definitely be Segovia and Toledo in my opinion and, despite my love for Toledo, I might have to recommend Segovia. It feels a little more compact for just one day.
What do you think? If you've been to both, which day trip from Madrid would you recommend?
Pin me!