Today Amy shares the best wine bars in Madrid, making your job easy-- just make your way from one to the next! Don't forget to order a tapa or two between tastings.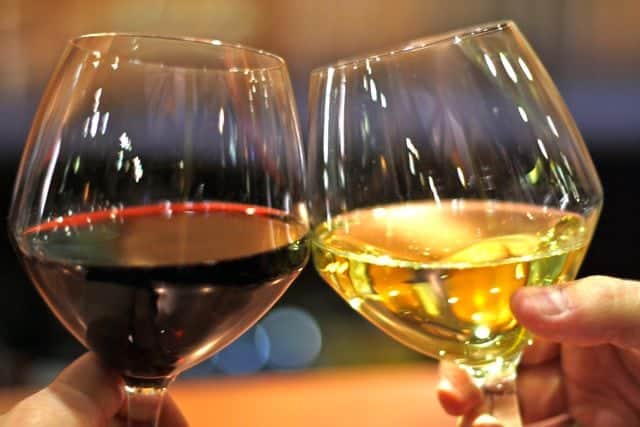 Beer may still be the go-to beverage for most Madrileños, but Spanish wine is definitely starting to give the local cerveza a run for its money. As the calibre and variety of Spanish wines surges, so do the number and quality of wine bars in Madrid.
Whether you're a lover of bold reds or fruity whites, there is no better place than the capital to get a taste of Spain's growing wine prowess.
Ordering wine in Spain is a different beast than in most other places in the world. Here, wine is ordered by region, not by grape. The majority of the red wine in Spain is made from tempranillo grapes. But the production and aging of these tempranillos vary hugely from region to region.
Learning about Spanish wines at a wine tasting.
While the two largest and most widely available wine regions are La Rioja and Ribera del Duero, there are dozens of smaller regions that are making amazing wines. The variety is enormous and the options nearly endless for wine lovers in Spain!
Here are a few of our favorite wine bars in Madrid, all of which are stellar spots to explore the joys of Spanish wine firsthand.
See Also: The Best Wine Tastings in Madrid
Top 8 Wine Bars in Madrid
1. Casa Gonzalez
Casa Gonzalez is a temple to the power of patience when it comes to great food and drinks. This nearly century-old bar is known for its excellent selection of cheeses and cured meats, many of which have been upwards of two years in the making. And there are few bars in the city that can rival Casa Gonzalez's wine list.
With more than three dozen wines available by the glass, Casa Gonzalez is an ideal spot to taste your way across the vineyards of Spain. The variety offered here is enormous. You can taste everything from a young wine from a popular region up to a decade-old bottle from an obscure wine making zone.
Located in the heart of the Huertas neighborhood in central Madrid at Calle de León, 12.
Learn More: Visit Casa Gonzalez for a wine and cheese tasting on the Devour Madrid Huertas Neighborhood Food and Market Tour!
2. Vinoteca Vides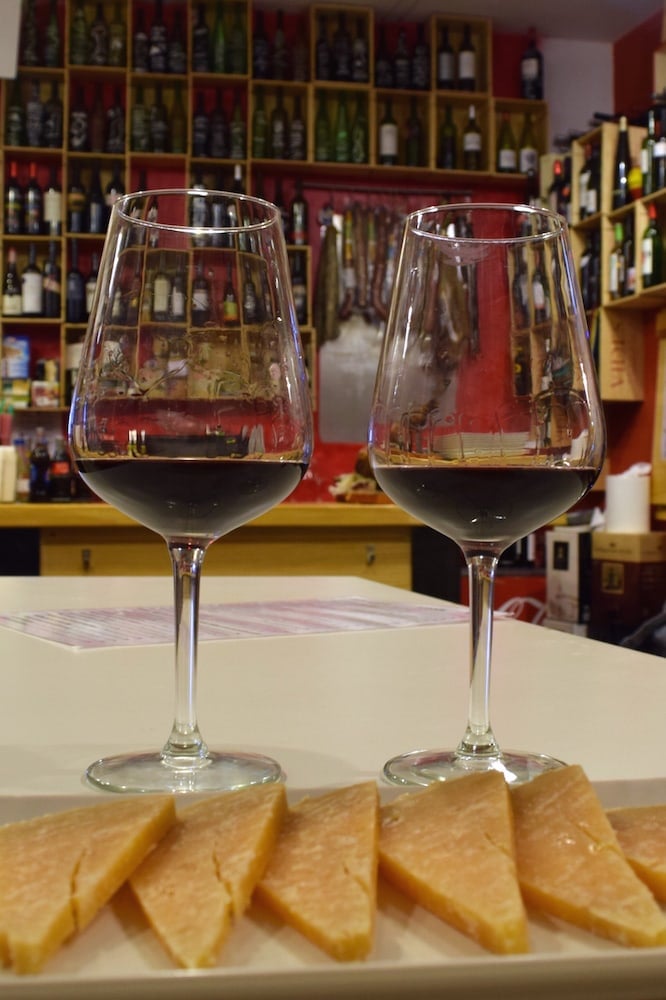 Walking into Vinoteca Vides is like walking into a shrine to wine. Shelves laden with bottles cover the walls reaching from the ground to the high ceilings. The bar is lined with the wines of the week. And the satisfying pop of wine corks creates a constant staccato rhythm both day and night.
Their menu boasts nearly a dozen types of cheese and a wide variety of cured meats and conserved seafood. But where Vides really shines is in their off-the-beaten-track wine list. Owner Vicente has scoured the country for great wines, plucking obscure vintages from little known regions. If you're looking for new flavors and unique blends, Vides where to find it!
Located on trendy Calle Libertad in the Chueca neighborhood at Libertad, 12.
Visit in style: This is one of the stops on Devour Madrid's best-selling Tapas & Wine Tasting Tour - pair some of Vicente's best wine and cheeses with a local guide and don't worry about a reservation!
3. Stop Madrid
This 1929 bar is steeped in tradition. It hangs on the dark wood shelves lined with expertly chosen wines. It is written into the chalkboard menus that list off simple treasures of Spanish cuisine. It is engrained in the wine barrel tables that invite us to sip and swirl the night away.
Located just off of Madrid's main avenue, Gran Via, at Calle Hortaleza, 11.
4. Bodegas Rosell
A giant wine list, welcoming waiters and some of the best croquettes in the city. What more could I ask for in a restaurant? Since 1920 Bodegas Rosell has been serving spectacular traditional Spanish cuisine accompanied by downright delicious Spanish wine.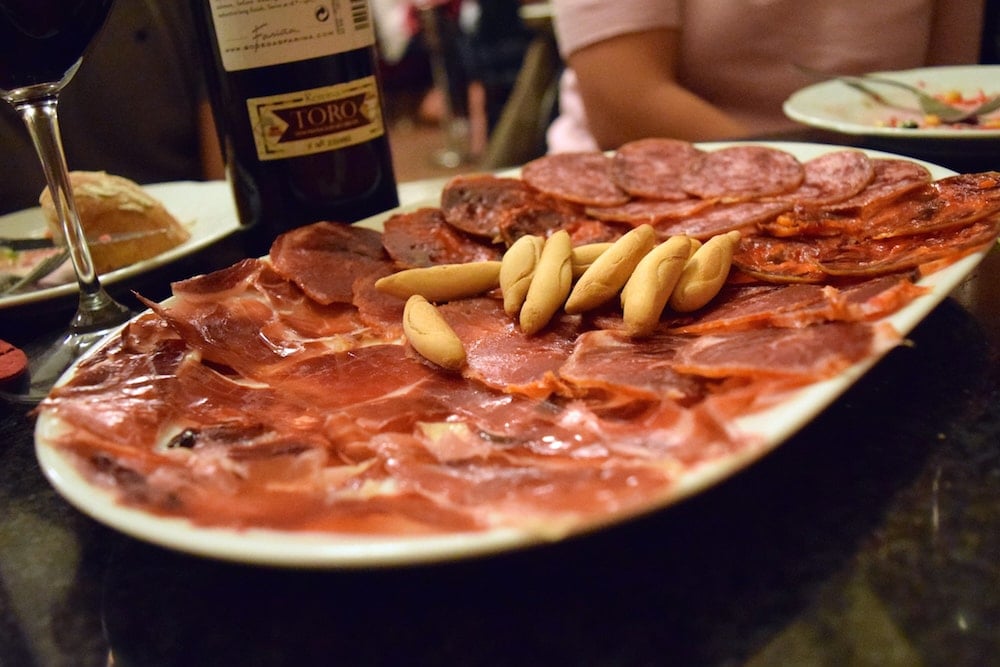 The bodega was once home to a bulk wine seller. The giant cellars here now house a collection of more than 200 Spanish wines just waiting to be tasted!
Located a bit off the beaten path behind the Atocha train station at Calle del General Lacy, 14.
5. La Fisna
This intimate wine bar is tucked into the narrow winding streets of the Lavapies neighborhood. Inside you'll find an intriguing selection of both Spanish and even a decent selection of international wines.
The dishes served here are as flavorful as their unique selection of wines. And the low lights and cozy tables at La Fisna make it an ideal date spot!
Located in the Lavapies neighborhood near the Lavapies or Anton Martin metro stops at Calle del Amparo, 91.
6. Angelita
One of the top wine bars in Madrid is called Angelita. This upscale bar/restaurant/cocktail space is an excellent addition to the Madrid wine scene. At any given time there are at least 25 wines being served by the glass, and while the majority are Spanish you'll also find a few interesting international additions.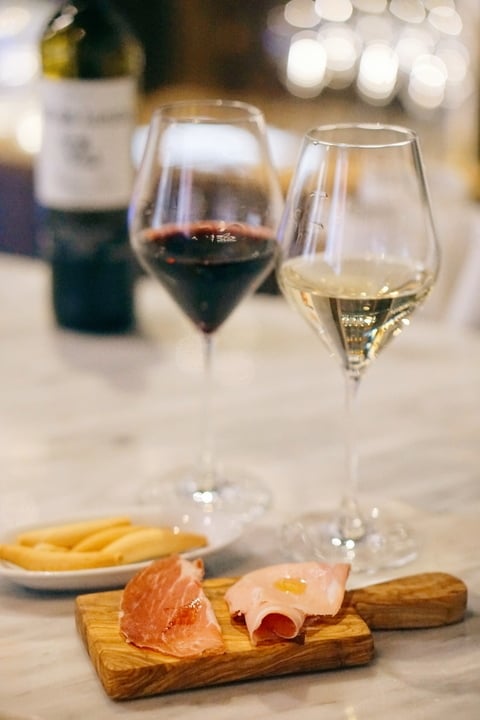 If you are a wine professional (or just a wine lover!) you can sit at the bar and order half glasses to be able to taste more. Angelita also boasts an admirable selection of Sherry wines and also always stock a few natural wines by the glass. Here there is something for everyone -- make a reservation to ensure a spot at the bar and definitely call ahead if you plan on dining in their farm-to-table restaurant.
Located in Chueca (right behind Gran Vía) Angelita couldn't be more central. Calle de la Reina, 4.
7. Taberneros
Located close to Plaza Mayor and the Royal Palace, Taberneros is a tiny wine bar and restaurant worth checking out. They offer a variety of interesting wines by the glass and a great list of bottles if you decide to stay for dinner. Based on the concept of an old fashioned Madrid tavern, the vibe is casual but the food is elevated and worth a try.
Right in the heart of Madrid de las Austrias, Taberneros is steps away from the Plaza Mayor, Puerta de Sol, and Royal Palace. Calle de Santiago, 9
8. La Venencia
Last but not least is a Madrid classic -- La Venencia. This is a place you won't find anywhere else in the world, meaning that you should definitely pay a visit while in Madrid! This old-fashioned sherry bar serves only a handful of sherries directly from the barrels, and offers a few different tapas (think olives and chorizo) to accompany. They'll scribble your tab in chalk on the bar, there is a bar cat you might be able to spot, and tipping is strictly prohibited (dating back to the days in which the bar was a socialist watering hole). Opened for over 70 years and still very much the same, it's a place you simply must experience in Madrid!
Any awesome wine bars in Madrid that we missed? Let us know in the comments!
Get to know Spanish wine in English! Check out a Madrid Uncorked Wine Tasting which offers weekly wine tastings in Madrid!