In much of the world, canned goods are still seen as a quick fix, a semi-dangerous blend of preservatives and that ever-present metallic taste of cafeteria grub.
But here in Spain, canned foods are anything but—and definitely not cheap (when you get the good stuff). Spanish canned seafood is among the country's highest quality gourmet products, and in many cases, even better than its fresh counterparts.
Indeed, Spanish conservas are among the best canned goods in the world. Some products cost up to 65 times more than a really good steak. With that kind of price tag, they may be luxury products, but most people make room in their budget for a can or two every now and then.
Often locked up on the supermarket shelves (their small size makes them an easy target for theft), it's worth finding the cashier to open up so you can snag a few for an easy dinner.
Ready to start exploring the wonderful world of Spanish canned goods for yourself? Here's a deep dive into where they come from, how to eat them, and why they have such a high price tag.
History of Canned Food in Spain
Canned foods, or conservas, in Spain haven't always been as readily accessible as they are today. A French man named Nicolas Appert invented the original canned goods to solve a major conundrum in the early 1800s.
France was at war in the late 1700s and, with few ports open, it was largely dependent on dried and smoked foods. These foods would often spoil or cause deficiency diseases, thereby weakening the military forces.
The French government offered a prize of 12,000 francs to anyone who could develop a preservation method for foods that would result in fewer health issues. Appert, a brewer and distiller, worked for 14 years until he solved the problem. He introduced the first canned goods to his country and won the prize.
The first conservas didn't arrive to Spain until 1840, after a French sailboat shipwrecked off the Galician coast and the Spanish discovered the wise French invention. Within a year they built the first factory with the aim of canning fish and shellfish. Soon after, the canned vegetable industry began in La Rioja.
But even as the canning industry expanded around the world, Spain's products always earned recognition for their high quality. Today Spain is one of the primary producers of canned goods in the world. Spanish canned seafood has reached especially luxurious heights.
Why is Canned Seafood in Spain So Expensive?
Something that might help you understand why Spanish canned seafood can cost so much more than the fresh stuff is by thinking about another very Spanish product: jamón ibérico.
Most would agree that Iberian pork, when sold fresh, is a completely different product than cured Iberian ham. Using the same raw material, you end up with two very different results.
This is how Spaniards think about their canned goods—as something almost unrelated to the fresh product. They don't necessarily compare them, and they usually value each one in their own right.
So what's so special about canned goods in Spain that makes them worthy of such a high price tag?
It's all in the process. High-quality seafood is gently cooked at the peak of freshness and then immediately preserved in ingredients that complement, rather than detract from, its flavor. That means excellent extra virgin olive oil, simple escabeche sauce flavored with vinegar and spices, or—in the case of squid—its own ink.
The final result is vastly different than your average canned tuna packed in water. The freshness of the fish at the time of preservation, the depth of flavors, and the all-around quality of the finished product makes it well worth the price.
It's not just canned seafood that the Spaniards go crazy for, either. In any local market, you'll find a variety of canned vegetables such as artichoke hearts, white asparagus, and piquillo peppers. If game birds are more your thing, check out the pickled partridge or quail.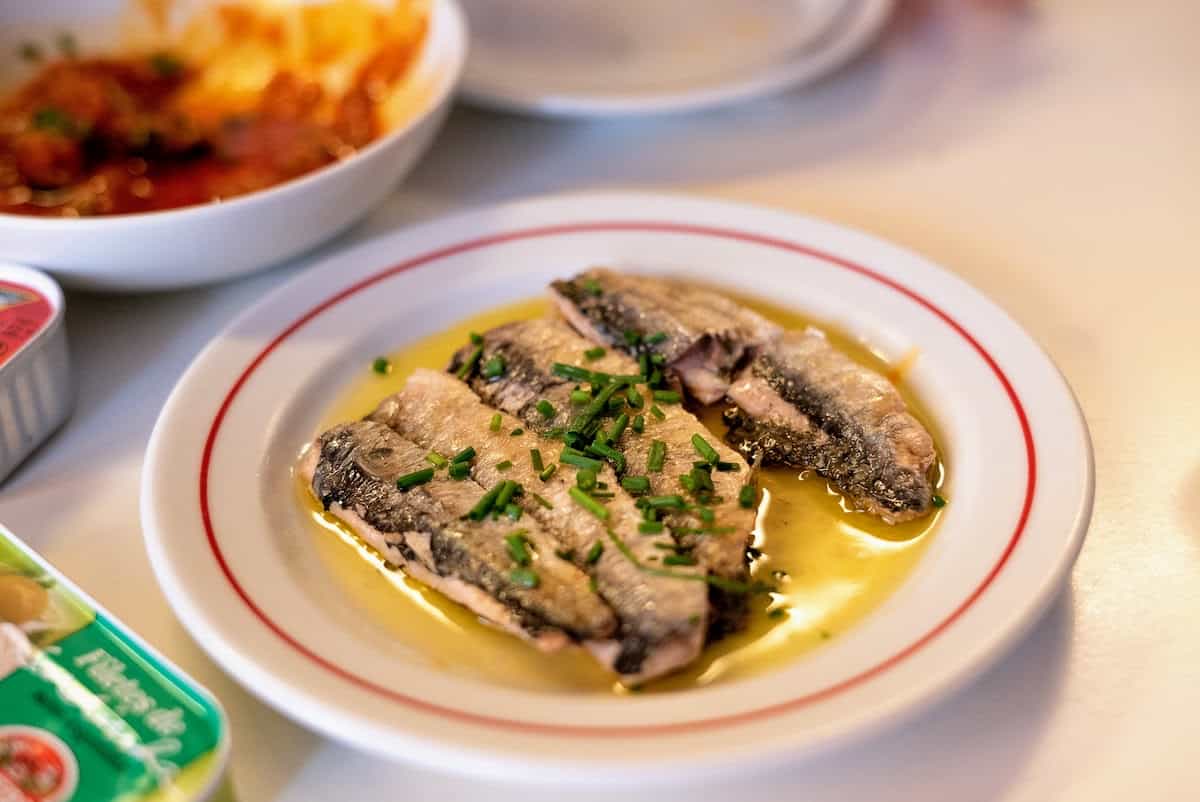 Types of Spanish Canned Seafood & Other Goods
So you're convinced that Spanish canned seafood and other products are worth trying. Great choice! Here's how to interpret the different names on the labels so you can pick the perfect can.
Anchoas (Anchovies)
Some of the most prized of Spanish conservas, the best Spanish anchovies generally come from the Cantabrian Sea. They are cured in salt, expertly cleaned and deboned, and canned in the best extra virgin olive oil.
Mejillones (Mussels)
The best canned mussels come from Galicia. They are often covered in a light escabeche sauce made with vinegar, paprika, garlic, salt, and bay leaf. Larger mussels are best if you can find them—the longer they have to grow before being canned, the better they'll preserve.
Berberechos (Cockles)
These little guys are a small member of the clam family. Look for the Galician ones and enjoy them with a nice glass of albariño wine.
Long and thin, these are perfect straight from the can with a squeeze of lemon juice. They're so delicious that they really don't need much else!
Almejas (Clams)
The most expensive Galician clams sell for around €65 for a small can of 14. But even if the best of the best isn't in your budget, even the cheaper cans are quite delicious, too.
Sardinas (Sardines)
The best Spanish canned seafood for making a quick tapa! Toast up some bread and drizzle on extra virgin olive oil, then top it with a sun-dried tomato and a juicy sardine. Easy and super impressive!
Ventresca de Atún (Tuna Belly)
One of the most delicate and delicious bites you'll enjoy! This is perfect with seasonal Spanish tomatoes but also goes beautifully with any salad.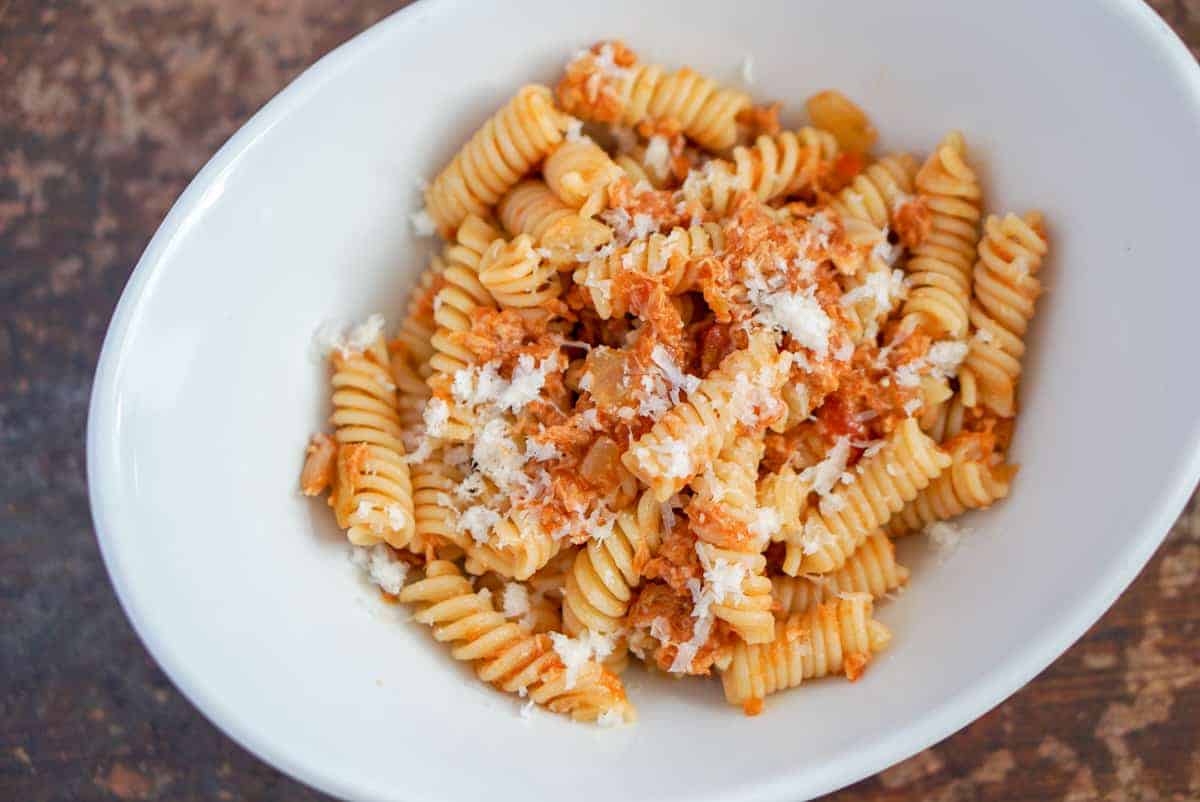 Espárragos Blancos (White Asparagus)
Enormous stalks of white asparagus are a common sight throughout Europe. Surprisingly, they can also be one of the most expensive canned goods, catching up to €30 for a can of four.
Champiñones (Mushrooms)
These are generally sold pickled in some sort of vinegar-and-spice-based liquid. The good quality ones make the perfect cold appetizer.
Pimientos (Peppers)
These come in various forms, all of which are equally delicious. Pimientos de piquillo are small peppers from northern Spain that are perfect with sherry vinegar, olive oil, and garlic. Another great option are pimientos morrones, bell peppers that are especially tasty if they've been roasted before being canned.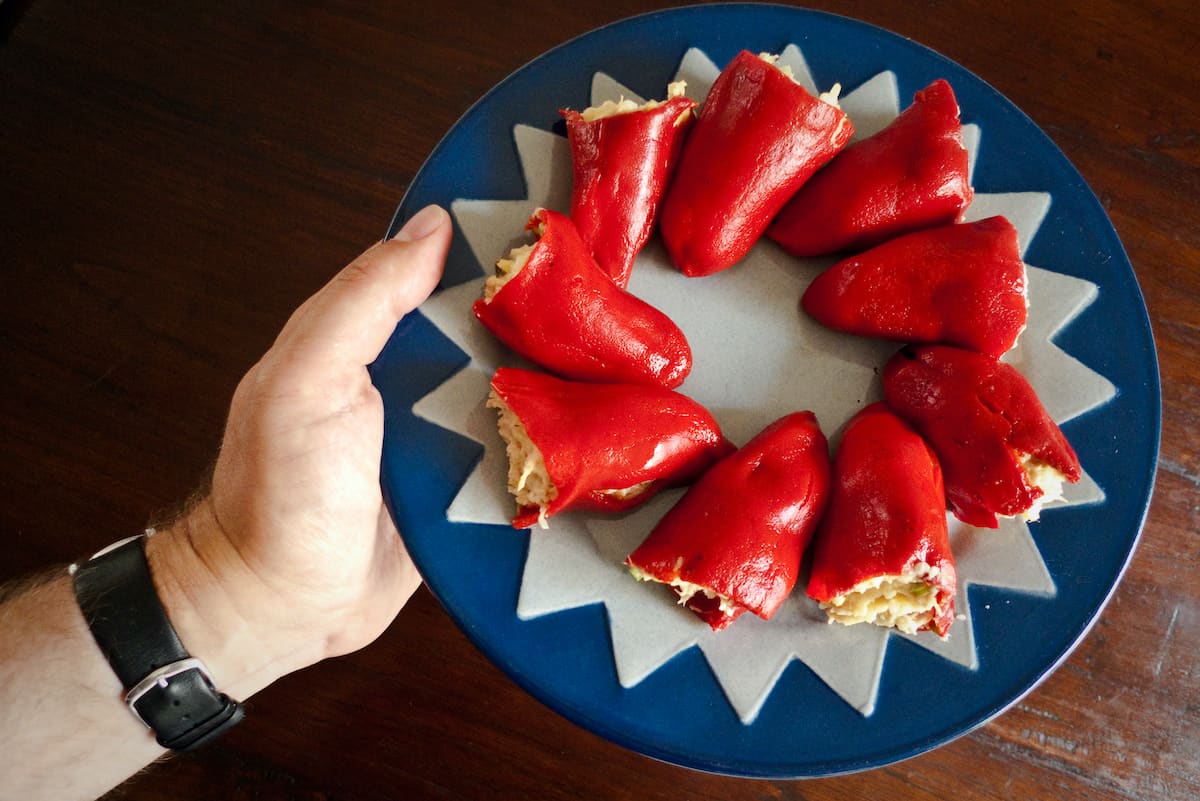 Ajo (Garlic)
It may sound dangerous to pop an entire clove of garlic into your mouth. But really, Spanish canned garlic is quite mild and have a unique crunchy texture that's kind of addictive. An unexpectedly delicious snack!
Perdiz (Partridge)
This is very typical as a start to a holiday meal. Partridge is also usually served pickled (en escabeche) and is a delicacy worth trying at least once.
Cordoniz (Quail)
Usually served in a similar manner to partridge, quail is even more delicate and has a lovely flavor.
Buying & Eating Spanish Canned Food in Spain
Ready to dive right in to the wonderful world of Spanish canned seafood, veggies, and more? Here are a few of the best bars and shops throughout the country where you can try them for yourself.
Madrid
Casa González
Bar La Conserva
Cervecería El Cangrejero
Mantequerías Bravo
Barcelona
Quimet i Quimet
Colmado Quilez
Vila Viniteca: La Teca
Morro Fi
Seville
Salsamento
La Antigua Abacería
Maestro Marcelino
San Sebastian
Zapore Jai
Ibéricos Deluxe
Spanish Canned Seafood FAQs
What are conservas?
Conservas (singular conserva) is the Spanish word for food preserved in a can. The most famous Spanish conservas are seafood, but vegetables and even poultry can be canned as well.
How do you serve Spanish canned seafood?
Gourmet canned food from Spain is often preserved in a way that keeps the product fresh and highlights its flavors. As such, the best serving option for most Spanish conservas is to go as simply as possible. Mix a can of gourmet canned tuna into a salad, serve sardines on toasted bread, or enjoy clams with a bit of lemon juice.
Is canned seafood good for you?
Canned seafood offers the same health benefits as the fresh versions of the same products. A 2015 Consumer Reports study showed that canned seafood has the same level of protein and omega-3 fatty acids (AKA healthy fats) as fresh.
Update Notice: This post was originally published on May 14, 2017 and was updated with new text and photos on July 7, 2021.
Hungry for more? Sign up for my free weekly newsletter and receive a new Spanish recipe once a week! Join today and get my FREE Spanish ingredient essentials guide!