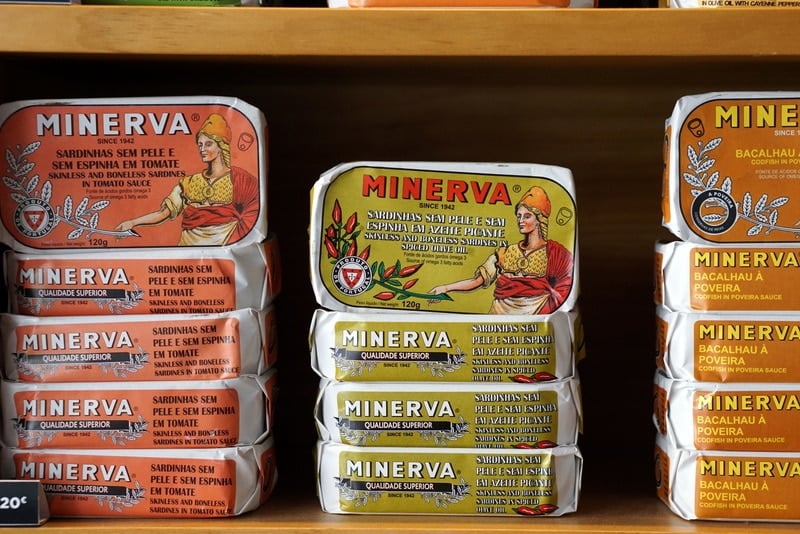 The first time my Italian friend visited Spain she was disgusted by the prospect of eating canned mussels, proudly proclaiming that in Italia, mussels are eaten only fresh from the sea. It made me think back to the days when I didn't quite understand Spanish cuisine, a time when I also regarded canned goods as a quick fix, a semi-dangerous blend of preservatives and that ever-present metallic taste of cafeteria grub.
But here in Spain, canned foods are anything but a quick fix, and definitely not cheap (when you get the good stuff). Take the case of the mussels. I paid three euros last week for a big bag of fresh mussels that I stewed with wine and white beans for a dinner for two. Yesterday, I picked up some canned mussels for nine euros; the can promised to contain four to six mussels inside.
Indeed, Spanish conservas are considered among the best canned goods in the world, and some products cost up to sixty-five times more than a really good steak. With that kind of price tag, they may be considered luxury products, but most people make room in their budget for a can or two every now and then. Often locked up on the supermarket shelves (I suppose their small size makes them an easy target for theft), it's worth finding the cashier to open up so you can snag a few for an easy dinner.
Why so expensive?
In the case of my mussels (the Ramón Franco brand), they promise the following:
The secret of our business is to select the best mussels, gigantic in size, and to clean them carefully. We cook them to perfection, and cover them in an elegant and light escabeche sauce made of olive oil, white vinegar, sweet paprika, bay leaf and salt.
And if you think nine euros is pricey for four mussels, don't even think about buying anchovies. Perhaps the most prized of the Spanish canned goods, the popular Don Bocarte brand's best anchovies cost around thirty-two euros for a can containing twenty of the small fish, cured in salt and olive oil.
It's not just canned seafood that the Spaniards go crazy for either, and in any local market, you'll find a variety of canned vegetables such as artichoke hearts, white asparagus, and piquillo peppers. If game birds are more your thing, check out the pickled partridge or quail.
A bit of history
We haven't always had canned foods in Spain so readily accessible. Invented in the early 1800s by a French man named Nicolas Appert, the original canned goods were created to solve a major conundrum. The French were at war in the late 1700s and, with few ports open, they were largely dependent on dried and smoked foods. These foods would often spoil or cause deficiency diseases, thereby weakening the military forces. The French government offered a prize of twelve thousand francs to anyone who could develop a preservation method for foods that would result in fewer health issues. Nicolas Appert, a brewer and distiller, worked for years until he solved the problem, introducing the first canned goods to his country, and winning the prize.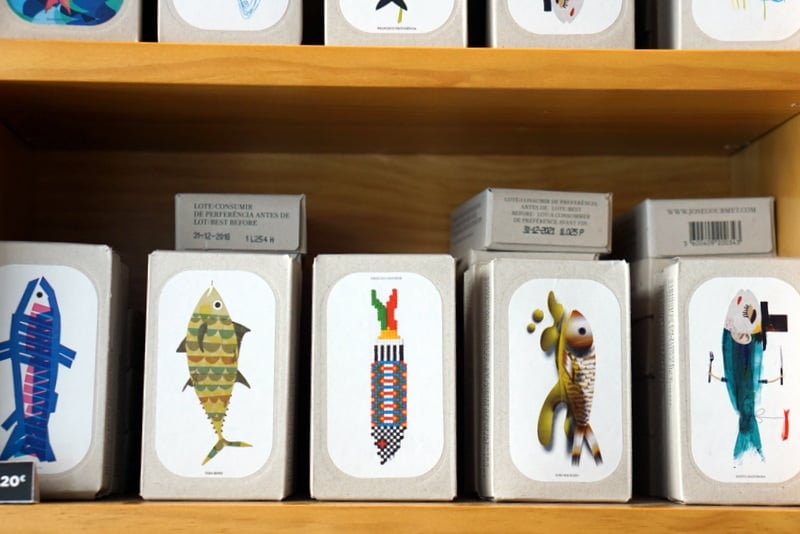 Something that might help you understand why canned mussels can cost so much more than fresh ones is by thinking about another very Spanish product, jamón ibérico. Most would agree that Iberian pork, when sold fresh, is a completely different product than cured Iberian ham. Using the same raw material, you end up with two very different results. This is how Spaniards think about their canned goods, as something almost unrelated to the fresh product. They don't necessarily compare them, and they usually value each one in their own right.
Buying guide for canned goods in Spain
anchoas (anchovies): Some of the most prized of Spanish conservas, the best Spanish anchovies generally come from the Cantabrian Sea and are cured in salt, expertly cleaned and deboned and canned in the best extra virgin olive oil.
mejillones (mussels): The best canned mussels come from Galicia and are often covered in a light escabeche sauce.
berberechos (cockles): A small member of the clam family, look for the Galician ones and enjoy them with a nice glass of Albariño wine.
navajas (razor clams): Long and thin, these are perfect straight from the can with a squeeze of lemon juice.
almejas (clams): The most expensive Galician clams sell for around sixty-five euros for a small can of fourteen, but even if the best of the best isn't in your budget, a cheaper can is quite delicious too.
sardinas (sardines): My favorites for making a quick tapa. Toast up some bread and drizzle on extra virgin olive oil, a sun-dried tomato, and a juicy sardine.
ventresca de atún (tuna belly): One of the most delicate and delicious bites you'll enjoy, perfect with seasonal Spanish tomatoes.
espárragos blancos (white asparagus): I still haven't fallen head over heels for these enormous stalks of white, albino asparagus (which are constantly covered with dirt so that they never see the light of day!). They sometimes fetch up to thirty euros for a can of four, which may be one of the reasons I don't order them often.
champiñones (mushrooms): Generally sold pickled in some sort of vinegar-and-spice-based liquid, the good quality ones make the perfect cold appetizer.
pimientos (peppers): There are various kinds I adore. Pimientos de piquillo are small peppers from northern Spain (perfect with sherry vinegar, olive oil, and garlic), while pimientos morrones are bell peppers, perfect when roasted before being canned.
ajo (garlic): Sounds dangerous to pop an entire clove of garlic into your mouth, but really they are quite mild and have a unique crunchy texture that's kind of addictive.
perdiz (partridge): Typical as a start to a holiday meal, partridge is also usually served pickled (en escabeche) and is a delicacy worth trying at least once.
cordoniz (quail): Usually served in a similar manner to partridge, quail is even more delicate and has a lovely flavor.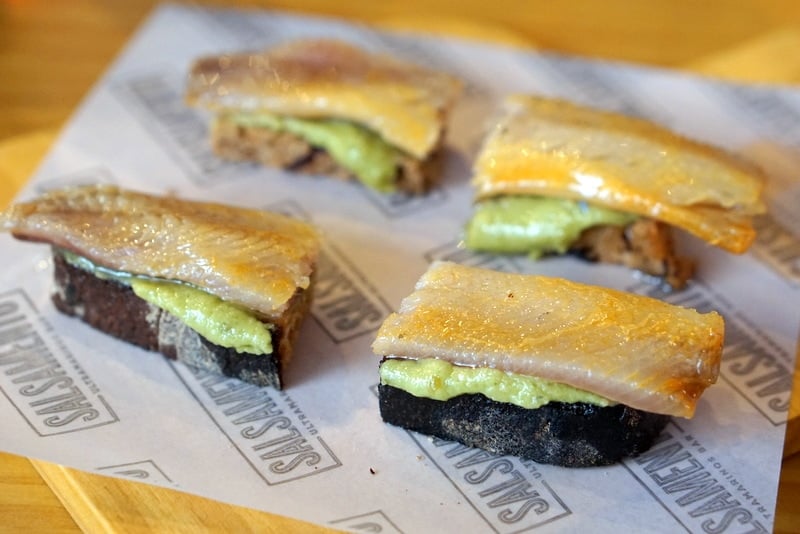 Shopping for conservas in Madrid
The following are some of the city's best gourmet shops, as well as a few places that specialize exclusively in conservas.
Frinsa la Conservera: If canned seafood is what you're looking for, head straight to Frinsa la Conservera, one of the country's most respected brands of conservas. Calle Claudio Coello, 38
Mantequerias Bravo: One of the city's most classic gourmet shops, their selection of canned goods of all types is a great place to start shopping. Calle de Ayala, 24
Mercado de la Paz: An incredible iron-sided market in the Salamanca neighborhood, Mercado de la Paz has some of the best selection of canned goods (and other delicacies) in town. Calle de Ayala, 28
El Corte Inglés Gourmet Experience: Spain's biggest department store definitely holds its own when it comes to its selection of delicate conservas from all around the country. The best of the best are found in the Gourmet Experience at the Callao location. Plaza de Callao, 2
Café Bar Ferpal: A fantastic old-fashioned Spanish deli, Ferpal is a place where you can window shop before you buy. Don't forget to take a ticket when you walk in, and be careful of the tiny abuelas who like to cut the line! Calle Arenal, 7
Especialidades Blas Martín: A charming shop in the La Latina neighborhood that specializes specifically in canned products. Calle de Toledo, 44
Petra Mora: One of the city's newer gourmet shops, with a wide array of delicious products and tempting delicacies you don't find elsewhere. Calle de Ayala, 21
Eating conservas in Madrid
From classic bars where conservas have always been a part of the menu, to new and trendy tapas taverns serving nothing but, these are the places to go to start your exploration into the world of the tin can.
Bar La Conserva: The names says it all, and it is one of the best places in town for canned seafood (especially anchovies). Paseo del Marqués de Zafra, 33
Casa González: One of the most charming bars in all of Madrid, Casa González is known for their mouthwatering tostas, often topped with conservas that they also sell in their small shop. Calle León, 12
La Anchoita: One of the best little bars on the popular Calle Jesús in the middle of the lovely Literary Quarter. Calle Jesús, 4
Muy Placer en Conserva: A newer addition to the canned food scene, this small bar in the Conde Duque neighborhood exclusively serves tapas made from canned goods. Calle Amaniel, 36
Cervecería El Cangrejero: A true Madrilenian cervecería located in the old Mahou factory that specializes in canned goods from Spain and beyond. Calle de Amaniel, 25
Taberna Laredo: One of the best taverns on the east side of Retiro Park, Taberna Laredo serves Frinsa brand conservas that are irresistible with a glass of wine. Calle del Doctor Castelo, 30
Mercado de San Miguel (La Casa del Bacalao): Right in the busy San Miguel Market there is the lovely Casa de Bacalao, originally founded in 1948. For only one euro each, you can try different conservas (in addition to their fantastic salted cod pinchos). Plaza de San Miguel
What do you think? Are you as enthusiastic about canned food as I am?