Huevos Rotos con Patatas: Broken Eggs Over Potatoes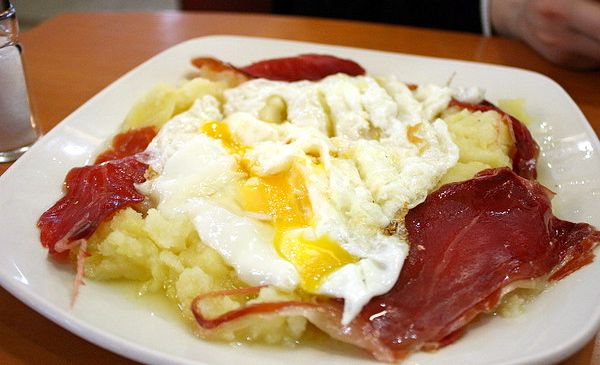 Huevos rotos are one of those Spanish dishes that seem so simple and basic– borderline boring even– that it is a shock to the system when you realize how amazingly delicious they really are. This popular Spanish egg dish has slowly become one of my favorite Spanish foods. Somehow, over the past year or so, I've come to crave this delicious plate as I once craved things like steak and cheese subs and chicken parmesean. Luckily, huevos rotos is easy to make, inexpensive, and quick. And if I'm feeling lazy I can order it downstairs at La Chelito or at countless other neighborhood bars.
Eggs for Dinner?
Like many Americans, I grew up eating eggs for breakfast. Besides the occasional quiche that my mother would make for a special brunch, eggs were strictly a breakfast food.
In Spain eggs are anything but breakfast—and make a popular snack, lunch, dinner or even dessert! What is my favorite Spanish egg dish? It's really hard to say! I love tortilla and adore pisto con huevo, but I think huevos rotos have to be my number one.
What Are Huevos Rotos?
Huevos rotos literally means broken eggs. The trick to these eggs is to fry them only until perfectly over easy and to break the yolk with the tip of a knife just before eating. They're also known as huevos estrellados (star eggs) for the star shape that the yolk makes when broken.
Huevos rotos are traditionally served over homemade french fries which are fried in Spanish olive oil and tossed with sea salt. I usually make mine over steamed potatoes on the stovetop, although it isn't traditional!
This Spanish dish can also include  many optional ingredients. Popular choices are huevos rotos con chorizo, morcilla (blood sausage), pimientos (green peppers), jamón Serrano, etc. My all time favorite huevos rotos are prepared with fried green peppers and Serrano ham. It is seriously heaven.
Next time you are thinking of something to make for lunch or dinner, why not try eggs? I guarantee that my huevos rotos recipe will not disappoint!
Huevos Rotos con Pimientos y Jamón Serrano
 Ingredients (Serves 4):
 4 Potatoes (About 1 per person)
4 Eggs
1 large onion
½ Cup of sliced green pepper
Thin slices of Serrano ham (or prosciutto)
5 cloves of garlic, minced
1 Tablespoon parsley
Extra virgin olive oil
Salt and Pepper
 Preparation:
1. Coat the bottom of the pan with olive oil and add the onions over a medium heat.
2. Cut the potatoes into thin slices and add to the pan.
3. Cover with the garlic, parsley, and peppers and turn the heat down to low.
4. Cover and gently stir every 10 minutes.
5. Cook for about 30 minutes (until all potatoes are tender and starting to brown)
6. Crack the four eggs over the potatoes and turn the heat down very low. Cover and cook the eggs just until the whites have set. Then, break the yolks and remove from the heat!
7. Season with salt and pepper.
8. Cover with thin slices of Serrano ham (you don't need to cook the ham!).
If you aren't convinced yet, just try the recipe! In less than an hour you will realize that huevos rotos are so much more than eggs and potatoes!
What is your favorite version?
Professional eater, writer, cook, food tour operator. Fascinated by food and its history. Loves: a gooey slice of tortilla, fish markets, homemade cocktails, train travel. Hates: Overhyped restaurants, wine snobs, long menus, mediocrity. Check out my food tours at www.devourtours.com.
Latest posts by Lauren Aloise (see all)