Today Amy shares some of the most delicious Spanish egg dishes — if you dare, you could even make them for breakfast!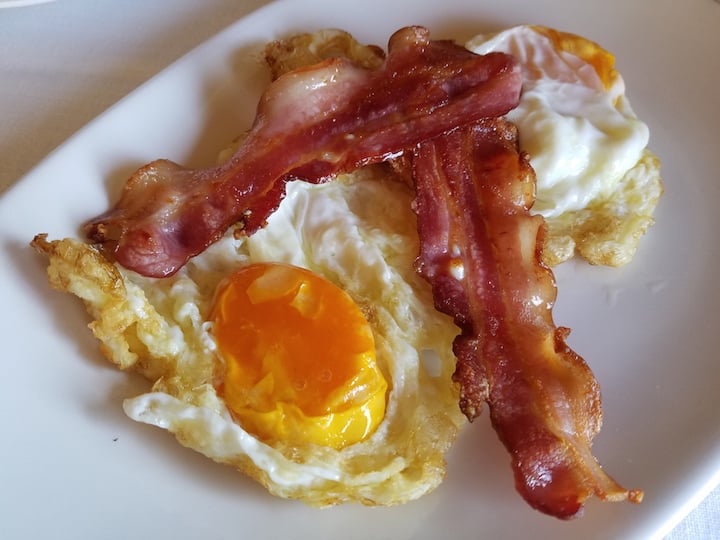 Eggs are a staple of the Spanish diet and many people in Spain enjoy eggs daily. Whether they are fried, boiled, baked, or scrambled, eggs dominate Spanish restaurant menus and traditional recipes.
But there is one place you don't usually find eggs in Spain:
On a breakfast menu.
What? No eggs for breakfast?
It's true, in Spain, eggs are hardly ever going to be the first thing you eat in the morning. Instead, you'll dig into a toast with tomato, churros, or perhaps a pastry. The exception is the Spanish tortilla, which in some regions of Spain is an acceptable breakfast choice.
Read more: Breakfast in Spain
So when do we eat eggs in Spain?
Just because eggs don't usually grace the breakfast table doesn't mean that they're not popular– on the contrary! Eggs make the perfect mid-morning snack, lunch, merienda, or dinner.
Eggs are the star ingredient of many traditional Spanish tapas like tortilla española and are also the go-to garnish for everything from salads to salmorejo.
In fact, eggs are so popular here that the average Spaniard eats more than 10 dozen eggs per year!
No matter how you like your eggs, there is sure to be a Spanish egg dish that suits your fancy. Here are 14 of our favorites.
14 Spanish Egg Dishes Worth Making
1. Tortilla de Patatas (Spanish Potato Omelet)
If you only try one Spanish egg dish, make it this one. Tortilla de patatas (often called tortilla española) is easily one of the most popular dishes (egg-based or otherwise) in the entire country. It's arguably the national dish (that's right– it's NOT paella!).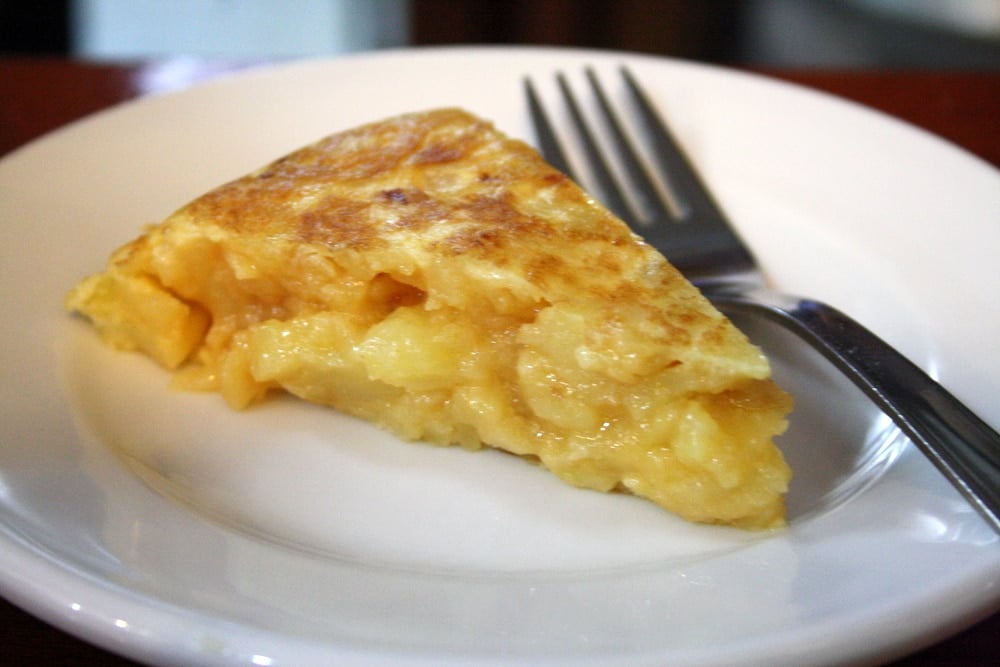 Every chef has their own special tortilla trick, making every tortilla you try unique. While the most basic Spanish omelets are made from a mere three ingredients (eggs, fried potatoes, and salt), many people also add fried or caramelized onions.
2. Huevos Rotos (Broken Eggs)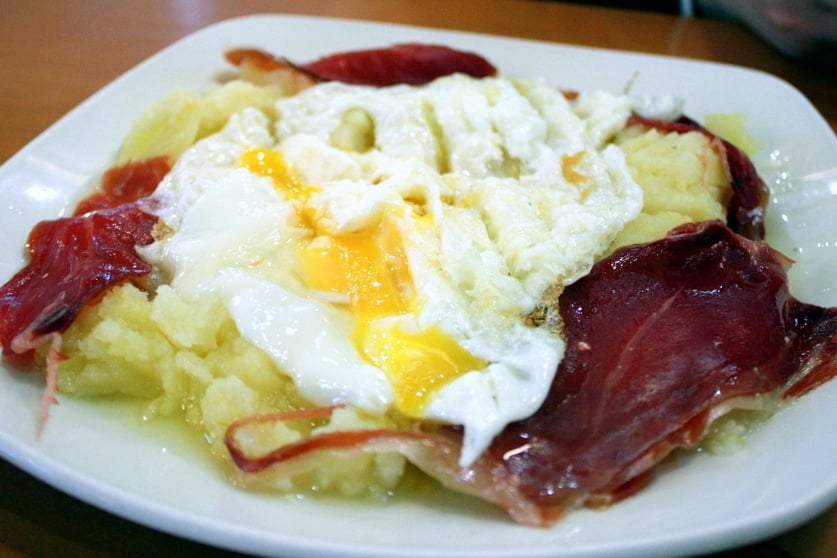 While huevos rotos vary greatly from region to region, the basic concept is always the same: olive oil fried eggs with runny yolks laid atop fried potatoes.
The name comes from the moment after the dish is served when either the waiter or the diner breaks the egg yolks with a fork or knife, allowing the yolk to run over the potatoes. Sometimes the dish is called huevos estrellados.
Along with the gooey goodness of the egg yolk, the potatoes are also often accompanied by either cured ham or sausage. Some of the most popular toppings for huevos rotos are slices of chorizo or chunks of mini-chorizo-like sausages called chistorra.
3. Pisto con Huevo (Ratatouille with Fried Egg)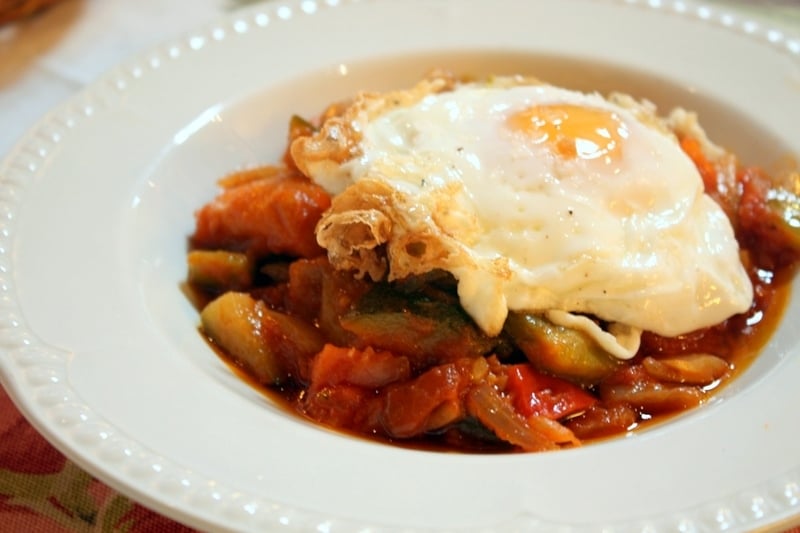 Zucchini, tomato, onion, potato, and bell pepper are stewed together to create a rich, slightly sweet pisto. That ratatouille-like stew is then poured into a piping-hot clay bowl and topped with a sunny-side-up fried egg.
Much like with huevos rotos my favorite part of eating pisto con huevo is slicing the perfectly placed fried egg in two, freeing the flavorful yolk. Don't forget to grab a piece of bread to sop up the scrumptious juice left at the bottom of the bowl!
4. Huevos Rellenos (Deviled Eggs)
One of the easiest Spanish egg dishes is simple deviled eggs. Spanish deviled eggs usually involve some type of seafood and are often made using canned tuna, tomato paste, mayonnaise, and a light sprinkling of paprika.
5. Huevo Frito (Fried Egg)
Fried eggs are both a popular topping to many dishes and an all-star plate of their own.
Whether it is from a chicken, quail, or goose (all of which are popular in Spain), eggs here are traditionally pan-fried in lots of olive oil on only one side. The yolks are always runny and the whites are often rimmed with a crunchy fried edge.
6. Tortilla a la Francesa (Scrambled Egg Omelet)
A "French omelet," as it is called in Spanish, is a thin layer of scrambled egg often folded in thirds. It is eaten by itself or with a quick sprinkling of salt. You can also use this as a sandwich filling in your bocadillo!
7. Revuelto (Scrambled Eggs)
A revuelto is another Spanish egg dish that is ripe with possibilities. Revueltos are always served with one or two other ingredients mixed in. Some of the most popular scrambled egg add-ins are blood sausage, asparagus, codfish, or garlic stalks.
8. Huevo Duro (Hard Boiled Egg)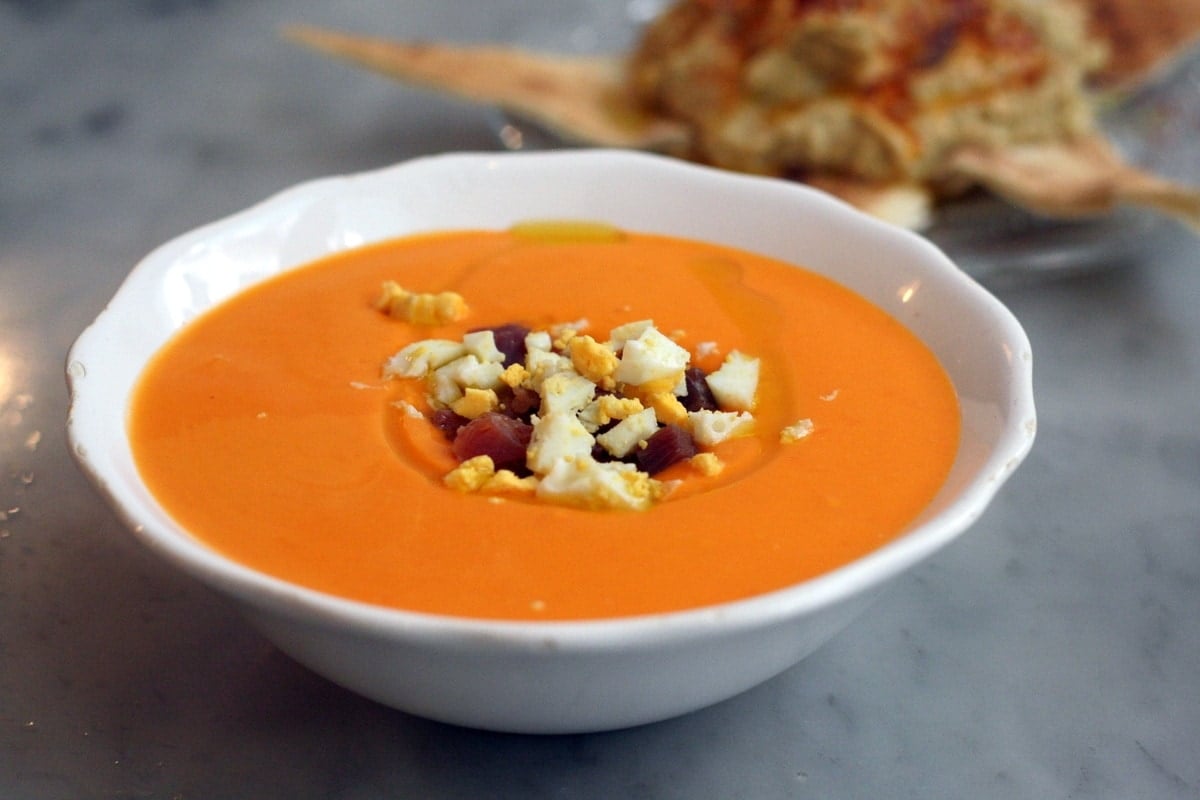 The hard-boiled egg may be a quintessential breakfast food in much of the world, but in Spain, it is often relegated to a garnish. You'll most commonly find huevo duro cubed atop a cold tomato soup called salmorejo or sliced onto lettuce and tomato to make a classic Spanish salad.
9. Huevos al Nido (Eggs in a Nest)
Strings of fried potato create a nest for a poached egg in this visually creative and downright delicious dish.
Watch Spain's go-to TV chef Karlos Arguiñano make them here.
10. Tapa con Huevo de Codorniz (Quail Egg Tapa)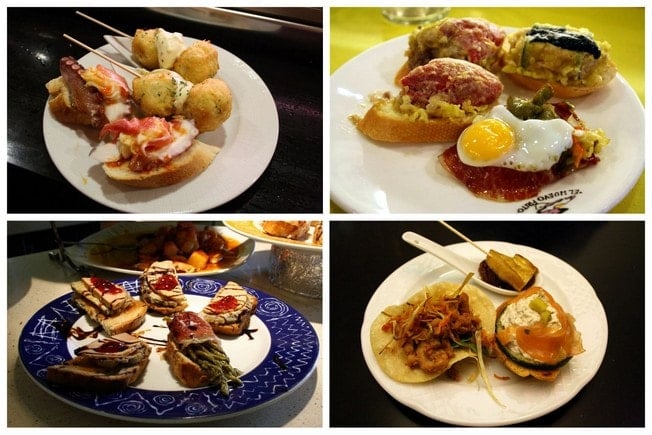 Quail eggs are the tapas-sized sister of the traditional chicken egg. It is common to find these mini-eggs pan-fried and sitting atop small slices of bread piled with grilled peppers, mushrooms, or any number of cured meats or fish.
11. Migas con Huevo (Sautéed Breadcrumbs with Egg)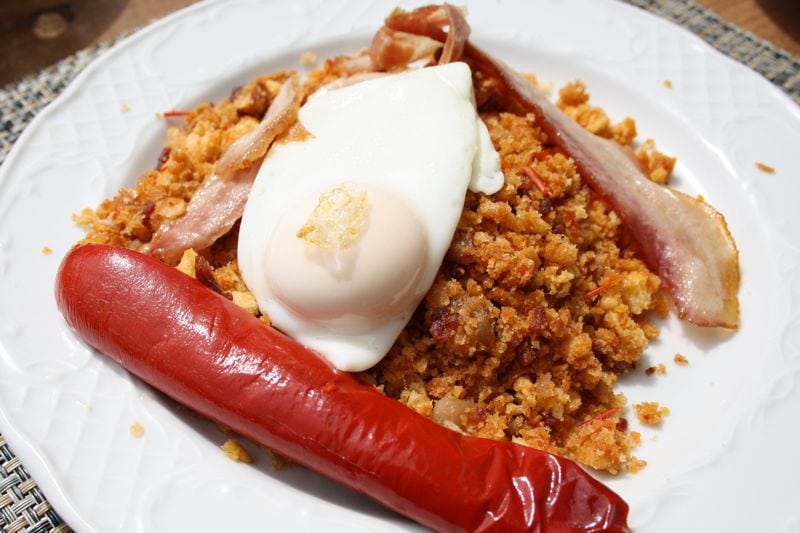 Migas are Spain's answer to stuffing. They are made from chunks of day-old bread that have been rehydrated with saltwater and pan-fried with sweet green peppers, onion, garlic, and fatty bacon. They are commonly topped with fried eggs and any number of other items such as chorizo or even green grapes!
12. Huevos a la Flamenca (Baked Egg and Vegetable Skillet)
When I think of the perfect brunch food, I think of huevos a la flamenca. In this classic dish, tomato, peas, bell pepper, potatoes, chorizo, ham, and onion are topped with eggs and baked until the egg whites are cooked but the yolk remains runny. The only downside is I have to wait until dinner to devour it.
13. Huevos al Plato (Baked Egg and Tomato Skillet)
Huevos al Plato are the simple version huevos a la flamenca. Instead of vegetables, this skillet-like dish lets the meat be the star. Huevos al plato typically include one or two types of cured sausage or ham.
Watch how the goodness is made here.
14.Flan de Huevo (Spanish Flan)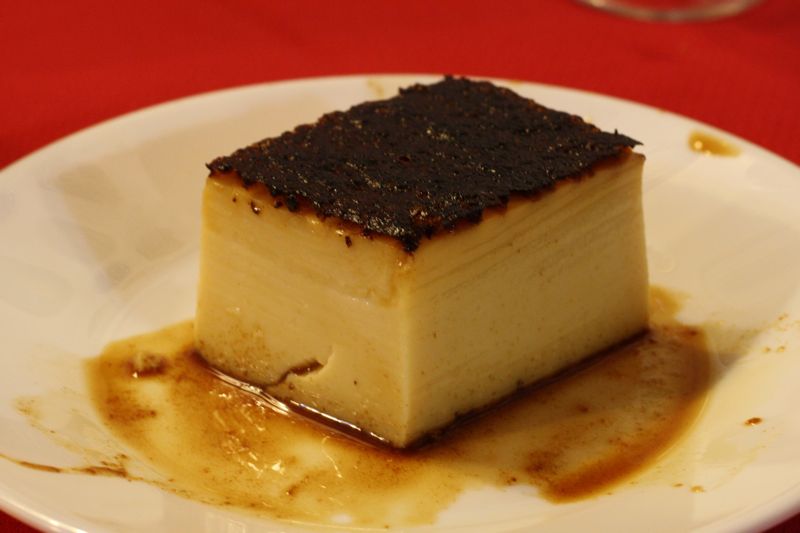 What better Spanish egg dish to end with than a sweet one. This sweet, vanilla egg dessert is served cold and is a staple of most dessert menus.
What is your favorite Spanish egg dish?
Photo of deviled eggs by Debbie R on flickr CC
Pin me!