Pan con tomate, also known in Spain as pan tumaca or pa amb tomàquet in Catalan, is toasted bread topped with juicy tomatoes, extra virgin olive oil, and sea salt. It makes a simple and satisfying breakfast, tapa, or snack any time of day. You can enhance your pan con tomate by adding garlic or topping with jamón, anchovies, cheese… the options are endless!
Read on to learn more about the history of pan con tomate and learn some of the different ways to make this popular Spanish specialty!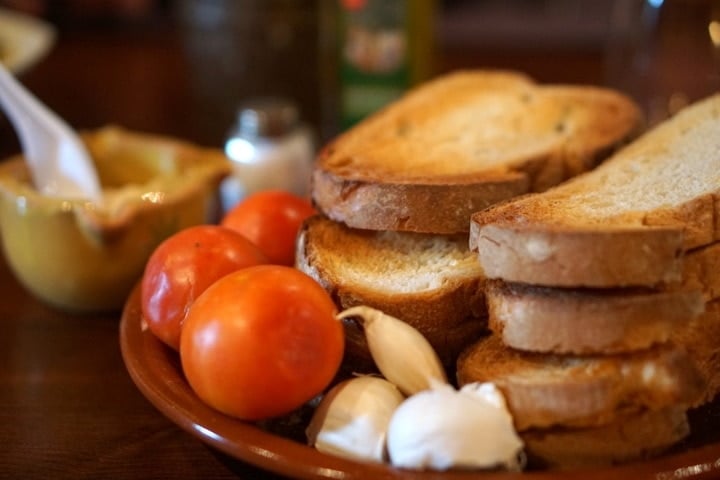 Pan con tomate is one of those things you'll find throughout Spain — much like the tortilla de patatas. That said, it does have some regional variations that are worth mentioning.
In Catalonia, pa amb tomàquet is one of the most popular local foods you'll find. It may sound odd that a pilar of Catalan cuisine is simply bread with tomatoes — but it is truly a vehicle to show off the best of Catalonia's produce. You'll find pa amb tomàquet for breakfast, used as a base for tapas, and served as a side dish for almost any meal.
Don't be surprised if a waiter brings over a big basket of tomato bread when you're dining out in Catalonia — it's the tradition. But do note — if you accept it, you will be charged. If you don't want it, simply say "no, merci".
Good pa amb tomàquet uses a fantastic base bread — often a rustic country loaf or a super thin and crispy "glass bread" (referring to the way it shatters when eaten). The bread is toasted first. Then you may decide to rub it with half of a garlic clove (I love it this way, but it is definitely the more pungent choice!).
Next, you'll rub half of a tomato over the bread. In Catalonia there is a special variety of tomato called tomàquets de penjar (hanging tomatoes). You'll find them sold on the vine in the local markets and when rubbed on the bread 100% of the tomato pulp spreads out as if it were butter, leaving behind only the skin! Can't get this magical tomato where you live (neither can I — and I'm in Madrid!) — keep reading to learn what to do.
After the tomato, drizzle excellent quality extra virgin olive oil and sprinkle with sea salt. (Some insist the salt should come before the tomato, and others before the olive oil — I like finishing the bread with good, flakey sea salt).
See also: The Spanish Eating Schedule
In Madrid, pan con tomate is usually served as breakfast. You'll also hear it called a tostada con tomate. Generally you'll get a piece of toasted bread and a little jar of freshly grated tomato, pre-mixed with olive oil, salt, and (sometimes) a dash of sherry vinegar. Depending on your preference, you may add more olive oil and salt to your bread too.
In Andalusia, a tostada con tomate y jamón is the king of breakfast. Most Sevillanos will enjoy a delicious toast topped with crushed tomato, olive oil, and either jamón Serrano or local jamón ibérico. It's one of my favorite Spanish breakfasts!
Finally, I'd like to mention the Basque Country, where pan con tomate serves as a base for many of the delicious pintxos you'll find displayed on the bar. I've given some ideas for toppings below!
My Simple Pan con Tomate Recipe
Tip: The recipe below is not the only way to make pan con tomate (in many families you just rub raw tomato on bread, and drizzle olive oil and salt on top), but it is my preferred method because I enjoy a thick tomato sauce that allows all ingredients to blend to increase flavor. The most important suggestion is to use a hearty type of bread that serves well as a toast, to ensure it captures all flavors without becoming too soggy.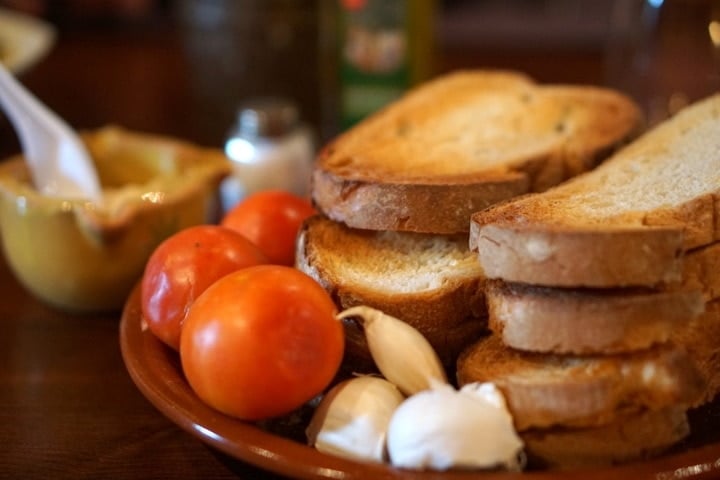 Super Simple Pan con Tomate Recipe
Pan con tomate, also known in Spain as pan tumaca or pa amb tomàquet in Catalan, is toasted bread topped with juicy tomatoes, extra virgin olive oil, garlic, and salt. – delicious!
Print (images optional)
Pin
Rate
Ingredients
4

medium-sized tomatoes on vines

Extra virgin olive oil

1

clove

of garlic

Salt to taste

½

teaspoon

sugar

if needed to decrease acidity in off-season tomatoes

½

loaf of whole-wheat

rustic, or unleavened bread (works best for avoiding sogginess and maintaining crunchiness)

A few thin slices of Spanish Serrano or Iberian ham

optional, but highly recommended to enhance flavors!
Instructions
Cut the bread into slices of toast with medium thickness. Arrange on a baking sheet, and toast the bread slices in the oven at 250 degrees Fahrenheit for about five to ten minutes, flipping halfway through.

Wash and dry the tomatoes. Cut them in half, and grate them using a box grater, discarding the stem and skins.

Once the tomatoes are grated, reserve in a small bowl and add about 1 tablespoon of olive oil and a pinch of salt. Taste, and add a pinch of sugar if necessary (when using off-season tomatoes they might be too acidic).

Cut the clove of garlic in half and rub the raw garlic on the toasted bread. Then carefully spoon the tomato mixture onto the slices of garlic toast, and top with a drizzle of extra virgin olive oil and a sprinkle of sea salt.

Optionally, top with a slice of jamón (Serrano or Iberian) for additional flavor, and a more hearty toast. Enjoy!
Nutrition
Calories:
56.33
kcal
|
Carbohydrates:
8.46
g
|
Protein:
1.55
g
|
Fat:
1.94
g
|
Saturated Fat:
0.31
g
|
Sodium:
108.23
mg
|
Potassium:
130.35
mg
|
Fiber:
0.93
g
|
Sugar:
1.6
g
|
Vitamin A:
409.84
IU
|
Vitamin C:
6.83
mg
|
Calcium:
14.67
mg
|
Iron:
0.5
mg
Other Simple Spanish Tapas
Have you ever tried pan con tomate? What is your favorite mid-morning snack?