My mother-in-law, Antonia, makes the world's best salmorejo. Read on for her traditional Andalusian salmorejo recipe (and learn her secret to the creamiest version of this cold Spanish soup!).
Salmorejo is a cold tomato soup that is famous in the south of Spain. It's similar to gazpacho -- but thicker and creamier.
Salmorejo is something you'll find on menus throughout Spain, but the best salmorejo is always found in the south. On a hot day, there is nothing more refreshing and satisfying than a bowl of cold salmorejo-- it's a must-try if visiting Spain!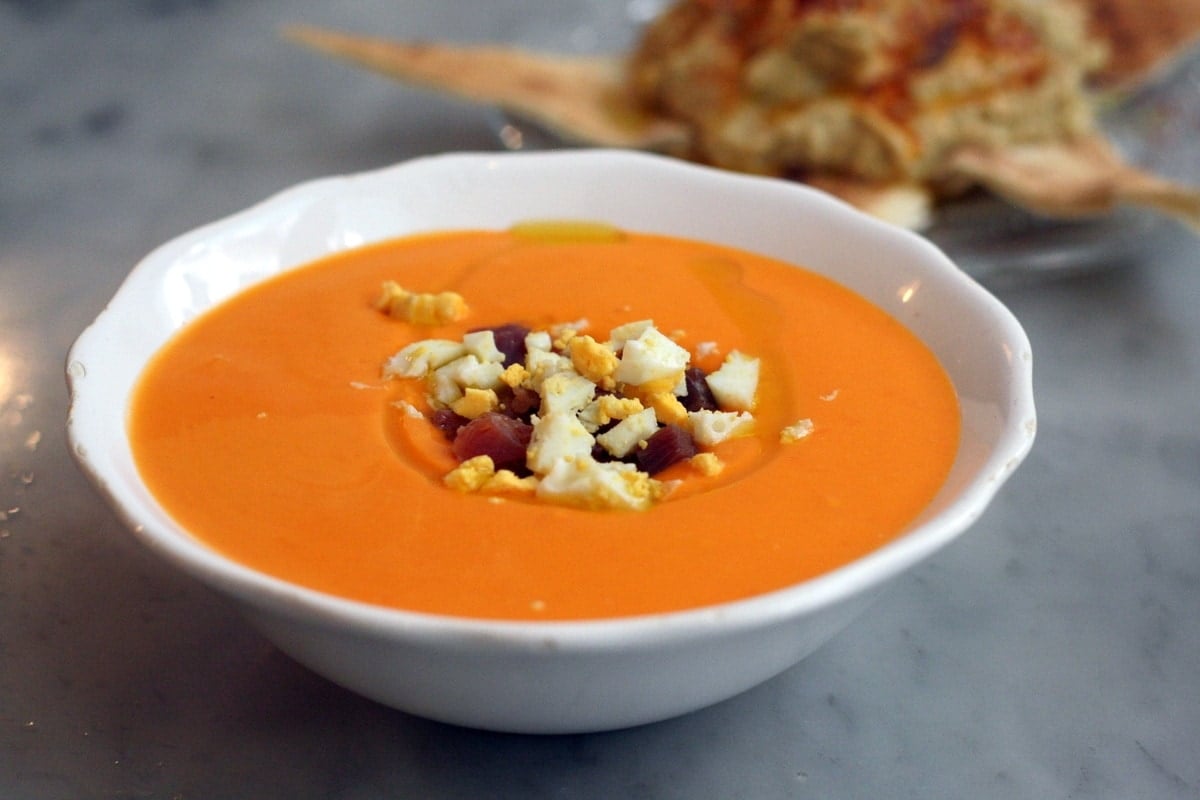 The first time I wrote about salmorejo, one of my favorite Spanish foods, was on my very first blog back in 2009. I had just made some for the first time on my own and was very proud that it had turned out almost exactly like my mother-in-law's famous salmorejo recipe.
Antonia makes the best salmorejo I've ever had. I've tried other versions in Cordoba, Sevilla, Cadiz, and Madrid but nothing has ever been quite as delicious.
Salmorejo is one of those things that you eat that leaves you feeling 100% satisfied and is super healthy at the same time. It's a great dish for keeping trim and is loaded with antioxidants.
What is salmorejo?
Most people probably aren't familiar with gazpacho's thicker, creamier cousin. While gazpacho is a cold tomato and vegetable soup (often consumed straight from the glass like a V8 juice), salmorejo is simply fresh tomatoes and perhaps a clove of garlic, blended with stale bread, extra virgin olive oil, and sherry vinegar.
The way the olive oil and tomatoes emulsify gives the soup a creaminess that makes many people think that there is actually cream in the soup! (There is not!).
Most people top the cold soup with hard-boiled egg and cured Spanish ham, which I would definitely recommend!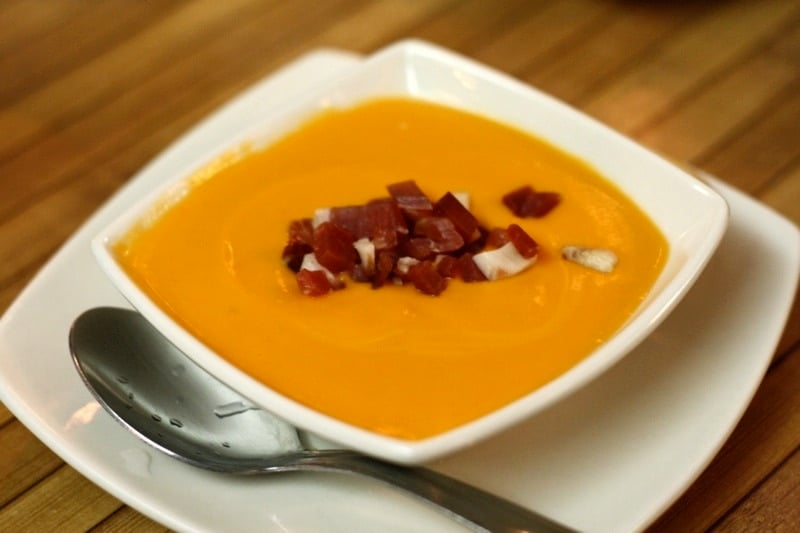 Why is salmorejo cold?
The first time I tried salmorejo was a complete fluke. I was convinced that cold soups were the enemy after a bad experience with gazpacho years prior.
But one day I came home from work absolutely ravenous and Ale's mom had sent us home with some salmorejo on our weekend visit. No one else was home, so I figured I would just heat it up and no one would be the wiser.
Luckily, the salmorejo never made it to the pot. I took one bite, followed by another, and then another. It was delicious. I couldn't believe I'd been missing out on this fresh explosion of flavors for so long.
Spanish summers (especially in the south) are very hot. It's not uncommon for days to reach 107°F (42°C)! So cold soups evolved in this region to keep people hydrated and healthy during the intense summer heat.
Key Ingredients
Key Ingredients: Tomatoes, stale bread, olive oil, hard-boiled egg, garlic, salt, vinegar, and cured ham.
Ingredient Notes & Substitutions
Tomatoes: These are the key ingredient, so they must be fresh tomatoes. Ideally they are ripe and juicy, which is why salmorejo is a popular summer food in Spain. The better the tomatoes, the better the soup! Here in Spain we usually use pear (also called teardrop) tomatoes or classic vine ripe tomatoes.
Olive Oil: This is the other key ingredient. This recipe is an emulsion and uses quite a lot of olive oil. So you want it to be good, for both taste and health reasons. I would only use extra virgin olive oil for this recipe. I love the hojiblanca variety from Spain, but you can experiment to find your favorite. If you want to use less oil than the recipe calls for that is fine -- add it little by little until you get the taste and consistency you like best.
Garlic: I find that one small clove is best, it packs a punch but isn't overwhelming. If you love garlic, add more. For a variation that won't leave you with as much garlic breath, use roasted garlic instead.
Bread: The key to salmorejo's thick texture is stale bread. I find that using the "guts" from a baguette works well (just cut it in half and leave it out overnight). But any bread with a dense crumb works well. Some people add only a little bread to their salmorejo, while others add so much that the texture is more like hummus. I prefer somewhere in between.
Vinegar: Traditional salmorejo uses sherry vinegar, which is from the Cadiz region (Jerez de la Frontera). It has a unique taste that really amplifies the flavor of this cold soup. But if you can't get sherry vinegar, try using red wine vinegar instead. If you're in the US you can find sherry vinegar from La Tienda.
Toppings: The most popular and classic salmorejo toppings are diced hard-boiled egg and cured Spanish ham. But you can also add other topping combinations. I love avocado and good quality tuna. Another topping is smoked fish, such as smoked sardines. Chopped fruit is also lovely, such as ripe strawberries, cherries, or even green apple.
Vegan & Vegetarian Adaptation
Traditional salmorejo is vegan and vegetarian, although my recipe is not vegan because it incorporates a hard-boiled egg into the actual soup. To make this salmorejo vegan, simply omit the egg and don't top with jamón. Try some of the vegan-friendly toppings listed above instead!
My Salmorejo Recipe: Step by Step
Well, my mother-in-law's, actually 🙂
After such a long time singing its praises I know I owe everyone the recipe. So, here it is, the best Salmorejo recipe you will ever try (in my humble, but experienced opinion!).
Steps 1-2: You need to start by peeling your tomatoes. You can do this with a sharp veggie peeler, or by cutting an X in the bottom of each tomato and placing in boiling water for about 30 seconds, followed by an ice bath (a bowl of ice water). If you do it this way the skins peel right off!
Steps 3-4: Now place all the peeled tomatoes into a blender. Blend until completely pureed. Add the stale bread, mix, and let this sit for five minutes.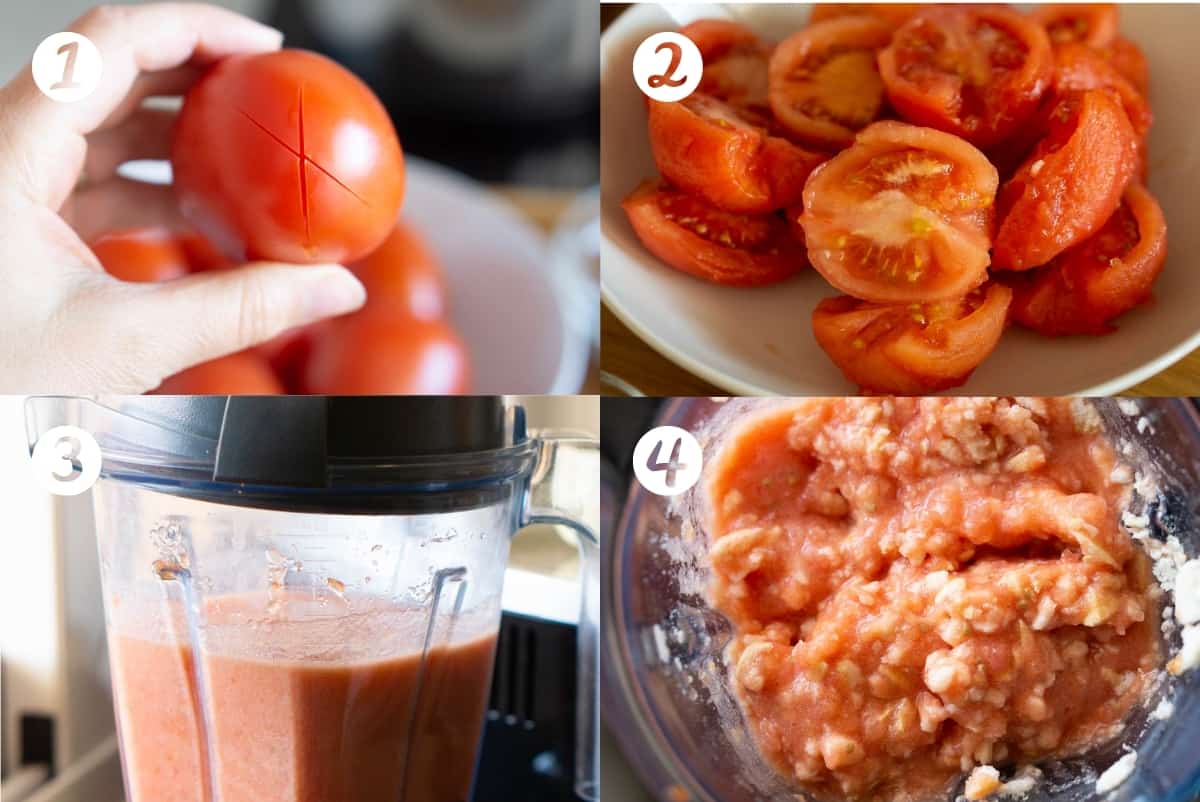 Steps 5-7: Now, add the salt, garlic, and vinegar. Start to blend again, this time slowly adding in the olive oil. Add it slowly to make sure it emulsifies.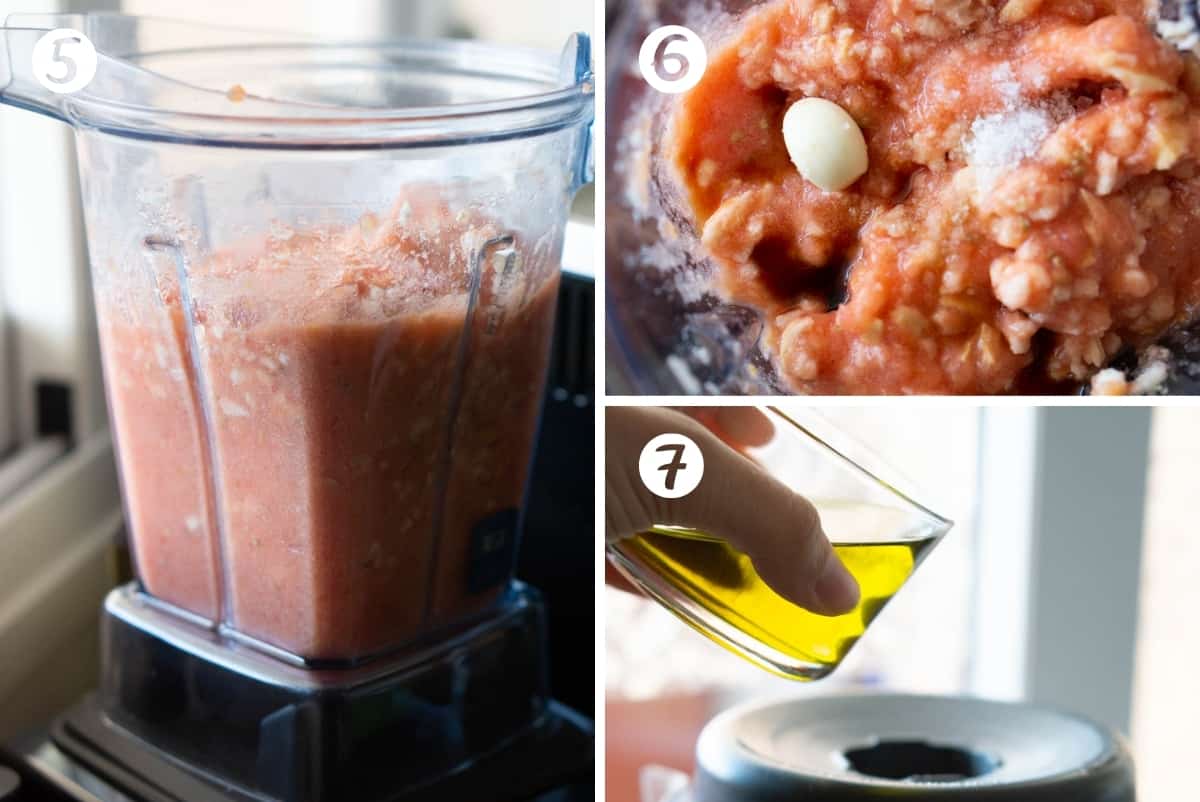 Step 8: You can stop here, or you can do my mother-in-law's secret trick! She adds one hard-boiled egg to the salmorejo to make it even creamier. Blend until completely smooth and then refrigerate. When you serve the salmorejo top with hard-boiled egg, cured ham, or the toppings of your choice.
Recipe Tips & FAQs
Where is salmorejo from?
Salmorejo comes from the south of Spain, specifically from Cordoba in Andalusia. It's served as a cold soup and also as a tapa.
What is the difference between salmorejo and gazpacho?
Both salmorejo and gazpacho are cold Spanish soups that are popular in the south of Spain (Andalusia). But gazpacho is a mix of vegetables (tomatoes, onions, peppers, cucumber and garlic) while salmorejo only includes tomato and garlic. Salmorejo also incorporates stale bread into the puree, making it a very thick soup which is eaten from a bowl. Gazpacho has a much thinner consistency and is often enjoyed from a glass.
Is salmorejo vegetarian?
Yes, traditional salmorejo is a vegetarian recipe. It is also easily adapted for vegans by omitting the egg. In both cases the optional ham topping should be omitted. You can say "sin jamón, por favor" if ordering it in Spain.
Serving Suggestions
Salmorejo is usually served as either a first course (instead of a hot soup or a salad) or as a tapa. In Andalusia, you'll often enjoy it with other popular summertime tapas, such as shrimp fritters, croquettes, and eggplant with honey. It's perfect with a cold glass of tinto de verano.
More Cold Soup Recipes
Salmorejo is one of Spain's most famous cold soups, but there are lots more to try!
Hungry for more? Sign up for my free weekly newsletter and receive a new Spanish recipe once a week! Join today and get my FREE Spanish ingredient essentials guide!
Salmorejo Recipe
The best Spanish salmorejo recipe I've ever tried. Straight from my mother-in-law's cookbook to your own!
Print (images optional)
Pin
Rate
Ingredients
8

Medium Tomatoes

the quality of the tomatoes is one of the most important factors in the taste

1

Medium Baguette

1

Cup

Extra Virgin Olive Oil

again, quality is important

1

Clove

of Garlic

not too big

A Splash of Sherry Vinegar

Vinagre de Jerez, although red wine vinegar can be substituted

A Pinch of Salt

2

Hard Boiled Eggs

Diced Serrano Ham

or any other cured ham, such as Prosciutto
Instructions
Scald the tomatoes: Put a large pot of salted water on the stove and bring to a boil. Cut a small cross in the bottom of each tomato. When the water is boiling add the tomatoes for 30-60 seconds. Remove immediately and place in a cold water bath (a bowl filled with ice and cold water). The skin will peel right off of the tomatoes.

First Blend: Cut out the cores of the tomatoes and add all the rest to your blender. Blend at high-speed for about 30 seconds until the tomatoes are broken down.

Add bread: Take all of the "guts" out of your baguette and add them to the blended tomatoes. The baguette should have given about 2-3 cups of guts and you can experiment with how much you add, as this is how you change the texture. I use about 2 cups of the bread guts. Let the bread soak in the tomato juice for about 5 minutes.

Second Blend: Add the splash of vinegar, salt, and garlic and blend until the soup is an even texture and the bread is completely broken down.

Add Oil: If your blender has it, open the small hole in the top. Slowly add the olive oil as you are blending at a moderate speed. If it doesn't have the hole, stop and go adding little by little.

Add Egg and Adjust: Add 1 hardboiled egg and blend until incorporated. Taste and adjust levels of salt, vinegar, garlic, and bread.

Serve in small bowls with diced hardboiled egg and sliced ham as condiments. Serve cold! Enjoy!
Notes
Since this is a cold soup, use fresh ripe tomatoes for the best results. Plum tomatoes or vine ripe tomatoes work well. 
Make sure to use the best olive oil you can. Extra virgin is highly recommended. If you want to use less olive oil than the recipe calls for you may. Just add it slowly until you like the texture.
You can also experiment with the amount of bread you use. You can omit for a gluten-free version, or add more to make the texture similar to hummus.
Toppings: The most popular and classic salmorejo toppings are diced hard-boiled egg and cured Spanish ham. But you can also add other topping combinations. I love avocado and good quality tuna. Another topping is smoked fish, such as smoked sardines. Chopped fruit is also lovely, such as ripe strawberries, cherries, or even green apples.
Nutrition
Calories:
369
kcal
|
Carbohydrates:
25.45
g
|
Protein:
4.96
g
|
Fat:
28.59
g
|
Saturated Fat:
4.07
g
|
Sodium:
277.3
mg
|
Potassium:
621.17
mg
|
Fiber:
3.81
g
|
Sugar:
6.74
g
|
Vitamin A:
2049.25
IU
|
Vitamin C:
33.95
mg
|
Calcium:
50.72
mg
|
Iron:
1.75
mg
Update Notice: This post was originally published on September 22, 2011 and was republished with new text and photos on March 25, 2021.
Watch me make salmorejo at home in my web story!
After trying many, this is by far the best salmorejo recipe I've made, but if you have one that you love please leave me a comment!