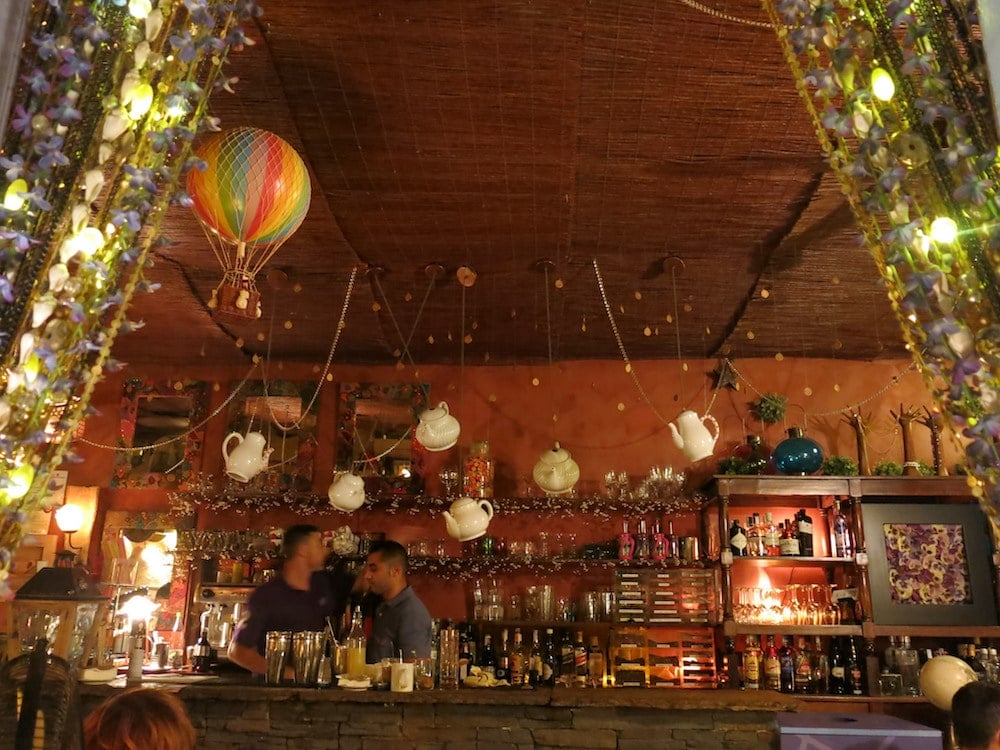 Antique train cars, indoor orchid jungles, seaside sunset terraces... the romance of eating in Spain is enough to make anyone fall in love! Whether it's to celebrate Valentine's Day, an anniversary, or the simple fact that it's Friday, these 15 romantic restaurants in Spain will have you swooning.
Madrid
Jardin Secreto- Few places in Madrid can boast a dessert list as tantalizing as that of Jardin Secreto. What seems like a massively random collection of decorations somehow jives perfectly, creating a one-of-a-kind spot to sip tea, devour desserts like the "Chocolate Orgasm" or munch tasty plates like the Black Rice Risotto with Shrimp and Squid. Calle Conde Duque, 2 near the Plaza de España.
Bar Galleta- The dim lighting (a rarity in most Madrid restaurants) sets the mood for the parade of fabulous food at Bar Galleta. Raw wood, tasteful flowers and a spot-on selection of cocktails make this my No.1 date spot in Madrid. Calle Corredera Baja de San Pablo, 31 in the Malasaña neighborhood.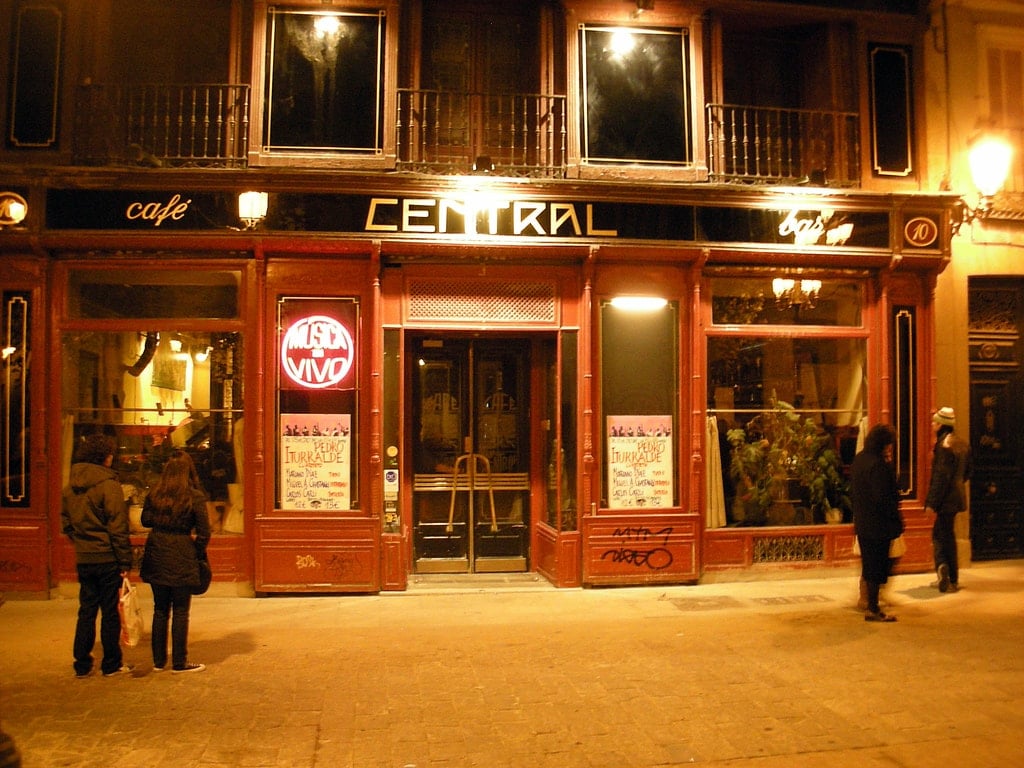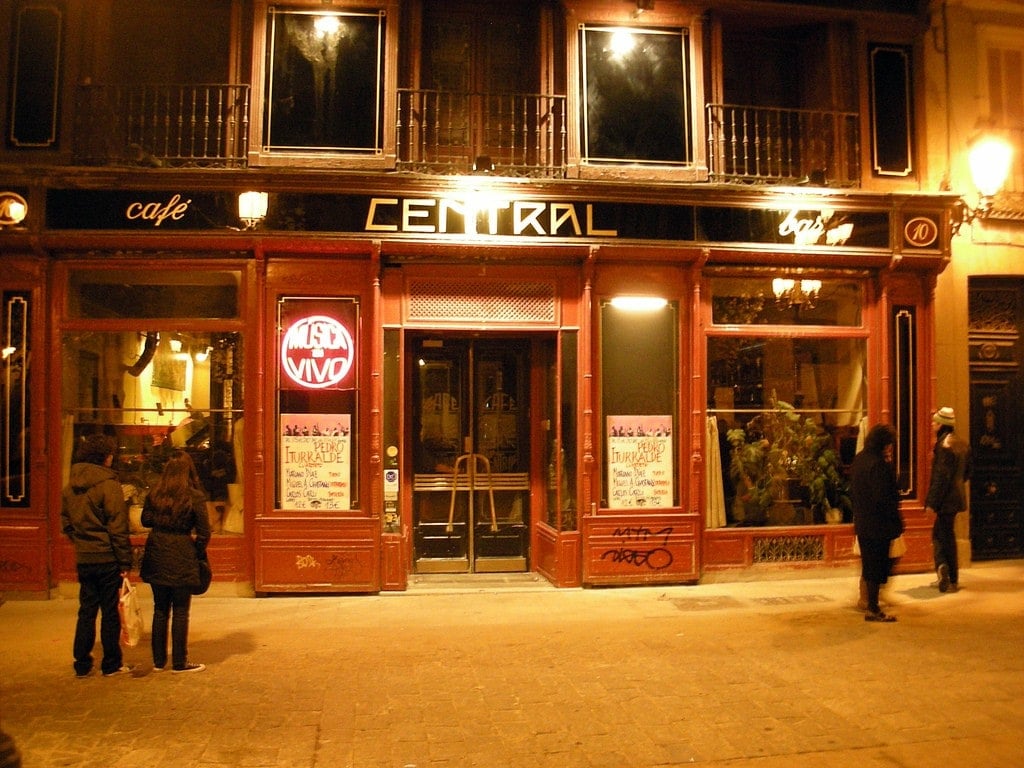 Café Central- Nestle into one of the small booths at Café Central, order a nice glass of wine and get lost in the sound of Jazz. Café Central is one of the oldest and best known jazz clubs in Madrid. Located in the heart of the Huertas neighborhood, this iconic red and gold café is the perfect way to get the night started with their early show or end the night on a high note at the late show. Plaza del Angel, 10 in the Huertas (also called Las Letras) neighborhood. 
El Vagón de Beni- Few places are more romantic than this refurbished antique train car tucked into the mountains on the outskirts of Madrid. It's worth the 45 minute drive to Hoyo de Manzanares, especially for their "Romantic Menu" for two, which comes with a wine paring and dessert. Calle San Macario nº6 in Hoyo de Manzanares, about 35 km from Madrid city center. 
Barcelona
Museu de la Xocolata- Indulge in an intimate evening of chocolate making and tasting at Barcelona's Chocolate Museum. The museum offers private tastings, tours and classes for couples. I'm leaning towards the Chocolate and Wine pairing... Carrer del Comerç, 36 in the Born neighborhood.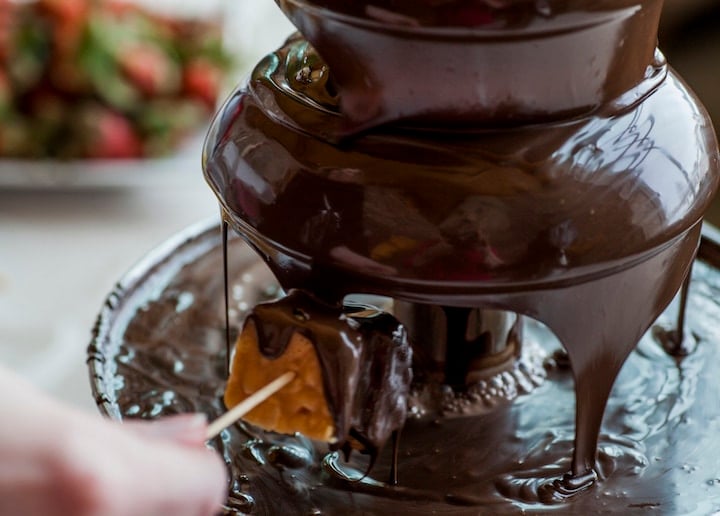 Restaurant Pla- If an excellent meal in a funky, yet intimate atmosphere are what you're looking for, head to El Pla. Opened in 1998 by a chef who worked under the infamous Ferran Adriá, El Pla is one of the hottest spots in Barcelona! Bellafila St. 5 in the Gotic neighborhood.
Indochine Ly Leap- What could be more romantic than sharing a meal beneath a canopy of orchids, vines and fronds? At Indochine, intimacy reaches a whole new level. Each table is nestled into the indoor jungle that is this limits-pushing restaurant. Carrer Muntaner, 82 in the Eixample neighborhood
La Fianna - Plush red couches, excellent cocktails and steamily dim lighting combine to make La Fianna one of the most romantic bars in Barcelona. Carrer Manresa, 4 in the Born neighborhood
Seville
Abades Triana-  Gaze out over the Guadalquivir River where the enchantingly illuminated Toro de Oro rises from the far bank while enjoying an elegant white table cloth meal. As the experts at Devour Seville say, Abades Triana is THE place to go for a romantic candle-lit dinner in Seville! On the banks of the Guadalquivir River on Calle Betis, 69 in the Triana neighborhood. 
San Marco- Duck beneath the stone arches of what used to be ancient Moorish baths and you´ll discover some of Seville's best Italian food. Mood lighting, excellent pasta, century-old architecture... San Marco is an extra-elegant version of a Lady and the Tramp scene waiting to happen. Calle Meson Del Moro, 6 in the Santa Cruz neighborhood.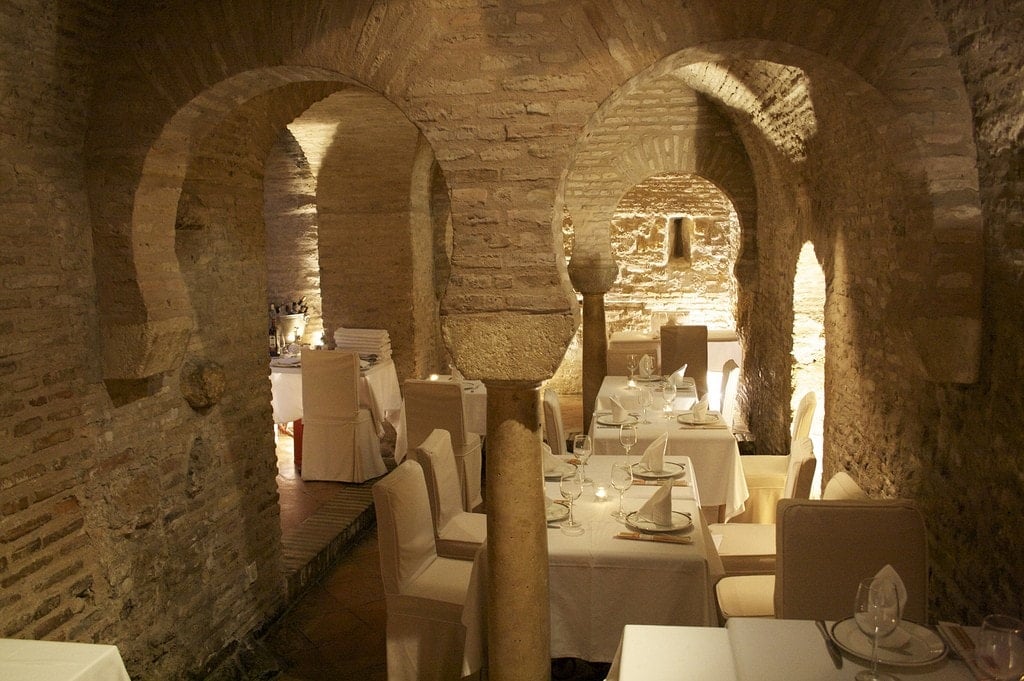 La Quinta Braseria- The enchantment of this new restaurant in Seville is in its food. Minimally, yet elegantly decorated in a renovated house, La Quinta Braseria lets the food do the talking. Excellent grilled meats, traditional tapas and an excellent wine list make this a fantastic option for an impressive date night. Plaza Padre Jeronimo de Cordoba, 11 
Off the Beaten Path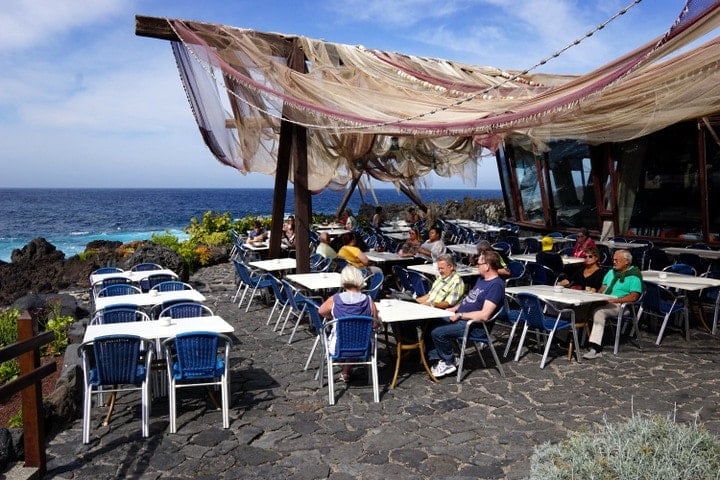 El Burgado: It is rare to find a restaurant that mixes jaw-dropping ocean views and excellent food for accessible prices. El Burgado on the Canary Island of Tenerife achieves all three. The freshest of fish are served beneath the giant canopy of artfully strung fishing nets on a terrace overlooking the sun setting into the Atlantic . If that's not romantic, I don't know what is! Camino el Rincón in the town of Buenavista del Norte on the Canary Island of Tenerife.
El Diablo- It doesn't get much hotter than El Diablo on the Mars-like Spanish island of Lanzarote. Dropped in the middle of active (although no longer lava-producing) volcanoes, this one-of-a-kind restaurant offers a three course meal barbecued over an open volcano! Located in Timanfaya National Park, on the island of Lanzarote in the Canary Islands.  
Restaurante Submarino- If you've never had dinner in the middle of a school of fish, add it to the bucket list. This restaurant is set below the sea in Valencia's Oceanographic park. Behind the thick glass walks hundreds of fish relaxingly swim past diners in this aquarium restaurant. Eduardo Primo Yufera, 1B in the Parc Oceanogràfic de València.
Cova d'en Xoroi- Set into a cave on a cliff over the crashing waves of the Mediterranean Sea, this sleek restaurant has absolutely breathtaking sunset views over the sea. Dine in the rock caves or sip cocktails on the terrace. Either way it will be unforgettable! Urbanización Cala'n Porter on Carrer de sa Cova, 2 in the town of Cala en Porter in Menorca, one of the Spanish Balearic Islands in the Mediterranean Sea. 
What's the most romantic restaurant you've ever visited?