With its gorgeous marriage of Andalusian passion and Moorish beauty, Granada is the perfect setting for any love story, and you'll undoubtedly feel like you're in your very own fairy tale as you discover the city with your special someone. As you make your way hand-in-hand through the city's charming cobblestone streets and even the undeniably stunning Alhambra itself, you'll probably work up an appetite while exploring—which will give you the perfect chance to keep the romance alive at one of the most romantic restaurants in Granada. Here are five beautiful spots that combine culture, food and amor into an unforgettable experience.
5 Extra-Special Romantic Restaurants in Granada
1. Carmen El Agua
No food says romance like fondue, which just happens to be the specialty at Carmen El Agua. Located in the charming Albayzín district, you and your date can enjoy their famous melted cheese and chocolate from a stunning terrace with views of the Alhambra. It's no wonder why this is obviously a top date spot among granadinos.
Address: Placeta del Aljibe de Trillo, 7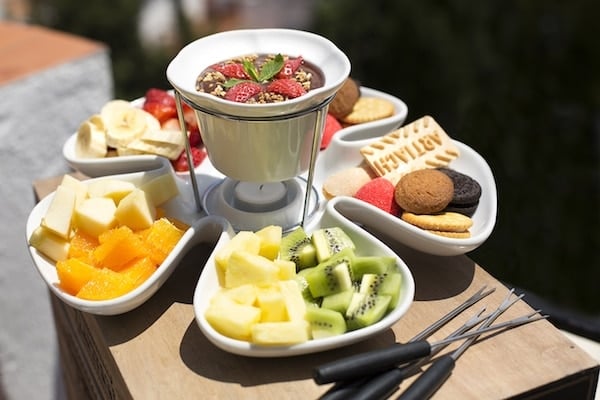 See Also: Top Places to Eat in the Albayzín
2. Camaura
Enjoy a relaxing date night in the peaceful Andalusian countryside! Camaura is located 10 minutes away from Granada in La Vega, but its lovely terrace makes it a perfect choice for a romantic escape on a summer night. The menu is full of fairly priced innovative, modern dishes, with several standout gems such as the secreto ibérico. 
Address: Camino de Purchil, 42
3. Yesterday
An Italian restaurant like Yesterday often makes for a popular date spot in Spain. A dead ringer for the iconic Italian restaurant in Lady and the Tramp, this small, family-run establishment offers both Spanish and Italian cuisine, so it's perfect for sampling the flavors of the Mediterranean. Savor the best of both worlds with the solomillo al curry (pork sirloin with curry sauce) with a side of spaghetti.
Address: Paseo del Violón, 11
4. El Trasgú
Experience the flavors of northern Spain without leaving Granada: El Trasgú is famous among locals for its traditional food from the Spanish region of Asturias. While their cachopo (fried veal fillets filled with ham and cheese—an Asturian classic) is the standout dish, they also offer a wide range of vegetarian options. Best of all, you can enjoy your meal while taking in the restaurant's stunning views.
Address: Calle del Campo del Príncipe, 12
5. La Casona
One of the most romantic restaurants in Granada has an interesting past. La Casona is housed in an old mansion at the foot of the Sierra Nevada mountains, and aside from its beautiful setting, it also stands out for its modern twist on traditional Spanish delicacies. During the summer, be sure to stick around after dinner to enjoy some drinks on the beautiful terrace.
Address: Carretera de la Sierra, 152
Take your love to the next level: Where to Propose in Granada
Pin me!