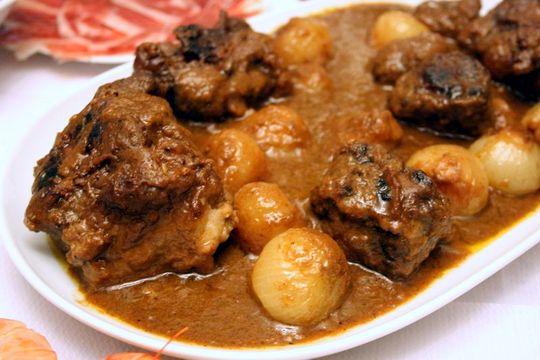 Braised bull tail, oxtail stew, rabo de toro, braised oxtail… call it what you will. When you find rabo de toro in a restaurant in Spain, you aren't guaranteed that it is actually bull tail. It may very well be oxtail or cow tail, but without going into the differences between all of these animals lets just agree that it is nearly always delicious!
Spanish bull tail stew (rabo de toro estofado) is one of Spain's most typical stews. Dating back to Roman times, rabo de toro is actually an Andalusian creation, supposedly inspired in Córdoba. Traditionally made after the bull fights, the dish spread throughout the rest of Spain, and is especially popular in Madrid where bull fights are still popular among fans. Many bars surrounding the Plaza de Toros (the bullring) serve braised bull tail, although they are no longer able to use the tail of the just killed bull. Each restaurant has its own special recipe for Spanish bull tail stew, some using red wine, others opting for Andalusian sherry.
Bull tail needs to be braised (cooked slowly over a low heat) because it is extremely bony, fatty, and tough. But once it cooks long enough, it becomes so tender that it nearly dissolves in your mouth (similar to my beef bourguignon recipe). Here is a rabo de toro recipe Ale and I tried recently, a blend of his mother's signature rabo de toro and a couple of Spanish recipes I found online. I remind you, cooking rabo de toro takes a lot of patience, but if you wait long enough the rewards are delicious!
Recipe: Spanish Bull Tail Stew (Rabo de Toro)
Serves 4
Ingredients:
About 3-4 pounds of rabo de toro (oxtail, cow tail, etc.)
3 carrots, sliced into 1/4 inch rounds
1 large sweet onion, diced
1 red pepper, diced
1 leek, diced
2-3 ripe tomatoes, diced
4 cloves of garlic, minced
2 cups of beef stock
3 cups of red wine (a decent table wine like a Spanish rioja or tempranillo will do nicely.)
2 bay leafs
2 cloves
1 teaspoon ground ginger
Salt
Pepper
Flour (to coat the meat)
Olive oil
Preparation:
Season the bull tail with salt and pepper
In a large, heavy pan (cast iron works great) heat a splash of olive oil to a medium high heat (not yet smoking)
Lightly dust the rabo de toro with flour (shake away excess) and sear each piece in the hot oil until nicely browned, about 30 seconds per side
Remove the bull tail and let the pieces rest
In the pan's oil, saute the leek, onion, garlic, red pepper, and tomato for about 10 minutes
Add the carrots, bay leafs, ginger, and cloves and saute 1 minute
Add the bull tail back to the pan and cover with the wine and stock
Bring to a boil and then cover and reduce to a slow simmer
Cook the rabo de toro for 3 hours and then check to see if it is falling away from the bone
If it is tender enough, remove the meat and then puree the sauce with a hand blender (not necessary but nice)
Serve with the sauce and homemade french fries for an authentic Spanish meal!
Spanish bull tail stew is one of the most delicious winter dishes you can make. This recipe is guaranteed success, you just have to wait patiently with a glass of wine and a good movie while it cooks– and you must enjoy it with good company, as the Spanish do!
Have you ever tried rabo de toro before? How was it prepared?
Pin me!